Cranberry Oatmeal Peanut Butter Bliss Balls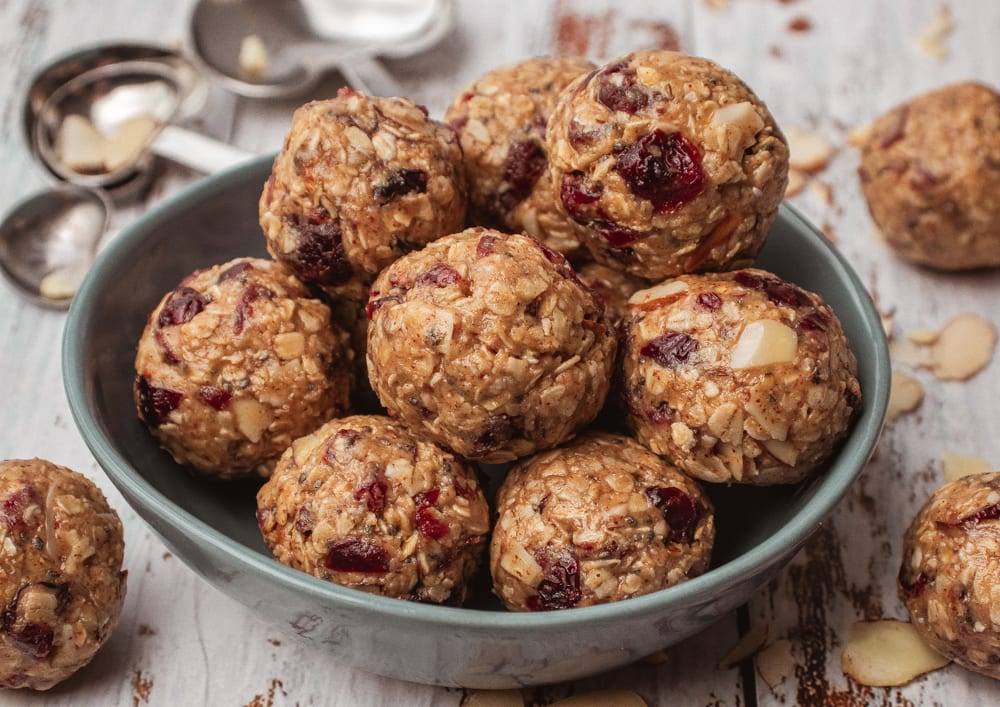 I don't know about you, but snacking is a pass time for me! If your looking for a new snack you should add these cranberry oatmeal peanut butter balls to your meal plan this week. These healthy balls only take 15 minutes to make and taste AMAZING! They are the perfect meal prep snack and are a great treat from anyone counting macros! Give them a try, I know you will agree!
How to make bliss balls?
Healthy Cranberry Oatmeal Peanut Butter Energy Balls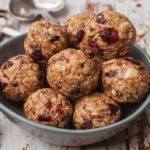 15 Minute Easy Snack
1 cup Quick Oats (([adjustable]90[/adjustable] grams))
¼ cup Shaved Almonds (([adjustable]30[/adjustable] grams))
1 tsp Chia Seeds (([adjustable]5[/adjustable] grams))
½ cup Creamy Peanut Butter (([adjustable]125[/adjustable] grams))
¼ cup Honey (([adjustable]75[/adjustable] grams))
½ cup Dried Cherries (roughly chopped, ([adjustable]80[/adjustable] grams))
In a large bowl combine the dry ingredients: oats, almonds, and chia seeds.

Then add the wet ingredients: peanut butter, honey, and chopped cherries into the bowl. Stir until well combined. You will start to form large clumps. Be sure to scrap the sides to get all of the dry ingredients incorporated.

Now using a regular spoon, scoop out enough mix to make a one inch ball. Using your hands roll the ingredients around until you have formed the 1 inch ball. If your mixture is too dry, add a teaspoon of water.' 

A little tip, your warm hands will help the ingredients stick together and remove any little cracks in your balls.

Continue scooping out ingredients and rolling 1 inch balls until you have used up all of the mix. You should be able to create 12 balls.

Store in the fridge or freezer.
QUESTION:
Are you trying to get better at meal planning?
Do you find yourself eating the same recipes every few weeks?
Are you having trouble finding recipes for meal prep?
Or are you counting macros?
If you are bored of eating the same recipes every week and answered yes to these questions, then you are going to want to subscribe below. Each week I create 3-5 new recipes, ensuring you never get bored with your food again! Additionally, you are going to want to check out my notes below. Tips on how you can incorporate these easy cranberry oatmeal peanut butter bliss balls into your meal plan and meal prep. This is the perfect healthy treat!
NOTES FOR MEAL PLANNING:
Meal planning doesn't have to be hard or take a lot of time. In fact, meal planning can be fun when you are provided with easy new recipes each week. Meal Planning can also help save money, prevent food waste, and save you time.
The best things about these bliss balls are: they're healthy, the only take 15 minutes to make, a perfect meal prep snack, and they taste AMAZING!
If you would like to lean more about meal planning and putting your own personal plan together click HERE.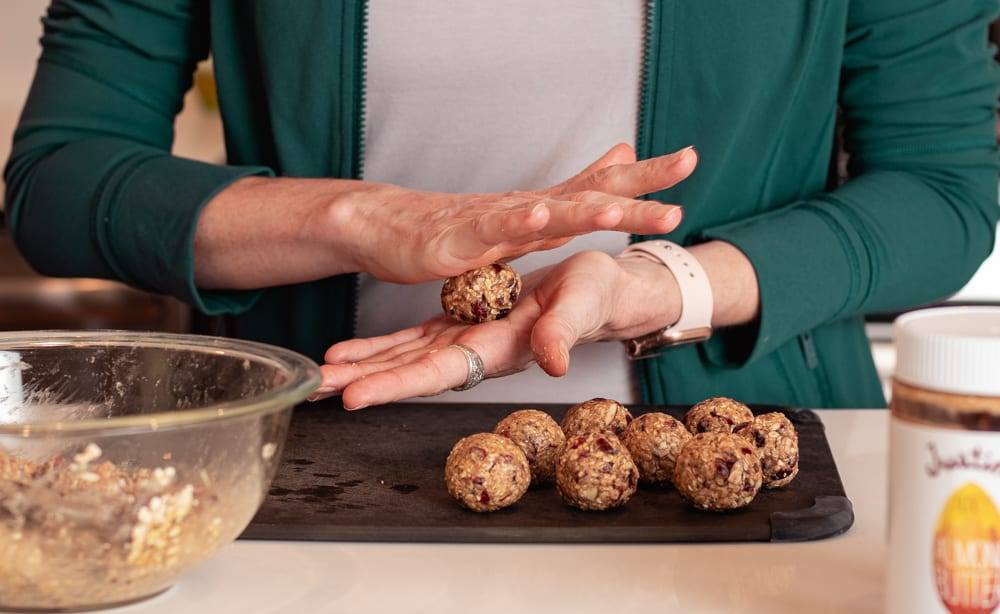 NOTES FOR MEAL PREP:
When meal prepping recipes it is important to think about the best way to store and reheat your finished meals:
FRIDGE STORAGE:
Storing these heathy cranberry oatmeal peanut butter balls in the fridge will last 2 – 3 weeks. Theres nothing in these little tasty treats that will go bad quickly.
I store these little balls of heaven in zip lock bags or my glass meal prep containers, either work just fine.
FREEZER STORAGE:
This is the perfect freezer friendly recipe. When frozen this cranberry oatmeal peanut butter balls will keep for 6 months. If you have ever frozen a candy bar in the freezer you are going to LOVE how these freeze!
Freezer storage is the same as fridge storage: glass containers or zip lock bags.
NOTES FOR COUNTING MACROS:
Typically I give tips on how you can adjust my recipes to meet macros goals by adjusting the protein, carbs and fat ingredients in each recipe. However, with baking that can be a little tricky. As a result this recipe doesn't allow for many adjustments to the amount of ingredients, but you can make changes to the type of ingredients. Check out my list of substitutions below, most of these substitutions will not alter the macros much, unless you make a changes to the amount of any ingredient.
Substitutions:
Any kind of nut butter can take the place of the peanut butter.
Syrup is a great substation for the honey, especially if you can find the sugar free syrup.
Any nut can take the place of the almonds, you will just want to make sure they are sliced or chopped into small pieces.
And really any dried fruit will work.
So have some fun with this recipe, and make it your own!
When counting macros and making adjustments to these cranberry oatmeal peanut butter balls, you will want to keep in mind the number of servings you are making.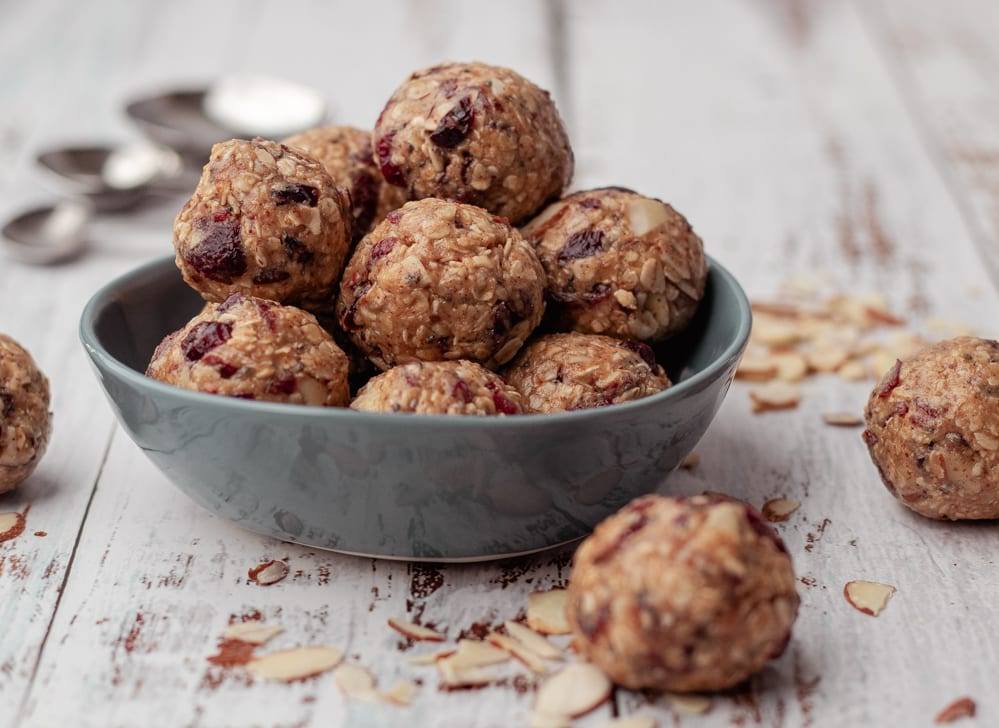 Looking for more healthy snacking options?