High Protein Soup, Stew, and Chili
Nothing beats the comforting feeling of a warm bowl of soup, stew, or chili!
These recipes will have you feeling warm and cozy on the inside and out. Whether it's cold outside, you're feeling a little under the weather, or just looking for a little extra comfort, these warm bowls are guaranteed to make you feel better!
However, if you can't decide which to try first? Start with one of my favorites: One Pot Chili, Chicken Soup, Pork Chili, or Asopao. I can guarantee that one of these soups, stew, or chili, will become one of your favorite warm comforting foods too!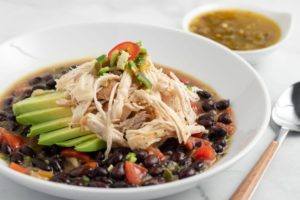 Whether it's a cold winter's night or your just craving a healthy Mexican recipe, this…
Read More
© 2020 A Dash of Macros, LLC | ADASHOFMACROS.COM | MEMBERS.ADASHOFMACROS.COM
All rights reserved. The material on this site may not be cached, distributed, transmitted, reproduced, or otherwise used, except with prior permission of A Dash of Macros