Turkey is not just for Thanksgiving
Turkey is a fantastic ingredient for creating Healthy, Easy Recipes that you will love! Did you know that Turkey is loaded with Protein? If you are looking to lose weight or lean out, you need more protein in your life. So, don't forget about the turkey until Thanksgiving.
Do you love to meal prep and are stuck in a rut eating the same recipes week after week? Then you want to check out these Easy Turkey Recipes great for meal prep.' Turkey Sausage with Broccoli Couscous, Peppers Stuffed with Turkey and Kale, or my all-time favorite Turkey and Green Bean One Pot Meal.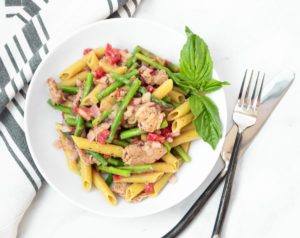 Who doesn't love pasta? If you are anything like me you love pasta, but your…
Read More
© 2020 A Dash of Macros, LLC | ADASHOFMACROS.COM | MEMBERS.ADASHOFMACROS.COM
All rights reserved. The material on this site may not be cached, distributed, transmitted, reproduced, or otherwise used, except with prior permission of A Dash of Macros