Vanilla and Cinnamon Protein Balls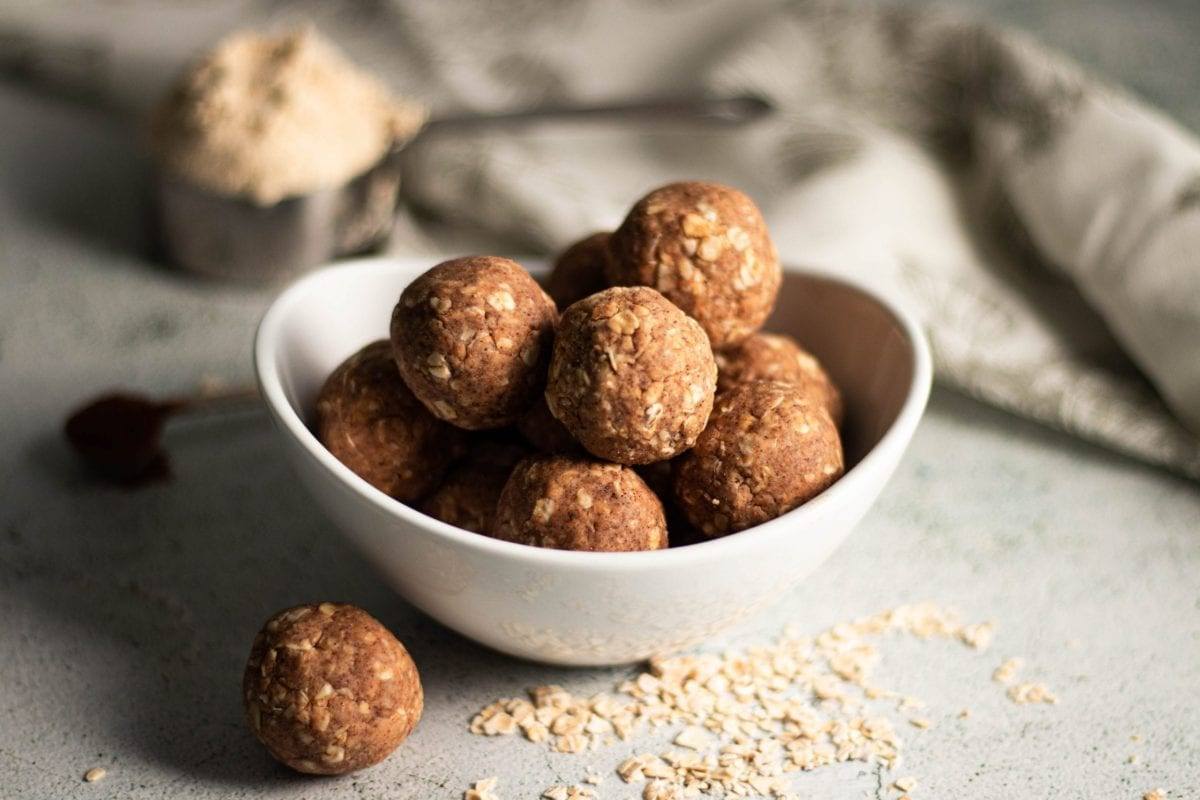 The best thing about these vanilla and cinnamon protein balls is, they can be meal prepped ahead of time and have them as a snack whenever you have a sweet tooth craving. Or, if you are counting macros, use these tasty treats to hit your macro goals!
Vanilla and Cinnamon Protein Balls
Protein balls are a great snack on the go!
1 cup Quick Oats (([adjustable]90[/adjustable] grams))
½ cup French Vanilla Collagen Protein Powder ((about [adjustable]45[/adjustable] grams))
1 tbsp Vanilla Extract
1 tbsp Ground Cinnamon
1 tbsp Water
½ cup Creamy Peanut Butter (100% peanut butter, I used Crazy Richards (about [adjustable]120[/adjustable] grams))
In a large bowl combine oats, protein powder, and cinnamon, mix together.

Next add the wet ingredients: peanut butter, vanilla extract, and water. Using a heavy spoon stir/mash the mixture together. It will start to form large clumps. Be sure to get all the wet ingredients well incorporated into the the dry mix.

Now using a regular spoon, scoop out enough mix to make a one inch ball. Using your hands roll the ingredients around until you have formed the 1 inch ball. If your mixture is too dry, add 1 another tablespoon of water at a time until your balls no longer crumble and are able to form a ball.

A little tip, your warm hands will help the ingredients stick together and remove any little cracks in your balls.

Continue scooping out ingredients and rolling 1 inch balls until you have used up all of the mix. You should be able to create 12 balls.
Are you meal prepping? Then you are going to want to check out my notes below on how you can incorporate these vanilla and cinnamon protein balls into your meal prep.
NOTES FOR MEAL PREP:
This is a fantastic recipe for meal prepping. Put these in your fridge and they will last up to 2 weeks. Or store them in the freezer and enjoy them for months.
I personally like to eat them frozen right out of the freezer. But you can grab a few to take to work with you, they will be defrosted within an hour!
NOTES FOR COUNTING MACROS:
Typically I give tips on how you can adjust my recipes to meet your macro requirements, but with baking that can be a little tricky. As a result this recipe doesn't allow for many adjustments or it will not come together in the end. However, I do hope you work these vanilla and cinnamon protein balls chocolate into your meal prep this week.
Although, you can adjust your macros by adjusting the portion size or eating a few protein balls!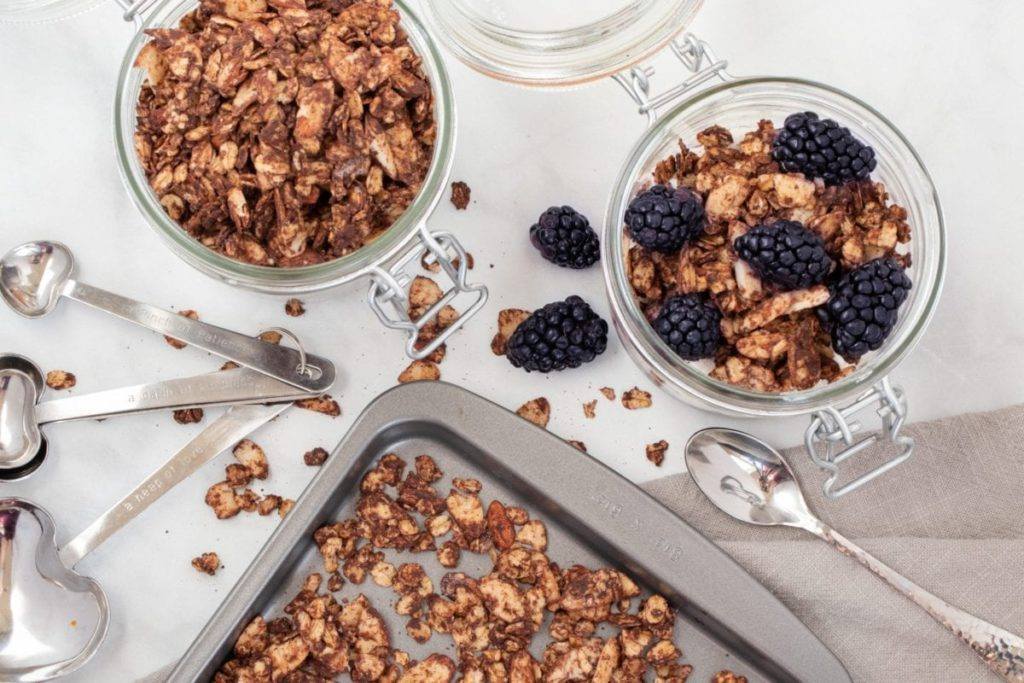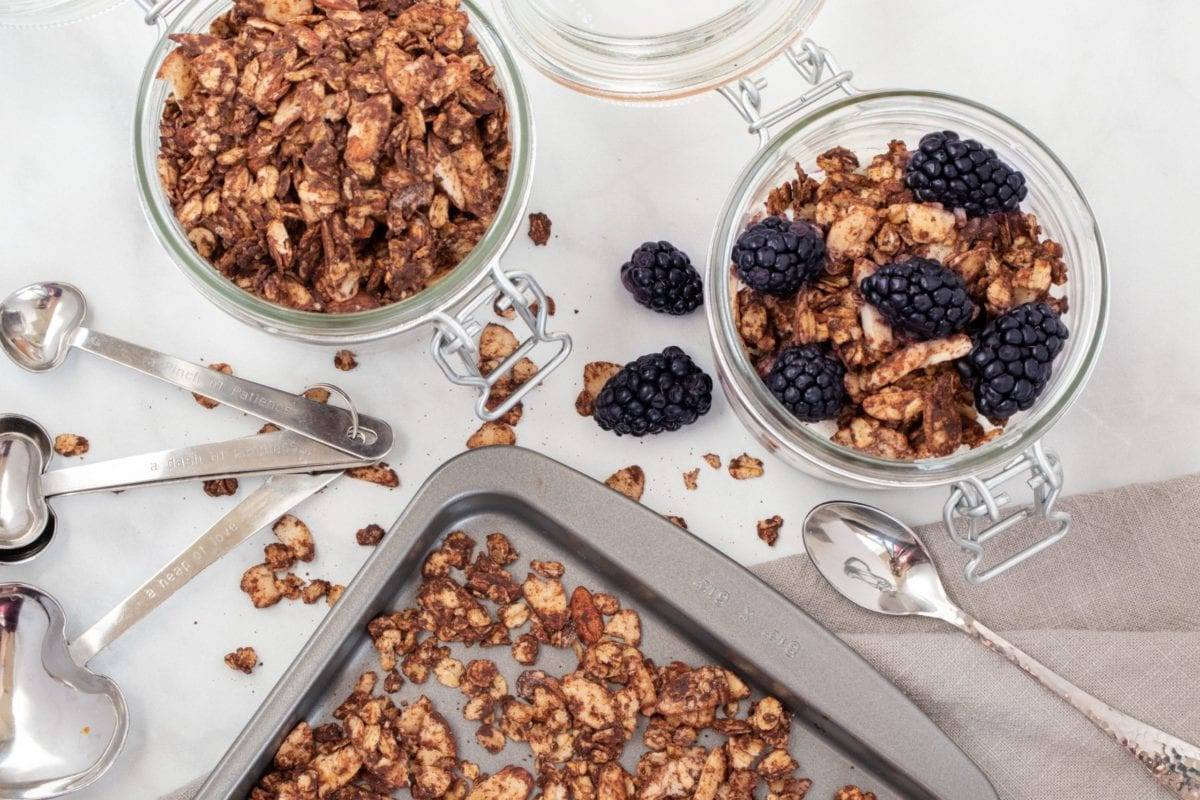 If you love chocolate and you love granola you should check out my:
Savory Chocolate Granola recipe, you won't regret it!
Do you need new meal prep containers? I prefer glass containers as they last longer, don't scratch, they are microwave safe, dishwasher safe, you can bake right in them, and my list goes on. Check out a few of my favorites below.
Would you like to learn more about counting macros? Click here