Spiced Tomato & Coconut Chicken w/Basmati Rice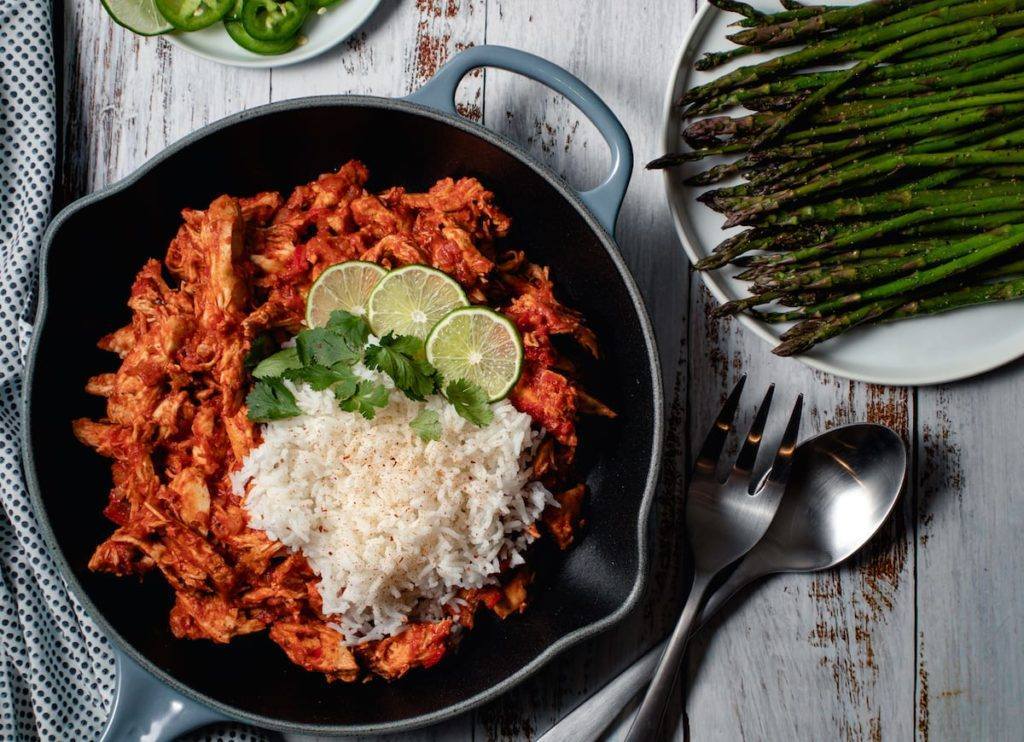 Sometimes you just have to go to your pantry and create a dish from whatever you have. That's exactly how I came up with this Spiced Tomato & Coconut Chicken w/Basmati Rice recipe! I had the chicken and wondered what can I do to spice it up? Wow, what I came up with was incredible! The creaminess from the tomato and coconut just melts in your mouth! Add this recipe to your meal plan this week! Another great recipe for meal prep and anyone counting macros!
How to Make Spiced Tomato & Coconut Chicken?
Chicken with Coconut Spiced Tomato and Basmati Rice
Instructions
Cook the rice by: Bringing 2 cup of water to boil. Once the water is boiling, add the rice, cover with a lid, and turn heat down to low. Simmer for 20 minutes then remove from heat. Keep covered for an additional 10 minutes.

While the rice is cooking heat a large stove top pan to medium heat, while the pan is heating season the chicken breast on both sides, using black pepper and garlic powder. Once the pan is hot, add the extra virgin olive oil to the pan.

Place the chicken immediately in the pan, leave it there on medium heat for 2 minutes, then flip to the other side and cook for an additional 2 minutes.

Both sides should start to become golden brown, but the center will still look uncooked…if not golden, give each side another minute…your pan wasn't hot enough. Then turn the heat to low and cover the chicken with a lid. Let it cook for about'

8

' minutes, then flip and cover again for additional'

8

' minutes.

After'

8

' minutes on each side covered, the chicken should be done. But this does depend on the size of the chicken breast…these times are based on a'

8

' oz breast.

My rule of thumb is, once covered, cook the chicken for 1 minute per ounce per side. I find that this deliveres a perfect juicy chicken breast every time.

It is always best to check the internal temperature of chicken before serving.

While the chicken is cooking work on creating your sauce. In a small bowl stir together the tomato paste, coconut cream, red chili paste, and sriracha.

Once the chicken is cooked remove it from the pan, leaving the remaining juices in the pan.

Now add your dices onions and cherry peppers to the pan with the chicken juice. Cook for 3-5 minutes stirring often.

While the pepeprs and onions are cooking use a fork and knife to shred the chicken. Then add the chicken back into the pan with the peppers and onions. Pour the sauce over top of the chicken and onions. Season with the garlic poweder, red pepper flake, and chili powder. Stir everything together until well combined. Then turn the heat to low and cover with a lid. Allow to cook for 3-5 minutes.

Serve by plating the chicken with the rice and sprinkle a little fresh cilantro on top and a slice of lime.

You can see that I served this recipe with aparagus…I had some i had to use before it went bad! But feel free to serve this recipe it on its own or with any veggie you wish.

The asparagus I cooked in ½ tbsp butter, a little pepper and garlic powder. Tossing in a saute pan for 3-5 minutes. Just enough to warm thru. I prefer my asparagus with a little crisp. The asparagus is not included in the nutritional facts.
Macro Nutrition
Nutrition Facts
Chicken with Coconut Spiced Tomato and Basmati Rice
Amount Per Serving
Calories 572
Calories from Fat 129
% Daily Value*
Fat 14.3g22%
Cholesterol 71.8mg24%
Sodium 367.3mg16%
Potassium 523.7mg15%
Carbohydrates 48.5g16%
Protein 55.6g111%
Vitamin A 24.8IU0%
Vitamin C 57.8mg70%
Calcium 10.6mg1%
Iron 12.4mg69%
* Percent Daily Values are based on a 2000 calorie diet.
QUESTION:
Are you trying to get better at meal planning?
Do you find yourself eating the same recipes every few weeks?
Are you having trouble finding recipes for meal prep?
Or are you counting macros?
If you are bored of eating the same recipes every week and answered yes to these questions, then you are going to want to subscribe below. Each week I create 3-5 new recipes, ensuring you never get bored with your food again! Additionally, you are going to want to check out my notes below. Tips on how you can incorporate this easy Spiced Tomato & Coconut Chicken w/Basmati Rice recipe into your meal plan and meal prep. This is the perfect healthy weeknight recipe!
NOTES FOR MEAL PLANNING:
Meal planning doesn't have to be hard or take a lot of time. In fact, meal planning can be fun when you are provided with easy new recipes each week. Meal Planning can also help save money, prevent food waste, and save you time.
The best things about this recipe is: it's super easy to make, you can use up some of those pantry ingredients, and it is a fantastic meal prep recipe.
If you would like to lean more about meal planning and putting your own personal plan together click HERE.
NOTES FOR MEAL PREP:
When meal prepping recipes it is important to think about the best way to store and reheat your finished meals:
FRIDGE STORAGE:
Storing this Spiced Tomato & Coconut Chicken Recipe in the fridge will last 5-7 days.
There are a few ways you can choose to store this recipe in your fridge:
You can store as one large meal or as individual servings.
I always prefer individual servings. This allows me to only reheat the number of servings that will be eaten.
However, if you know you will eat the entire recipe when it is time to be reheated, go ahead and store it as one large serving.
For fridge storage you can use zip lock bags, plastic containers, or glass food containers. I prefer to use glass container, as this allows me to reheat and eat the recipe right out of the same container. Which in turn saves me time, dirty dishes, and makes clean up easier. It also save on waste: either tossing out the used zip lock bags, or eventually having to replace the plastic containers.
Be sure to allow the recipe to cool completely before closing the container or placing in the fridge. If you close the container or place the recipe in the fridge before it has cooled you could have built up condensation within your container, thus watering down the recipe.
TIPS FOR RE-HEATING AFTER BEING IN THE FRIDGE:
If reheating as an individual serving, microwave for 90-120 seconds, stirring half way thru.
If reheating as a one large meal, I recommend reheating on the stove, in a large pan, at medium low heat, mixing the rice in with the chicken. This will help to keep the rice moist. Cook for 7-10 minutes until the recipe is warmed thru. This will ensure the best flavor, consistency, and really bring the recipe back to life. You may want to add a tiny bit of water to help loosen up the sauce and ingredients. Adding 1 teaspoon at a time, you don't want to water down the recipe.
You could also only pre make the chicken portion ahead of time, cooking the rice fresh the day you plan to eat the entire meal.
However, you can also microwave the entire recipe, this will take about the same time as the stove top, but might dry the recipe out a little. Microwave for 7-9 minutes, stirring every few minutes.
FREEZER STORAGE:
This recipe is not a freezer friendly recipe. Both the chicken and the rice will dry out if frozen and then reheated. Therefore I don't recommend freezing this Spiced Tomato & Coconut Chicken meal. However, if you do, I recommend mixing the rice in with the chicken and the sauce. This will help to try and keep the rice from drying out too much.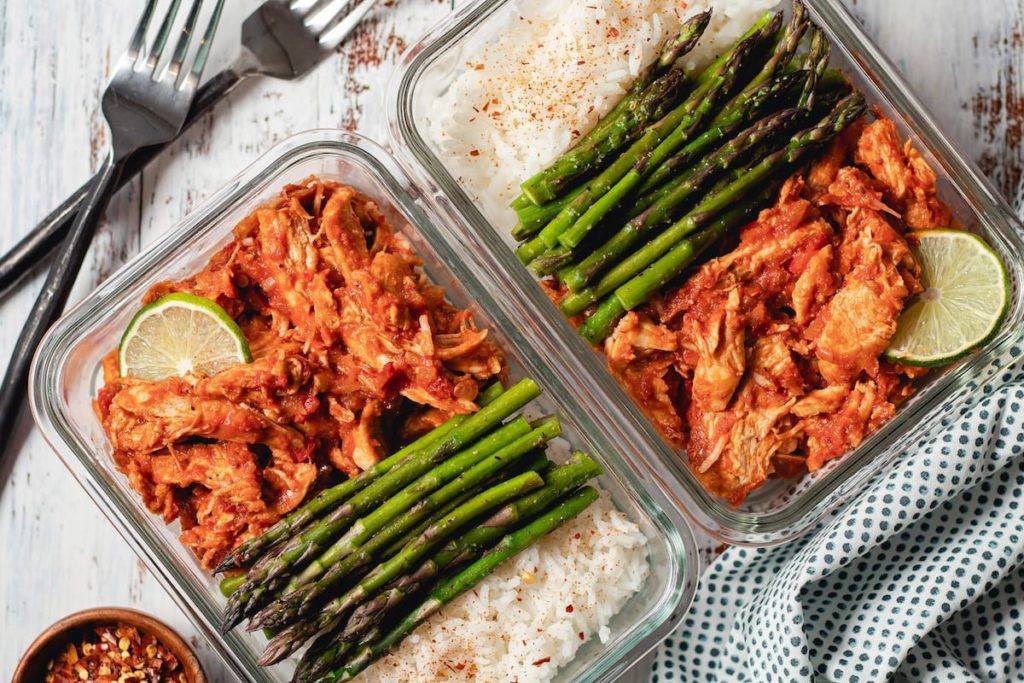 NOTES FOR COUNTING MACROS:
The majority of the protein in this Spiced Tomato & Coconut Chicken, comes from the chicken. You can easily adjust the amount of chicken without changing the flavor of this recipe too much.
For every 1 ounce of chicken you can increase or decrease the protein macro by 8.8 grams.
So go ahead, add as much or as little protein as you would like to this recipe.
You can adjusted the amount of carbohydrates based on the amount of rice you choose to use. For this recipe I used a traditional basmati rice.
For every 1/4 cup (45g) of basmati rice you increase or decrease the carbs by 31.9 grams.
Therefore you are able to increase or decrease the amount of rice to meet your personal carb macro goals.
This Spiced Tomato & Coconut Chicken w/Basmati Rice does have a decent about of fat with 14.3 grams per serving.
There is not an easy way to reduce the amount of fat in this recipe without changing the flavor of the recipe. Additionally the fat comes from a handful of ingredients.
The one item that contains the most amount of fat is the coconut cream. Reducing the amount of coconut cream would change the consistency of the dish and the flavor. I would not recommend reducing the cream too much or you will have a dry recipe.
However, you are able to increase the amount of coconut cream, increasing by as much as double and your recipe will still be delicious!
For every 40 grams (1 serving) of coconut cream there is 7.5 grams of fat.
If counting macros and making adjustments to this Spiced Tomato & Coconut Chicken w/Basmati RiceRecipe, you will want to keep in mind the number of servings you are making.