When you think of a pork recipe do you think Healthy?
Most people would say no, thinking of bacon when they think of pork, forgetting all the other cuts. While bacon is delicious it is a fatter cut of meat, and in moderation, fat is not bad for you. However, in this section, I am sharing with you some of my all-time favorite Healthy Pork Recipes. Recipes that will leave you feeling full and satisfied!
If you love breakfast sandwiches you are going to want to check out my: Ham and Cheese Breakfast Sandwich. If you love a good warm bowl of stew you are going to want to try my Asopao Recipe, one of my all-time favorite Puerto Rican dishes.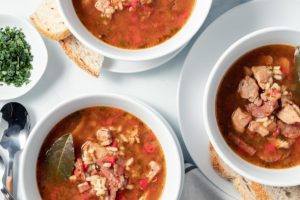 Recipes are passed down from generation to generation changing along the way. Each family member…
Read More
© 2020 A Dash of Macros, LLC | ADASHOFMACROS.COM | MEMBERS.ADASHOFMACROS.COM
All rights reserved. The material on this site may not be cached, distributed, transmitted, reproduced, or otherwise used, except with prior permission of A Dash of Macros