If you love chocolate like me, you are going to love these skinny chocolate banana protein muffins. Yes that's right I said Skinny! These muffins are high in protein, low in fat and sugar! The perfect combination if you are looking for a healthy delicious muffin that will not throw you off your weight loss game! I love meal prepping muffins, they make a great grab and go breakfast or snack! Add these muffins to your meal plan this week, and if you are counting macros you are going to love these as they can help fill in where your missing your macro goals!
Chocolate Banana Protein Muffin
Instructions
Pre-heat oven to 350'°, line a muffin tin with muffin cups or spray with non-stick spray.

Peel your bananas and place them in a large bowl, using a fork smash your bananas.

Then add the remaining ingredients: chocolate protein pancake mix, milk, yogurt, protein powder, baking powder and chocolate chips. Stir together until everything is evenly distributed, but not over mixed. You will still have lumps from the bananas.

Pour your mix into your muffin cups or tray, filling to about 75% full. Bake in the oven at 350'° for 20 minutes. Test to ensure doneness by inserting a toothpick, it should come out clean, if not cook another minute or two.
Macro Nutrition
Nutrition Facts
Chocolate Banana Protein Muffin
Amount Per Serving
Calories 137
Calories from Fat 41
% Daily Value*
Fat 4.5g7%
Cholesterol 4.9mg2%
Sodium 130.7mg6%
Potassium 143.4mg4%
Carbohydrates 18.1g6%
Protein 10.2g20%
Vitamin A 1.2IU0%
Vitamin C 2mg2%
Calcium 4.3mg0%
Iron 9.8mg54%
* Percent Daily Values are based on a 2000 calorie diet.
QUESTION:
Are you trying to get better at meal planning?
Sick of eating the same boring recipes all the time?
If you are bored of eating the same recipes every week and answered yes to these questions, then you are going to want to check out my notes below. Tips on how you can incorporate these skinny chocolate banana protein muffins into your meal plan and meal prep.
NOTES FOR MEAL PLANNING:
Meal planning doesn't have to be hard or take a lot of time. In fact, meal planning can be fun when you are provided with easy new recipes each week. Meal Planning can also help save money, prevent food waste, and save you time.
If you love chocolate and you love bananas you are going to love these skinny chocolate banana protein muffins!
NOTES FOR MEAL PREP:
Once you have made the muffins you will want to store them in a zip lock bag. However, it is important to allow them to cool completely before closing the bag. Failing to do so will cause a condensation build up and the muffins could go bad quickly.
Storing and how long they will last:
At room temperature up to 5 days
In the fridge for up to 10 days.
Or in the freezer for up to 6 months.
If freezing, simply remove the muffins you plan to eat from the freezer the night before, they will be defrosted by morning. Or pop a muffin into the microwave for 30-60 seconds to defrost.
I love to microwave the muffins before eating, it gets the chocolate warm and gooey again!
NOTES FOR COUNTING MACROS:
Typically I give tips on how you can adjust my recipes to meet your macro requirements. However, when it comes to baking that can be a little more difficult. Additionally, the adjustments that could be made, do not effect the protein, carb, and fat macros enough to make a real impact. My recommendation would be to enjoy this recipe as is.
However, you could make adjustments to:
The kind of protein powder you use, any of your favorite unflavored or chocolate powders is fine. Additionally, you can choose to use none at all.
You can also choose to use a different type of complete pancake mix.
Finally, you can choose to use any type of milk you would like. However, many milks have more fat than the milk that I have indicated in this recipe. Therefore if counting macros you are going to want to pay attention to the fats in the milk.
I hope that you decide to add these skinny chocolate banana protein muffins into your meal plan and meal prep this week!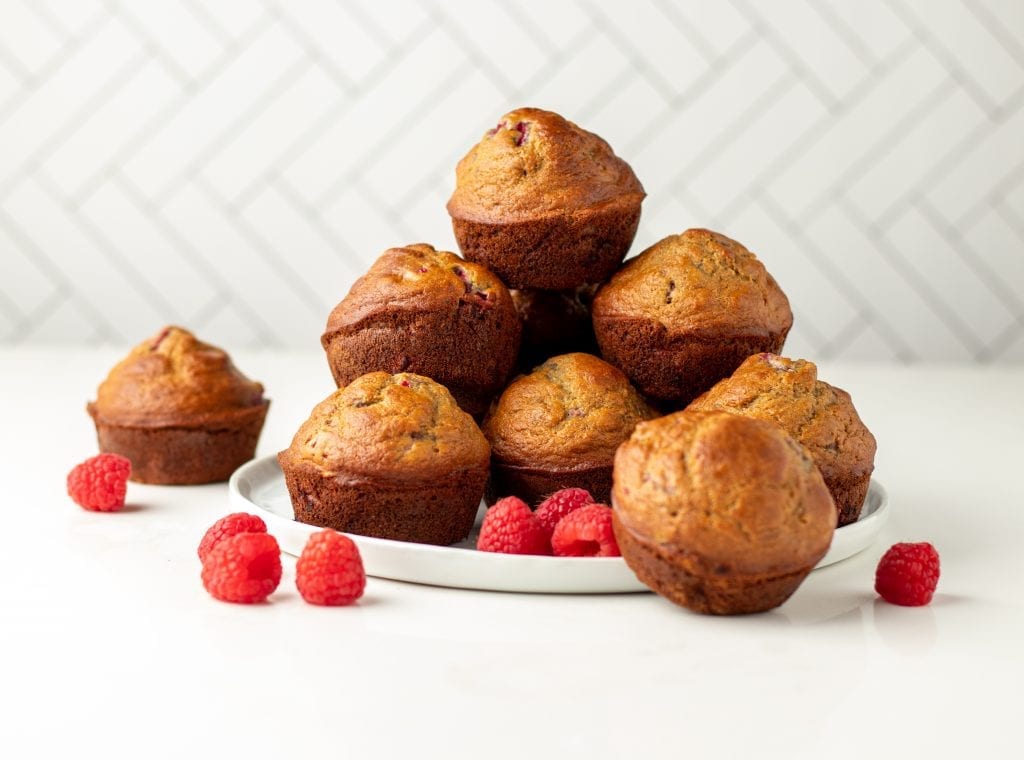 Looking fr new meal prep containers?
HERE ARE JUST A FEW OF MY FAVORITES: