The Essential Guide to Reheating Your Meal Prepped Food
There is nothing worse the spending your time meal prepping, tasting your food as you pack it away, thinking "WOW that tastes AMAZING" excited for when it's time to eat. Then reheating your prepped meal only to have it turn out over cooked, dried out, or soggy. This has happened to everyone, including me. After years of trial and error I am going to share the tips and tricks I have learned along the way for reheating your meal prepped food and have it taste as delicious as it did when you first made the recipe.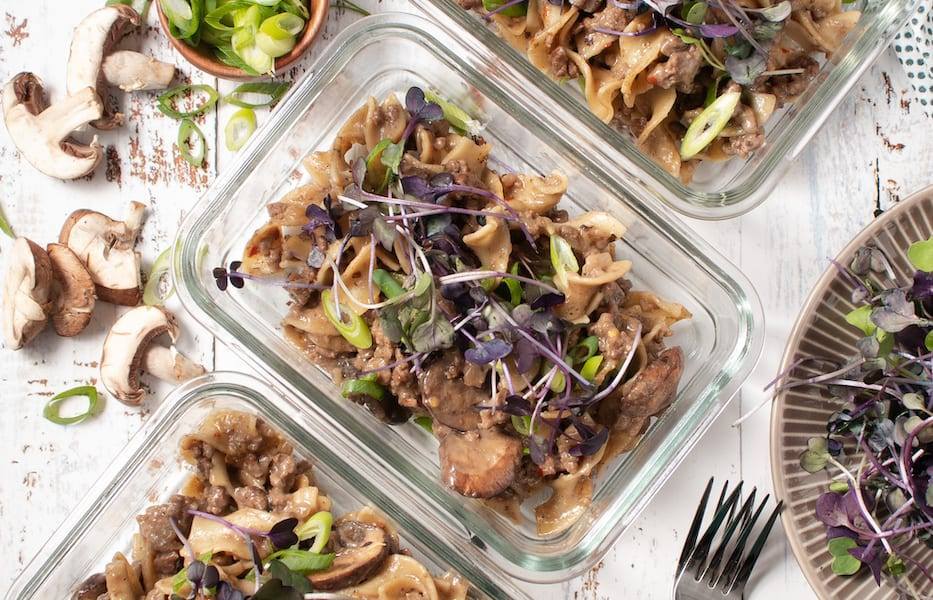 The questions I'm always asked about meal prep are:
What does it mean to Meal Prep?
Meal prep is the act of preparing meals ahead of time. You can meal prep entire meals or prep part of a meals to make cooking easier later. Meal prepping helps people to control portion size, save them time later in the week not having to cook, and it has also shown to reduce food waste.
How long will Meal Prepped food last in the fridge?
Most meals will last 3 – 6 days in the fridge. However, this does depend on the ingredient in each dish. Certain foods go bad or change color more quickly than others, and some ingredients hold up really well after they have been cooked.
Every recipe on A Dash of Macros includes the length of time the recipe will last in either the fridge or freezer and be safe to eat.
Reheating food Guidelines for your meal prepped food or leftovers in the microwave?
Recipes that reheat well in the microwave:
Typically most recipes cooked in a sauce or liquid will reheat well in a microwave:
Also anything that holds moisture, will reheat well in a microwave:

Baked Goods
Breakfast Dishes
Oatmeals
I have found that reheating meal prepped recipes in a microwave safe dish, slightly covered is the best way to go. Covering the dish helps to retain the moisture in the recipe. Although, it is important that you adjust the lid slightly to allow the steam to be released while cooking. Additionally, it is important that you only use a microwave safe lid, many lids are not microwave safe, even though the main part of the dish or Tupperware might be.
Tip:
If you do not have a microwave safe lid, you can wrap your dish in a damp paper towel. This will help to add and retain moisture to your recipe while you nuke it!
Microwave Reheating Times for Meals and Leftovers:
Reheating meal prep recipes and leftovers does depend on the amount of food that you are reheating. The more food the longer it will take.
Typically, I store my recipes in individual microwave safe, meal prep containers. This allows me to only reheat the amount of food that I am going to eat.
Recommended reheating time for an individual portions: 60 – 120 seconds. I also suggest stopping and stirring the recipe halfway thru to ensure even heating.
However if you store and serve your recipe as one large meal, this will require a longer cook time. It might also require adding a little moisture to your recipe.
Recipes that feed 2 – 4 people: I suggesting reheating for 3 – 6 minutes, stirring every 90 seconds. While stirring, checking the moisture of the recipe. If you feel it might be drying out, add 1-2 teaspoons of water, oil, or butter and give it a stir. Then place back in the microwave to continue cooking.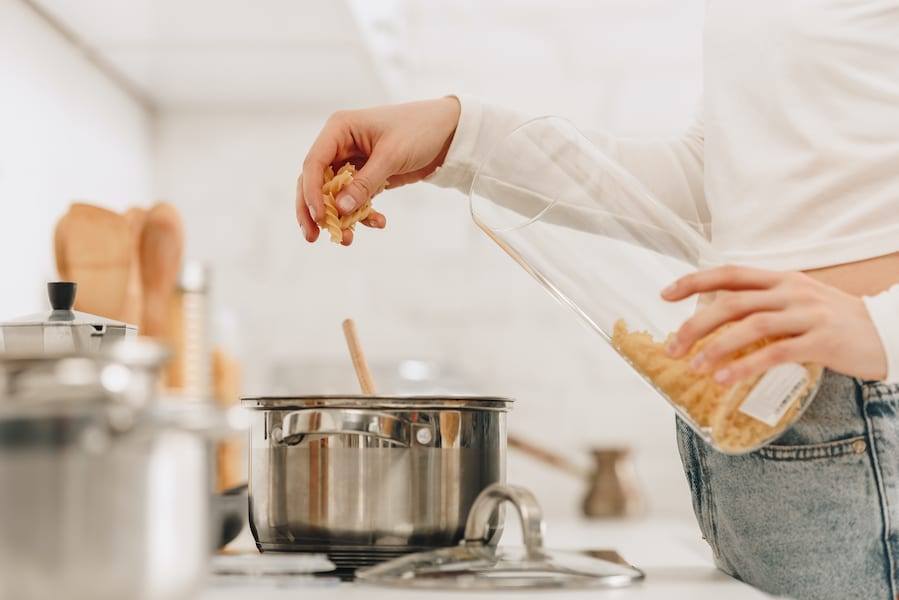 Reheating food Guidelines for your meal prepped food or leftovers on the stove?
Guess what, if it was cooked on the stove chances are you can reheat it on the stove! And honestly if you have access to a stove and a few extra minutes I always recommend reheating on the stove instead of the microwave.
In additional to the items that can be reheated in the microwave, you can also reheat these types of recipes on the stove:
Meat Dishes
Pasta Recipes
Rice Dishes
Stir-Fries
Reheating your food on the stove gives you better control over the temperate. However, the key is to keep the heat low to avoid overcooking. Before you add your recipe to the pot or pan you will want to add a little bit of butter, oil, or water. This will help to inject moisture back into your recipe.
Tip:
While reheating your meal prepped food or leftovers on the stove, covering with a lid will help to trap in moisture, cook more evenly, and reheat the recipe faster.
Stove Top Reheating Times:
Similar to microwave reheating, this will depend on the amount of food you are reheating.
An Individule size meal should be reheated in under 5 minutes. I recommend stirring, or flipping your recipe/ingredients every 90 – 120 seconds. This will prevent burning and allow you to check on the warmth of the recipe.
Reheating a recipe that will serve 2 – 4 people will take approximately 10 minutes to reheat. Again you will want to stir or flip your recipe/ingredients every 90 – 120 seconds.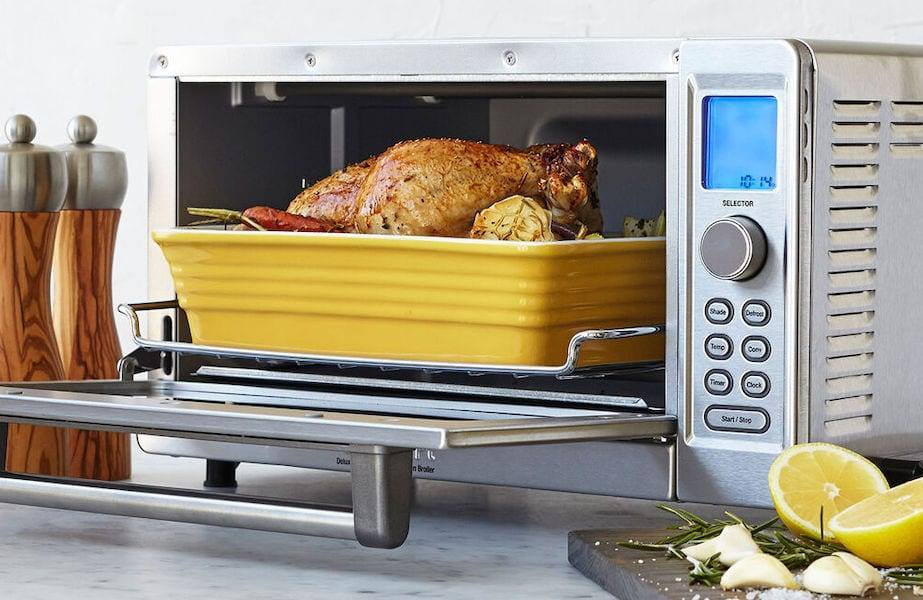 Reheating food Guidelines for your meal prepped food or leftovers in a toaster oven?
If you don't have a toaster oven, I highly recommend getting one. Toaster ovens are amazing for anything you want to retain it's crispiness:
Breakfast Burritos
Pizza
Quesadillas
Sandwiches
The reason it is best to use a toaster oven for crispy food is because a toaster allows the warm air to circulate around the ingredient. You are also able to place meals that include bread or tortillas directly onto the gates inside. this prevents moisture from gathering underneath your meals, allowing them to crisp up perfectly.
Tips:
Moisture is not our friend if we want something to be crispy, so if you can avoid placing your recipe on a try in a toaster oven then you should.
Toaster Oven Reheating Times:
Toasters are a quick way to reheat your food and get them nice and crisp. Typically reheating food in a toaster oven only takes a few minutes.
My recommendation is 2-4 minutes. Checking on the dish half way thru to decide if it is warm and crisp enough for your liking.
Reheating food Guidelines for your prepped food or leftovers in the oven?
Similar to the stove top directions, anything that was cooked in the oven can easily be reheated in the oven:
Baked Dishes
Casseroles
Meat Recipes
Sheet Pan Meals
Typically, reheating food in the oven takes the longest out of all reheating methods. But it does produce a spectacular reheated meal. Remember, when cooking in an oven it is important to use an oven safe dish.
Reheating Food in the Oven:
My standard temperature for reheating meal prepped recipes is 350Ëš degrees. While the oven is preheating I like to wrap my dish in tin foil, this will help to retain the moisture and prevent the top from burning. Once the oven is preheated place the recipe in the oven.
For individual meal prepped recipes I recommend cooking for 5 – 10 minutes, checking at minute 5 and stirring the recipe if you can. Then cooking until the recipe has warmed to your liking. Casserole and lasagna recipes don't like to be stirred.
If you are reheating a meal meant for 2 – 4 people the timing will be longer, around 15- 20 minutes. You will want to check on the meal around minute 12 and stir if possible.
Additional Tips and Tricks to reheating your meal prepped food:
When you meal prep you put a lot of time and effort into your recipes. You want to make sure that you do everything you can in order to have them taste amazing when reheating your meal prepped food. Below are some additional tricks that I have learned along the way that will help you meals taste delicious once reheated:
The first and most important tip is to ensure that your recipe has cooled completely before putting the lid on top and storing in the fridge. Putting the lid on will trap moisture, watering down your dish, creating a situation where things can get soggy when reheating.
Slightly under cooking things on the initial cook will allow them to finish their cooking process while you are reheating them. This will help to prevent things from becoming over cooked, mushy, and soggy. Ingredients that are ok to be slightly under cooked on the initial cook are:

Beef
Eggs
Shrimp
Some Veggies

Some veggies reheat wonderfully, and others no matter what you do turn out soggy, that is really just the way it goes for reheating some vegetables. Example: Crispy potatoes…there is almost no way to reheat a crispy potato and get that crisp back. Even though they might not be crispy, they will still be tasty!
Meat: it is always important to allow meat to rest 5-10 minutes before slicing. This will allow the juice to render back into the meat and keep its tender juiciness. If prepping and planning to eat later you can also wait until after you have reheated the meat to slice it.
Pasta and Rice has a tendency to stick together. You will need to add a little bit of: water, butter, oil, or broth before reheating those ingredients. Unless, there is already a sauce with the ingredient that includes the rice or pasta, the sauce will help to keep them from sticking together and you shouldn't need to add additional ingredients.
All of the recipes that you find on A Dash of Macros will tell you:
If they are meal prep-able
The best way to store the recipe: pantry, fridge, or freezer
The best way to reheat the recipe
And proper cook time and for reheating
Additionally, all of the recipes found at A Dash of Macros are great for eating immediately. You don't need to be a meal prepper or count macros to enjoy the recipes found here!
Following the above reheating food guidelines are important to ensure that you not only enjoy delicious tasty meals when being reheated, but are safely reheating your cooked food.
I hope that you enjoyed my Essential Reheating Food Guidelines tips and tricks and hope that you are start putting them into practice to experience even more delicious meal prepped food and leftovers!
What about frozen meal prep?
If you looking for information about freezing you meal prep or leftovers check out my complete guide for freezing meal prep recipes.
---