Greek Breakfast Quesadilla w/Spinach & Mushroom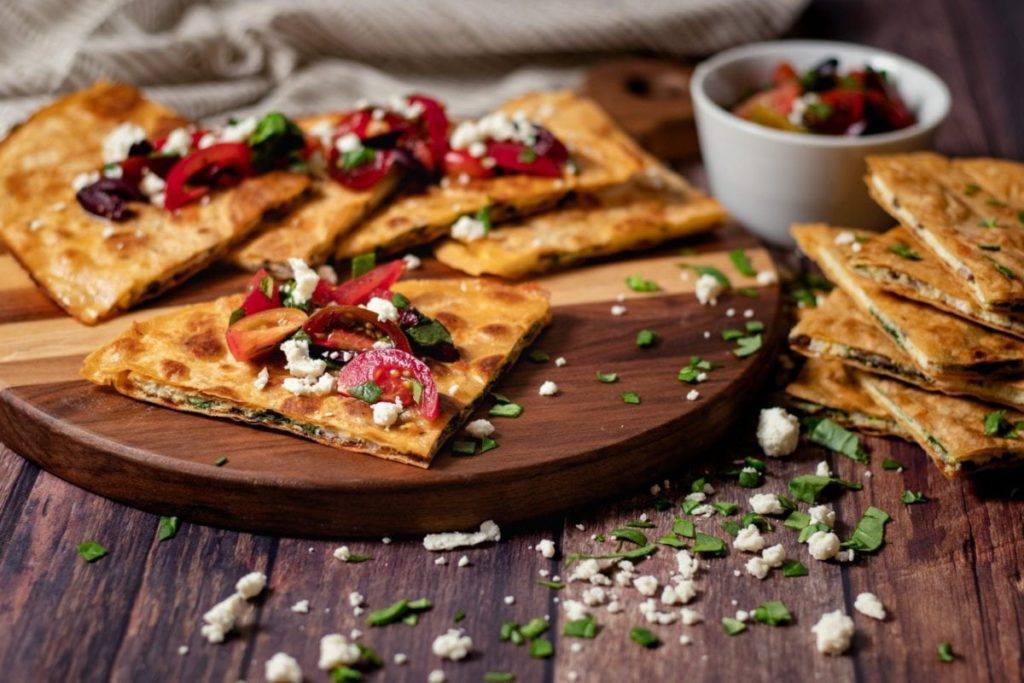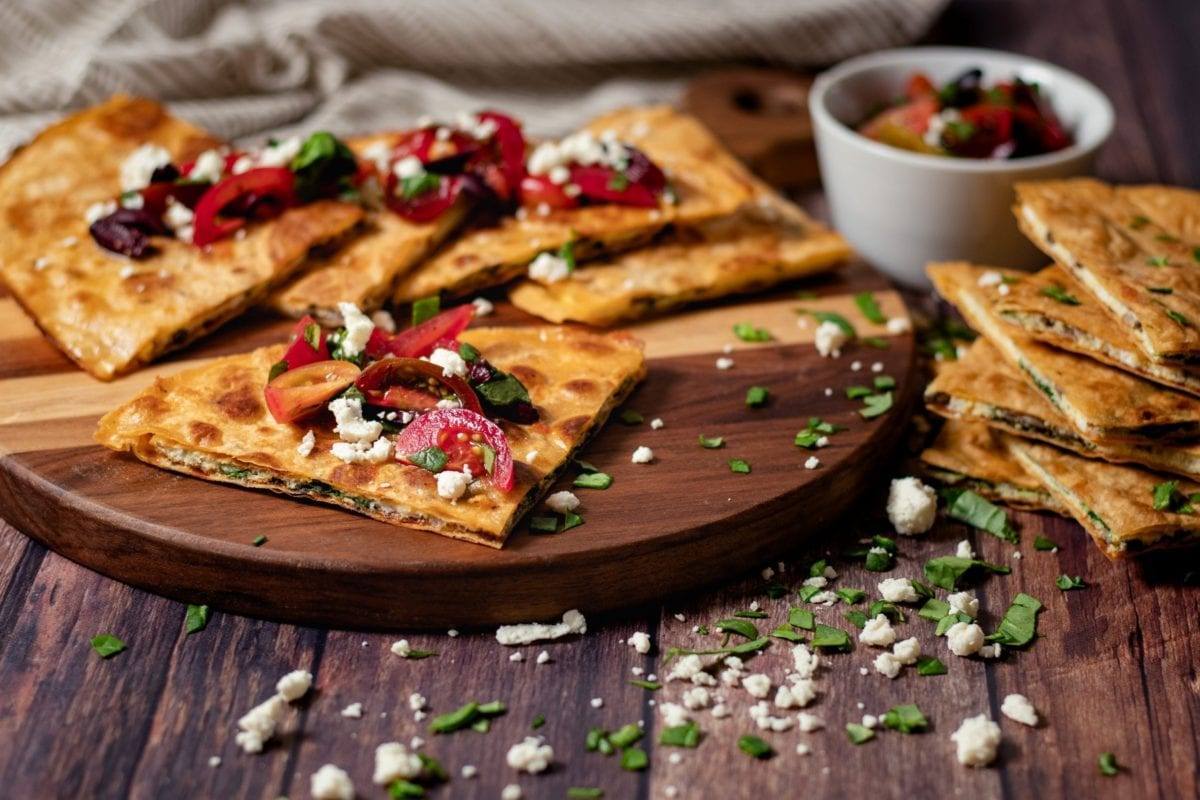 I am always looking for new ways to meal prep breakfast. There is nothing better than getting out of bed and just being able to heat something up real quick and having a nice warm breakfast. On my meal plan this week are these Greek Breakfast Quesadilla w/Spinach and Mushroom, topped with diced tomatoes, olives, and crumbled feta! I mean what better way to start the morning? I haven't forgotten about my friends who are counting macros…there are so many ways of adjusting this recipe to meet your macro goals!
How to make a Greek Breakfast Quesadilla?
Greek Breakfast Quesadilla
Ingredients
Quesadilla
¼

cup

Shallot

diced, (

40

grams, or

1

shallot)

1

cup

Baby Bell Mushrooms

diced, (

100

grams, or

6

mushrooms)

3

cloves

Fresh Garlic

diced, (

15

grams)

1

cup

Baby Spinach

(

100

grams)

1

tbsp

Extra Virgin Olive Oil

12

Large Whole Eggs

12

Kaliwonder Slim Wrap

tortilla, warp, your choice works!

2

cups

Dubliner Cheese

freshly shredded, (

180

grams)

¼

tsp

Salt

½

tsp

Black Pepper

1

tsp

Red Pepper
Topping
2

cups

Cherry Tomatoes

diced, (

200

grams) optional

½

cup

Kalamata Olives

diced, (

50

grams) optional

¼

cup

Feta Cheese

(

40

grams) optional
Instructions
Quesadilla
Start by slicing all of your ingredients. Mixing your shallots, mushrooms, and garlic in a small bowl. In a seperate bowl whisk your eggs together.

To ensure you use even amounts of filling in each quesadille scoop your shallot mushroom mixture into

6

even piles.

Heat two saute pans to medium low heat.

• One pan should be smallish: 8-10 inches max, no bigger than you tortillas.

• The other should be larger, or use a flat square pan of you have one.

Now you will start making the quesadilla in asembly line form, one at a time. In one pan you will sort by making an omlettle that you dont fold in half, then in the other pan you will be putting the egg into the tortilla to create your quesadilla.

In the smaller round pan add ½ tsp of oil to the warm pan. Then add 1 of your little piles of shallot, garlic, mushroom mixture. Cooking for 1-2 minutes, just enough to get them to start softening up. Then grab a handfull of spinach, tear it up using your hands into smaller pieces and stir it into the mushrooms and onions. Stir in for about 30 seconds just enough to get incorporated. Then spread the spinach, onion, mushroom mixture out evenly on the bottom of the pan.

Pour ½ cup of your whisked eggs ontop of the spianch, mushroom, onion mixture. Ensureing the the egg spreads out evely over top of the mixture. Cover with a lid to help the cooking process. The eggs should stiffen up enough to flip after 2-3 minutes. Flip and cook on the other side for 1 minute. This is creating a skinny omlette.

In that last minute of cooking your skinny omlette, spay the other larger or flat pan with no stick spray. Then place one of your tortillas in the pan. Sprinkle with 3 tablespoons of your shredded cheese, spreadding evenly.

Now top you cheese with the skinny omlette. Then top the omlette with 2-3 more tablespoons of cheese. Then top the second layer of cheese with another tortilla. Essencially making a tortialla sandwich with the egg in the middle…aka a quesadilla! The cheese helps to glue the egg to the tortilla.

Cook the quesadilla for 3 minutes on the first side, then flip and cook for another 2-3 minutes. Both side should turn a golden brown and crisp up. Once crisp remove from the pan.

Tip: I found placing a plate on top of the quesadilla, helps it to stay together ensuing the cheese works like glue. But also helps the tortilla to cook evenly.

While the your quesadilla is on the second pan cooking you can start working on the next skinny omlette going back to step 5 and working thru the steps. Do this until you have created each of your quesadilla.

Tip: Once I have finished each quesadilla I placed them on a plate in the oven to help keep them warm.

Once you have created and cooked each of your quesadillas, top them with your tomato olive topping and serve. Or place into your meal prep containers for the week. Keep the tomato, olive topping seperate unti you plan to eat. You don't want the topping to make your quesadilla soggy.
Topping:
As you find the time during the above steps. Slice your tomatoes and olives. I also diced a handful of spinach.

Mix your tomatoes, olives, spinach, and feta together.

Finish by sprinkling your quesadilla with your tomato olive topping.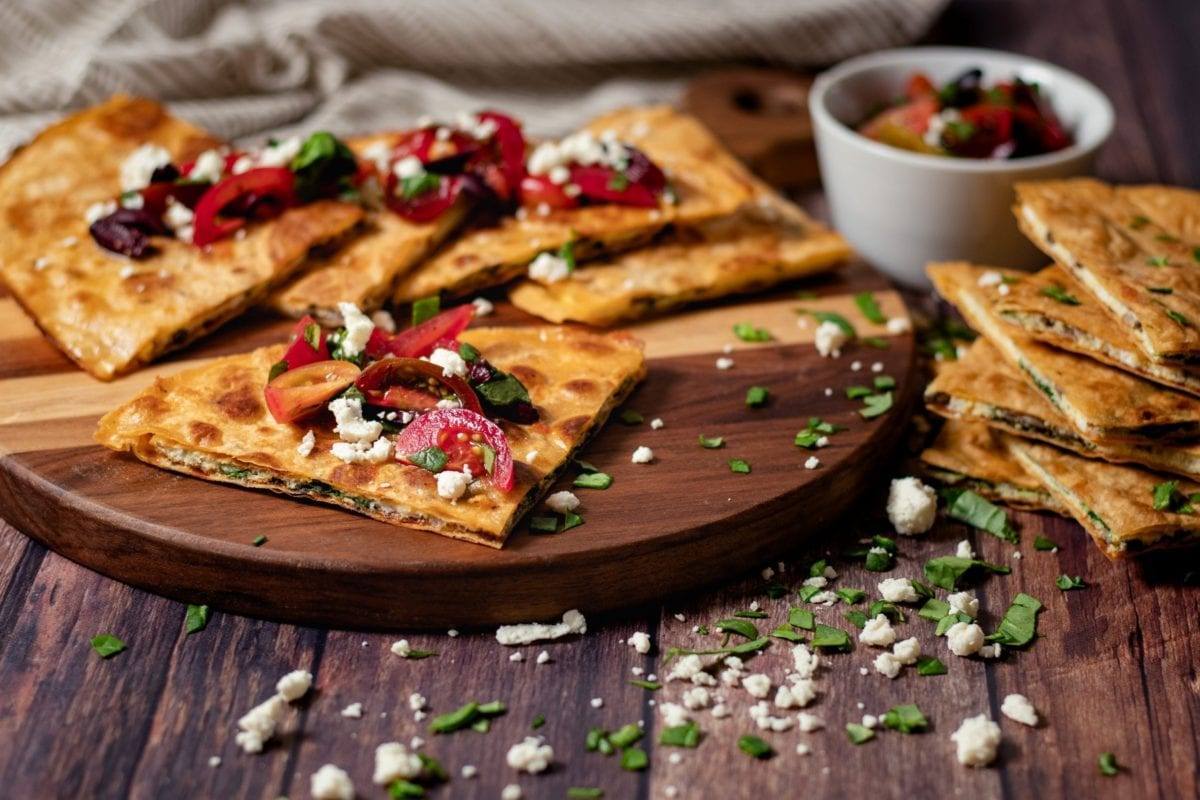 Macro Nutrition
Nutrition Facts
Greek Breakfast Quesadilla
Amount Per Serving (1 Quesadilla)
Calories 483
Calories from Fat 284
% Daily Value*
Fat 31.5g48%
Cholesterol 29.6mg10%
Sodium 778.1mg34%
Potassium 385.5mg11%
Carbohydrates 20.6g7%
Protein 27.2g54%
Vitamin A 179.1IU4%
Vitamin C 30.9mg37%
Calcium 29.2mg3%
Iron 22.8mg127%
* Percent Daily Values are based on a 2000 calorie diet.
QUESTION:
Are you trying to get better at meal planning?
Do you find yourself eating the same recipes every few weeks?
Are you having trouble finding recipes for meal prep?
Or are you counting macros?
If you are bored of eating the same recipes every week and answered yes to these questions, then you are going to want to subscribe below. Each week I create 3-5 new recipes, ensuring you never get bored with your food again! Additionally, you are going to want to check out my notes below. Tips on how you can incorporate these easy Greek Breakfast Quesadilla w/Spinach and Mushrooms into your meal plan and meal prep. This is the perfect healthy weekday breakfast recipe!
NOTES FOR MEAL PLANNING:
Meal planning doesn't have to be hard or take a lot of time. In fact, meal planning can be fun when you are provided with easy new recipes each week. Meal Planning can also help save money, prevent food waste, and save you time.
The best things about this recipe is: it is a fantastic breakfast meal prep and it is really easy to adjust the ingredients to meet your macro goals!
If you would like to lean more about meal planning and putting your own personal plan together click HERE.
NOTES FOR MEAL PREP:
When meal prepping recipes it is important to think about the best way to store and reheat your finished meals:
FRIDGE STORAGE:
Storing these Greek Breakfast Quesadillas in the fridge will last 5-7 days.
There are a few ways you can choose to store this recipe in your fridge:
You can store as large quesadillas, storing in zip lock bags.
Or, you can cut each quesadilla into 4 triangles like a pizza.
I prefer cutting them into triangles. Then storing all of them in glass containers. When it is time to eat, I pull out as many triangles as I want to reheat.
For fridge storage you can use zip lock bags, plastic containers, or glass food containers. I prefer to use glass container, it saves on waste: either tossing out the used zip lock bags, or eventually having to replace the plastic containers.
Be sure to allow the recipe to cool completely before closing the container or placing in the fridge. If you close the container or place the recipe in the fridge before it has cooled you could have built up condensation within your container, thus watering down the recipe.
TIPS FOR RE-HEATING AFTER BEING IN THE FRIDGE:
For best re-heating I like to use a toaster over. Cooking at 400 degrees for 3 minutes. This allows the tortilla to crisp back up.
However, if you don't have a toaster oven I suggest tossing into a pan and cook at medium heat for 2-3 minutes on each side. Again this helps to keep the tortilla nice and crispy.
I do not recommend reheating in the microwave, as this will make your tortilla softer. Not bad, just not the best way. If you have no other option except the microwave, cook on a paper towel for 60-90 seconds, flipping halfway thru. The paper towel helps to soak up some of the moisture to try and keep the tortilla from becoming too soft.
FREEZER STORAGE:
This recipe is not a great freezer recipe. I do not recommend freezing these Greek Breakfast Quesadillas. When it is time to defrost these they will become soggy and there really is not a good way to bring them back to life.
NOTES FOR COUNTING MACROS:
The majority of the protein in these easy Greek Breakfast Quesadillas comes from the eggs. You can easily adjust the amount of eggs without changing the flavor of this recipe too much. However, it is important to remember that eggs also have fat. If you are looking to increase the protein in this recipe and not adjust any other macro I would recommend adding 4 – 12 oz of egg white in to your eggs. Of course this means your skinny omelette with be a little thicker and you will use a little more egg mixture with each quesadilla.
For every 1 ounce of egg white you increase the protein by 3.3 grams.
If you want to increase the protein and decrease the fat you could swap out some of all of the eggs for liquid egg whites.
For every 1 egg you remove you will want to add 1/4 cup (2 oz) liquid egg whites.
• Removing 1 egg and adding 1/4 egg white you remove 5 grams of fat, and increase the protein by .7 grams.
Examples:
• Using 6 eggs and 1 1/2 cups of liquid egg whites will change this recipe to: Calorie: 446 / 27.9g Protein / 20.6g Carbs / 26.5g Fat
Removing all of the eggs and using 3 cups of liquid egg whites will change this recipe to: Calorie: 410 / 28.5g Protein / 20.6g Carbs / 21.5g Fat
So go ahead, add as much or as little protein as you would like to this recipe. Keeping in mind the amount of fat.
You can adjusted the amount of carbohydrates based on the type of tortilla or wrap you decide to use. The wrap that I used are one of my favorites, Kaliwonder slim wrap. I chose this wrap because it only has 7 net carbs.
If you are looking to increase the carbs in this recipe, the easiest way to do so, would be to trade out the wrap for one with higher carbs. You can find wraps with as few as 7 carbs like this Kaliwonder slim wrap, or have as many as 35 carbs.
The fat in these Greek Breakfast Quesadillas comes form the eggs and the cheese. This recipe is on the higher end of fats, with 31.5 grams per whole quesadilla. Therefore, I am assuming anyone looking to make adjustments is looking to decrease the fat.
I discussed above how you could decrease the fat in this recipe by swapping out the full eggs to egg whites.
However, you can also decrease the fat by reducing the amount or type of cheese you choose to use.
For this recipe I used a full fat cheese inside of the quesadilla and a full fat feta on top. Switching to low fat cheese will decrease the fat, depend on the type of cheese you decide to use.
I do not recommend reducing the amount of cheese inside the quesadilla or your eggs won't stick to the tortilla.
Although you could decrease the amount or completely remove the feta from the outside.
Another form of fat in this recipe is the olives. Again these are super easy to adjust, you can remove as many as you want to hit your fat macro goal.
There are just too many cheeses out there to give you examples of each, however here is an example of a low fat cheese on the inside, normal feta on top, no olives, and changing out the full eggs for egg whites.
Calories 326 / 14.5g Protein / 19.8g Carbs / 15.4g F
When making adjustments to the macros in this easy Greek Breakfast Quesadillas w/spinach and mushrooms, you will want to keep in mind the number of servings you are making. When counting macros it is important to get as close to your daily goal as possible.