Spinach and Tomato Orzo Chicken Skillet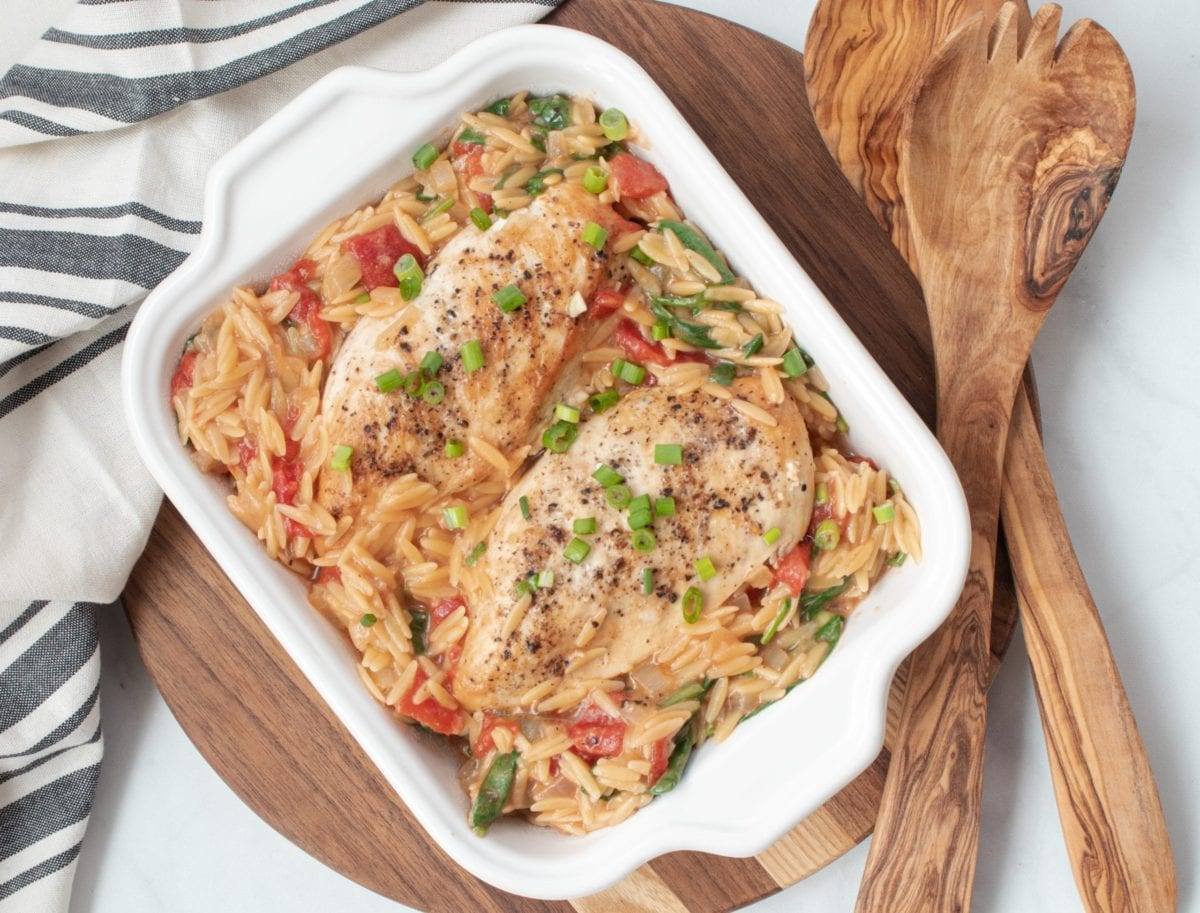 Who doesn't love a one pot meal. Keeping things easy helps me to be able to try new recipe all the time. This was by far my favorite meal prep recipe of the week. Super easy, quick, delicious, and heated up so well! Try my spinach and tomato orzo chicken skillet for you easy week night meal or meal prep. If your counting macros your going to love my notes below on how to easily make adjustments to this recipe!
Spinach and Tomato Orzo Chicken Skillet
Ingredients
1

tbsp

Extra Virgin Olive Oil

32

oz

Boneless, Skinless, Chicken Breast

(about

4

8oz chicken breasts)

½

tsp

Garlic Powder

½

tsp

Black Pepper

1

Yellow Onion

diced (about

180

grams)

2

cloves

Fresh Garlic

diced, (about

10

grams)

2

cups

Water

1

can

No Salt Added Diced Tomatoes

(about

1

15oz can)

1½

cups

Orzo

(about

180

grams)

1

cup

Fat Free Mozzarella Cheese

shredded, (about

100

grams)

¾

cup

Baby Spinach

(about

75

grams)

2

stalks

Scallions

diced, (about

20

grams)
Instructions
Heat a large stove top pan, with high sides and a lid to medium heat.' 

While the pan is heating season the chicken breasts on both sides, with black pepper and garlic powder.' 

Once the pan is hot, add the oil to the pan.' Place the chicken immediately in the pan, leave them there on medium heat for 3 minutes, then flip to the other side and cook for an additional 3 minutes. Both sides should start to become golden brown, but the center will still look uncooked…If not, give each side another minute…your pan wasn't hot enough.

Add the diced onions and garlic to the pan, stirring around the chicken breast for 1-2 minutes. Enough for the onions and garlic to soak up any juice and begin to soften.

Add the water and chicken base to the pan with the chicken and onions. Stir the liquid around to fully incorporate the chicken base into the water.

Now add the orzo and diced tomatoes to the pan. Stir everything together surrounding the chicken breast.

Then cover with a lid, turn the heat down to medium low and cook for 12-14 minutes. Lifting the lid and stirring the ingredients and flipping the chicken halfway thru. Return the lid and finish cooking for the remainder of the time.

Once the 12 minutes is done, most of the liquid should be absorbed into the orzo pasta. Add the shredded mozzarella and spinach to the pan and stir everything together until the cheese has melted and the spinach has wilted into the orzo and tomatoes.

Serve by plating the orzo and tomato, topping with the chicken and a sprinkle of diced scallions. Or portion out to your meal prep containers.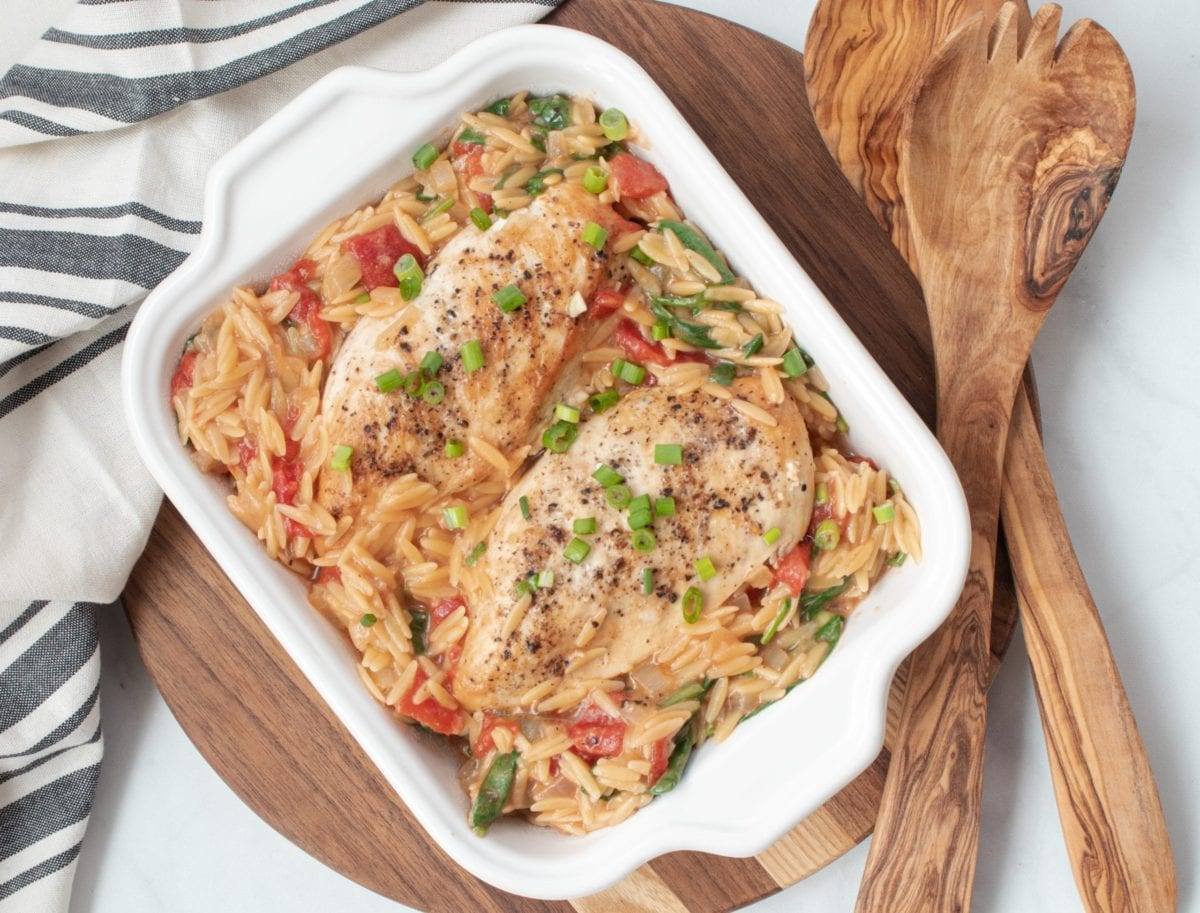 Macro Nutrition
Nutrition Facts
Spinach and Tomato Orzo Chicken Skillet
Amount Per Serving
Calories 685
Calories from Fat 73
% Daily Value*
Fat 8.1g12%
Cholesterol 4.5mg2%
Sodium 443.7mg19%
Potassium 436.7mg12%
Carbohydrates 47.9g16%
Protein 67.5g135%
Vitamin A 139.7IU3%
Vitamin C 48.9mg59%
Calcium 44.5mg4%
Iron 20.3mg113%
* Percent Daily Values are based on a 2000 calorie diet.
Are you meal prepping? Do you count your macros or calories? Check out my notes below on how you can incorporate this spinach and tomato orzo chicken skillet into your meal prep. Also how you can easily adjust protein, carbs, and fats to meet your macro goals
NOTES FOR MEAL PREP:
This spinach and tomato orzo chicken skillet is a wonderful recipe for meal prepping. You can store each serving in the fridge for up to 1 week . In addition, you can also store this recipe in the freezer for up to 3 months, when stored in an air tight container. Both options allow you to eat this recipe as it fits your meal plan!
For this recipe you can store the chicken breast whole or you can cut up the chicken into smaller bite sized pieces. I like to chop the chicken into bite sized pieces as it allows for more even reheating.
When its time to reheat:
From the fridge: Cook for 90 seconds
Pulling straight from the freeze: Cook for 4 minutes
If freezing and allowing to defrost overnight before cooking it will only take 90-120 seconds.
With all three options for reheating you will want to stop and stir the ingredients half way thru.
NOTES FOR COUNTING MACROS:
The main source of protein in this recipe is the chicken, making this recipe super easy to increase or decrease the amount of protein per serving.
Every 1 ounce of chicken has 8.8 grams of protein.
The orzo pasta in this recipe is what provides most of the carbohydrates. Again, another easy ingredient to adjust in this recipe.
For every 45 grams (1/4 cup) of orzo there is 21 carbs.
If making adjustments to the orzo, you will also want to make adjustments to the amount of water you cook the orzo in. Using 2 times water to orzo.
The fat in this recipe comes mainly from the cheese and the oil that the chicken is cooked in.
The easiest way to reduce the fat would be to not cook the chicken in as much oil. For every 1/2 tbsp of oil there is 7 grams of fat. If you remove all the oil you might want to consider using a little non stick cooking spray.
To increase the fat in this recipe the best way would be to change from a non fat cheese to a full fat cheese.
For every 25 grams of full fat mozzarella cheese you can increase the fat by 5.4 grams. Therefore, if you replace all 100 grams of non-fat cheese with full fat cheese you are increasing the fat in the recipe by 21.4 grams, or 5.4 grams per serving.
When making adjustments to the macros in this spinach and tomato orzo chicken skillet, you will want to keep in mind the number of servings you are making.