Pasta lovers looking for a new recipe that is not only delicious, but make for great meal prep recipe and are also freezer friendly, look no further! This creamy chicken pasta with peas and asparagus checks all of the boxes. Add this recipe to your meal plan this week and I can guarantee you will be craving more! Added bonus, notes below the recipe on how you can adjust this meal to meet you macro goals if you are counting macros!
Creamy Chicken Pasta with Peas and Asparagus
Instructions
Start by bringing a large pot of water to a boil. Once the water is boiling add the pasta to the water. Cook the pasta for 8-10 minutes until al dente. Once done, remove from the heat and strain the water. Leave the pasta for now, it will be mixed in later.

While the pasta is cooking: Heat a large deep pan to medium heat. While waiting for the pan to heat up season the chicken with pepper and garlic powder. Once the pan is hot, add the extra virgin olive oil to the pan.

Place the chicken immediately into the pan, leave it there for 2 minutes, then flip to the other side and cook for an additional 2 minutes.

Both sides should start to become golden brown, but the center will still look uncooked…if not golden, give each side another minute…your pan wasn't hot enough. Turn the heat to low and cover the chicken with a lid. Let it cook for about'

9

' minutes, then flip and cover again for another'

9

' minutes.

After'

9

' minutes on each side covered, the chicken should be done. But this does depend on the size of the chicken breast…these times are based on'

9

' oz breasts. It is always best to check the internal temperature of chicken before serving.My rule of thumb is, once covered, cook the chicken for 1 minute per ounce per side, I find that this delivers a perfect juicy chicken breast every time.

Once the chicken is done remove from the pan, leaving the juices in the pan.

Leaving the heat on medium, add the red onions to the pan. Cook the red onions in the chicken juice for about 3-5 minutes, until most of the juice have been cooked down. Be sure to stir often to prevent burning.

Now add the cream of mushroom soup to the pan with the onions. Cook the soup with the onions for a few minutes.

While the soup is cooking, use a fork and knife to shred the chicken into bite sized chunks.

Now add the chicken, asparagus, and peas to the pan with the cream of mushroom soup and onions. Stir everything together until well combined. Season with the additional pepper, salt, and garlic powder. Turn the heat up slighting and bring the soup to a boil. Cook boiling for 5 minutes, stirring often.

After 5 minutes, turn the heat to low and add the pasta into the pan. Stir everything together until the pasta is well distributed. Cook for a few additional minutes to warm the pasta thru.

Note: You might feel like this recipe has a bit too much soup, this is becuase the additional soup will help with keeping the recipe moist, preventing it from drying out when reheating whether stored in the fridge, or frozen. If you plan to eat the recipe immediatly feel free to reduce the amount of soup by about 8 oz, (1 cup). This will create more of a creamy, less soupy recipe.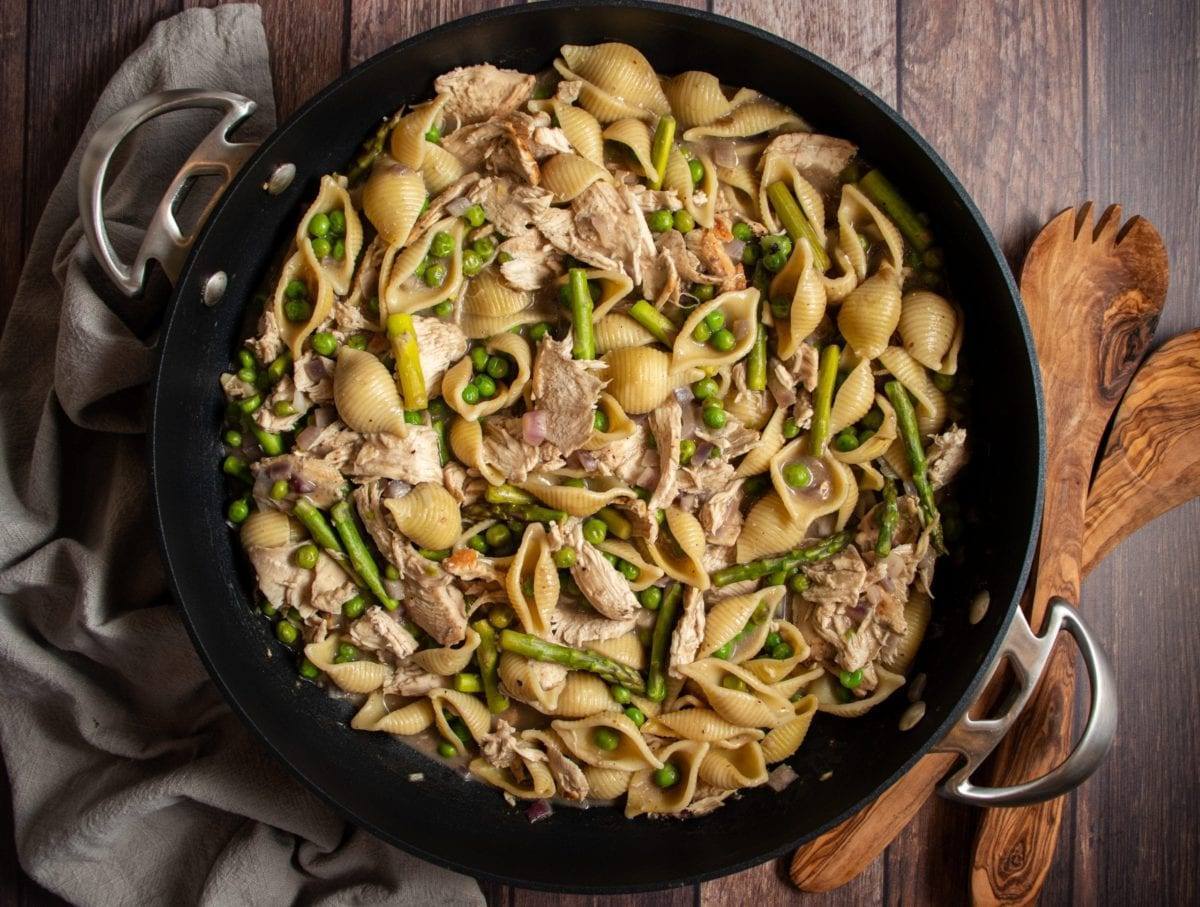 Macro Nutrition
Nutrition Facts
Creamy Chicken Pasta with Peas and Asparagus
Amount Per Serving
Calories 612
Calories from Fat 106
% Daily Value*
Fat 11.8g18%
Cholesterol 0mg0%
Sodium 647.5mg28%
Potassium 127mg4%
Carbohydrates 57.6g19%
Protein 64.7g129%
Vitamin A 22.9IU0%
Vitamin C 19.2mg23%
Calcium 19.5mg2%
Iron 28.4mg158%
* Percent Daily Values are based on a 2000 calorie diet.
QUESTION:
Are you trying to get better at meal planning?
Do you find yourself eating the same recipes every few weeks?
Are you having trouble finding recipes for meal prep?
Or are you counting macros?
If you are bored of eating the same recipes every week and answered yes to any of these question, then you are going to want to check out my notes below. Tips on how you can incorporate this creamy chicken pasta with peas and asparagus into your meal plan and meal prep. If you are counting macros I have also included notes on how you can easily adjust the protein, carbs, and fats to meet your macro requirements.
NOTES FOR MEAL PLANNING:
Meal planning doesn't have to be hard or take a lot of time. In fact, meal planning can be fun when you are provided with easy new recipes each week. Meal Planning can also help save money, prevent food waste, and save you time.
The best things about this recipe is: it's easy to clean up, simple to make, tastes phenomenal reheated, can be adjusted to fit just about any macro goals, and is freezer friendly.
NOTES FOR MEAL PREP:
When meal prepping recipes it is important to think about the best way to store and reheat your finished meals:
FRIDGE STORAGE:
Storing this creamy chicken pasta with peas and asparagus in the fridge will last 5-7 days.
There are a few ways you can choose to store this recipe in your fridge:
You can store as one large meal or as individual servings. I always prefer individual servings. This allows me to only reheat the number of servings that will be eaten.
However, if you know you will eat the entire recipe when it is time to be reheated, go ahead and store it as one large serving.
For fridge storage you can use zip lock bags, plastic containers, or glass food containers. I prefer to use glass container, as this allows me to reheat and eat the recipe right out of the same container. Which in turn saves me time, dirty dishes, and makes clean up easier. It also save on waste: either tossing out the used zip lock bags, or eventually having to replace the plastic containers.
Be sure to allow the recipe to cool completely before closing the container or placing in the fridge. If you close the container or place the recipe in the fridge before it has cooled you could have built up condensation within your container, thus watering down the recipe.
TIPS FOR RE-HEATING AFTER BEING IN THE FRIDGE:
If reheating as an individual serving, microwave for 90-120 seconds, stirring half way thru.
If reheating as a one large meal, I recommend reheating on the stove, in a large pan, at medium low heat. Cook for 5-7 minutes until the recipe is warmed thru. This will ensure the best flavor, consistency, and really bring the recipe back to life. You may want to add a tiny bit of water to help loosen up the sauce and ingredients. Adding 1/4 tablespoon at a time, you don't want to water down the recipe.
However, you can also microwave the entire recipe, this will take about the same time as the stove top, and might dry the recipe out a little. Microwave for 5-7 minutes, stirring every few minutes.
FREEZER STORAGE:
This is the perfect freezer friendly recipe. When frozen this creamy chicken pasta with peas and asparagus will keep for 3-6 months.
There are a few ways that you can choose to freeze this recipe:
Freeze as individual portions, one serving per each freezer safe zip lock bag. Be sure to remove all of the air from the bag. Storing individullly allows you to reheat as many servings as you wish.
However, you can also store the entire recipe. To do this you would simply use a larger freezer safe zip lock bag.
Or, my favorite way to freeze meals is in souper cubes. These cubes are reusable, freezer safe, and store the perfect serving size.
Be sure to remove all the air from the zip lock bags and allow the recipe to cool completely before placing in the freezer. Failing to allow the recipe to cool completely could result in freezer burn.
Be sure label your frozen meal with the name of the recipe and the date you cooked it. I like to use a piece of masking tape to write on. You don't want to forget about the delicious recipe you have on hand!
TIPS FOR RE-HEATING AFTER BEING FROZEN:
Going straight from the freezer to the microwave or oven you will want to remove the recipe from the frozen container. You can not microwave zip lock bags, a glass container could crack going from such cold temps to such warm temps, and super cubes are not microwave or oven safe.
As individual servings, I recommend reheating on the stove and not the microwave. Frozen recipes always defrost better this way. Cook in a small pot at medium heat for 7-10 minutes until the recipe has defrosted and is warmed thru. You may want to add a tiny bit of water to help loosen up the sauce and ingredients. Adding 1/4 tablespoon at a time, you don't want to water down the recipe.
Or pull the number of servings you are looking to eat from the freezer. the night before, and store in the fridge to defrost overnight. Then follow the instructions above for reheating from the fridge.
If frozen as an entire recipe, I recommend pulling from the freezer the night before to allow the meal to defrost. Then reheat on the stove in a large pot at medium low heat for about 10-12 minutes, enough to warm thru.
NOTES FOR COUNTING MACROS:
The majority of the protein in this recipe comes from the chicken. You can easily adjust the amount of chicken without changing the flavor of this recipe too much.
For every 1 ounce of chicken you can increase or decrease the protein macro by 8.8 grams.
So go ahead, add as much or as little protein as you would like to this recipe.
You can adjusted the amount of carbohydrates based on the amount and/or type of pasta you chose to use. For this recipe I used a traditional pasta: DeCecco pasta shells
56 grams (3/4 cups) of DeCecco pasta has 200 calories, 40 carbs, only 1 gram of fat, and 8 grams of protein.
But you could choose to do a veggie pasta which is lower in carbs and higher in protein. Most red lentil pasta has 187 calories, only 34 carbs, 1.7 grams of fat, and 12 grams of protein, per serving.
There are so many new types of pasta out there choose the one you like the best and use the amount that fits your macros goals.
This recipe is extremely low in fat. Only having 8.8 grams of fat per serving. Each week I like to include one or two low fat recipe to accommodate those looking to cut weight.
However, if you are looking to increase the fat, this recipe allows you to add fat into your diet in other ways.
Enjoying nuts as a snack during the day.
Adding a fatty ingredient to this recipe…I always love adding avocado to just about anything.
Or just simply enjoying avocado as a snack
This recipe would also be delicious with some freshly shredded cheese on top.
Incorporate additional fat however you see fit, use your imagination!
When making adjustments to the macros in this creamy chicken pasta with peas and asparagus, you will want to keep in mind the number of servings you are making.