Meal Prep Breakfast Sausage Scramble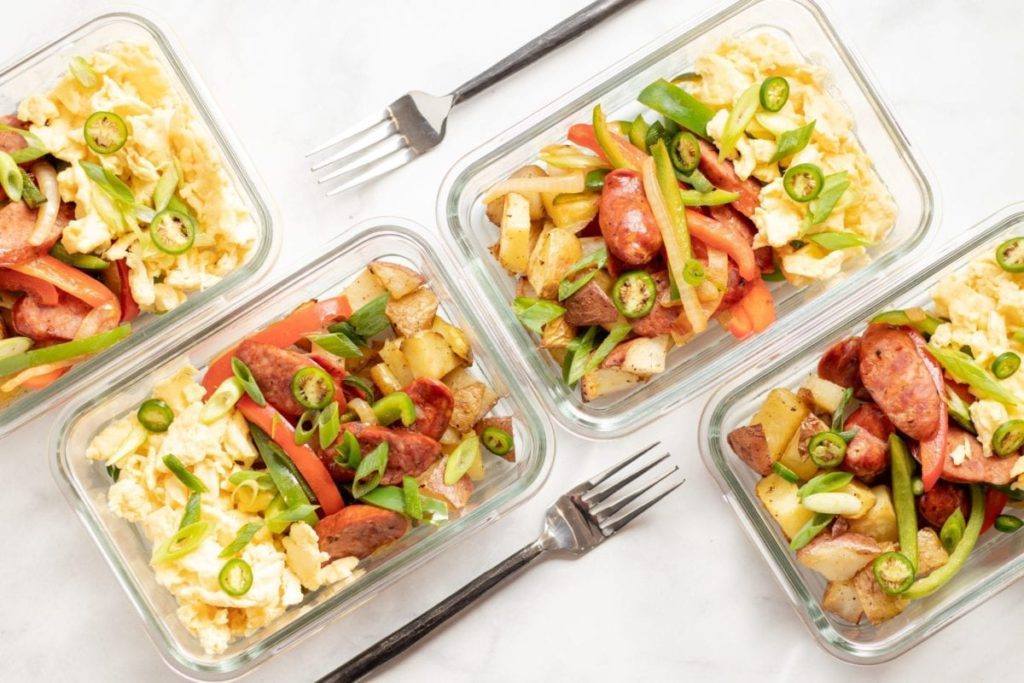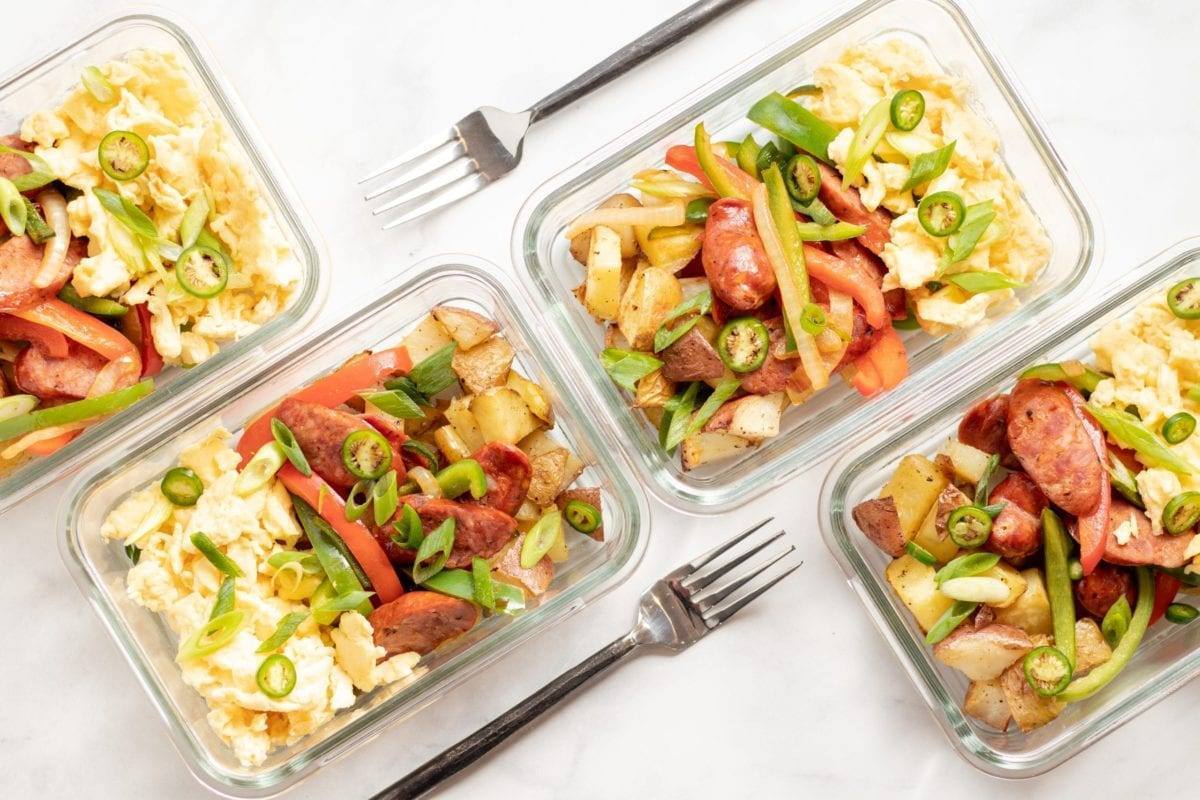 Make ahead breakfast makes my life so much easier. It allows me to spend a little time creating one or two different meal prep breakfasts one day, but have food ready to reheat all week long. Guaranteeing I get a healthy breakfast every morning. This meal prep breakfast sausage scramble tastes just as amazing when first made, as it does once it has been reheated. If you are counting macros you are going to love the flexibility of this recipe! Add this scramble to your meal plan this week!
breakfast Sausage Scramble, Meal Prep
Make ahead breakfast never tasted so good!
3 cups Red Skin Potatoes (chopped into bite sized pieces, (about [adjustable]485[/adjustable] grams, or [adjustable]3[/adjustable] large potatoes))
2 cups Yukon Gold Potatoes (chopped into bit sized pieces, (about [adjustable]300[/adjustable] grams, or [adjustable]2[/adjustable] potatoes))
1 tsp Extra Virgin Olive Oil
½ tsp Salt
½ tsp Black Pepper
4 links Cajun Chicken Sausage (sliced)
¾ cup Yellow Onion (sliced, (about [adjustable]125 [/adjustable] grams, or [adjustable]½[/adjustable] onion))
1 cup Red Bell Pepper (sliced, (about [adjustable]165[/adjustable] grams, or [adjustable]1[/adjustable] pepper))
1 cup Green Bell Pepper (sliced, (about [adjustable]165[/adjustable] grams, or [adjustable]1[/adjustable] pepper))
½ cup Poblano Pepper (sliced, (about [adjustable]65[/adjustable] grams, or [adjustable]1[/adjustable] pepper))
6 Large Whole Eggs
1 cup Liquid Egg Whites ((about 8 oz))
½ tbsp Unsalted Butter
¼ cup Serrano Peppers (sliced, (about [adjustable]30[/adjustable] grams, or [adjustable]1[/adjustable] pepper))
¼ cup Scallions (sliced, (about [adjustable]20[/adjustable] grams, or [adjustable]2[/adjustable] stalks))
Pre-heat oven to 400'°, line a large baking sheet with tin foil and spray with non-stick cooking spray.

While the oven is heating place the chopped potatoes (skin still on) in a large bowl. Season with oil, salt, and pepper. Toss to evenly coat the potatoes with the seasoning and oil. Then spread the potatoes on the baking sheet. Bake for 20 minutes at 400'°

While the potatoes are baking slice your other ingredients.

After 20 minutes toss your potatoes, then add the sliced chicken sausage, onions, bell peppers, and poblano peppers to the baking sheet, Spreading everything out into one even layer, a little overlap is ok. Then place back in the oven for another 10-15 minutes.

While everything is in the oven, crack your eggs into a large bowl, then add the liquid egg whites to the bowl. Whisk all the eggs together.

Heat a large saute pan to medium-low heat. Place the butter in the pan. Once the butter has melted add the eggs to the pan. Using a heavy spatula, stir the egg mixture, scraping the bottom on the pan often to prevent burning. Continue stirring until your eggs have fluffed and scrambled. Then season the eggs with a dash of salt and pepper.

Assemble your meal prep breakfast: Adding your potatoes and pepper to your container, then adding your scrambled eggs. Top with your fresh sliced serrano peppers and scallions. Enjoy now or later!
QUESTION:
Are you trying to get better at meal planning?
Do you find yourself eating the same recipes every few weeks?
Are you having trouble finding recipes for meal prep?
Or are you counting macros?
If you are bored of eating the same recipes every week and answered yes to any of these question, then you are going to want to check out my notes below. Tips on how you can incorporate this meal prep breakfast sausage scramble into your meal plan. If you are counting macros I have also included notes on how you can easily adjust the protein, carbs, and fats to meet your macro requirements.
NOTES FOR MEAL PLANNING:
Meal planning doesn't have to be hard or take a lot of time. In fact, meal planning can be fun when you are provided with easy new recipes each week. Meal planning can also help save money, prevent food waste, and save you time.
The best things about this recipe is how easy it is to make and how well it reheats!
NOTES FOR MEAL PREP:
When meal prepping recipes it is important to think about the best way to store your finished meals:
FRIDGE STORAGE:
You can store each serving in the fridge for up to 1 week and eat it as it fits your meal plan.
For fridge storage you can use zip lock bags, plastic containers, or glass food containers. I prefer to use glass container, as this allows me to reheat and eat the recipe right out of the same container. Which in turn saves me time, dirty dishes, and makes clean up easier. It also save on waste: either tossing out the used zip lock bags, or eventually having to replace the plastic containers.
Be sure to allow the recipe to cool completely before closing the container or placing in the fridge. If you close the container or place the recipe in the fridge before it has cooled you could have built up condensation within your container, thus watering down the recipe.
TIPS FOR RE-HEATING AFTER BEING IN THE FRIDGE:
Pop each individual serving in the microwave for 60-90 seconds to warm them up.
FREEZER STORAGE:
These meal prep breakfast sausage scramble do not make for a great freezer recipe. However, if you are looking for a good freezer friendly breakfast recipe, I have included a link at the bottom of this page to one of my favorites.
NOTES FOR COUNTING MACROS:
There is a decent amount of protein in this recipe but if you would like to increase of decrease the protein the easiest way is to adjust the amount of liquid egg whites used.
Every 2 ounce (1/4 cup) liquid egg white contains 20 grams of protein.
For this recipe you can add up to an addiitional 8 oz liquid egg whites. 8 oz of egg whites would increase the protein in this recipe by an additional 80 grams/13.3 grams per serving. This will also make the scrambled eggs a little fluffier.
Additionally, you can also reduce the protein by removing all of the liquid egg whites. Reducing the protein by 80 grams/13.3 grams per serving. This will make the recipe a little more dense, but still delicious.
The main source of carbohydrates in this recipe come from the potatoes.
Roughly every 100 grams (about 1/2 a potato) has 15 grams of carbs. Making the amount of carbs super easy to adjust, simply increase or decrease the amount of potatoes used until your have hit your macro goals!
The fats in these meal prep breakfast sausage scramble comes from a few different things: the oil the potatoes are cooked in, the butter the eggs are cooked in, the egg yolks from the whole eggs, and the chicken sausage.
To decrease the fats in this recipe is a little tricky.
You could reduce or remove the amount of oil and butter used. However, even if you removed both the butter and the oil completely, you would only be decreasing the fat by 1.7 grams per serving.
My recommendation would actually be to remove the egg yolks and go with egg whites only.
Removing all 6 egg yolks would decrease the fat by 27 grams/4.5 grams per serving.
Additionally, you could use a sausage link with less fat. Check your grocery aisle and see what you can find. Each link I used has 11 grams fat. Although, it is important to remember that the sausage will also have a significant amount of protein.
Increasing the fat is easy….use may favorite way: Add a little avocado!
For every 35 grams (about 1/4 avocado) you increase the fats by 7.3 grams.
Tip:
You can pre-cut your avocado: Toss your avocado chunks with a little lime juice, then portion into zip lock bags. Suck all the air out of the zip lock bag and store in the fridge. Typically my pre-cut avocados will last 2-3 days before starting to brown if I sucked all the air out.
When making adjustments to the macros in the meal prep breakfast sausage scramble you will want to keep in mind the number of servings you are making.