Chicken Bacon Broccoli Casserole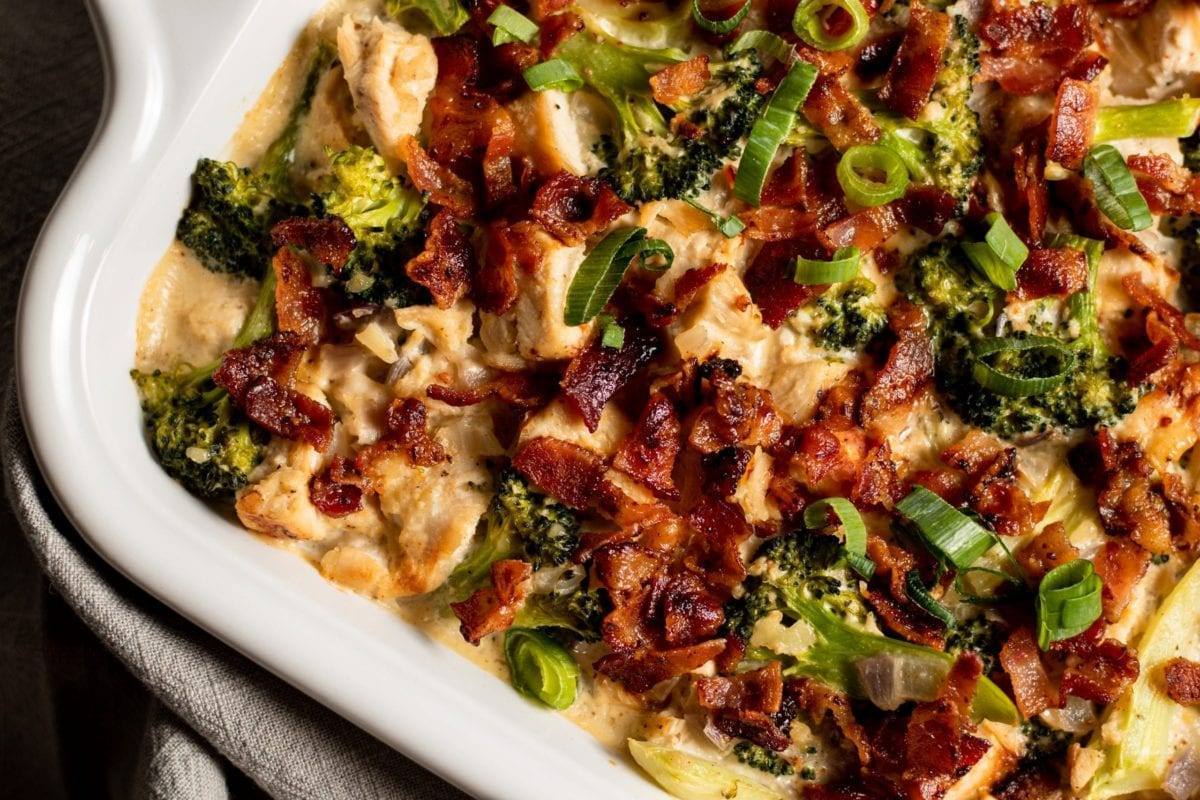 Freezer friendly recipes can come in handy for a variety of different reasons: You don't feel like cooking. You are going out of town and want to leave your loved ones with tasty meals to reheat. There is a pandemic and you want to have food ready in the event you catch the virus. Or you just enjoy meal prepping and you are not totally positive when you will get to eat the remainder of the meal. No matter what your reason might be for looking for a freezer friendly recipe, I can guarantee you are going to love this Chicken Bacon Broccoli Casserole. Add this recipe to your meal plan this week and enjoy it whenever you see fit. For those of you counting macros, I haven't forgotten about you. Under the recipe I include tips on how you can easily make adjustments to this recipe to hit your personal macro goals.
Chicken bacon Broccoli Casserole
This casserole is amazing fresh out of the oven but is equally as delicious two months later when re-heated!
4 slices Bacon (cooked)
13.5 oz Boneless, Skinless, Chicken Breast
¼ tsp Black Pepper
¼ tsp Garlic Powder
1 tsp Extra Virgin Olive Oil
½ tbsp Unsalted Butter
135 g Broccoli (cut into small florets, (about [adjustable]1[/adjustable] head))
100 g Red Onion (sliced, (about [adjustable]½[/adjustable] an onion))
1 tbsp All Purpose Flour
1 cups Water
¾ tsp Reduced Sodium Chicken Base
3 oz Cream Cheese
7.5 g Scallions (diced, (about [adjustable]1[/adjustable] stalk))
If you don't have cooked bacon start by cooking the bacon how you normally would, either on a frying pan or in the oven. Once the bacon is done set it aside for the topping later.

Heat a large deep pan to medium heat. While waiting for the pan to heat up season the chicken with pepper and garlic powder. Once the pan is hot, add the extra virgin olive oil to the pan.

Place the chicken immediately into the pan, leave it there for 2 minutes, then flip to the other side and cook for an additional 2 minutes.

Both sides should start to become golden brown, but the center will still look uncooked if not golden, give each side another minute your pan wasn't hot enough. Turn the heat to low and cover the chicken with a lid. Let it cook for about [adjustable]7[/adjustable] minutes, then flip and cover again for another [adjustable]7[/adjustable] minutes.

After [adjustable]7[/adjustable] minutes on each side covered, the chicken should be done. But this does depend on the size of the chicken breast…these times are based on [adjustable]7[/adjustable] oz breasts. It is always best to check the internal temperature of chicken before serving.

My rule of thumb is, once covered, cook the chicken for 1 minute per ounce per side, I find that this delivers a perfect juicy chicken breast every time.

Once the chicken is done remove from the pan, leaving the juices in the pan.

Keeping the heat at medium add the unsalted buttter to the pan. Once the butter starts to melt add the flour in with the butter and remaining chicken juices, stir together. We are creating a rue so we have a nice thick sauce.

Once the butter has been incorporated in with the flour and chicken juices and has created a thick paste like consistency, add the water and chicken base to the pan. Mix in the water with the flour paste until most of the chunks are gone.

Now add the broccoli and red onions to the pan. Cook the broccoli in the sauce covered for about 6 minutes.

While the broccoli is cooking, pre-heat the oven to 375° and shred the chicken with a fork and knife. After the broccoli has cooked for 6 minutes remove the lid, add the shredded chicken, cream cheese, and scallions to the pan. Toss everything together and cook down until the cream cheese is melted and well incorporated.

Spray a square baking dish with non-stick cooking spay and pour in your creamy chicken broccoli mixture. Crumble your cooked bacon and sprinkle it over top.

By now your oven should be pre-heated. Place your casserole in the oven and cook for 10-15 minutes, until it begins to bubble and the tops starts to turn a light golden brown.

Allow to cool just a few minutes and serve. Or portion out into your meal prep containers, or freezer safe containers to eat later.
QUESTION:
Are you trying to get better at meal planning?
Do you find yourself eating the same recipes every few weeks?
Are you having trouble finding recipes for meal prep?
Or are you counting macros?
If you are bored of eating the same recipes every week and answered yes to any of these question, then you are going to want to check out my notes below. Tips on how you can incorporate this chicken bacon broccoli casserole into your meal plan and meal prep. If you are counting macros I have also included notes on how you can easily adjust the protein, carbs, and fats to meet your macro requirements.
NOTES FOR MEAL PLANNING:
Meal planning doesn't have to be hard or take a lot of time. In fact, meal planning can be be fun when you are provided with easy new recipes each week. Meal Planning can also help save money, prevent food waste, and save you time.
The best things about this recipe is it is great reheated, it's creamy and delicious, and can be adjusted to fit just about any macro goals.
NOTES FOR MEAL PREP:
When meal prepping recipes it is important to think about the best way to store your finished meals:
FRIDGE STORAGE:
Storing this chicken bacon broccoli casserole in the fridge will last 5-7 days.
There are a few ways you can choose to store this recipe in your fridge:
You can store as one large meal or as individual servings. I always prefer individual servings. This allows me to only reheat the number of servings that will be eaten.
However, if you know you will eat the entire recipe when it is time to be reheated, go ahead and store it as one large serving.
For fridge storage you can use the casserole dish you cooked in, zip lock bags, plastic containers, or glass food containers. I prefer to use glass container, as this allows me to reheat and eat the recipe right out of the same container. Which in turn saves me time, dirty dishes, and makes clean up easier. It also save on waste, either tossing out the used zip lock bags, or eventually having to replace the plastic containers. Taking the recipe out of the casserole dish allows you to use that dish again before you have eaten the original casserole.
Be sure to allow the recipe to cool completely before closing the container or placing in the fridge. If you close the container or place the recipe in the fridge before it has cooled you could have built up condensation within your container, thus watering down the recipe.
Tips for re-heating after being in the fridge:
If reheating only one serving, pop that serving in the microwave for 90 seconds, stirring half way through.
If reheating as an entire casserole, I recommend heating the casserole in the oven. Cooking at 350 degrees for 10-15 minutes until warmed thru.
However, you can also microwave the entire recipe, but might dry the recipe out a little. Microwave for 5-7 minutes, stirring every few minutes.
FREEZER STORAGE:
There are two ways that you can choose to freeze this casserole:
Freeze as individual portions, one serving per freezer safe zip lock bag. Be sure to remove all of the air from the bag. Storing individullly allows you to reheat as many servings as you wish.

Or, my favorite way to freeze individual servings is in souper cubes. These cubes are reusable, freezer safe, and store the perfect serving size.

However, you can also freeze the entire casserole, to do this I would recommend lining the baking dish with tin foil and spraying the tin foil with non stick spray, before adding any ingredients to the baking dish. Then bake the casserole as directed above. Be sure to allow a little overhang of the tin foil so you can pull the casserole out of the dish. Before removing the casserole from the dish, you will want to freeze the casserole in the dish for about 8-12 hours. Once frozen you can pull the casserole out of the pan. Then wrap the entire casserole with tin foil. This will allow you to use your casserole dish and not have to wait until you eat this frozen casserole.
Be sure to remove all the air from the zip lock bags.
Allow the recipe to cool completely before placing in the freezer. Failing to allow the recipe to cool completely could result in freezer burn.
When frozen this chicken bacon broccoli casserole will keep for 3-6 months. Be sure label your frozen meal with the name of the recipe and the date you cooked it. I like to use a piece of masking tape to write on. You don't want to forget about the delicious recipe you have on hand!
TIPS FOR RE-HEATING AFTER BEING FROZEN:
Going straight from the freezer to the microwave or oven you will want to remove the recipe from the frozen container. You can not microwave zip lock bags, a glass container could crack going from such cold temps to such warm temps, and super cubes are not microwave or oven safe.
If frozen as individual servings, you will want to transfer the servings to a microwave safe container. Or if frozen in a glass container, allow that container to warm up some before placing in the oven or microwave. Microwave for 3-5 minutes, stirring half way through.
Or pull the number of servings you are looking to eat the night before and store in the fridge to defrost overnight, then microwave for 90 seconds, again stirring halfway thru.
If frozen as an entire casserole, I recommend pulling from the freezer the night before to allow the casserole to defrost. Place the frozen casserole back into the original baking dish, so when it defrosts it doesn't turn into a soft mess. Then re-heat in the original casserole pan, in the oven at 350 degrees for about 15-20 minutes. Enough to warm the casserole thru.
NOTES FOR COUNTING MACROS:
The main source of protein in this recipe is the chicken, making this recipe super easy to increase or decrease the amount of protein per serving.
Every 1 ounce of chicken has 8.8 grams of protein.
So go ahead, add as much or as little protein as you would like to this recipe.
This dish only has 14.4 grams of carbs. Which makes this a very low carb recipe. In fact the majority of the carbs in this recipe comes from the broccoli, and short of doubling the broccoli there is no way of easily increasing the carbs in this recipe without adding a new ingredient. While typically I like to give tips on how you can adjust all three major macro groups, for this recipe I say "Enjoy the low carbs", fewer carbs allows you to enjoy more carbs in other meals throughout your day.
This is a great recipe for anyone looking to lose a few pounds.
The fat in this recipe comes from the bacon and the cream cheese. However, fat in this recipe is on the higher end, therefore I would assume anyone looking to make changes to the fat in this recipe would be looking to decrease the amount of fat. The easiest way to do so would be to adjust the cream cheese.
In this recipe I used a full fat cream cheese: for every 1 ounce there is 9 grams of fat. You could choose to use a low fat or a non- fat cream cheese:

Non-Fat cream cheese has 0 grams of fat per every 1 ounce, therefore you would be reducing the fat in this recipe by 36 grams or 9 grams per serving.

Low Fat cream cheese has 4.5 grams of fat per every 1 ounce, reducing the fat by 18 grams or 4.5 grams per servings.

Adjusting the type of cream will allow you to have as much or as little fat content in this recipe as your macros will allow.
Although, if you are looking to increase the fat the easiest way would be to increase the amount of bacon…because who doesn't want more bacon? For every slice of bacon there is typically about 2.5 grams of fat. So increase the amount of bacon, fulfill your hearts desire!
When counting macros and making adjustments to the protein, carbs, and fat in this chicken bacon broccoli casserole, you will want to keep in mind the number of servings you are making.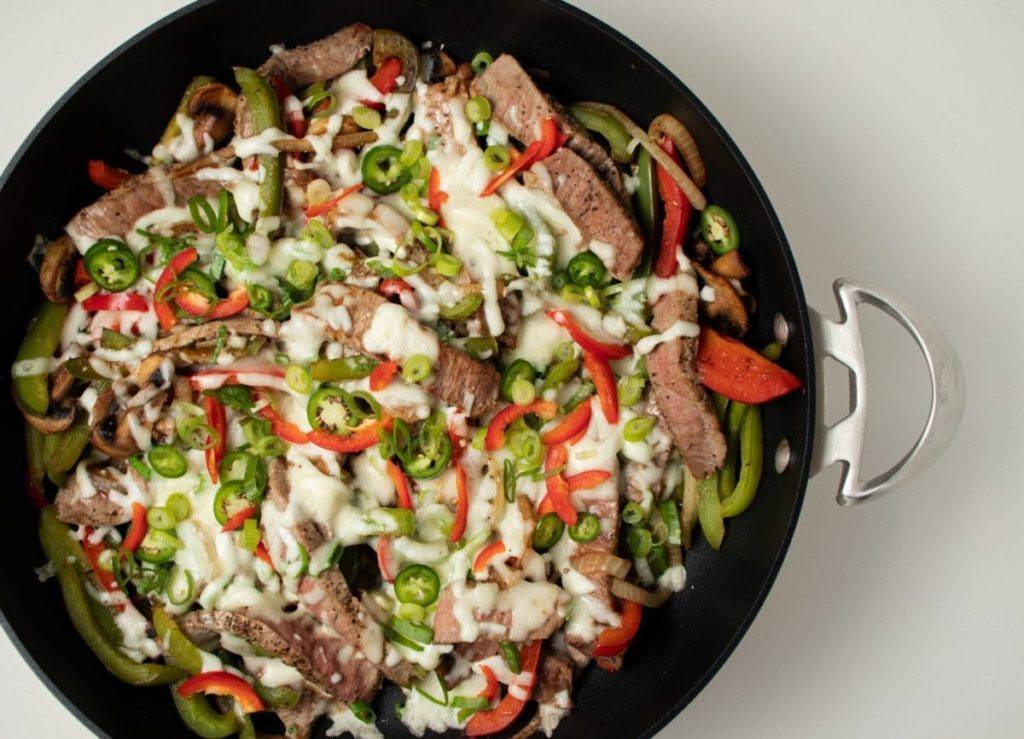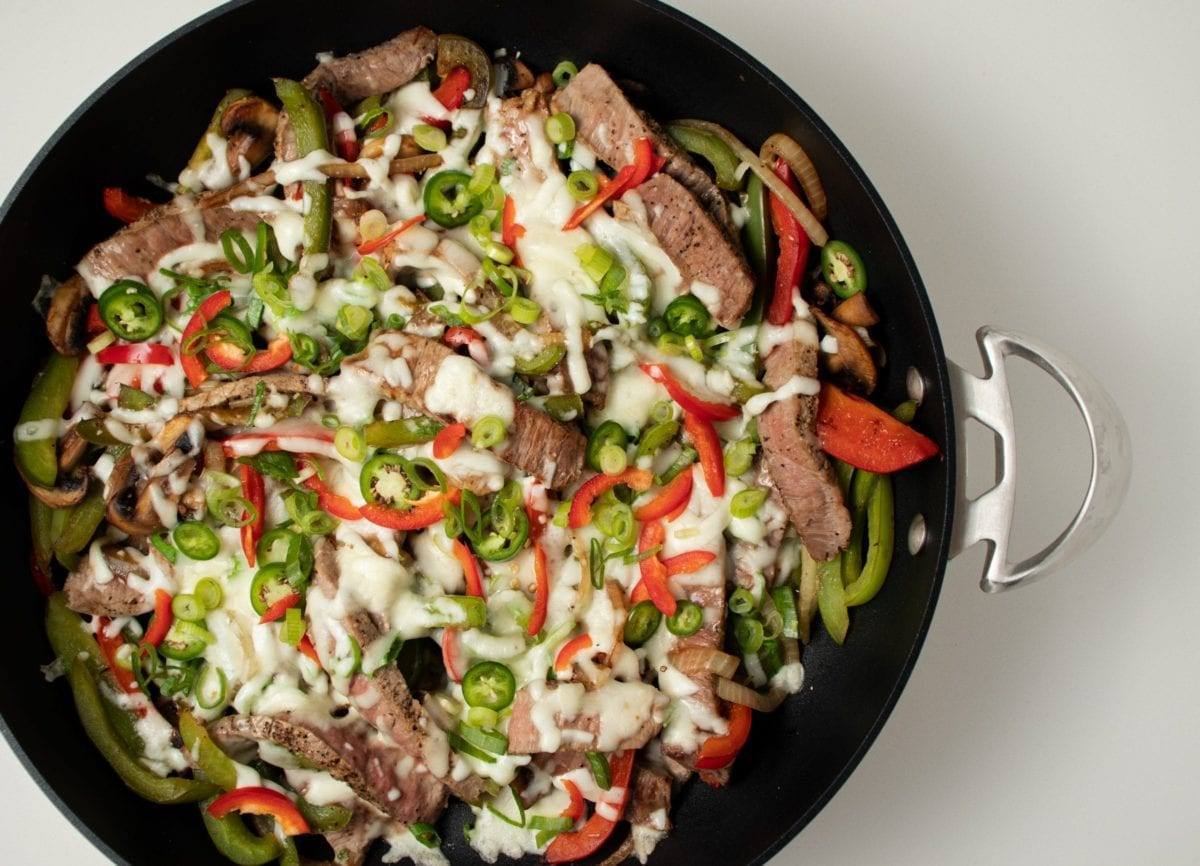 Looking for another low carb recipe? Check out my: