Blueberry Yogurt Pancakes
Pancakes are always a great option for breakfast, especially these blueberry yogurt pancakes. The yogurt makes these pancakes extra smooth, creamy, and provides additional protein! Try these pancakes for breakfast this weekend, but don't forget to make extra for your meal prep this week. Meal planning is key when counting macros or trying to stick to any diet.
Blueberry Yogurt Pancakes
Pancakes…great any day of the week!
160 g Power Cakes Buttermilk Mix (([adjustable]1½ [/adjustable]cups, Kodiak Cakes))
8 oz Non-Fat Greek Yogurt (([adjustable]1 [/adjustable]cups))
8 oz Water (([adjustable]1 [/adjustable]cups))
60 g Blueberries (([adjustable]¾ [/adjustable]cups))
3 tbsp Sugar Free Syrup
Heat a large stove top pan or griddle to medium low heat.

In a large bowl combine: pancake mix, greek yogurt, and water. Stir until just combined, and still a little lumpy. You do not want to over mix or your pancakes wont be fluffy.

Lightly spray your pan with non stick cooking spray. Then pour about 1/4 cup pancake mix onto the pan to make your pancakes. Pour as many 1/4 cup pancake circles as you can fit in your pan or on your griddle. Your pancake circles should be about 4 inches in diameter. Be sure that they do not touch.

I like to use a ladle to pour my pancake mix, its easier to control the amount and the shape.

Next sprinkle 5-7 blueberries into each pancake. I like to do it this way so that the blueberries are evenly disbursed in the pancakes, rather than mixing them into the batter and having some pancakes with more or less blueberries. Also it helps to prevent them from over cooking.

Now wait until your pancakes begin to bubble. You do not want to flip them too soon or they wont golden brown. Once you have bubbles all over the top of your pancakes (this will take 3-5 minutes), flip them and cook on the other side for 1-2 minutes.

Once cooked remove from the pan and plate. Continue this until you have used all of the batter, you should be able to make about 6, 4 inch pancakes.

Serve with 1 tbsp of syrup. Or potion out for breakfast later.
Are you meal planning for the week? Do you enjoy meal prepping to make your week easier? Then you are going to want to check out my notes below on how you can incorporate these blueberry yogurt pancakes into your meal prep.
NOTES FOR MEAL PREP:
Did you know pancakes are fantastic for meal prepping? Put these in your fridge and they will last up to 7 days. Or store them in the freezer and enjoy them for months.
If pulling from the fridge you can microwave these pancakes for 30-45 seconds.
If you decide to store them in the freezer to last longer. You will want to wait for them to cool down completely before storing. (If you don't wait for them to cool completely they will stick together and/or become freezer burnt.) Once cooled store them in ziplock bags, portioning out into serving sizes. When its time to reheat, remove the pancakes from the ziplock bag and microwave for 60-90 seconds, flipping halfway thru. Or pop them into the toaster for 1 minute.
I love keeping these pancakes in my freezer at all times. Breakfast is fantastic anytime of day and sometimes your just craving pancakes.
NOTES FOR COUNTING MACROS:
Typically I give tips on how you can adjust my recipes to meet your macro requirements, but with baking that can be a little tricky. As a result this recipe doesn't allow for many adjustments or it will not come together in the end. However, I do hope you work these blueberry yogurt pancakes into your meal planning or meal prep this week.
Although, you can adjust your macros by adjusting the portion size or by eating more or lass pancakes!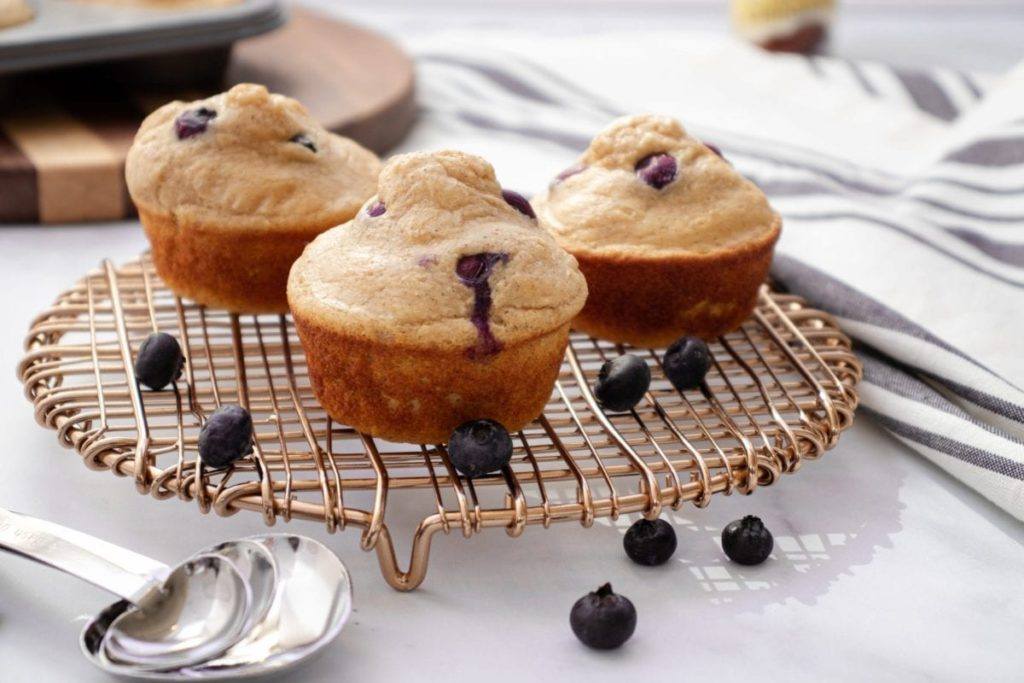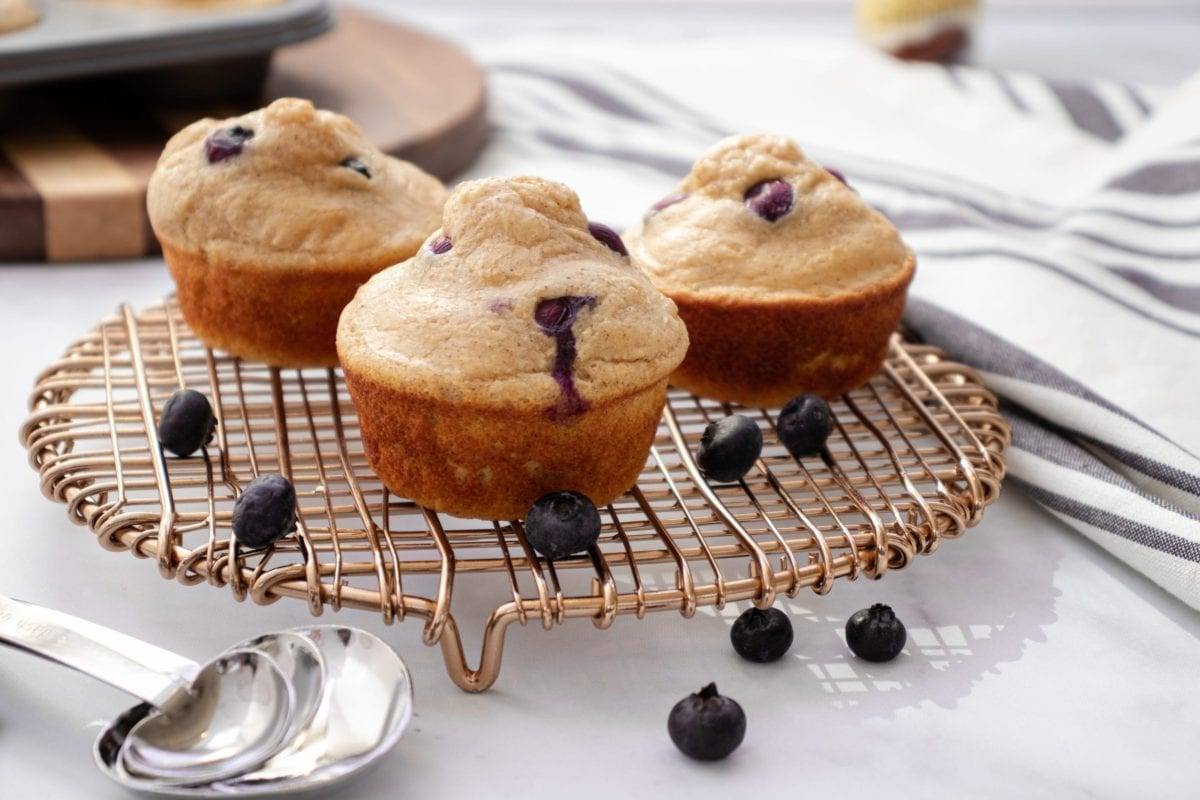 Looking for another blueberry breakfast recipe, you should try my:
THE RIGHT CONTAINERS
I personally prefer glass containers over plastic for several reasons:
Glass containers don't scratch, meaning you can eat your prepped meals right out of your containers and not worry about those extra dishes. Did you know that once a plastic container is scratched you should toss it out? The scratch in a plastic container can hold germs and bacteria.
Glass is free from chemicals. Sure, you can buy BPA free plastic containers but who knows what else makes up plastic. It's better to just go with glass and not have to worry about contaminating your food with the plastic containers.
They are microwave, dishwasher, oven, fridge, and freezer safe. Again making life just that much easier: fewer dishes when re-heating, you can cook the initial prep right in the glass container…all of which makes clean up a breeze.
Food re-heats more evenly in a glass container.
With glass, food stays fresher longer. Strange tastes and smalls aren't absorbed into your food, the way they can from plastic containers.
Glass containers last longer. So while they might cost a little more up front, you will save money in the long run over having to replace plastic.
HERE ARE JUST A FEW OF MY FAVORITES: