Honeydew Blueberry Yogurt Parfait
Honeydew blueberry yogurt parfait, so easy…easy to meal plan for, easy to meal prep, and if you are counting macros they are the easiest to adjust!
Honeydew Blueberry Yogurt Parfait
Yogurt parfaits make a great breakfast or snack.
10 oz Non-Fat Greek Yogurt (([adjustable]1¼[/adjustable] cup))
70 g Honeydew Melon (balled, ([adjustable]¼[/adjustable] an entire melon))
30 g Blueberries (([adjustable]¼[/adjustable] cup))
10 g Honey Almond Flax, granola cereal (([adjustable]2[/adjustable] tbsp))
Spoon yogurt into serving dishes or meal prep dishes

Top each with honeydew melon balls

Add the blueberries to each of the serving bowls, allowing the berries to fall around the honeydew melon

Sprinkle with the honey almond flax granola

Serve and enjoy.
Are you trying to get better at meal planning? Are you having trouble finding recipes for meal prep? Or are you on a diet and counting macros? If you are bored of eating the same recipes every week and answered yes to any of these question, then you are going to want to check out my notes below. Tips on how you can incorporate this Honeydew Blueberry Yogurt Parfait into your meal plan and meal prep. If you are counting macros I have also included notes on how you can easily adjust protein, carbs, and fats to meet your macro requirements.
NOTES FOR MEAL PLANNING:
Meal planning doesn't have to be hard or take a lot of time. In fact, meal planning can be fun when you are provided with easy new recipes each week. Meal Planning can also help save money, prevent food waste, and save you time.
The best thing about yogurt parfaits is they are super easy to plan for, they take only a few minutes to prep, and you can mix and match the yogurt with just about any of your favorite fruits.
NOTES FOR MEAL PREP:
This is a wonderful recipe for meal prepping. You can store the individual servings in the fridge for 5 days. But you will want to keep the yogurt, blueberries, and honeydew separate from the granola, to prevent the granola from getting soggy. Follow the recipe until you reach "sprinkle with granola".
Portion out the fruit and yogurt into containers with lids and and store those in the fridge for up to 5 days. Then place your granola in plastic zip lock bags in your pantry, pre-portioned out. When it is time to enjoy, simply pour the granola over top of your yogurt and fruit.
NOTES FOR COUNTING MACROS:
The protein can be adjusted based on the amount of yogurt used. With each ounce of yogurt you can increase the protein by 3 grams. With this parfait you can choose to have as little or as much protein as you would like without effecting the recipe.
The carbohydrate can be adjusted based on the amount of granola you use. For every 10 grams of honey almond flax you increase or decrease your carbs by 6.6 grams.
The fats can be increased by choosing another yogurt, one that is not fat free.
For example:
2% fat greek yogurt has 2 grams of fat per every 4 ounces.
5% fat greek yogurt has 5 grams of fat per every 4 ounces.
This allows you to replace the non-fat greek yogurt with as little or as much fat as you want.
When making adjustments to the macros in this honeydew blueberry yogurt parfait, you will want to keep in mind the number of servings you are making.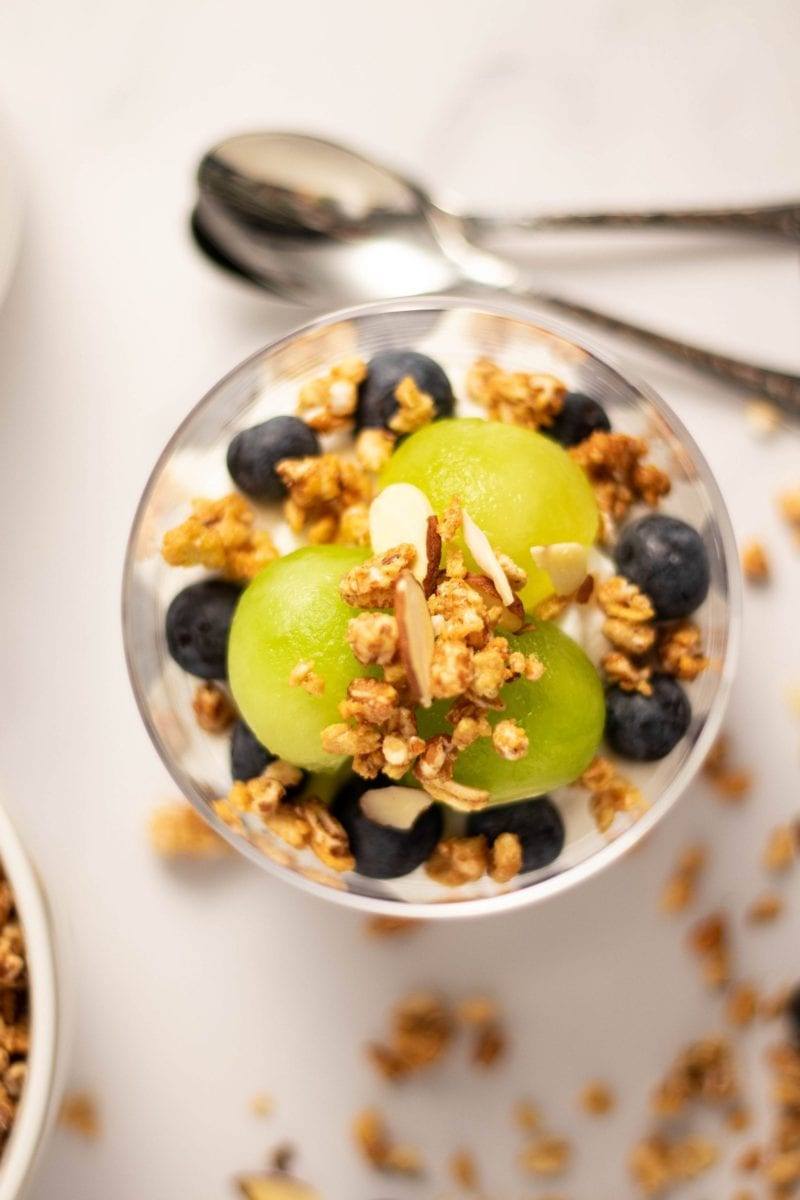 Tried one yogurt parfait and now you can't get enough? Then you are going to want to try this: