Chicken and Grape Waldorf Salad
Everyone has an a version of a waldorf salad, but I am telling you my chicken and grape waldorf salad is the best! If you're meal planning you are going to want to add this recipe to your plans this week. A great recipe for meal prep and even better if you are counting macros or calories.
Check out my notes below the recipe on how to adjust this recipe to meet your own personal macro goals.
Chicken and Grape Waldorf salad
A great salad for an easy lunch at the office or a picnic!
30 oz Chicken Breast Meat in Cans (([adjustable]3[/adjustable] 10oz cans))
8 oz Non-Fat Greek Yogurt (([adjustable]1[/adjustable] cup))
350 g Red Seedless Grapes (sliced, ([adjustable]1[/adjustable] medium bag of grapes))
45 g Scallions (diced, (about [adjustable]4[/adjustable] stalks))
½ tsp Salt
1 tsp Black Pepper
Start by draining the liquid from the cans of chicken.

Place the chicken into a large bowl and break up the large chunks with a fork.

Then add the yogurt, sliced grapes, and diced scallions to the bowl. Stir together until the yogurt is evenly distributed throughout the chicken and grapes.

Season to taste with salt and pepper.

Serve with your favorite cracker, with large lettuce leafs, in a wrap, or just eat it with a fork!
Are you meal planning for the week? Do you enjoy meal prepping to make your week easier? Then you are going to want to check out my notes below on how you can incorporate this chicken and grape waldorf salad into your meal plan.
NOTES FOR MEAL PREP:
This salad is awesome for meal prepping. It will last in the fridge for up to 7 days.
Even better this recipe is meant to be enjoyed cold!
NOTES FOR COUNTING MACROS:
The majority of the protein in this recipe comes from the canned chicken.
For every one ounce of the canned chicken breast there is 4 grams of protein.
However, some of the protein does comes from the yogurt.
With every 1 ounce of yogurt you can increase the protein by 3 grams.
For this recipe the ratio of yogurt to chicken is important. Too much chicken and not enough yogurt will make the chicken dry. Too much yogurt and not enough chicken will make the recipe a little too wet.
The best ratio of chicken to yogurt is: 1 once of yogurt to every 4 ounces of chicken. However, please feel free to adjust both to your liking.
This recipe does not contain many carbs. Although, I found the best way to adjust the carbs is not by making changes to the recipe, but by adding a vessel to serve the salad on or with!
One of my favorite ways is by scooping this chicken and grape waldorf salad using a cracker. I love this salad with reduced fat wheat thin crackers.
For every 16 wheat thins there 22 grams of carbs.
16 is the perfect number of crackers for this portion size.
Another one of my favorites is turning this salad into a wrap by using either a large butter lettuce wrap or a tortilla wrap. While a lettuce wrap won't add many carbs a tortilla wrap will.
One of my favorite wraps is a, Kaliwonder slim wraps. I chose this wrap because it only has 7 net carbs.
However, feel free to use any wrap you want. You can find wraps with as little as 7 net carbs and as many as 35 net crabs per wraps.
The portion size of this recipe will create one large wrap.
There is not a ton of fat in this recipe but if you are looking to add more healthy fats into your diets you cold choose to switch out the type of yogurt you are using in this recipe:
For example:
2% fat greek yogurt has 2 grams of fat per every 4 ounces.
5% fat greek yogurt has 5 grams of fat per every 4 ounces.
This allows you to replace the non-fat greek yogurt with as little or as much fat as you want.
If you are counting macros and decide to make adjustments to this recipe you will want to keep in mind the number of servings you are making.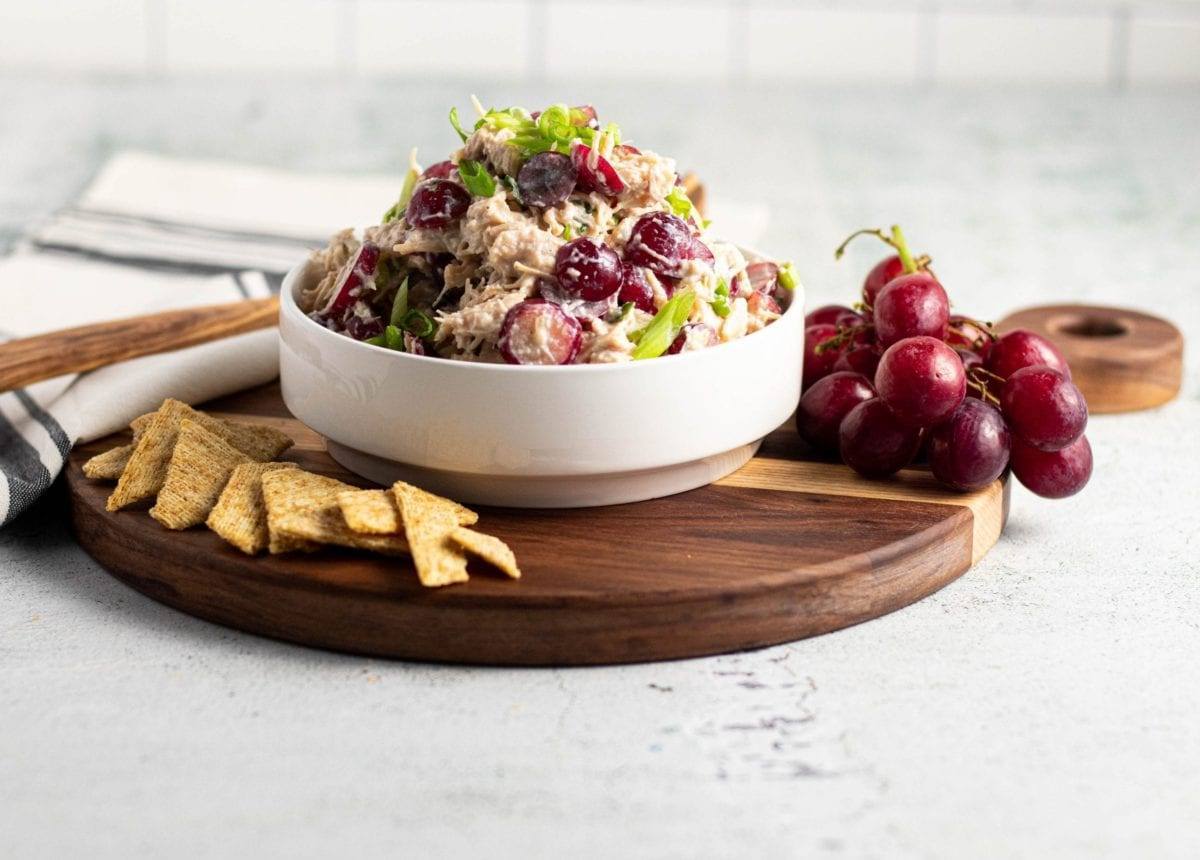 Looking for another tasty lunch or picnic salad? Check out my: