Simple Strawberry Yogurt Bark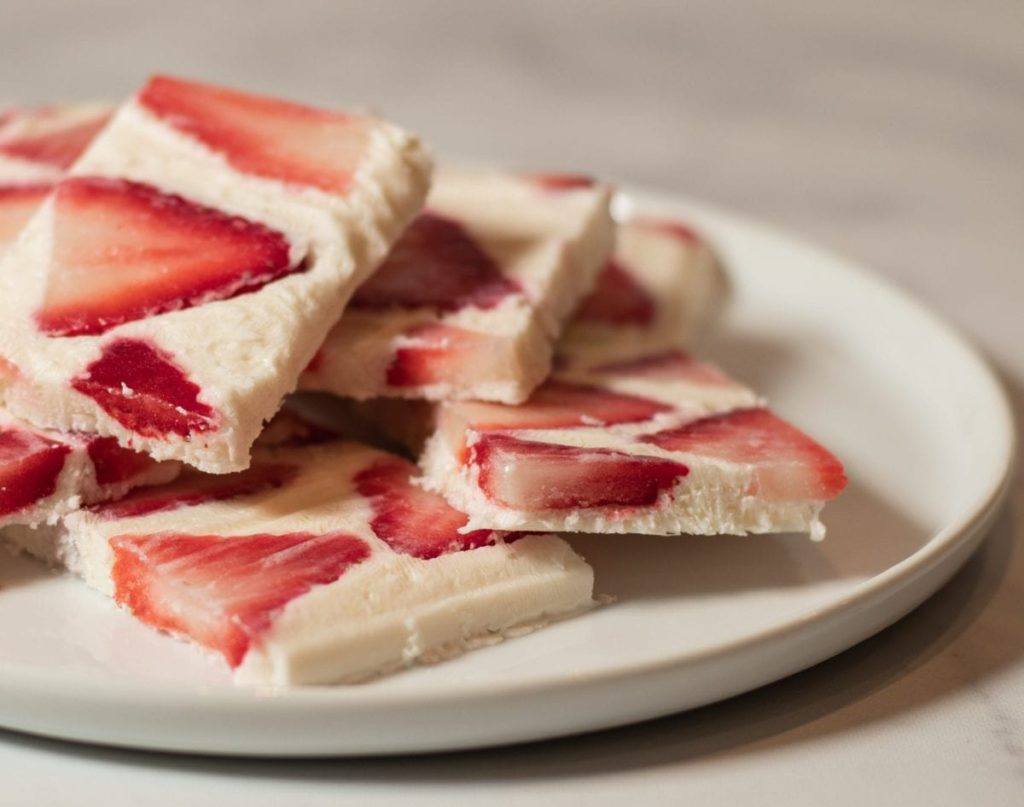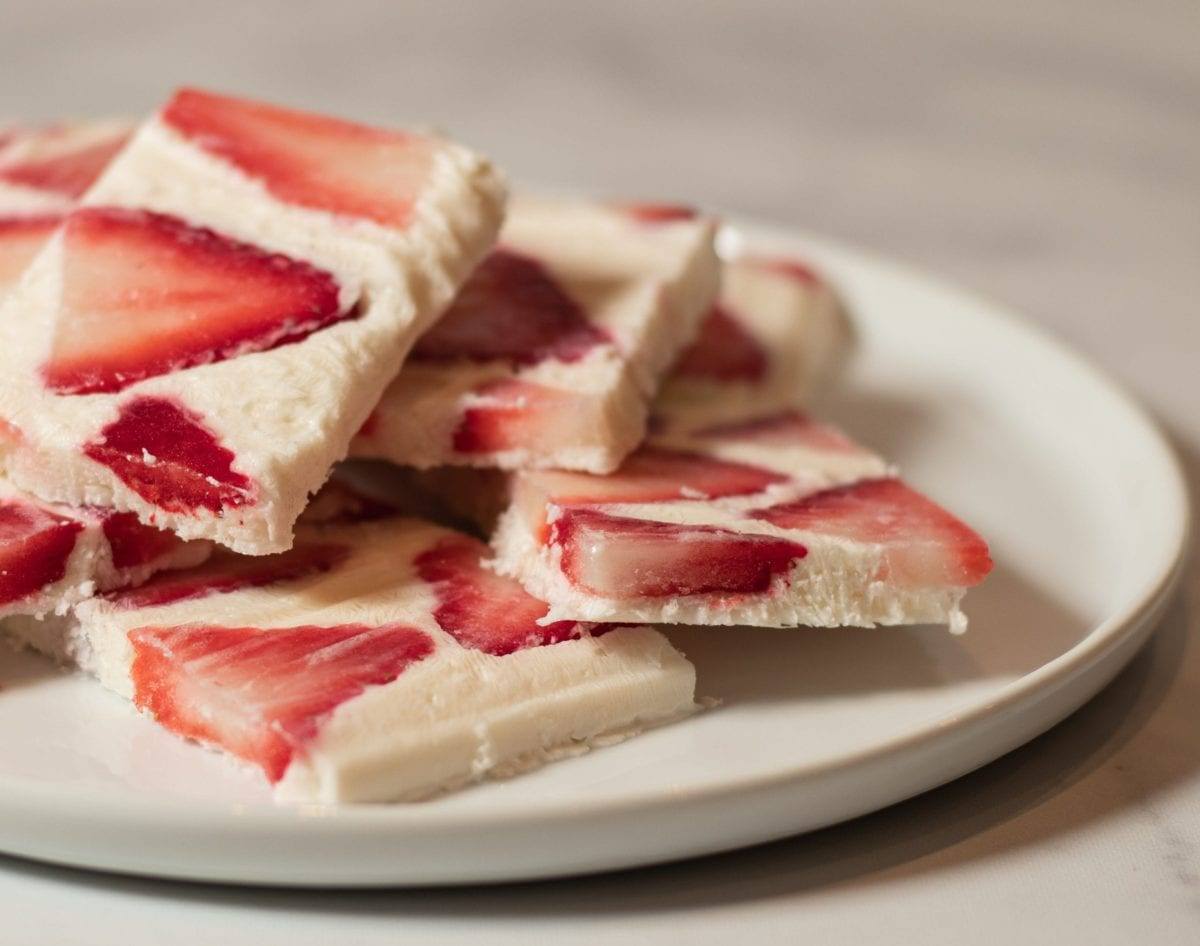 Happy Valentine Day! If you are looking for a healthy valentines day worthy treat your have fond it. Or, maybe your meal planning and just need to plan a snack this week? This simple strawberry yogurt bark, is perfect, and just as easy as the name…simple to make!
Simple Strawberry Yogurt Bark
A healthy snack when you have a sweet tooth.
8 oz Non-Fat Greek Yogurt
1 tsp Pure Vanilla Extract
2 tsp Honey
100 g Strawberries (sliced (about [adjustable]1[/adjustable] cup))
In a large bowl combine yogurt, vanilla, and honey. Stir until everything is well incorporated.

Line a 6×9" baking sheet with parchment paper.

Spoon the yogurt mixture into the lined baking sheet. Spread the yogurt out smoothly into an even layer about 1/4" thick.

Once the yogurt is smooth, lay out your sliced strawberries on top of the yogurt. Press the strawberries into the yogurt until they are level with the yogurt.

Place in the freezer for 4 hours to freeze.

Once frozen remove from the freezer and chop into bite sized pieces.

Serve immediately or store in the freezer in zip lock bags portioned out into serving sizes.
Question:
Are you trying to get better at meal planning?
Sick of eating the same boring recipes all the time?
If you are bored of eating the same recipes every week and answered yes to any of these question, then you are going to want to check out my notes below. Tips on how you can incorporate this simple strawberry yogurt bark into your meal plan and meal prep.
NOTES FOR MEAL PLANNING:
Meal planning doesn't have to be hard or take a lot of time. In fact, meal planning can be fun when you are provided with easy new recipes each week. Meal Planning can also help save money, prevent food waste, and save you time.
If you love yogurt and you love strawberries you are going to love this snack!
NOTES FOR MEAL PREP:
Once you have made this simple strawberry yogurt bark, you will want to store each serving in the freezer. Store in ziplock bags portioned out into individual servings. Once you remove from the freezer they will begin to get soft within about 5 minutes, so you will want to enjoy them reletavely quickly.
NOTES FOR COUNTING MACROS:
Typically I give tips on how you can adjust my recipes to meet your macro requirements, but with this recipe that is a little tricky. Therefore, my recommendation is to, enjoy this recipe as it is! Tasty, delicious, and easy on the waist line!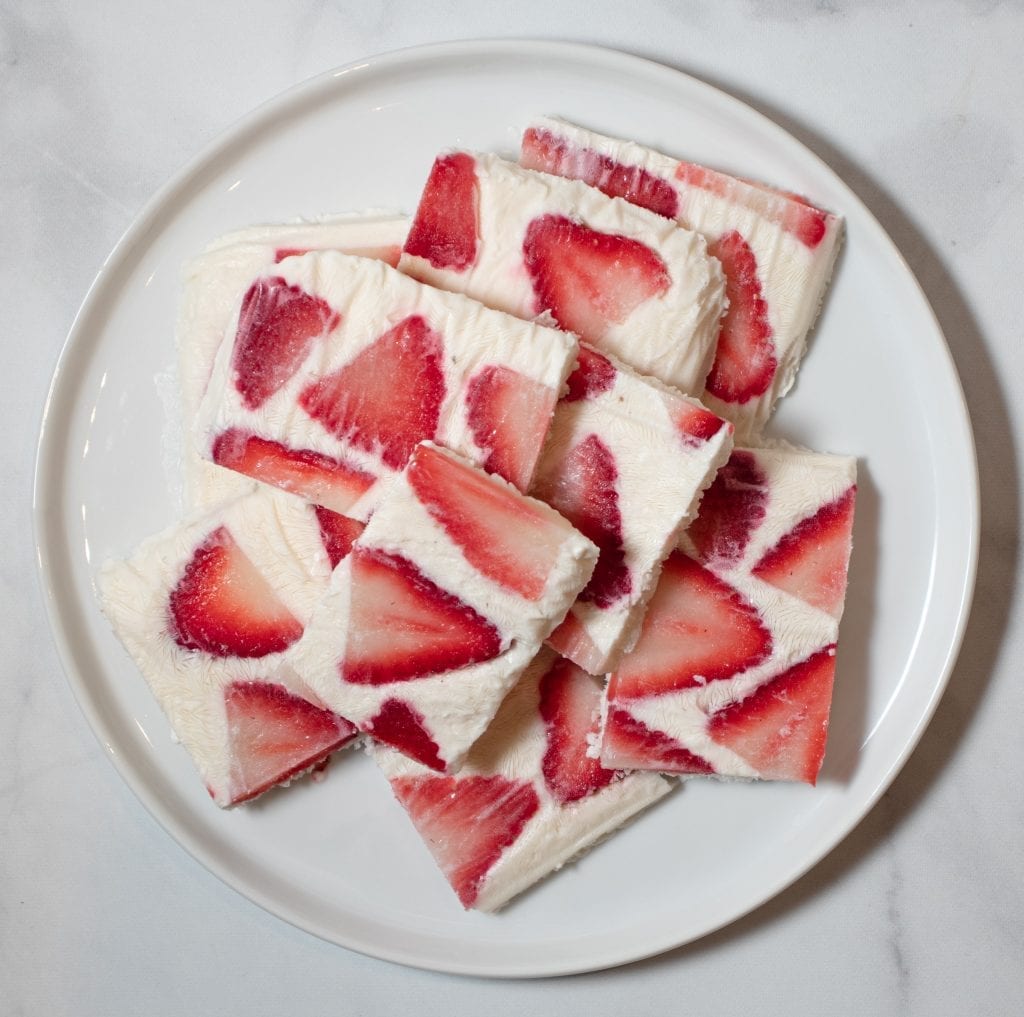 MEAL PREPPING AND LOOKING FOR THE RIGHT CONTAINERS
I personally prefer glass containers over plastic for several reasons:
Glass containers don't scratch, meaning you can eat your prepped meals right out of your containers and not worry about those extra dishes. Did you know that once a plastic container is scratched you should toss it out? The scratch in a plastic container can hold germs and bacteria.
Glass is free from chemicals. Sure, you can buy BPA free plastic containers but who knows what else makes up plastic. It's better to just go with glass and not have to worry about contaminating your food with the plastic containers.
They are microwave, dishwasher, oven, fridge, and freezer safe. Again making life just that much easier: fewer dishes when re-heating, you can cook the initial prep right in the glass container…all of which makes clean up a breeze.
Food re-heats more evenly in a glass container.
With glass, food stays fresher longer. Strange tastes and smalls aren't absorbed into your food, the way they can from plastic containers.
Glass containers last longer. So while they might cost a little more up front, you will save money in the long run over having to replace plastic.
HERE ARE JUST A FEW OF MY FAVORITES: