Chorizo and Eggs Breakfast Tacos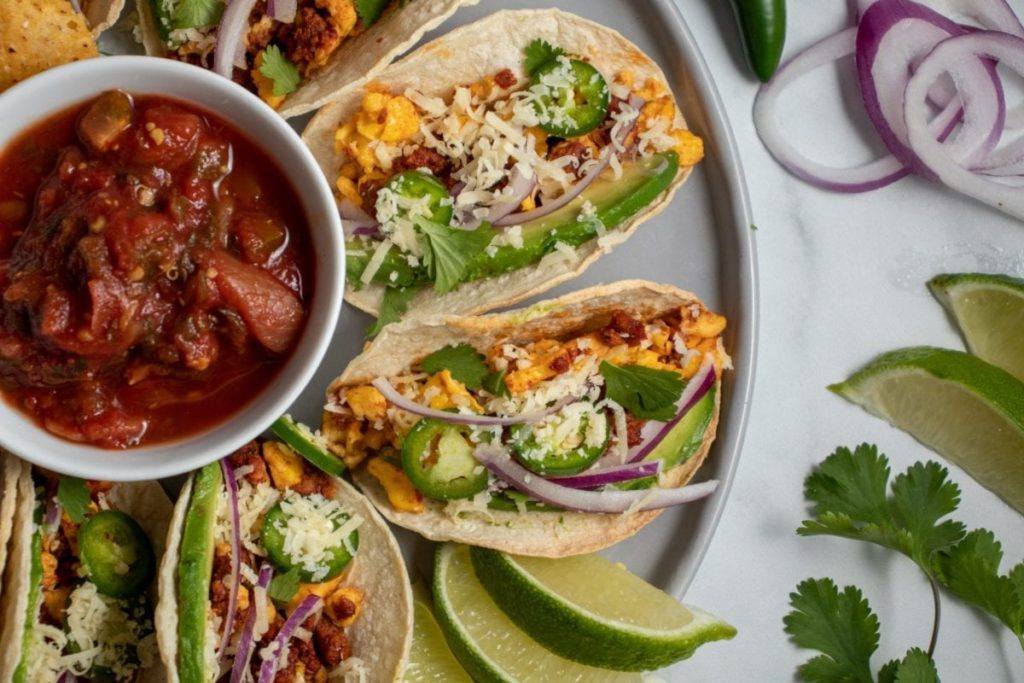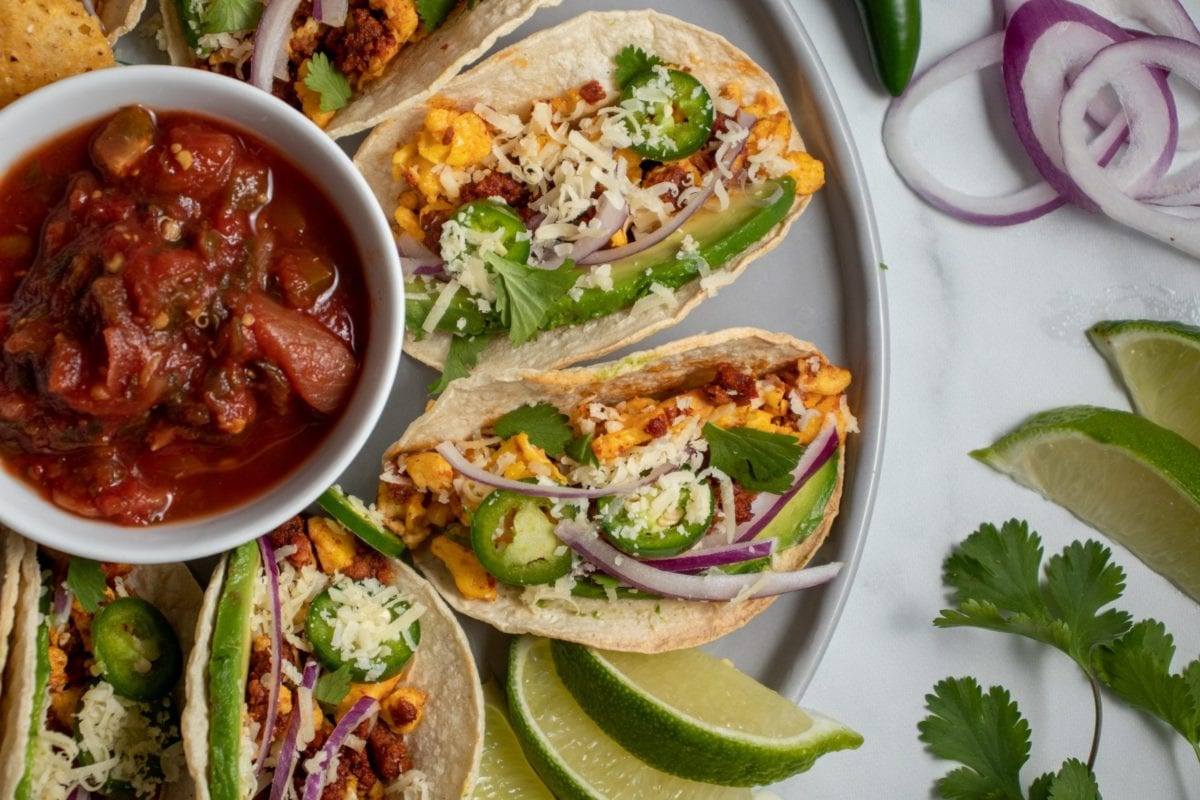 Tacos for breakfast, tacos for dinner, tacos anytime in between! For my better half and I, tacos are LIFE! We can't go more than a week or two without tacos. So I have slowly been making a few of my favorites at the house…even though tacos are typically something I like to go out for. Although, I have to say, I have figured out how to work tacos into a meal prep recipe. So add these chorizo and egg breakfast tacos to our meal plan and enjoy tasty breakfast tacos every morning! If you are counting macros then you already know that tacos are easily adjustable to meet your macro goals!
Chorizo and Eggs Breakfast Tacos
Ingredients
140

g

Pork Chorizo Sausage

(about

5

ounces)

2

Large Whole Eggs

8

Mini Street Corn Tortillas

65

g

Avocado

sliced, (about

½

an avocado)

25

g

Red Onion

shaved thin, (about

½

onion)

15

g

Serrano Pepper

sliced, (about

1

pepper)

10

g

White Cheddar Cheese

(about

¼

cup)
Instructions
Heat a medium saute pan to medium heat. Once the pan is hot add the chorizo sausage to the pan. Using a spatula break up the sausage into smaller bite size pieces. Cook the chorizo for 5-7 minutes, stirring frequently. Chorizo cooks fast so by 5-7 minutes it should be done.

Remove the chorizo and place on a few stacked paper towels, this will allow some of the grease to drain. Wipe the grease out of the pan with another peper towel, then using that same pan, we will cook the eggs.

In a small bowl crack and scramble the two eggs. Spray the pan with non-stick spray then add the two scrambled egg to the pan. Cook the eggs at medium heat until your eggs are cooked thru, stirring often. This will only take 2-3 minutes.

Once the eggs have cooked add the chorizo back to the pan, turn the heat to low and mix the eggs and chorizo together. Leave the eggs and chorizo at the lowest temp to keep them warm.

Toast your tortilla. You can do this a few different ways. My favorite is on a large flat skillet because you can toast many all at the same time. You can also use a large sarute pan, typically you can fit 3-4 tortillas into one pan, they can over lap a little. Or you can put them over direct flame…be careful. However you choose, toast your tortillas on both sides until they begin to bubble and turn a light golden brown.

Now its time to assemble your tacos: first add a slice of avacdo into your taco shell, then top the avocado with your eggs and chorizo. Next sprinkle a few red onions, serrano pepers, and a little cheese on top of your tacos.

Serve with your favorite mexican side dish or eat them on their own!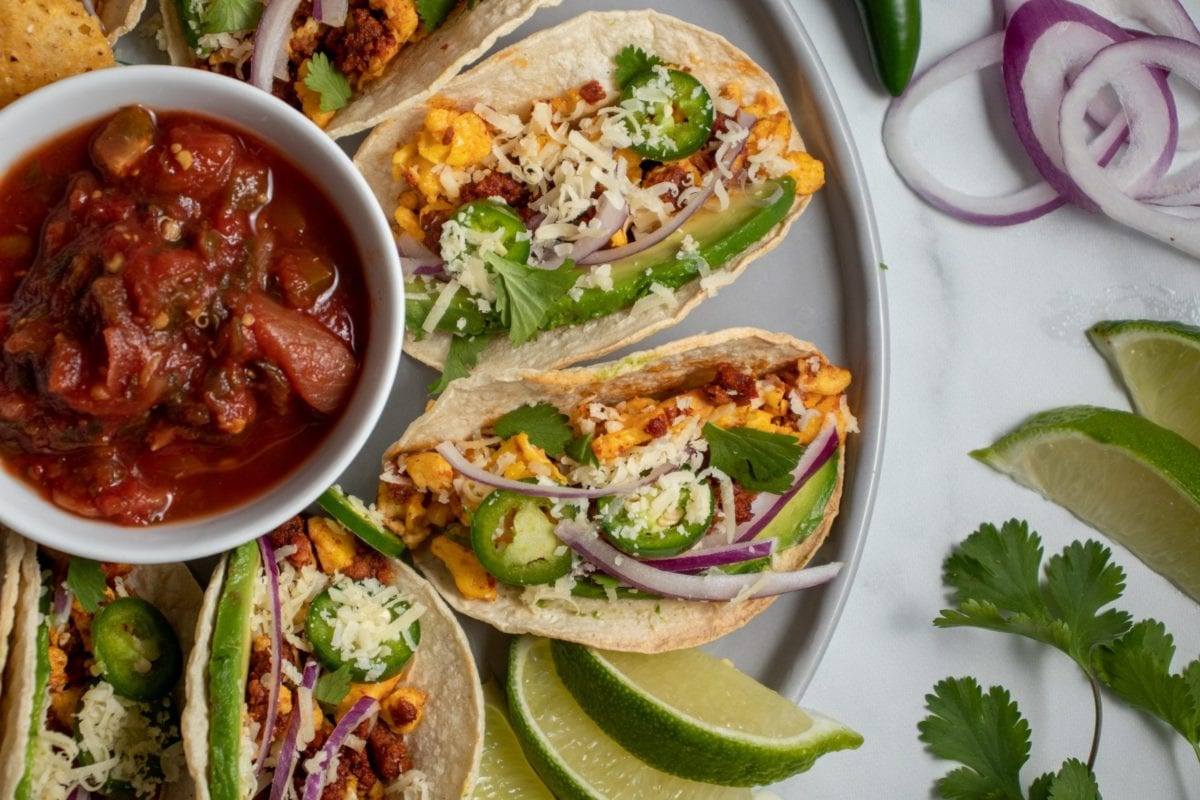 Macro Nutrition
Nutrition Facts
Chorizo and Eggs Breakfast Tacos
Amount Per Serving (4 Mini Street Tacos)
Calories 367
Calories from Fat 149
% Daily Value*
Fat 16.5g25%
Cholesterol 34.6mg12%
Sodium 671.5mg29%
Potassium 282.5mg8%
Carbohydrates 29.3g10%
Protein 24.8g50%
Vitamin A 10.3IU0%
Vitamin C 19mg23%
Calcium 13.4mg1%
Iron 14.8mg82%
* Percent Daily Values are based on a 2000 calorie diet.
QUESTION:
Are you trying to get better at meal planning?
Do you find yourself eating the same recipes every few weeks?
Are you having trouble finding recipes for meal prep?
Or are you counting macros?
If you are bored of eating the same recipes every week and answered yes to any of these question, then you are going to want to check out my notes below. Tips on how you can incorporate these chorizo and egg breakfast tacos into your meal plan and meal prep. If you are counting macros I have also included notes on how you can easily adjust the protein, carbs, and fats to meet your macro requirements.
NOTES FOR MEAL PLANNING:
Meal planning doesn't have to be hard or take a lot of time. In fact, meal planning can be be fun when you are provided with easy new recipes each week. Meal Planning can also help save money, prevent food waste, and save you time.
The best things about this recipe is, TACOS…need I say more? LOL
NOTES FOR MEAL PREP:
When meal prepping recipes it is important to think about the best way to store and reheat your finished meals:
Fridge Storage:
Tacos are a little different than most of my other meal prep recipes. The reason for that is because you can't just make the tacos and expect them to reheat later. You have to think about each ingredient and what will happen once reheated. For this taco recipe it can be kept relatively simple.
Cook all of your ingredients are stated above, but do not assemble your tacos. Keep your taco shells separate from the rest of the ingredients. This will keep the taco tortillas from become soggy or going stale.
How to do this:
After you have cooked your eggs and chorizo and combined them together. Portion out the amount of eggs and chorizo for one meal and place in your meal prep container. Top with your onions, peppers, and cheese. You can store this container in the fridge for up to one week.
Then keep your tortillas separate, in zip lock bags…the number of tacos you plan to assemble per serving, per zip lock bag. Example: If you portioned out enough eggs and chorizo in your meal prep container for 4 tacos, store 4 taco shells in one zip lock bag. Store your taco shell in your pantry or wherever your typically store your tortillas.
Avocados don't meal prep easily. My first recommendation would be to wait to cut the avocado until you go to reheat the taco mixture. My second recommendation if you have to slice your avocado would be to: slice the avocado, toss with a little lime just, then store in the fridge in a zip lock bag. Suck all the air out of the bag, the more air you get out of the bag, the longer it will take for the avocado to turn brown. Typically my avocados will last about 2 days after cutting before browning.
Do this for each serving of tacos.
Tips for Re-heating after being in the fridge:
Re-heat your eggs and chorizo container in the microwave for 60 seconds, stirring halfway thru.
Unless you're at home toasting your shell won't be an option. Although you can still warm it up. To do this place the tortilla on a napkin or paper towel and place in the microwave. Cook for 30 second flipping halfway thru. If you are reheating at home pop your tortillas on the stove for 2 minutes per side and voila…breakfast tacos in under 5 minutes!
Then assemble your taco, topping with your sliced avocado.
F
reezer Storage:
Tacos do not freeze very well. However, you could turn your tacos into burritos before freezing them:
If you have large tortillas, you could wraps the breakfast taco ingredients (less the avocado) into a larger tortilla. The ingredients for 4 small breakfast taco is about the same as one large burrito.
Then grill your burrito in a large sauce with a tiny bit of oil in the pan. Cook for 3-4 minutes on each side, until golden brown, but not crispy.
Then remove the burrito from the stove and allow to cool completely. Once cooled wrap the burrito in tin foil then store in the freeze. Once frozen the burrito will last about 3 months.
Tips for Re-heating the burrito after being stored in the freezer:
Once it is time to reheat the burrito I recommend heating the burrito on the stove:
Heat a large sauce pan to medium low heat. Place the burrito on the pan an cover with a lid. Cook for 3 minutes on each side. The lid will help to trap in the heat and cook the burrito on the inside.
After you have cooked the burrito on 4 sides for 3 minutes per side the burrito should be done, but might seem a little soft or soggy.
To fix this, turn the heat up to medium high, and cook again for 1 minute per side. This will ensure that the burrito is cooked thru and defrosted, but will also crispy up the outside some.
Notes for Counting Macros:
The main source of protein in this recipe is the chorizo, making this recipe super easy to increase or decrease the amount of protein per serving. However, it is important to remember that chorizo also has a good amount of fat. Therefore making adjustments to the protein will also make adjustments to the fat.
Every 25 grams (about 1 ounce) of chorizo has 4.2 grams of protein, but also has 1.2 grams of fat.
If you are looking to make a bigger increase to the protein you could choose to use a chicken or turkey sausage instead of chorizo. Typically chicken or turkey sausage has less fat. Check the packaging to make the right decisions for your macros.
The carbs in these chorizo and egg breakfast tacos comes from the taco shell.
The first way you could make adjustments to the carbs would be to use a different type/kind of tortilla. For this recipe I used a traditional corn tortilla. Although, there are low carb tortillas that could also be used.
If you are looking to increase the carbs, you could make smaller tacos to eat more tortillas.
Finally, if you are trying to decrease the carbs significantly you could remove the tortilla completely and only eat the inside of the tacos on their own. Or you could eat them as a lettuce wrap, which has virtually no carbs.
Choose to different tortilla, or go protein style and eat the taco without a shell. Whatever your heart and your macros allows!
The fat in this recipe comes from the chorizo and the eggs…the two main ingredients in this recipe.
You could reduce the fat a little by only using the egg whites instead of the whole egg in your scrambled eggs. Each egg yolk contains 4.5g of fat. Removing both egg yolks would reduce the fat by 4.5 grams per serving.
You could also reduce the fat a little by removing the slice of avocado. Each slice of avocado has 6-8 grams of fat, depending on the size of the slice.
If you are looking to increase the fat you could use more avocado or more chorizo. However, remember above, the chorizo contains both fat and protein, keep that in mind while you are making adjustments: more fat means more protein….typically, not a bad thing!
When counting macros and making adjustments to the protein, carbs, and fat in these chorizo and egg breakfast tacos, you will want to keep in mind the number of servings you are making.