Bacon Egg & Cheese Breakfast Cookies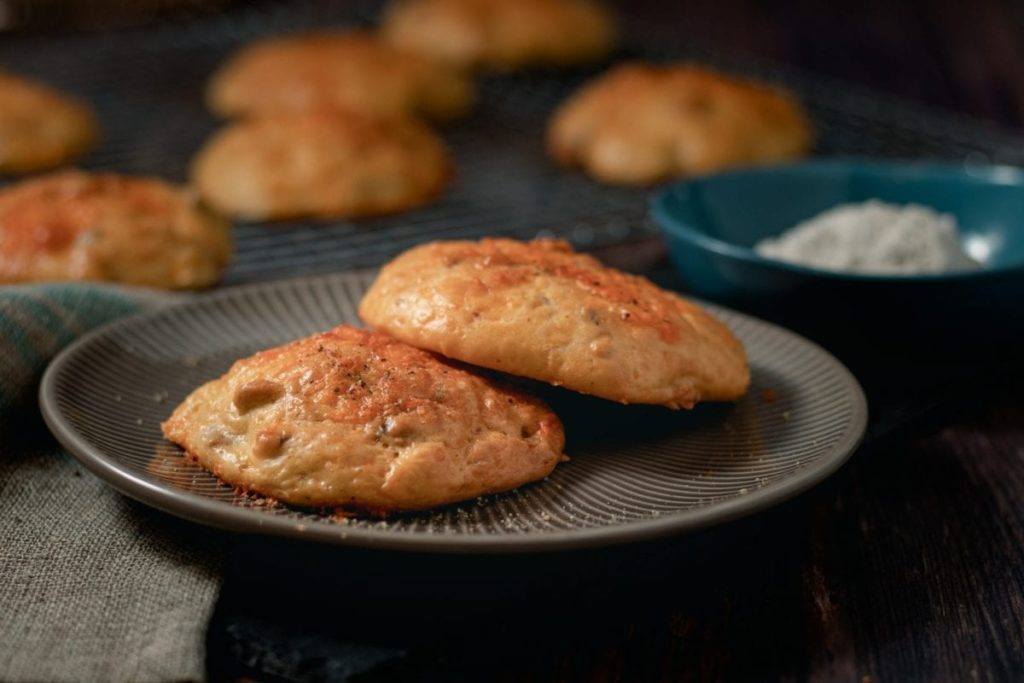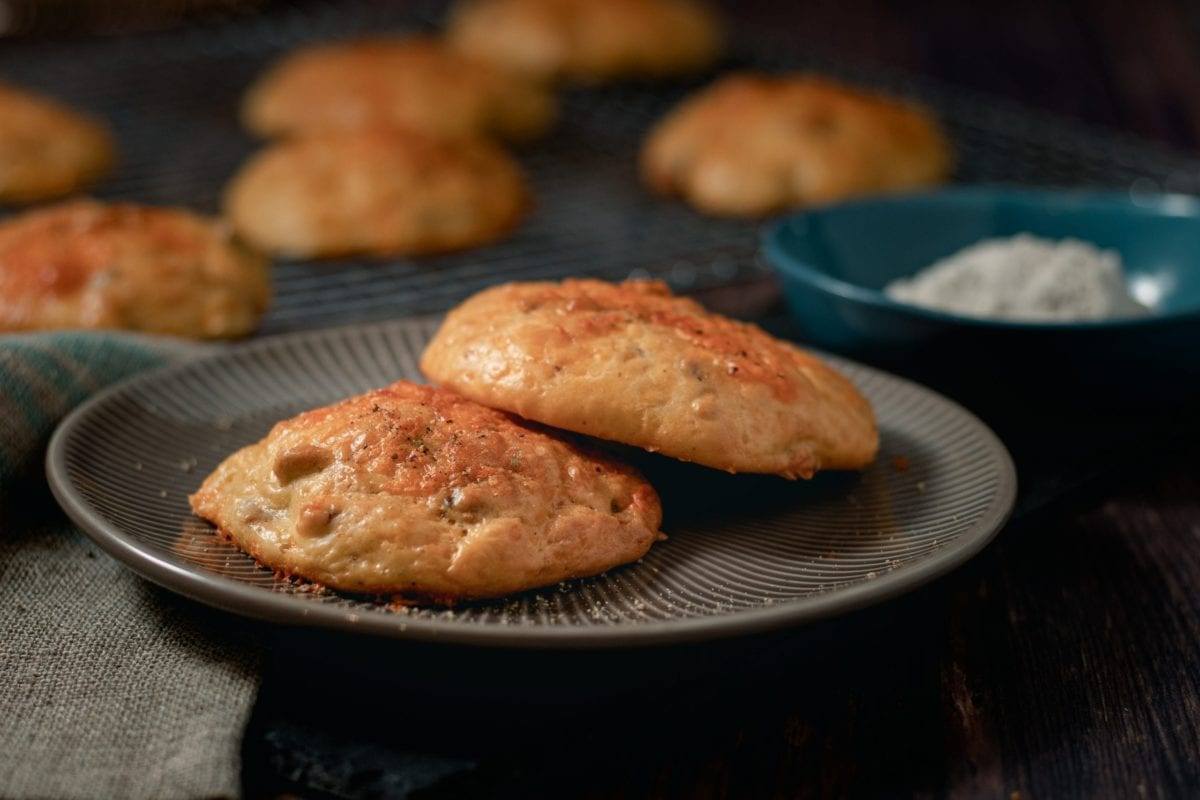 I am always looking for new ways to make breakfast on the go. This weekend I was craving biscuits and eggs so I thought, "how can I combine the two?" And that is how the Bacon Egg and Cheese Breakfast Cookies was born. A combination of biscuit, breakfast sandwich, and scrambled egg ingredients to create the cookie! Add these to your meal plan this weekend, make them in a large batch and have them meal prepped for the entire week. Just grab and go!
Bacon Egg and Cheese Breakfast Cookie
The grab and go breakfast cookie!
8 slices Bacon (([adjustable]120[/adjustable] grams))
6 Large Whole Eggs
4 oz Liquid Egg Whites
2 cup Flour (([adjustable]300[/adjustable] grams))
2 tsp Baking Powder (([adjustable]10[/adjustable] grams))
¼ tsp Salt
â…" cup Cheddar Cheese (freshly shredded, ([adjustable]5[/adjustable] ounces))
Start by cooking your bacon. Cook in a large pan at medium low heat for about 10 minutes. Flipping every 2 minutes. Once the bacon is cooked remove from the pan and place on a papper towel and pat the grease off.

While the bacon is cooking Pre-heat over to 375'°

In a large bowl, beat eggs, egg white liquid, and ¾ of the cheese.

In a seperate bowl combine flour, baking powder, and salt.

Then add the dry mixture into the eggs and stir until well combined.

Cut/break the bacon up into small pieces and fold into the egg mixture. Mix until evenly distributed and you have a sticky dough.

Place a piece of pachment paper or silicone mat onto a baking sheet. Using a spoon scoop out large scoops of the dough evenly on the tray. With this recipe I was able to get 18 large cookies.

Top each cookie with a sprinkle of the remaining cheese.

Bake at 375'° for 13-15 minutes. Until the cookie begins to turn a light golden brown on top and the cheese has melted.

Allow to cool slightly before eating!
QUESTION:
Are you trying to get better at meal planning?
Sick of eating the same boring recipes all the time?
If you are bored of eating the same recipes every week and answered yes to these questions, then you are going to want to subscribe below. Each week I create 3-5 new recipes, ensuring you never get bored with your food again! Additionally, you are going to want to check out my notes below. Tips on how you can incorporate these Bacon Egg and Cheese Breakfast Cookies into your meal plan and meal prep. They are the perfect grab and go breakfast!
NOTES FOR MEAL PLANNING:
Meal planning doesn't have to be hard or take a lot of time. In fact, meal planning can be fun when you are provided with easy new recipes each week. Meal Planning can also help save money, prevent food waste, and save you time.
If you love bacon egg and cheese breakfast sandwiches you are going to love these cookies!
NOTES FOR MEAL PREP:
Once you have made these Bacon Egg and Cheese Breakfast Cookies you will want to store them in a zip lock bag. However, it is important to allow them to cool completely before closing the bag. Failing to do so will cause a condensation build up and the cookies could go bad quickly.
However, if you over cooked the cookies slightly, you could close the zip lock bag while the cookies are still warm, the extra condensation will help to soften up the cookies. However, please allow them to cool completely before storing in the fridge or freezer.
Storing and how long they will last:
In the fridge for up to 7 days.
Or in the freezer for up to 6 months.
If storing in the freezer, I like to wrap each cookie separately in plastic wrap and then put them in a zip lock bag. When it is time to eat after freezing, simply remove the cookies from the freezer the night before, they will be defrosted by morning. Or pop a cookie into the microwave for 60 seconds to defrost.
I love to microwave these cookies for 30 seconds before eating, give it a try, maybe add a little butter!
NOTES FOR COUNTING MACROS:
Typically I give tips on how you can adjust my recipes to meet your macro requirements. However, when it comes to baking that can be a little more difficult. Additionally, the adjustments that could be made, do not effect the protein, carb, and fat macros enough to make a real impact. My recommendation would be to enjoy this recipe as is.
However, you could make adjustments to:
The kind of flour you use: Almond flour is a great flour for this recipe.
You can also choose to use a different type of cheese. I went with cheddar cheese, but any freshly shredded cheese will work.
Finally, you can choose to use any type meats: you could do a combination of breakfast meats: bacon, sausage, or ham. You could even decide to go vegetarian and use no meat at all.
I hope that you decide to add these Bacon Egg and Cheese Breakfast Cookies into your meal plan and meal prep this week! They really are a great breakfast on the go meal!