Roasted Butternut Squash Salad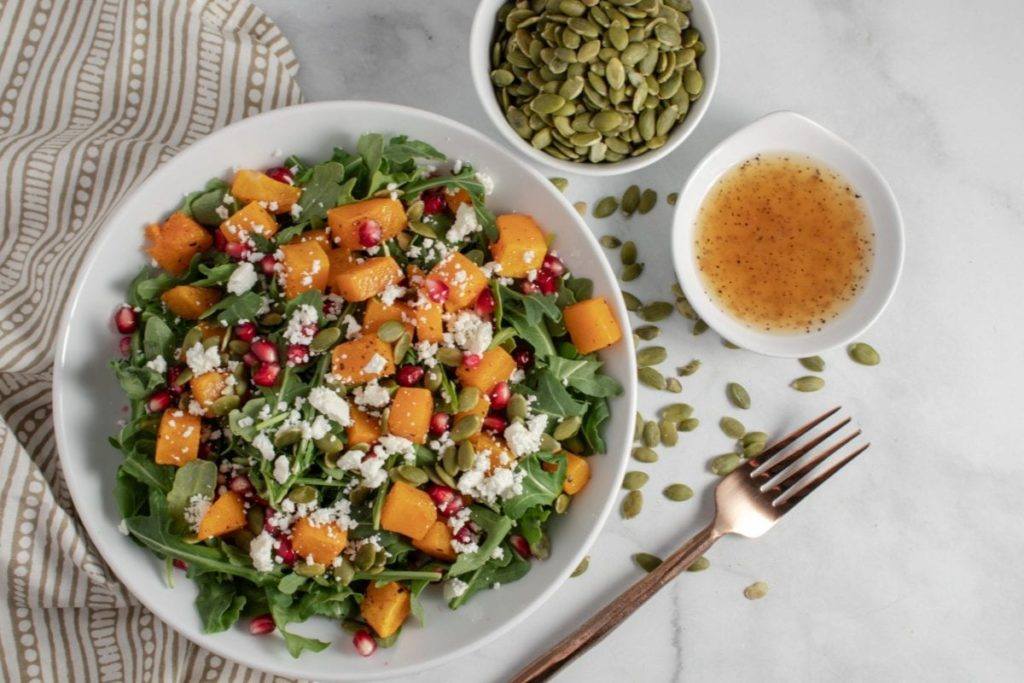 Looking for a way to use up the rest of that giant butternut squash you purchased at the grocery store the other day? How about making this simple roasted butternut squash salad. The combination of goat cheese butternut squash, and pomegranate will tickle your taste buds. Add this recipe to your meal plan this week and grab any additional ingredients you need from the store. Another great meal prep salad, perfect for anyone counting macros.
Roasted Butternut Squash Salad
Instructions
Pre-Heat oven to 400 degrees. Line a baking sheet with parchment paper or tin foil.

Peel squash, cut in half and remove seeds. Then cut into 1/4 inch cubes. Place cubed squash into a large bowl, drizzle with oil, season with salt, pepper, and garlic powder. Toss until evenly seasoned and coated. Spread seasoned butternut squash onto baking sheet into an even layer. Bake for 25 -30 minutes, until fork tender and lightly golden brown.

While squash is cooking assemble salad. I like to dress my greens with the dressing first. Place the arugula in a large bowl, drizzle with vinaigrette, and toss to distribute dressing evenly oven arugula. Then transfer the arugula to your serving bowl.

Top the arugula with pomegranate, pumpkin seeds, and goat cheese.

Once the butternut squash is done, add it on top of the salad and enjoy.
Macro Nutrition
Nutrition Facts
Roasted Butternut Squash Salad
Amount Per Serving
Calories 201
Calories from Fat 78
% Daily Value*
Fat 8.7g13%
Cholesterol 4.6mg2%
Sodium 99.5mg4%
Potassium 645.4mg18%
Carbohydrates 28.2g9%
Protein 5.9g12%
Vitamin A 230.6IU5%
Vitamin C 48.8mg59%
Calcium 15.3mg2%
Iron 10.9mg61%
* Percent Daily Values are based on a 2000 calorie diet.
QUESTION:
Are you trying to get better at meal planning?
Do you find yourself eating the same recipes every few weeks?
Are you having trouble finding recipes for meal prep?
Or are you counting macros?
If you are bored of eating the same recipes every week and answered yes to any of these question, then you are going to want to check out my notes below. Tips on how you can incorporate this roasted butternut squash salad into your meal plan and meal prep. If you are counting macros I have also included notes on how you can easily adjust the protein, carbs, and fats to meet your macro requirements.
NOTES FOR MEAL PLANNING:
Meal planning doesn't have to be hard or take a lot of time. In fact, meal planning can be fun when you are provided with easy new recipes each week. Meal Planning can also help save money, prevent food waste, and save you time.
The best things about this salad is, it's easy to clean up, simple to make, and can be adjusted to fit just about any macro goals.
NOTES FOR MEAL PREP:
Most people don't think you can meal prep a salad, well I am here to say that is not true! While you might not be able to mix all the ingredients together, you can prep everything. Keeping the wet ingredients separate from the dry ingredients until it is time to enjoy your salad.
For this recipe you can combine your arugula, pomegranate, pumpkin seeds, and goat cheese together and store them in the fridge.
Cook your butternut squash following the instruction above. The butternut squash will keep in the fridge for 5 – 7 days.
Then have your dressing and squash in separate containers.
When you are ready to enjoy the salad, simply add the squash and dressing to the arugula and other ingredients and toss together.
This salad is delicious with the squash either warm or cold. If you would like to heat up your squash, pop it in the microwave for 30 seconds, before adding to the salad greens.
NOTES FOR COUNTING MACROS:
There is not a lot of protein in this recipe, however if you would like to add protein the easiest way would be to add cooked chicken. Chicken breast would be a great addition to this roasted butternut squash salad.
Every 1 ounce of chicken has 8.8 grams of protein.
The carbs in this salad comes mainly from the roasted butternut squash.
For every 50 grams (about 1/2 cup) squash there is 10.1 grams of carbs.
This allows you to increase of decrease the carbs really as much as you would like.
The fat in this salad comes mainly from the oil that the butternut squash is cooked in.
However, if you are looking to increase the fat in this recipe I would not recommend increasing the amount of oil you cook the squash in. As this would make the squash greasy. My recommendation would be to increase the amount of pumpkin seeds or goat cheese.
For every 10 grams of goat cheese there is 2.1 grams of grams of fat.
For every 10 grams of pumpkin seeds there is 1.9 grams of fat.
You could also add another fatty ingredient to the salad like nuts or avocado.
On the other hand, if you are looking to decrease the fat in this roasted butternut squash salad. You could reduce the oil you cook the butternut squash in. Potentially removing all of the oil all together, this would decrease the fat in this salad by 4.7 grams. However, you will want to spray your baking sheet with non-stick spray.
When making adjustments to the macros in this roasted butternut squash salad, you will want to keep in mind the number of servings you are making.