Chicken Burrito Skillet Recipe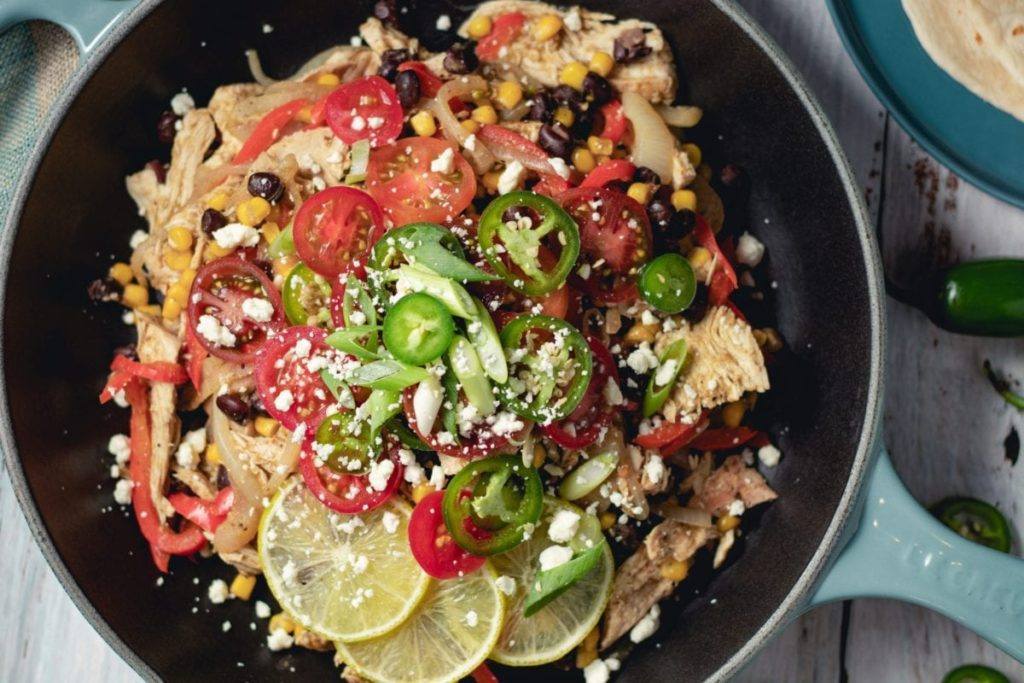 I don't know about you but I can't get enough Mexican food. However when I make it at home I'm always trying to find ways to make it a tiny bit healthier. Like this Chicken Burrito Skillet Recipe, removing the tortilla and the rice reduces the amount of carbs creating a high protein meal. Additionally, this is one pot meal making it super easy to cook and clean up. Every few weeks I like to have a Mexican inspired recipe on my meal plan to help keep the cravings at bay! If you are counting macros you are going to love how easily you can adjust the ingredients in this recipe to hit your macro goals. This also makes for a really great meal prep recipe!
Chicken Burrito One Pot Meal
When your craving a lower carb mexican recipe look no further!
26 oz Boneless, Skinless, Chicken Breast ((about [adjustable]3[/adjustable] breasts))
¼ tsp Black Pepper
¼ tsp Garlic Powder
1 tsp Extra Virgin Olive Oil
250 g Yellow Onion (sliced, (about [adjustable]1[/adjustable] onion))
210 g Red Bell Pepper (sliced, (about [adjustable]1[/adjustable] large pepper))
200 g Frozen Sweet Corn ((about [adjustable]1[/adjustable] cup))
280 g Black Beans (rinsed and drained, (about [adjustable]1[/adjustable] can))
½ tsp Black Pepper
½ tsp Chili Powder
220 g Green Chili Enchilada Sauce (Brand: Frontera, ([adjustable]1[/adjustable] packet))
100 g Cherry Tomatoes (sliced, optional (about [adjustable]1[/adjustable] cup))
20 g Scallions (sliced, optional (about [adjustable]2[/adjustable] stalks))
45 g Jalapeno Pepper (sliced, optional (about [adjustable]3[/adjustable] peppers))
50 g Feta Cheese (crumbled, optional (about [adjustable]3[/adjustable] tbsp))
Heat a large pan with lid to medium heat. While waiting for the pan to heat up season the chicken with pepper and garlic powder. Once the pan is hot, add the extra virgin olive oil to the pan.

Place the chicken immediately into the pan, leave it there for 2 minutes, then flip to the other side and cook for an additional 2 minutes.

Both sides should start to become golden brown, but the center will still look uncooked…if not golden, give each side another minute…your pan wasn't hot enough. Turn the heat to low and cover the chicken with a lid. Let it cook for about' [adjustable]8[/adjustable]' minutes, then flip and cover again for another' [adjustable]8[/adjustable]' minutes.

After' [adjustable]8[/adjustable]' minutes on each side covered, the chicken should be done. But this does depend on the size of the chicken breast…these times are based on' [adjustable]8[/adjustable]' oz breasts.' 

It is always best to check the internal temperature of chicken before serving.' 

My rule of thumb is, once covered, cook the chicken for 1 minute per ounce per side, I find that this deliveres a perfect juicy chicken breast every time.

Once the chicken is done remove from the pan, leaving the juices in the pan.

Keeping the heat at medium add the onions and peppers to the pan with the chicken juices. Cook for 3-4 minutes tossing every few minute or so. After 3-4 minutes add the corn and black beans to the peppers and onions. Season with pepper and chili powder.

While the onions, peppers, corn, and beans are cooking use a fork and knife to shred the chicken into bite sized pieces.

Now add the green chili sauce and chicken to the pan. Stir everything together until well combined. Then cover with a lid and cook for 5 minutes.

After 5 minutes remove the lid and garnish with the chery tomatoes, scallions, jalapenos, and feta cheese.

Serve and enjoy!
QUESTION:
Are you trying to get better at meal planning?
Do you find yourself eating the same recipes every few weeks?
Are you having trouble finding recipes for meal prep?
Or are you counting macros?
If you are bored of eating the same recipes every week and answered yes to these questions, then you are going to want to subscribe below. Each week I create 3-5 new recipes, ensuring you never get bored with your food again! Additionally, you are going to want to check out my notes below. Tips on how you can incorporate this Chicken Burrito Skillet Recipe into your meal plan and meal prep. It is the perfect low carb recipe to help you shed those few pounds.
NOTES FOR MEAL PLANNING:
Meal planning doesn't have to be hard or take a lot of time. In fact, meal planning can be fun when you are provided with easy new recipes each week. Meal Planning can also help save money, prevent food waste, and save you time.
The best things about this recipe is it is a one pot meal, making it easy to cook and clean up, but also tastes phenomenal reheated, and can be adjusted to fit just about any macro goals.
NOTES FOR MEAL PREP:
When meal prepping recipes it is important to think about the best way to store your finished meals:
FRIDGE STORAGE:
Storing this chicken burrito skillet recipe in the fridge will last 5-7 days.
There are a few ways you can choose to store this recipe in your fridge:
You can store as one large meal or as individual servings.
I always prefer individual servings. This allows me to only reheat the number of servings that will be eaten.
However, if you know you will eat the entire recipe when it is time to be reheated, go ahead and store it as one large serving.
For fridge storage you can use zip lock bags, plastic containers, or glass food containers. I prefer to use glass container, as this allows me to reheat and eat the recipe right out of the same container. Which in turn saves me time, dirty dishes, and makes clean up easier. It also save on waste, either tossing out the used zip lock bags, or eventually having to replace the plastic containers.
Be sure to allow the recipe to cool completely before closing the container or placing in the fridge. If you close the container or place the recipe in the fridge before it has cooled you could have built up condensation within your container, thus watering down the recipe.
TIPS FOR RE-HEATING AFTER BEING IN THE FRIDGE:
If reheating as an individual serving, microwave for 90-120 seconds, stirring half way thru.
If reheating this one pot meal as a one large meal, I recommend reheating on the stove, in a large pan, at medium low heat. Cook for 5-7 minutes until the recipe is warmed thru. This will ensure the best flavor, consistency, and really bring the recipe back to life. You may want to add a tiny bit of water to help loosen up the sauce and ingredients. Adding 1 teaspoon at a time, you don't want to water down the recipe.
However, you can also microwave the entire recipe, this will take about the same time as the stove top, but might dry the recipe out a little. Microwave for 5-7 minutes, stirring every few minutes.
FREEZER STORAGE:
Not all recipes are great after being frozen. This recipe is a protein packed meal, that doesn't have much liquid therefore freezer and reheating will actually dry out this dish a lot. I do not recommend freezing this recipe.
NOTES FOR COUNTING MACROS:
The majority of the protein in this recipe comes from the chicken. You can easily adjust the amount of chicken without changing the flavor of this recipe too much.
For every 1 ounce of chicken you can increase or decrease the protein macro by 8.8 grams.
So go ahead, add as much or as little protein as you would like to this recipe.
The veggies and the beans in this chicken burrito skillet recipe is what provides most of the carbohydrates. Again, easy ingredients to adjust. Although, the carbs that the veggies provides would require a large adjustment to really have any impact on the amount of carbs in this recipe. Therefore, if an adjustment to the carbs needs to be made I would recommend adjusting the amount of black beans.
Every 1/3 cup (100 grams) of black beans contains 17.7 grams of carbs. However, you will want to keep in mind that this will also reduce the protein by 5.25 grams.
If you are looking for a lower carb meal, the easiest way would be to remove beans altogether. Not adding the beans would adjust the macros in this recipe to Cals: 319 / 50.6g P / 22.7g C / 6.9g F.
On the other hand, if you are in fact looking to increase the carbs, increasing the amount of beans would be the way to go. Increase as much as your carb macro allows!
Another great way to increase the carbs in this recipe would be to actually create a burrito. Tortillas provide a good amount of carbs. You can find wraps with as few as 7 carbs like these Kaliwonder slim wraps, or find wraps that have as much as 35 carbs.
If you plan to create the burrito, cook everything following the directions above, then portion out the cooked ingredients into your tortilla wraps. Spreading the ingredients evenly throughout the middle, then fold over the sides and roll up. You may want to place each burrito into a pan for 2-3 minutes on each side to toast the burrito. A grill pan works really great for this. Then when reheating, microwave each burrito for 2 minutes, flipping halfway thru.
This chicken burrito skillet recipe is very low in fat with only 7.2 grams per serving. Therefor I would not recommend reducing the fat in this recipe.
However, if you are looking to increase the fat in this recipe the best way to do so would be to add a little avocado. We all know that avocado goes AMAZING with any Mexican inspired dish. This one pot meal is no different.
For every 35 grams (about 1/4 avocado) you increase the fats by 7.3 grams.
Top your skillet burrito with as much avocado as your macros allow for!
Tip about avocado and meal prep:
You can pre-cut your avocado: Toss your avocado chunks with a little lime juice, then portion into zip lock bags. Suck all the air out of the zip lock bag and store in the fridge. Typically my pre-cut avocados will last 2-3 days before starting to brown if I get all the air out. Otherwise cut your avocado right before eating to prevent browning.
When making adjustments to the macros in this low carb one pot chicken burrito skillet recipe, you will want to keep in mind the number of servings you are making.