Spicy Shrimp and Sautéed Spinach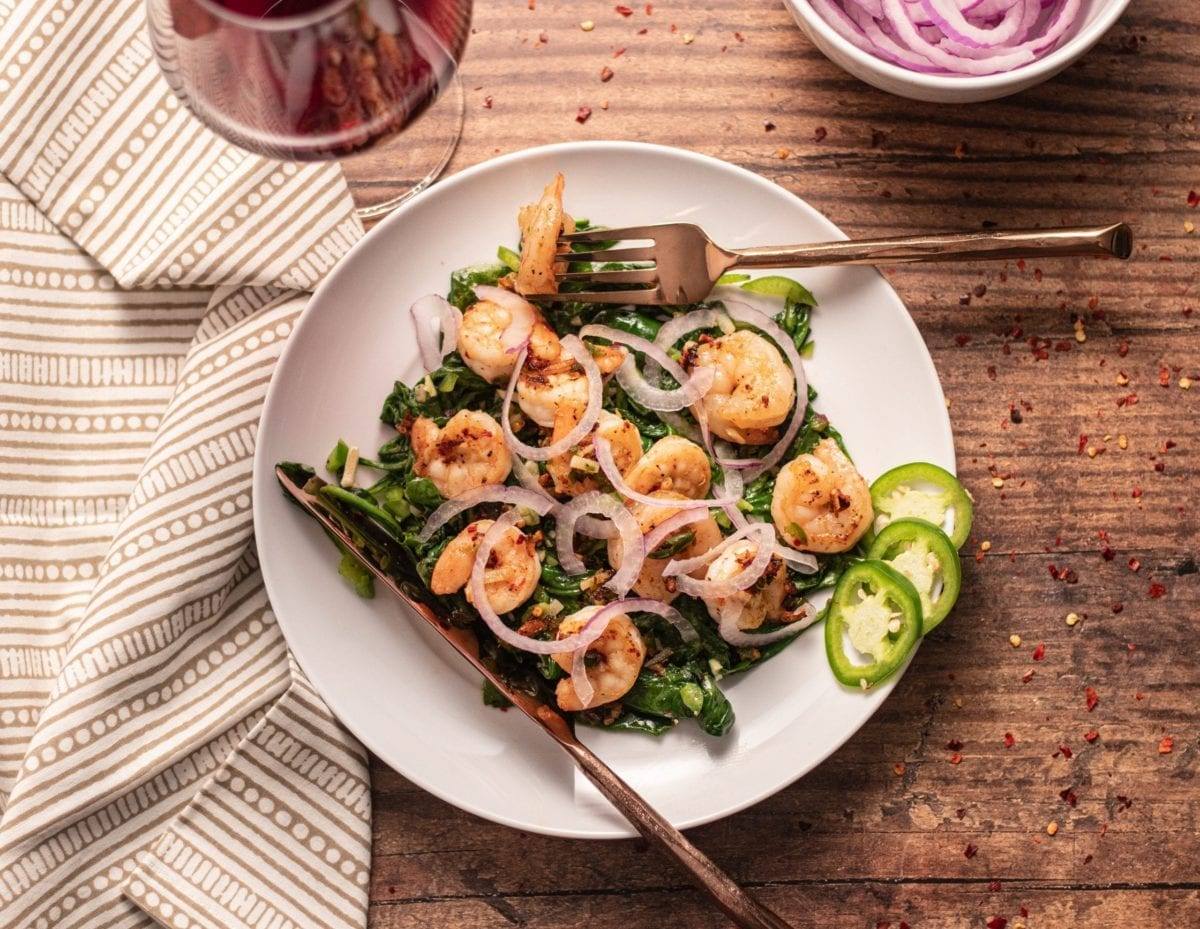 This light and flavorful dish, perfect for lunch or dinner. The spicy shrimp and sautéed spinach is packed with protein and light in carbs and fat..making it a perfect recipe for anyone looking to lose a little weight or counting macros.
Spicy Shrimp and Sauteed Spinach
A light and flavorful dish, perfect for lunch or dinner!
½ tbsp Unsalted Butter
3 cloves Fresh Garlic (diced)
15 g Jalapeno Peppers (diced (about [adjustable]½[/adjustable] pepper))
5.5 oz Large Shrimp (uncooked, peeled and deveined (about [adjustable]12[/adjustable] shrimp))
50 g Baby Spinach ((about [adjustable]½[/adjustable] cup))
1 tsp Red Pepper Flake
1 tsp Black Pepper
5 g Red Onion (shaved (about 3 very thin slices))
Heat 2 medium sized saute pans to medium heat.

Once each are hot add a 1/4 tablespoon of butter to each pan. Then add half the diced garlic and half the diced jalapeno into each pan, and stir around with the butter.

In one pan add the shrimp, toss in the melted butter and allow to cook shrimp on one side for about 3 minutes.

In the other pan add the spinach, toss with the melted butter. Add red pepper flake and continue to toss for about 3 minutes. The spinach will begin to wilt. Turn the heat down to low and allow to sit while you work with the shrimp.

Stir the shrimp, garlic, and jalapenos around. Then flip each shrimp to the opposite side. Allow to cook for another 2-3 minutes, or until done.

While waiting for the shrimp to finish, plate the sauteed spinach on a plate. Season with a dash of freshly cracked black pepper.

Now that the shrimp should be fully cooked, toss them one last time to absorb the flavors from the pan.

Top the spinach with the cooked shrimp and some of the chard jalapenos and garlic remaining in the pan. Finish with a few cracks of black pepper, a dash of red pepper flake and garnish with the thinly shaved red onion.
Are you meal prepping? Do you count your macros or calories? Check out my notes below on how you can incorporate this spicy shrimp and sautéed spinach recipe into your meal prep. Also, how you can easily adjust protein, carbs, and fats to meet your macro requirements.
NOTES FOR MEAL PREP:
This spicy shrimp and sautéed spinach is a wonderful recipe for meal prepping. You can store each serving in the fridge for 5 day and eat it as it fits your meal plan.
For reheating, toss the shrimp and spinach together, microwave for 30 – 45 seconds. The moisture from the spinach will help to keep the shrimp from drying out.
NOTES FOR COUNTING MACROS:
This is a really light recipe, mostly containing protein. Therefore, there is not a lot of adjustments that can be made to the specific recipe. However, since it is so light, you can easily add additional ingredients to create a more full robust recipe. Get creative!
The majority of the protein in this recipe comes from the shrimp. You can easily adjust the amount of shrimp without changing the flavor of this recipe.
For every 1 ounce of shrimp you can increase or decrease the protein macro by 6 grams.
So go ahead, add as much or as little protein as you would like to this recipe.
This dish only has 11.9 grams of carbs. While you could increase the amount of spinach used in the recipe, you would need to add A LOT of spinach to make an impact.
However, this recipe would go really well overtop basmati rice.
For every 1/4 cup (45g) of basmati rice you increase the carbs by 31.9 grams.
There is little to no fat in this recipe. You could increase the fat by adding more butter. But, too much butter can make everything a little greasy and butter does not add any real value to your diet other than fat.
Although, if you are looking to add more fat into your diet I would recommend adding a healthy fat. This recipe would be fantastic with a few chunks of avocado.
For example: For every 15 grams (about 1/8 of an avocado) you increase the fats by 4 grams.
Tip:
You can pre-cut your avocado: Toss your avocado chunks with a little lime juice, then portion into zip lock bags. Suck all the air out of the zip lock bag and store in the fridge. Typically my pre-cut avocados will last 2-3 days before starting to brown if I sucked all the air out.
When making adjustments to the macros with this spicy shrimp and sautéed spinach recipe, you will want to keep in mind the number of servings you are making.
If you love shrimp and you are looking for another shrimp recipe I would love for you to try my: