Honey Sesame Chicken and Rice
Chicken and rice tends to be a staple in many homes. So why not kick it up a notch with this honey sesame chicken and rice recipe. A great low fat recipe for anyone counting macros. Additionally, it also reheats wonderfully, making it perfect for leftovers or as a meal prep recipe.
Honey Sesame Chicken & Rice
Ingredients
2

cups

Water

180

g

Jasmine Brown Rice

(about

1

cup)

24

oz

Boneless, Skinless, Chicken Breast

cut into bite sized pieces (about

3

,

8

oz breasts)

10

g

Fresh Garlic

diced, (about

2-3

cloves)

21

g

Honey (about

1

tbsp)

15

g

Soy Sauce, Lite (about

1

tbsp)

½

tsp

Black Pepper

¼

tsp

Salt

15

g

Scallions

diced, (about

2-3

stalks)

1

tsp

Sesame Seeds
Instructions
Cook the rice by: Bringing 2 cup of water to boil. Once the water is boiling, add the rice, cover with a lid, and turn heat down to low. Simmer for 20 minutes then remove from heat. Keep covered for an additional 10 minute.

While the rice is cook place the chicken in a large bowl. Season with garlic, honey, soy sauce, black pepper, and salt. Mix ingredients until the chicken is evenly coated with the sauce.

Once the rice has been cooking for 15 minutes begin cooking the chicken.

Heat a medium saute pan to medium high heat. Once the pan in warm add the chopped chicken to the pan. Spread the chicken around into one even layer covering the bottom of the pan. Allow to cook for 3-4 minutes, then toss the chicken. Spread evenly again and allow to cook for another 3-4 minutes. This allows the chicken to brown a little on two side.

Then continue cooking the chicken for another 7 minutes, stirring often. Cook until the chicken is done. No longer transparent. You can test doneness, by chopping one of your bigger chuncks in half and making sure the inside is no longer pink.

Serve by topping the rice with your honey soy chicken. Then sprinkle a little diced scallions and sesame seed on top. Or, portion out in your meal prep containers.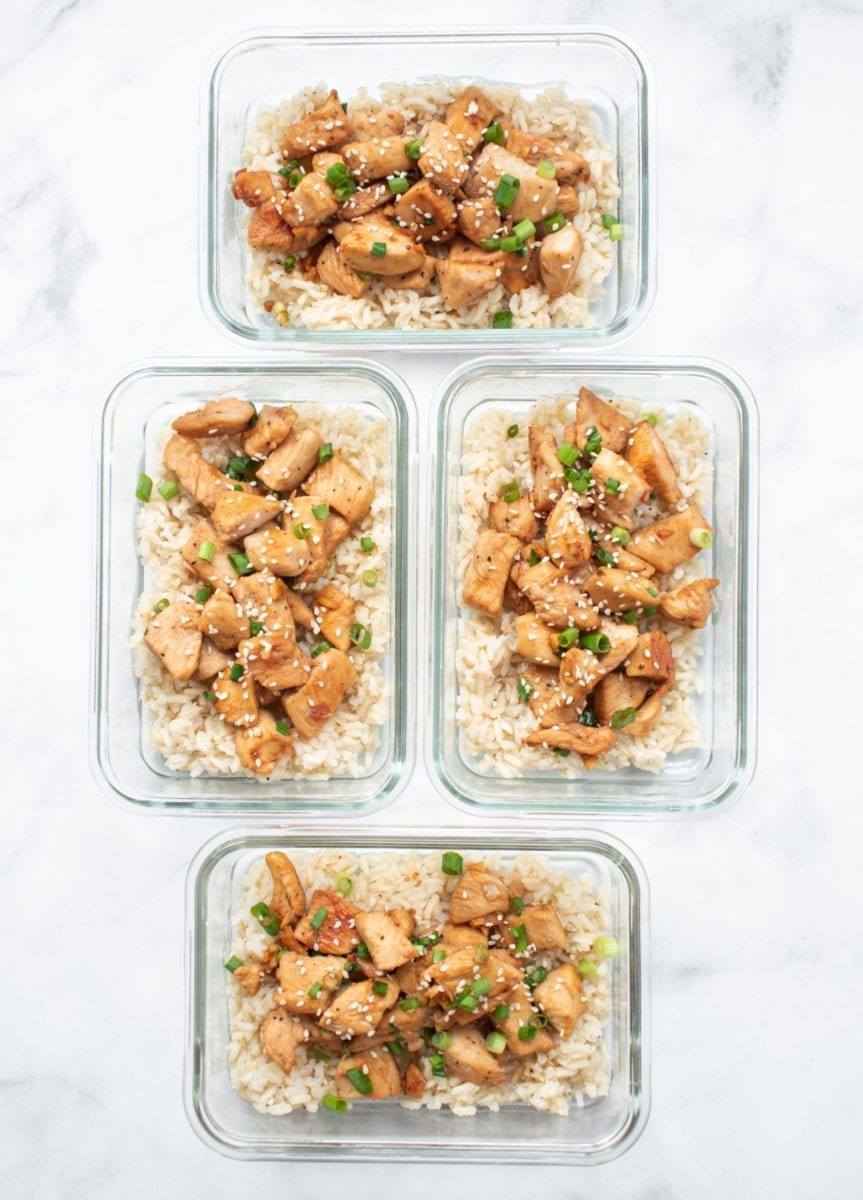 Macro Nutrition
Nutrition Facts
Honey Sesame Chicken & Rice
Amount Per Serving
Calories 374
Calories from Fat 28
% Daily Value*
Fat 3.1g5%
Cholesterol 98.7mg33%
Sodium 338.8mg15%
Potassium 557.6mg16%
Carbohydrates 39.9g13%
Protein 56.4g113%
Vitamin A 0.1IU0%
Vitamin C 4.2mg5%
Calcium 11.1mg1%
Iron 7.4mg41%
* Percent Daily Values are based on a 2000 calorie diet.
Are you meal prepping? Are you counting macros or calories? Check out my notes below on how you can incorporate this honey sesame chicken and rice recipe into your meal prep and how to make adjustments to the macros, making it easy to hit your goals.
NOTES FOR MEAL PREP:
This is an outstanding recipe for meal prep, the sauce on the chicken allows for great reheating. Keeping the chicken nice a tender.
This recipe will keep in the fridge for up to 6 days.
For reheating, microwave, loosely covered with a paper towel to trap in the moisture of the sauce. Cook for 30 seconds, then stir the rice and the chicken together, and cook for an addition 30 seconds.
NOTES FOR COUNTING MACROS:
The majority of the protein in this recipe comes from the chicken. You can easily adjust the amount of chicken without changing the flavor of this recipe too much.
For every 1 ounce of chicken you can increase or decrease the protein macro by 8.8 grams.
So go ahead, add as much or as little protein as you would like to this recipe.
Rice is the main source of carbohydrate in this honey sesame chicken and rice recipe. Adjusting the amount of rice either increases or decreases the amount of carbs.
For every 1/4 cup (45g) of dry brown jasmine rice you increase or decrease the carbs by 34 grams.
This recipe is extremely low in fat. Each week I like to include one low fat recipe to accommodate those looking to cut weight.
However, if you are looking to increase the fat, this recipe allows you to add fat into your diet in other ways.
Enjoying nuts as a snack during the day.
Adding a fatty ingredient to this recipe…I always love adding avocado to just about anything.
Or just simply enjoying avocado as a snack
This recipe would also be delicious with an egg on top.
Incorporate additional fat however you see fit, use your imagination!
When making adjustments to the macros in this honey sesame chicken and rice recipe, you will want to keep in mind the number of servings you are making.
If you love chicken and rice, you are going to love my: