Mahi on a bed of Heirloom Tomatoes and Farro
This has to be one of my favorite recipes. I have been making this recipe for years and it always hits the spot. This Mahi on a Bed of Heirloom Tomatoes and Farro is light, refreshing, filling and easy to accommodate into your diet for anyone counting macros. I love making this recipe as part of my meal prep.
Mahi Mahi on a Bed of Heirloom Tomatoes and Farro
This is a light refreshing meal that you are going to love!
6 oz Mahi Mahi
100 g Baby Heirloom Tomatoes, sliced in half (sliced in half (about [adjustable]1[/adjustable] cup))
25 g Farro ((about [adjustable]¼[/adjustable] cups))
¼ tsp Reduced Sodium Chicken Base
1 tsp Lemon Pepper Seasoning
½ tsp Garlic Powder
½ tsp Black Pepper
½ tbsp Extra Virgin Olive Oil
½ Lemon (juiced)
In a small saute pan bring 1/2 cup water to boil.

Once boiling add farro and chicken base. Put the lid on the pot and let cook on medium heat for 20 minutes.

While the farro is cooking, season the mahi with the lemon pepper and half of the garlic power. Heat a medium saute pan to medium heat and drizzle olive oil into the pan. Place the mahi in the pan and allow to cook for 3 minutes on each side. Squeeze the lemon over-top of the fish during the last 1 minute of cook time to allow it to saturate the fish, giving it a fresh lemon flavor.

After the farro has cooked for 20 mintues, remove lid and turn heat down to simmer and allow to cook for 5 more minute, stirring until the water has evaporated.

Season the farro with the other half of the garlic powder and a few cracks of pepper.

Toss the tomatoes in the remaining black pepper.

Plate the farro on a long plate. Top the farro with tomatoes, then place the mahi on top. I like to slice my mahi into smaller pieces after cooking it.

If meal preping, make as many portions as you would like and place into your glass meal prep containers.
Are you meal prepping? Check out my notes below on how you can incorporate this Mahi on a Bed of Heirloom Tomatoes and Farro into your meal prep. In Addition, how you can easily adjust the macros in this recipe to fit your personal goals when counting macros.
NOTES FOR MEAL PREP:
This is an outstanding recipe for meal prep, the moistness of the tomatoes and mahi allows for great reheating. (As long as you don't overcook the mahi. It is best to slightly undercook it initially to allow for better reheating ability.)
Farro is one of the best grains for reheating, it doesn't dry out as easily as other grains.
This recipe will keep in the fridge for up to 6 days.
For reheating it is best to microwave loosely covered to trap in the moisture of the tomatoes, mahi and the farro. Cook for 30 seconds, then stir the farro and cook for another 15 – 30 seconds.
NOTES FOR COUNTING MACROS:
The majority of protein in this recipe comes from the mahi.
For example, every 1 ounce of mahi there is 5.2 grams of protein.
So feel free to increase of decrease the protein in this recipe as much as your macros allow.
Farro is the main source of carbohydrate in this Mahi on a Bed of Heirloom Tomatoes and Farro. But you can easily adjust the amount of farro in this recipe to either increase or decrease the amount of carbs.
For every 25 grams of farro (1/4 cup) there is 17.8 grams of carbs. But keep in mind there is also a relatively low amount of protein in farro, 3.3 grams per every 1/4 cup. Therefore, when making adjustments to the farro you will want to consider the protein macro.
The fat is this recipe comes predominately from extra virgin olive oil that the mahi is cooked in.
In order to decrease the fat you could choose to remove the oil all together and cook the mahi in a little non fat cooking spray.
This would reduce the fat by 7 grams per every 1/2 tbsp extra virgin olive oil.
However, if you're looking to increase the fat in this recipe I do not recommend increasing the oil, as it will make the fish greasy. Although, I would suggest adding a little chopped avocado, mixed in the the halved tomatoes.
For example: For every 35 grams (about 1/4 avocado) you increase the fats by 7.3 grams.
Tip:
You can pre-cut your avocado: Toss your avocado chunks with a little lime juice, then portion into zip lock bags. Suck all the air out of the zip lock bag and store in the fridge. Typically my pre-cut avocados will last 2-3 days before starting to brown if I sucked all the air out.
When making adjustments to the macros in this Mahi on a Bed of Heirloom Tomatoes and Farro recipe, you will want to keep in mind the number of servings you are making.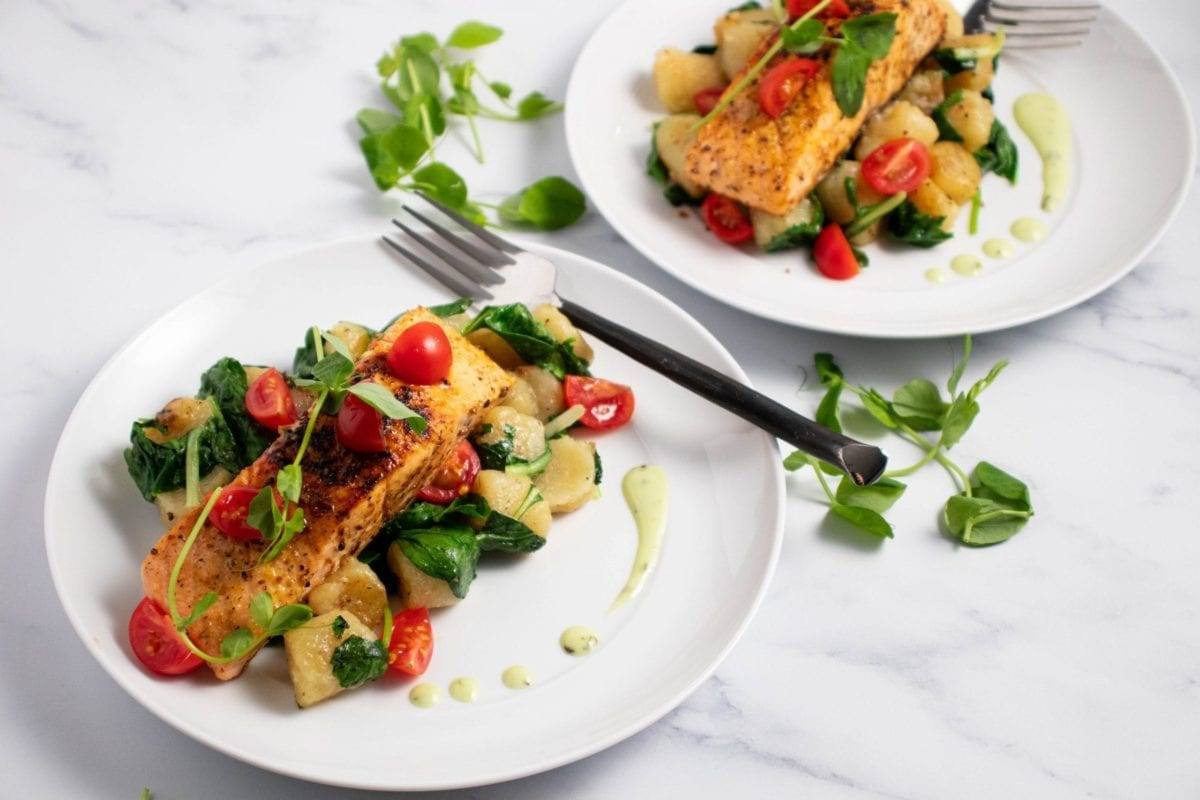 Love a good fish meal prep? You should check out my: