Chocolate Granola Almond Bars
Snacking on the go. These homemade chocolate granola almond bars are so good you will never buy another store bought granola bar again. Meal prep these this week and enjoy them for the next several weeks!
Chocolate Granola Almond Bar
Instructions
Pre-Heat over to 350 degrees.

Line a baking sheet with parchment paper and spread the oats and almonds out on the baking sheet. Bake for 15 minutes to lightly toast.

Remove from the oven once they begin to become lightly golden brown. After you have removed the oats and almonds from the oven, adjust oven temp to 325 degrees.

In a large bowl combine the toasted oats, almonds, flax meal, salt, and protein powder, stir and set aside.

In a small sauce pan add almond butter, syrup, and honey. Bring the mixture to a boil stirring consistently to prevent burning. Once boiling continue to cook for about 1 minute, then remove from the heat and add to the oat mixture.

Stir all the ingredients together until well combined. Allow to cool for about 5 minutes, then stir in the mini chocolate chips. If you add the chips too soon, they will completely melt into the mixture…this is fine, you just wont have melted chips in your bar, your bar will simply be more chocolaty. (This is what happened with mine.)

I have a pampered chef snack bar tray, but if you do not have a snack bar tray you can use a 9 x 9 baking pan/sheet. You will need to line the baking pan with parchment paper. The snack bar tray does not need to be lined and you do not need to grease it.

Spread the mixture into your baking pan or into the snack bar tray. Press the mixture firmly into each snack bar portion or into the baking pan. Use a spatula to push down firmly to create a flat, even layer, making sure that the mixture gets into each corner and has little to no air pockets.

Bake at 325 degrees for 20 – 25 minutes or until you notice the edges becoming golden brown.

Remove from the oven and allow to cool completely. Once cooled you can remove the bars from the snack bar tray. If cooked in the baking pan, carefully lift out of the pan using the edges of the parchment paper. Place on a cutting board and cut into 10 servings.

You can enjoy these right away or store in a zip-lock bag or Tupperware for up to 3 weeks in your pantry, or you can freeze them and they will last for about 3 months.
Macro Nutrition
Nutrition Facts
Chocolate Granola Almond Bar
Amount Per Serving
Calories 149
Calories from Fat 70
% Daily Value*
Fat 7.8g12%
Cholesterol 0mg0%
Sodium 118mg5%
Potassium 107.9mg3%
Carbohydrates 15.9g5%
Protein 5.8g12%
Vitamin A 1.2IU0%
Vitamin C 1.5mg2%
Calcium 3.6mg0%
Iron 4.1mg23%
* Percent Daily Values are based on a 2000 calorie diet.
Are you meal prepping? Then you are going to want to check out my notes below on how you can incorporate these chocolate granola almond bars into your meal prep.
NOTES FOR MEAL PREP:
This is a fantastic recipe for meal prepping. Put these granola bars in an airtight container and store in a cool dry place. These homemade bars can keep for up to 3 weeks, if not longer! Or store them in the freezer for up to 3 months!
If you love chocolate as much as I do, you are going to love these chocolate granola almond bars.
NOTES FOR COUNTING MACROS:
Typically I give tips on how you can adjust my recipes to meet your macro requirements, but with baking that can be a little tricky. As a result this recipe doesn't allow for many adjustments or it will not come together in the end. But I do hope you work these chocolate granola almond bars into your meal prep this week.
However, you can adjust your macros by adjusting the portion size.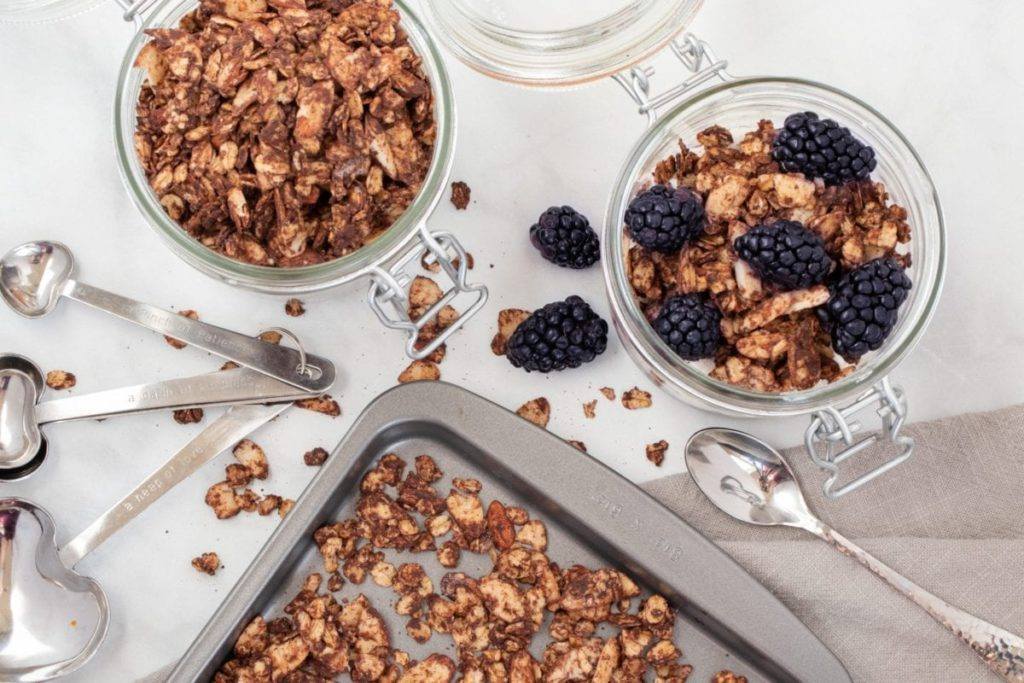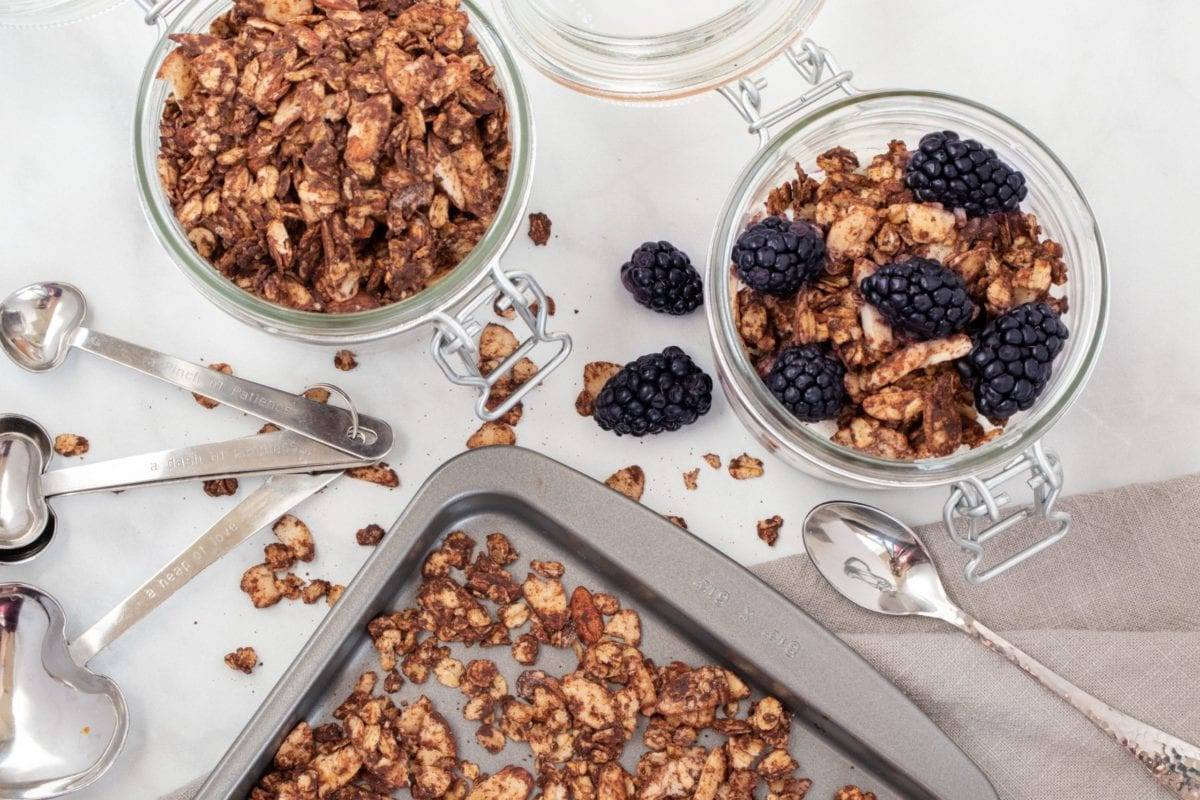 If you love chocolate and you love granola you should check out my:
Savory Chocolate Granola recipe, you won't regret it!
Do you need new meal prep containers? I prefer glass containers as they last longer, don't scratch, they are microwave safe, dishwasher safe, you can bake right in them, and my list goes on. Check out a few of my favorites below.
Would you like to learn more about counting macros? Click here