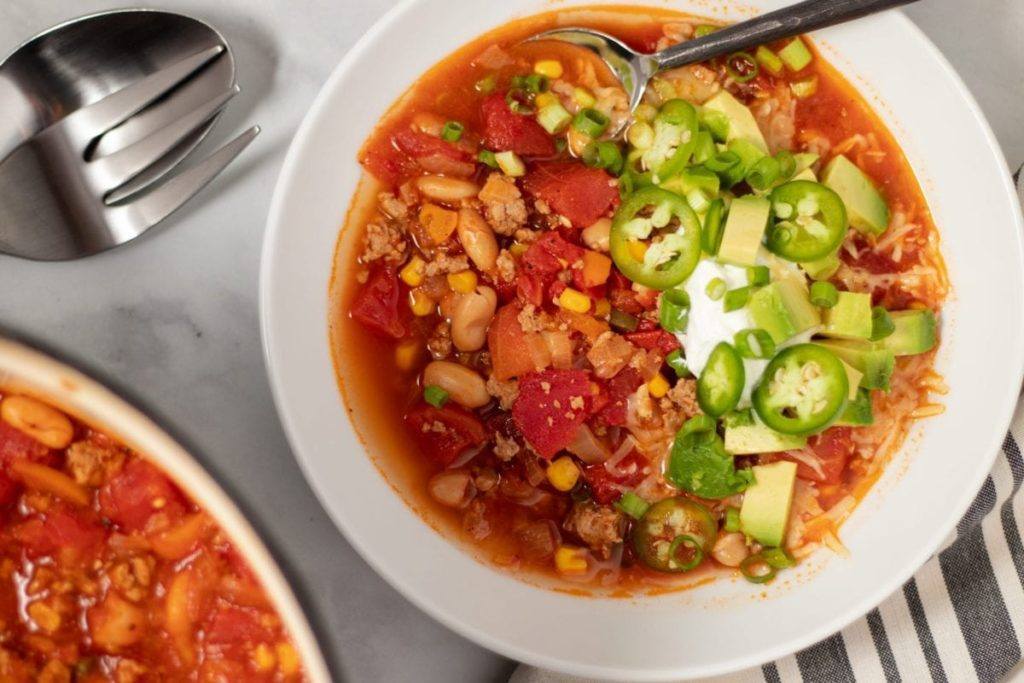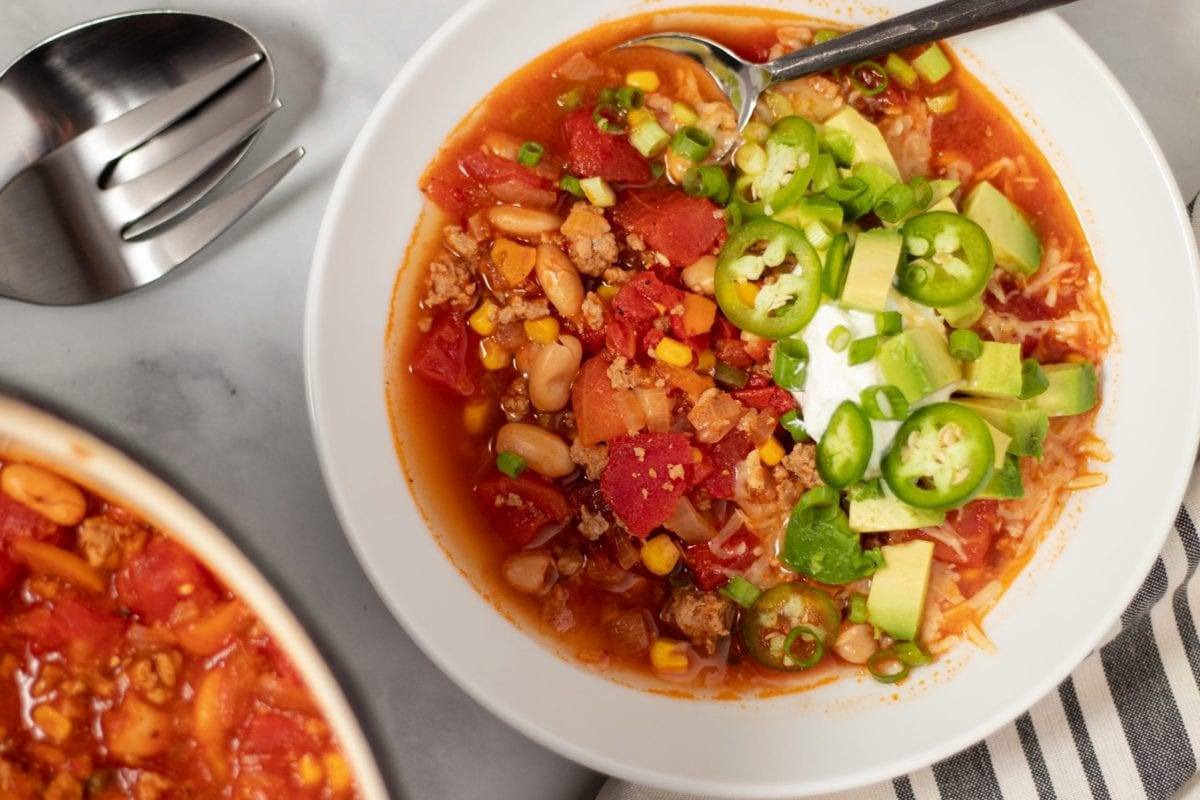 When I think of cold weather months, I think of white bean turkey chili. Not only is it a tasty dish to eat on a cold day. It is also a great dish for meal prepping. Easily adjust protein, carbs, and fats to meet your macro requirements.
Easy White Bean Turkey Chili
When it's cold outside I reach for a bowl of warm spicy chili. If you are like me, you are going to love this White Bean Turkey Chili, the spice warms you up from the inside!
1 tbsp Extra Virgin Olive Oil
225 g Yellow Onion (diced, ([adjustable]1[/adjustable] medium onion))
3 cloves Fresh Garlic (diced)
185 g Orange Bell Pepper (diced, ([adjustable]1[/adjustable] medium pepper))
16 oz Ground Turkey (98% lean)
45 g Jalapeno (diced, ([adjustable]1[/adjustable] pepper))
260 g Cannelli Beans, White Kidney Beans (rinsed and drained, ([adjustable]1[/adjustable] can))
800 g Petite Diced Tomatoes in Tomato Juice (([adjustable]2[/adjustable] can))
15 g Tomato Paste (([adjustable]1[/adjustable] tbsp))
160 g Whole Kernel Sweet Corn (no salt added ([adjustable}1[/adjustable] can))
1 tsp Reduced Sodium Chicken Base
1 cup Water
1 tsp Black Pepper
1 tsp Red Pepper Flake
½ tsp Garlic Powder
¼ tsp Ground Oregano
¼ tsp Chili Powder
Heat a large heavy bottom pot to medium heat. Once the pot is warm add the oil to the pan. Then immediately add the diced onions, garlic, and orange bell pepper. Cook the veggies for 3-5 minutes until they begin to soften, stirring often to prevent burning.

Add the ground turkey to the pot. Using a heavy spoon break up the ground turkey and mix in with the veggies. Cook the ground turkey for 7-10 minutes stirring every few minutes.

After the turkey is almost fully cooked and no longer pink, add all of the remaining ingredients: jalapeno, beans, tomatoes, tomato paste, corn, chicken base, water, and all the seasonings. Stir all of the ingredients together until well combined.

Cover the turkey chili with a lid and cook on medium heat for 10 minutes. After 10 minutes remove the lid and stir again.

Continue to cook the chili for an additional 10 minutes on medium low heat. Stirring every 2-3 minutes. After these 10 minutes the chili is done.

If you want, you can continue to cook the chili on low for another 20 minutes to 1 hour to allow the base to thicken and flavors to continue to develop. Stirring every 5 minutes.
Are you meal prepping? Do you count your macros or calories? Check out my notes below on how you can incorporate this white bean turkey chili into your meal prep. Also how you can easily adjust protein, carbs, and fats to meet your macro requirements.
Notes for Meal Prep:
This white bean turkey chili is a wonderful recipe for meal prepping. You can store each serving in the fridge for up to 1 week and eat it as it fits your meal plan. In addition this is a great freezer friendly dish, freeze for up to one month, then deforest overnight in the fridge.
Notes for Counting Macros:
For this white bean turkey chili I like to stick to the recipe and adjust my macros based on the toppings I add. Who doesn't love toppings on their chili?
The protein topping: I like to add a scoop of Non Fat Greek Yogurt. For every 1 ounce of yogurt, you increase your protein by 3 grams. I typically add 1-3 grams, but feel free to add as much as you want. The consistency will change, but in an amazing way. Your chili will start to become thick and creamy as you stir in the yogurt.
Tips:
Be sure to add the yogurt while your chili is nice and hot, this will prevent it from cooling down too much.
For meal prepping I store my yogurt portions in zip lock bags. Then when its time to eat I cut one of the corners and squeeze the yogurt into my hot chili.
The carbohydrate topping: Feel free to get creative, add some diced onions, diced peppers, or maybe even a few fritos. Fritos are typically my go to when I have room for additional carbs and fat in my macros.
The fat topping: What white bean turkey chili is complete without a little avocado? For every 35 grams (about 1/4 avocado) you increase the fats by 7.3 grams.
Tip:
You can pre-cut your avocado: Toss your avocado chunks with a little lime juice, then portion into zip lock bags. Suck all the air out of the zip lock bag and store in the fridge. Typically my pre-cut avocados will last 2-3 days before starting to brown if I sucked all the air out.
When making adjustments to the macros you will want to keep in mind the number of servings you are making.
If your looking for another ground turkey dish, you should try my:
What is Counting Macros?
A more in depth way of of counting calories. Calories are made up of protein, carbs, and fat these are you macros. Therefore when you are counting macros you are actually counting the amount of protein, carbs, and fat you are eat.
What is Meal Prep?
Meal prepping is preparing entire meal or portions of your meals ahead of time to make your life easier, saving you time. This is very popular amount people who count macros.
What is Meal Planning?
Meal planning is the act of creating your a plan for each of your meal for the week. Doing this allows to create an accurate shopping list, and prevent stress throughout the week by knowing exactly what you will be eating.