Spicy White Chicken Chili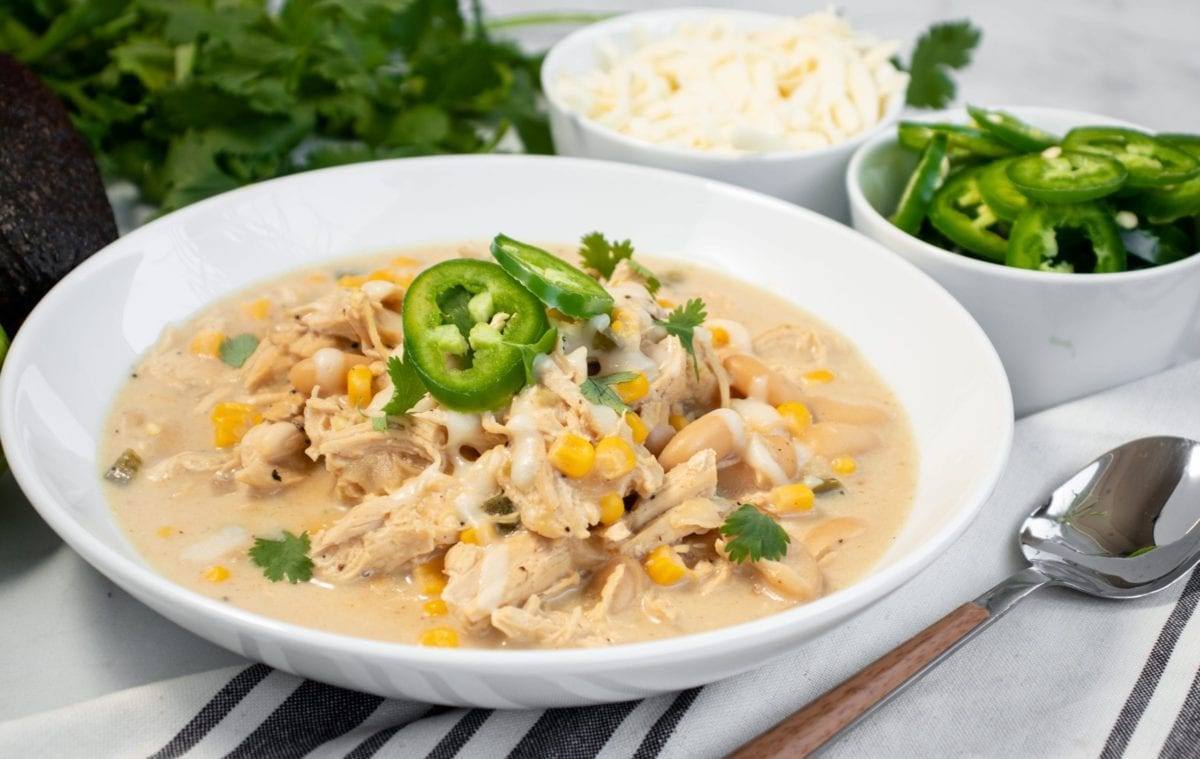 Spicy white chicken chili is one of my all time favorite recipes. The spice warms up your entire body, and the well balanced ingredents fill you up without weighing you down.
Spicy White Chicken Chili
Instructions
Heat a deep stove top pan with lid to medium heat. While the pan is heating season the chicken breast on both sides, with black pepper and garlic powder. Once the pan is hot, add 1 tbsp oil to the pan.

Place the chicken immediately in the pan, leave it there on medium heat for 2 minutes, then flip to the other side and cook for an additional 2 minutes.

Both sides should start to become golden brown, but the center will still look uncooked…If not, give each side another minute…your pan wasn't hot enough. Then turn the heat to low and cover the chicken with a lid. Let it cook for about

7

minutes, then flip and cover again for another

7

minutes on the other side.' This is based on 5,

7

oz breasts, if using another size breast, cook 1 minute per oz per side covered.

After

7

minutes on each side covered, the chicken should be done. But this does depend on the size of the chicken breast…again these times are based on a

7

oz breast.

Once the chicken is done remove the chicken from the pan, saving the juices from the chicken in the pan. Allow the chicken to rest while you work the remaining ingredients.

Leaving the pan on the stove at medium heat, add the diced onion, jalapeno, and garlic to the pan with the chicken juices. Cook down for 3-5 minutes until most of the liquid has been absorbed.

Then add the corn, beans, chicken base, and water to the pan. Stir everything together.

Now add the cream cheese and yogurt to the pan. Combine until the cream cheese and yogurt is well incorporated. Bring everything to a boil.

Once boiling add the flour to the pot, stir in completely. Allow ingredients to continue to boil for 3-5 minutes.

While the ingredients are boiling, shred the chicken into bite size pieces using a knife and fork. Then add the shredded chicken to the pan with the other ingredients.

Season everything with the salt, coriander, cayenne pepper, and paprika.

Then turn the heat down to a simmer. Cover with a lid and cook for a minimun of 20 minutes. Like most stews, soups, and chili, the longer they cook the better they are. But after 20 minutes covered simmering, this chili will be done and delicious.

Serve with your favorite toppings and enjoy. Or portion out for your weekly meal prep!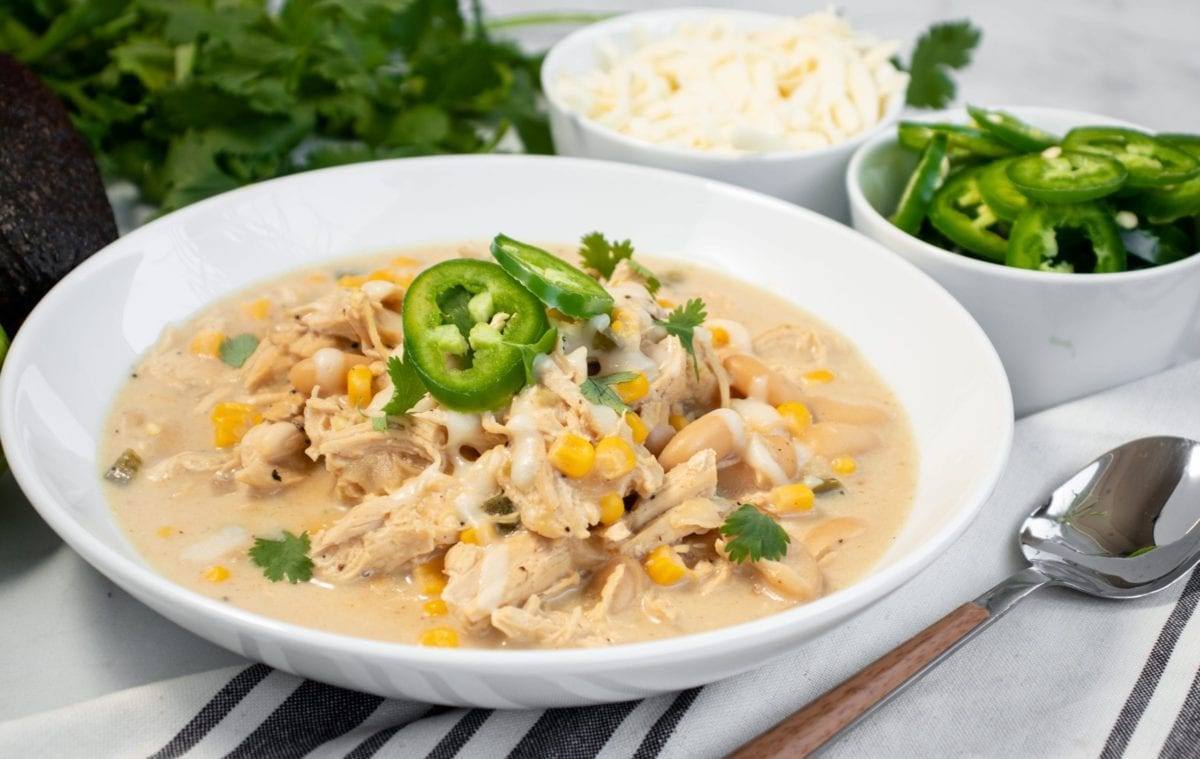 Macro Nutrition
Nutrition Facts
Spicy White Chicken Chili
Amount Per Serving
Calories 401
Calories from Fat 85
% Daily Value*
Fat 9.4g14%
Cholesterol 160.8mg54%
Sodium 683.3mg30%
Potassium 279.7mg8%
Carbohydrates 26.4g9%
Protein 55.7g111%
Vitamin A 8.3IU0%
Vitamin C 12.1mg15%
Calcium 25.9mg3%
Iron 5.4mg30%
* Percent Daily Values are based on a 2000 calorie diet.
Are you meal prepping? Do you count your macros or calories? Check out my notes below on how you can incorporate this spicy white chicken chili into your meal prep. Also how you can easily adjust protein, carbs, and fats to meet your macro requirements.
NOTES FOR MEAL PREP:
This spicy white chicken chili is a wonderful recipe for meal prepping. You can store each serving in the fridge for up to 1 week and eat it as it fits your meal plan. For reheating simply microwave for 1 – 2 minutes, stirring halfway thru.
This is also a great freezer friendly meal prep. You can store this chili in the freezer for up to 3 months. To defrost remove from the freezer, then place in the fridge for 8 – 12 hours. You can then reheat it in the microwave for 2-3 minutes, stirring halfway thru.
NOTES FOR COUNTING MACROS:
For this spicy white chicken chili you can adjust the macros in so many different ways. For example you could choose to adjust the main ingredients, or you can add some topping! Because who doesn't love toppings on their chili!
The majority of the protein in this recipe comes from the chicken and the yogurt. You can easily adjust either of these ingredients without changing the flavor of this recipe too much.
For every 1 ounce of chicken you can increase or decrease the protein macro by 8.8 grams.
Similarly for every 1 ounce of yogurt you can increase or decrease the protein macro by 3 grams.
In additional you could choose to top this chili with some shredded cheese. Depending on the type of cheese you choose to use will determine the additional amount of protein.
So go ahead, add as much or as little protein as you would like to this recipe.
There are a few ingredients in this spicy white chicken chili contributing to the carbohydrates, the corn and beans. Either of these ingredients can be easily adjusted to increase or decrease the carb macro.
Corn is the best ingredient to adjust as it has very little impact on the other macros. For every 100 grams of corn there are 18.7 grams of carbs. If you love corn and want more carbs, increasing the corn is the way to go!
For every 100 grams of bean you can increase or decrease the carb macro by 7.5 grams. However, you will want to keep in mind that beans also contain protein, so while you will be making adjustments to the carbs, you will also make adjustments to the protein. There is 4 grams of protein per every 100 grams of beans.
The carbohydrate topping: Feel free to get creative, add some diced onions, diced peppers, or maybe even a few fritos. Fritos are typically my go to when I have room for additional carbs and fat in my macros. Your topping choice will determine the change in carbs.
This spicy white chicken chili has very little fat per serving. There honestly is not a great way to decrease the fat in this recipe by making changes to the ingredients. Although, you can easily increase the fat macro by adding avocado as a topping!
What chili is complete without a little avocado? For every 35 grams (about 1/4 avocado) you increase the fats by 7.3 grams.
Tip about avocado and meal prep:
You can pre-cut your avocado: Toss your avocado chunks with a little lime juice, then portion into zip lock bags. Suck all the air out of the zip lock bag and store in the fridge. Typically my pre-cut avocados will last 2-3 days before starting to brown if I get all the air out.
When making adjustments to the macros you will want to keep in mind the number of servings you are making.