Cream of Chicken & Asparagus
Are you looking for a simple and tasty meal that you can feed your entire family, guests or use as a meal prep recipe. Well you have found it right here: This cream of chicken & asparagus recipe not only looks delicious but is a great for meal prepping, and tastes wonderful reheated.
Cream of Chicken and Asparagus
Instructions
Heat a large 2 inch deep pan to medium heat. While waiting for the pan to heat up season the chicken with pepper and garlic powder. Once the pan is hot, add the extra virgin olive oil to the pan.

Place the chicken immediately in the pan, leave it there for 2 minutes, then flip to the other side and cook for an additional 2 minutes.

Both sides should start to become golden brown, but the center will still look uncooked…if not golden, give each side another minute…your pan wasn't hot enough. Turn the heat to low and cover the chicken with a lid. Let it cook for about' 

8

' minutes, then flip and cover again for another' 

8

minutes.

After' 

8

' minutes on each side covered, the chicken should be done. But this does depend on the size of the chicken breast…these times are based on' 

8

' oz breasts. It is always best to check the internal temperature of chicken before serving. Typically 1 minute per oz per side while covered works to cook perfectly.

Once the chicken is done remove from the pan and wipe the juices from the pan. We are going to use the same pan for the remaining ingredients. The pan doesn't need to be completely clean, just wipe out most of the juice. Set the cooked chicken breast to the side for a few moments while you work on the remaining ingredients.

With the same pan, heat set to medium, add the cream of chicken soup and the water. Stir the water and soup together until well combined. Then add your asparagus to the pan and toss with the cream of chicken soup.

Return the lid to the pan and cook for 3 minutes. After 3 minutes remove the lid and stir to prevent burning. Place the chicken back in the pan on top of the asparagus. Cover with the lid and cook for another 3-4 minutes, until the asparagus is tender. We added the chicken back in just to keep it warm, which is why it is on top and not mixed in.

Once the asparagus is cooked, plate the asparagus topped with the chicken and a sprinkle of diced scallions. Or if you are meal prepping portion out into your microwave safe dishes.
Macro Nutrition
Nutrition Facts
Cream of Chicken and Asparagus
Amount Per Serving
Calories 384
Calories from Fat 83
% Daily Value*
Fat 9.2g14%
Cholesterol 135.7mg45%
Sodium 819.1mg36%
Potassium 831.1mg24%
Carbohydrates 14.8g5%
Protein 74.7g149%
Vitamin A 42.7IU1%
Vitamin C 11.7mg14%
Calcium 35.2mg4%
Iron 12.1mg67%
* Percent Daily Values are based on a 2000 calorie diet.
Are you meal prepping? Do you count your macros or calories? Check out my notes below on how you can incorporate this cream of chicken & asparagus into your meal prep. Also how you can easily adjust protein, carbs, and fats to meet your macro requirements.
NOTES FOR MEAL PREP:
This cream of chicken & asparagus is a wonderful recipe for meal prepping. You can store each serving in the fridge for up to 5 days and eat it as it fits your meal plan.
NOTES FOR COUNTING MACROS:
You can easily adjust the protein macro by adjusting the amount of chicken breast used. For every 1 ounce of chicken you can increase or decrease your protein intake by 8.8 grams.
This cream of chicken & asparagus does not have a lot of carbs. But also the ingredients in this recipe can not easily be adjusted to increase the carbs. For example, asparagus does not have a ton of carbs.
If you would like to add an ingredient to this recipe to increase the carbs, I highly recommend adding fingerling potatoes. For every 1 ounce of potato you will increase the carbs by 5.6 grams.
Tip:
Adding potatoes to this cream of chicken & asparagus is easy! All you have to do is: Cut them into bite size pieces, boil them for 8-10 minutes until just fork tender. Then add them to the recipe at the same time as adding the asparagus.
There is not a lot of fat in this recipe. As a result the best way to adjust the fat levels would be by switching from chicken breast to chicken thighs. For example, every 1 ounce of chicken thighs increases your fat macro by 1 gram. But it is important to keep in mind, by switching to this different cut of chicken you will also be decreasing your protein. For every 1 ounce of chicken thigh vs chicken breast your protein will decrease by 1.8 grams. My suggestion would actually be to, not adjust the fats in this recipe. Enjoy a few extra nuts or something else you love today!
Tip:
If you do choose to make the change from breast to thigh, you will cook the chicken thighs following the same chicken breast directions.
When making adjustments to the macros you will want to keep in mind the number of servings you are making.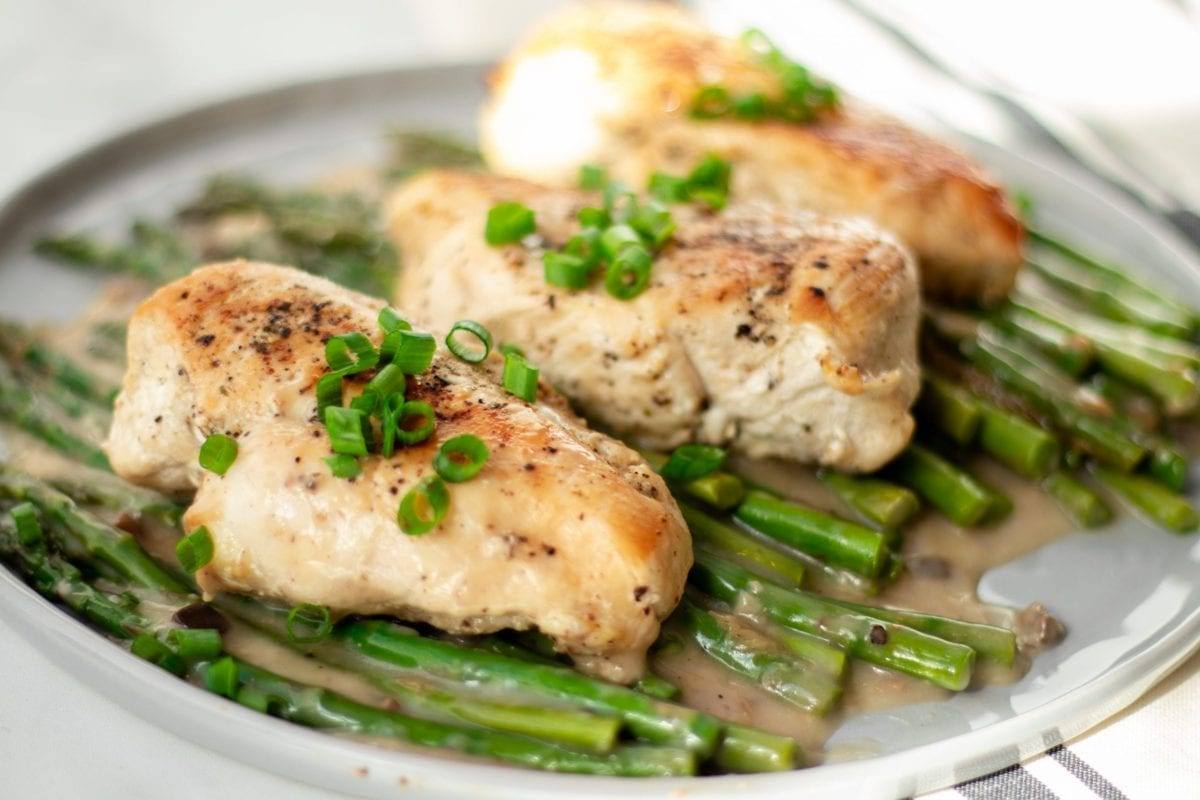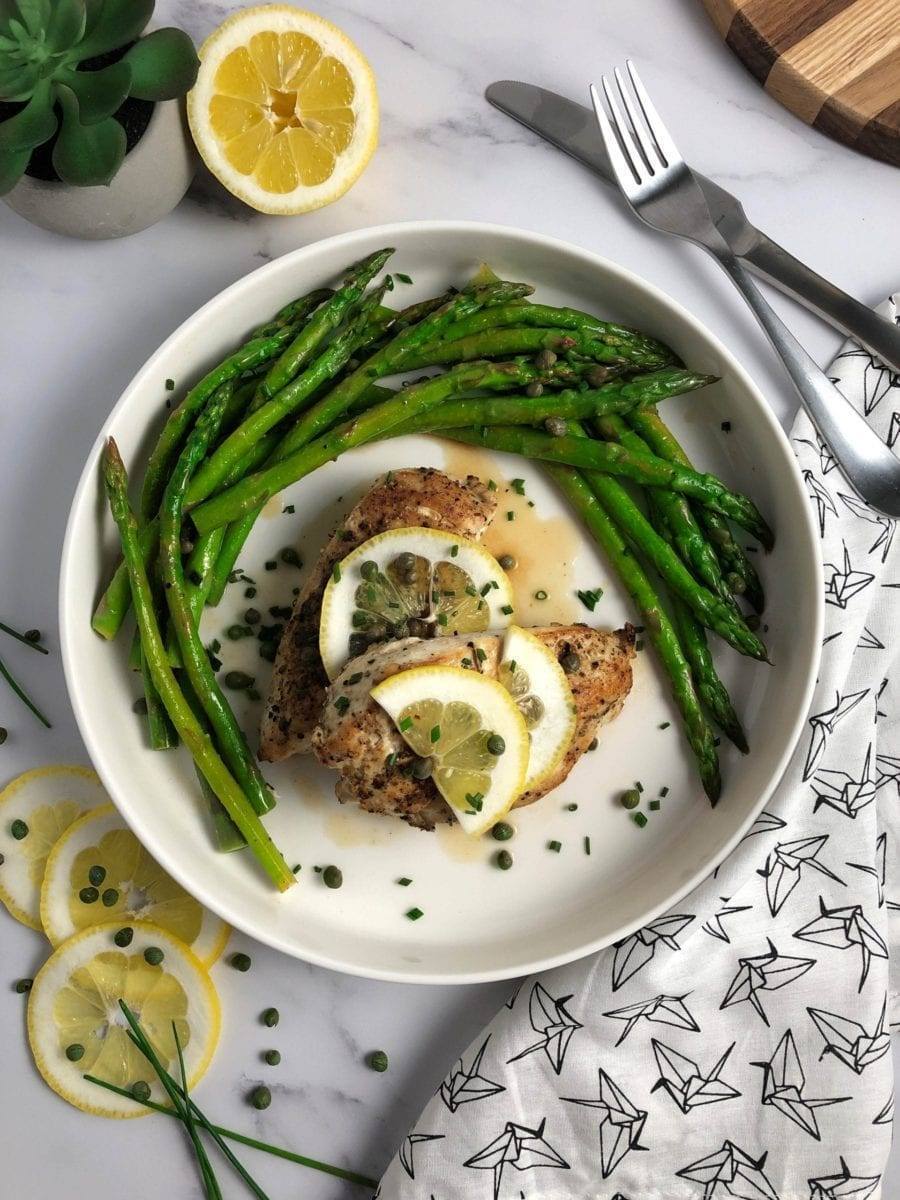 Looking for another chicken and asparagus recipe but without the cream? Then check out my: