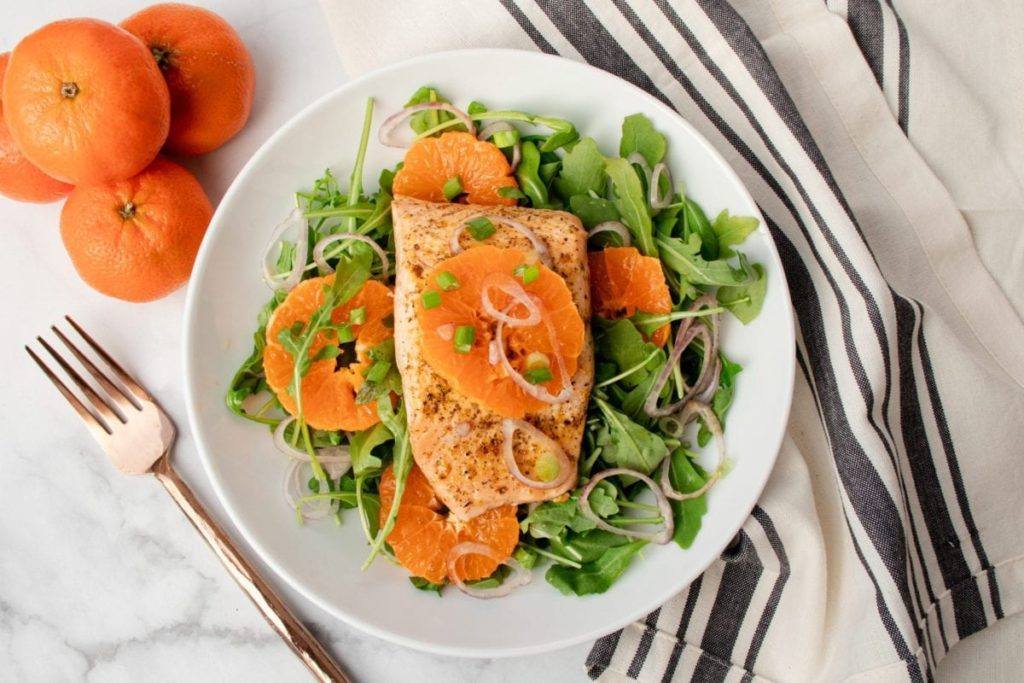 There is no better combination than salmon and citrus. You are going to love this super simple 4 ingredient salmon citrus salad!
Salmon Citrus Salad
Instructions
Heat a medium saute pan to medium heat.

While waiting for the pan to heat up, season the salmon fillets with the lemon pepper.

Drizzle the oil into the hot pan. Then add the salmon to the pan.

Allow the salmon to cook for 3-4 minutes, then flip and cook for an additional 3-4 minutes.

You will know that the salmon is done when the entire fillet is the lighter pink color. If you have a thicker fillet you can also cook it for a minute or so on each of the sides that had not been placed down on the pan. This will ensure the salmon is done. A good cut of salmon can be eaten raw, but most people like their salmon cooked medium. Medium is a light pink on the outside, flaky on the outside, but still a little moist and a slightly darker pink on the inside.

While the salmon is cooking, place your arugula in your serving bowl, then peel your tangerine and slice into rings. Arrange your tangerine in your bowl with the arugula.

Once the salmon is done cooking plate it on top of your salad and enjoy!
Macro Nutrition
Nutrition Facts
Salmon Citrus Salad
Amount Per Serving
Calories 445
Calories from Fat 236
% Daily Value*
Fat 26.2g40%
Cholesterol 90mg30%
Sodium 626mg27%
Potassium 344.1mg10%
Carbohydrates 12.8g4%
Protein 36g72%
Vitamin A 18.2IU0%
Vitamin C 165.8mg201%
Calcium 10.2mg1%
Iron 7.1mg39%
* Percent Daily Values are based on a 2000 calorie diet.
Are you meal prepping? Check out my notes below on how you can incorporate salmon citrus salad into your meal prep.
NOTES FOR MEAL PREP:
Most people don't think you can meal prep a salad, well I am here to say that is not true! While you might not be able to mix all the ingredients together you can prep everything.
For this recipe you can combine your arugula and shallots together and store them in the fridge.
The tangerine you can store as usual and just grab one on your way out the door.
Cook your salmon following the instruction above. You can prep as many salmon fillets as you would like for the number of salad you plan to eat. The salmon will keep in the fridge for 5 – 7 days.
When you are ready to enjoy the salad, simply peel the tangerine and mix it in with your arugula and shallots. Then top your salad with the salmon. This salad is delicious with the salmon either warm or cold. If you would like to heat up your salmon, wrap it in a paper towel and pop it in the microwave for 30 – 45 seconds.
NOTES FOR COUNTING MACROS:
This recipe dose not allow for any major changes to the preparation or ingredients for adjusting the macros. Although you could choose to change out the salmon for a less fatty fish. But the fattiness of the salmon goes so well with the arugula and tangerine you wont want to make that change.
Therefore, I suggest using this recipe as you way of getting all those healthy Omega-3 Fatty Acids into your body!
When adjusting macros you will want to keep in mind the number of servings you are making.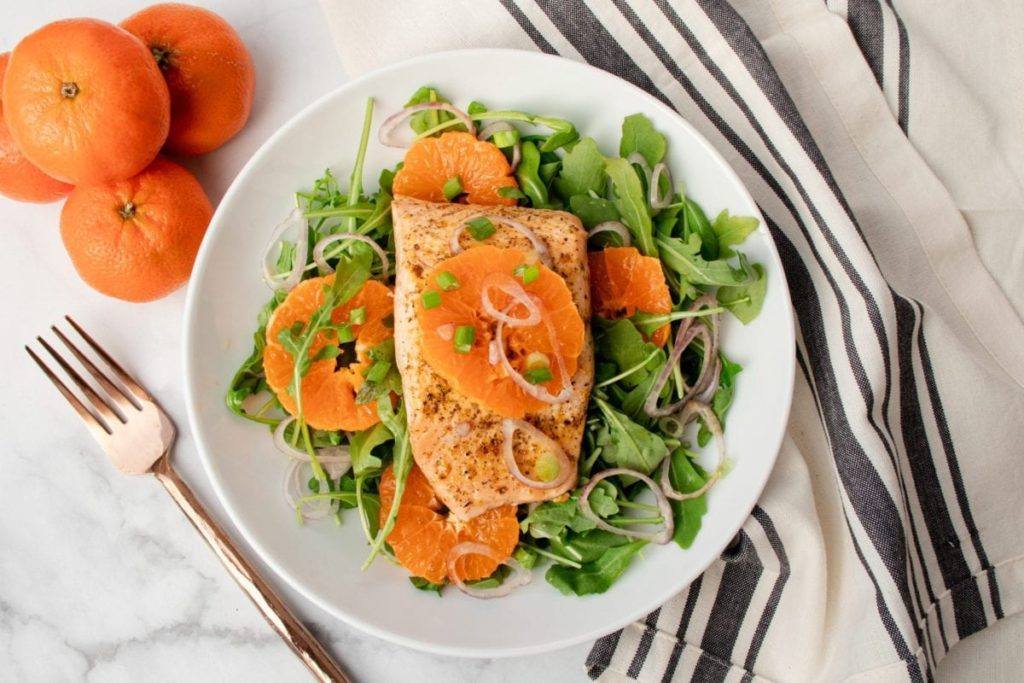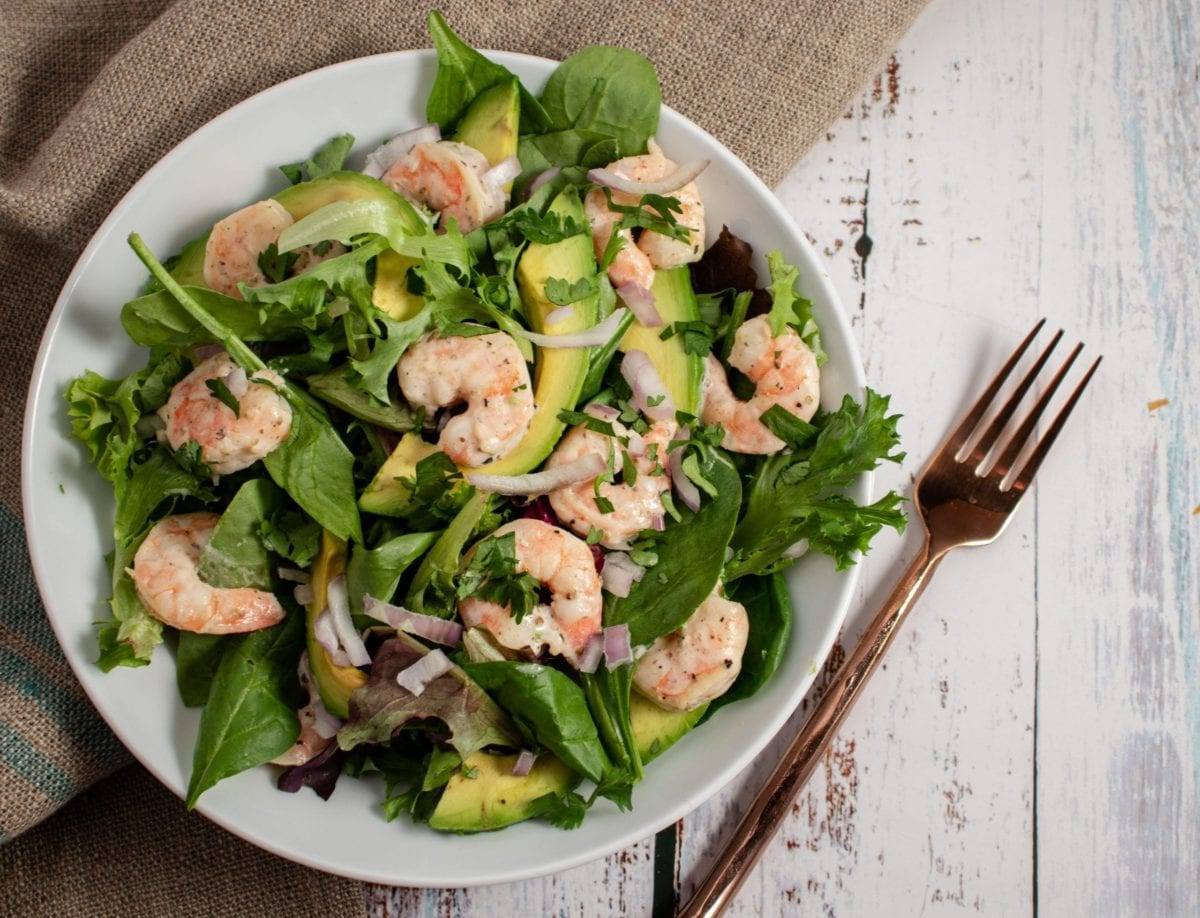 Looking for another salad for your weekly meal plan? Check out my: