Asparagus and Egg White Casserole
Everyone knows that breakfast is the most important meal of the day. However, many of us fail to make time for breakfast. That is why your should give this asparagus and egg white casserole a try. An easy recipe to meal prep and have ready to eat on the go! In addition, it is a well rounded recipe for those counting macros.
Asparagus and Egg White Casserole
Instructions
Preheat over to 350 degrees.

Heat a medium saute pan, to medium heat.

Once the pan is warm add the unsalted butter to the pan. Then add the diced shallots to the pan. Allow the shallots to cook for about 2-3 minutes, allowing them to begin to get tender. Be sure to occasionally stir the shallots as they are cooking.

Once the shallots begin to get soft, add the diced asparagus to the pan. Toss the shallots and asparagus together in the butter and cook for about 5 minutes.

Now that the shallots and asparagus are cooked, add the ricotta cheese to the mixture and stir consistently for about 1 minute. The cheese will begin to melt. Once fully incorporated remove the pan from the heat.

In a large mixing bowl add the liquid egg whites. Using a whisk, beat the eggs for about 1 minute. You will notice that the eggs begin to bubble and get frothy. This adds air to the eggs and creates a fluffy casserole.

Lightly spray a 9 x 9 baking dish with non stick cooking spray. Add the asparagus, shallot, cheese mixture to the baking dish. Spread the mixture out evenly.

Top the mixture with the beaten egg whites and toss everything together gently. Just enough to get a little egg mixed into the veggies.

Place baking dish in oven, on the middle rack and cook for approximately 35-40 minutes. Until the top has puffed up and become a light golden brown.
Macro Nutrition
Nutrition Facts
Asparagus and Egg White Casserole
Amount Per Serving
Calories 95
Calories from Fat 25
% Daily Value*
Fat 2.8g4%
Cholesterol 11.3mg4%
Sodium 217.3mg9%
Potassium 89mg3%
Carbohydrates 3.9g1%
Protein 11.6g23%
Vitamin A 13.1IU0%
Vitamin C 3.1mg4%
Calcium 13.3mg1%
Iron 1.2mg7%
* Percent Daily Values are based on a 2000 calorie diet.
Are you meal prepping? Do you count your macros or calories? Check out my notes below on how you can incorporate this asparagus and egg white casserole into your meal prep.
NOTES FOR MEAL PREP:
This is a wonderful recipe for meal prepping.
You can store each serving in the fridge for up to 1 week and eat it as it fits your meal plan. Pop them in the microwave for 30-45 seconds to warm them up.
Or you can freeze them in freezer safe zip lock bags, remove all of the air and store for up to two months.
Tips for Re-heating after being frozen:
You can go straight from the freezer to the microwave, cook them for 1 minute to 90 seconds.
Or pull them out the night before and store in the fridge to defrost overnight, then microwave for 30-45 seconds.
NOTES FOR COUNTING MACROS:
Typically I give notes for my recipes on how you can adjust the ingredients to fit your macro goals. For this recipe I have decided that the best way to adjust the recipe is to, eat more!
This asparagus and egg white casserole is a very light dish. Well rounded with regards to the amount of protein, carbs, and fats. Being that each serving is only 95 calories you may want to double up on the recipe and enjoy double the serving size!
Should you decided to make adjustments to this asparagus and egg white casserole. You will want to keep in mind the number of servings you are making.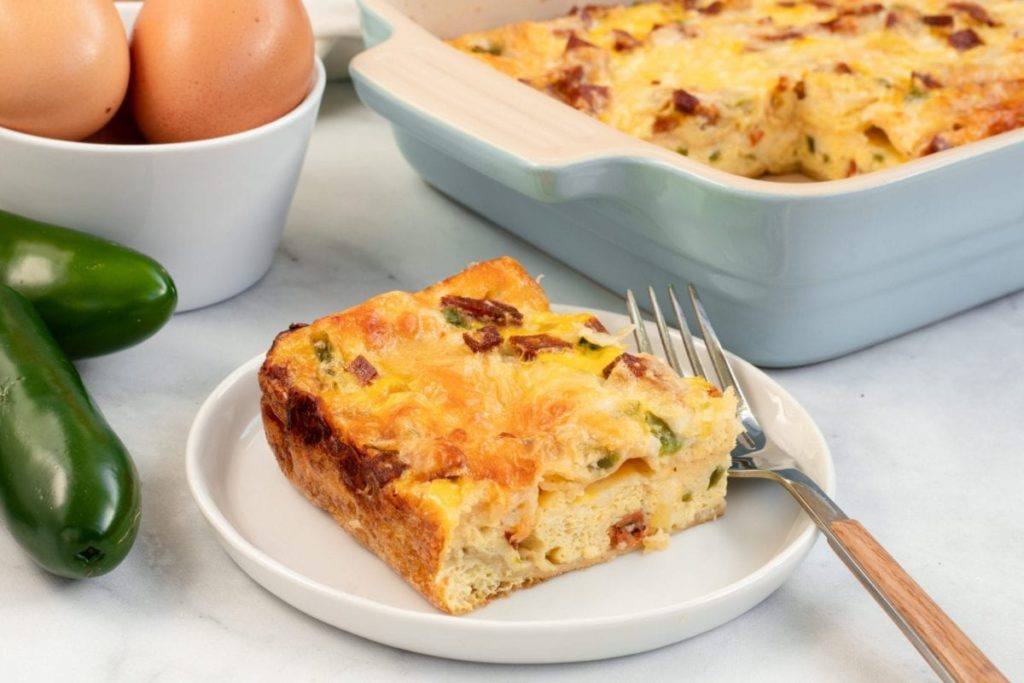 Can't get enough egg casseroles? Check out my: