Chicken Bok Choy and Beach Mushrooms
When you are sick of boring chicken and rice, add a twist: like this chicken bok choy and beach mushrooms over jasmine rice. A little asian flair to a classic dish. I love having chicken and rice in my meal plan at least once a month, so I am always trying to change it up. If you are looking for a great recipe to add to your weekly meal prep and are counting macros look no further, this is the perfect recipe.
Chicken Bok Choy and Beach Mushrooms
Ingredients
1

cup

Jasmine Rice

180

grams

½

tbsp

Extra Virgin Olive Oil

24

oz

Boneless, Skinless, Chicken Breast

cut into bite sized pieces

½

tsp

Black Pepper

1

tsp

Garlic Powder

½

cup

Red Onion

diced, (about [adjustable65[/adjustable] grams or ¼ medium onion)

12

g

Fresh Garlic

diced, (about

3

cloves)

2

tbsp

Soy Sauce, Lite

2

heads

Baby Bok Choy

quartered, (about

300

grams)

2

cups

Beach Mushrooms

trimmed and separated diced, (about

270

grams)

3

stalks

Scallions

diced, (about

50

stalks)

½

tsp

Sesame Seeds

½

Fresh Lemon

quartered
Instructions
Cook the rice by: Bringing 2 cup of water to boil. Once the water is boiling, add the rice, cover with a lid, and turn heat down to low. Simmer for 20 minutes then remove from heat. Keep covered for an additional 10 minutes.

While the rice is cooking cut your chicken breast and season with black pepper and garlic powder.

Once the rice has been cooking for about 10 minutes begin cooking the chicken.

Heat a medium saute pan to medium high heat. Add oil to the hot pan then immediately add the chopped chicken, red onions, and garlic to the pan. Spread the chicken around into one even layer covering the bottom of the pan. Allow to cook for 5-6 minutes, then toss the chicken. Spread evenly again and allow to cook for another 4-5 minutes. This allows the chicken to cook fully and become a little brown.

After the chicken has cooked for 10-12 minutes, remove the chicken from the pan.

Then in that same pan add the soy sauce and the quartered baby bok choy. Place the cut sides of the bok choy down in the pan. Cover with a lid and cook for 2-3 minutes. Then flip to the other cut side and cook for another 2 minutes.

Add the mushrooms to the pan with the bok choy. Season with a little black pepper, garlic powder, and half of the scallions. Cook tossing often for 3 minutes. Just enough for the mushrooms to soak up some of soy sauce and get a little softer.

By now the rice should be done. In the pot season the rice with the remaining green onions, then fluff with a fork.

Plate by first scooping the rice onto a plate, then on one side top the rice with your cooked chicken, on the other side top the rice with the bok choy and mushrooms. Season everything with a little sesame seed.

Serve with a fresh lemon quarter. Or portion out into your meal prep containers to enjoy later.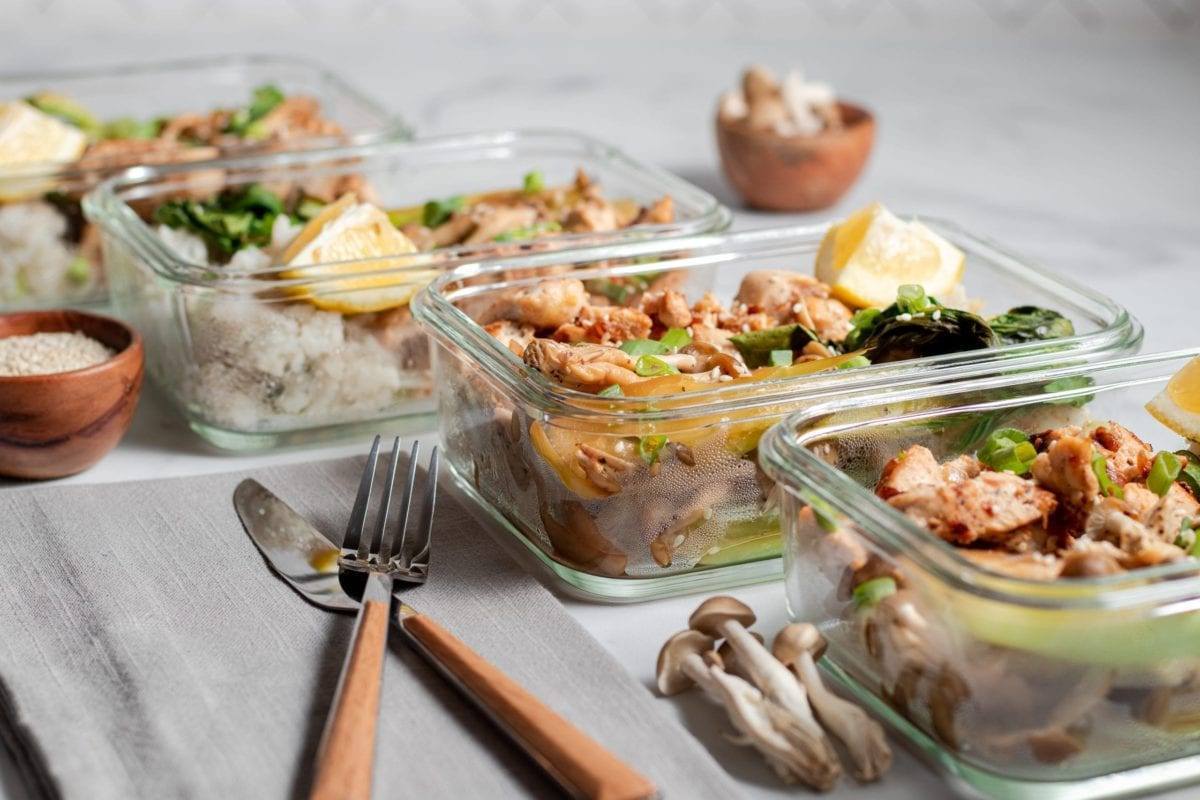 Macro Nutrition
Nutrition Facts
Chicken Bok Choy and Beach Mushrooms
Amount Per Serving
Calories 447
Calories from Fat 66
% Daily Value*
Fat 7.3g11%
Cholesterol 109.7mg37%
Sodium 523.6mg23%
Potassium 953mg27%
Carbohydrates 47.7g16%
Protein 43.9g88%
Vitamin A 19.8IU0%
Vitamin C 46.4mg56%
Calcium 31.8mg3%
Iron 17.7mg98%
* Percent Daily Values are based on a 2000 calorie diet.
QUESTION:
Are you trying to get better at meal planning?
Do you find your self eating the same recipes every few weeks?
Are you having trouble finding recipes for meal prep?
Or are you counting macros?
If you are bored of eating the same recipes every week and answered yes to any of these question, then you are going to want to check out my notes below. Tips on how you can incorporate this chicken bok choy and beach mushrooms over jasmine rice into your meal plan and meal prep. If you are counting macros I have also included notes on how you can easily adjust the protein, carbs, and fats to meet your macro requirements.
NOTES FOR MEAL PLANNING:
Meal planning doesn't have to be hard or take a lot of time. In fact, meal planning can be fun when you are provided with easy new recipes each week. Meal Planning can also help save money, prevent food waste, and save you time.
The best things about this recipe is it is great reheated, it's a twist on a staple dish, and can be adjusted to fit just about any macro goals.
NOTES FOR MEAL PREP:
This recipe will keep in the fridge for up to 5-7 days.
For reheating, remove the lemon from the dish. Then microwave the dish, loosely covered with a paper towel to trap in the moisture of the sauce. Cook for 30 seconds, then stir everything together, and cook for an addition 30 seconds. Then squeeze the fresh lemon wedge over top to add a little extra freshness.
NOTES FOR COUNTING MACROS:
The majority of the protein in this recipe comes from the chicken. You can easily adjust the amount of chicken without changing the flavor of this recipe too much.
For every 1 ounce of chicken you can increase or decrease the protein macro by 8.8 grams.
So go ahead, add as much or as little protein as you would like to this recipe.
Rice is the main source of carbohydrate in this chicken bok choy and beach mushrooms over jasmine rice. Adjusting the amount of rice either increases or decreases the amount of carbs.
For every 1/4 cup (45g) of jasmine rice you increase or decrease the carbs by 36 grams.
This recipe is extremely low in fat. Each week I like to include one low fat recipe to accommodate those looking to cut weight.
However, if you are looking to increase the fat, this recipe allows you to add fat into your diet in other ways.
Enjoying nuts as a snack during the day.
Adding a fatty ingredient to this recipe…I always love adding avocado to just about anything.
Or just simply enjoying avocado as a snack
This recipe would also be delicious with an egg on top.
Incorporate additional fat however you see fit, use your imagination!
When making adjustments to the macros in this chicken bok choy and beach mushrooms over jasmine rice, you will want to keep in mind the number of servings you are making.