Mozzarella Egg Breakfast Sandwich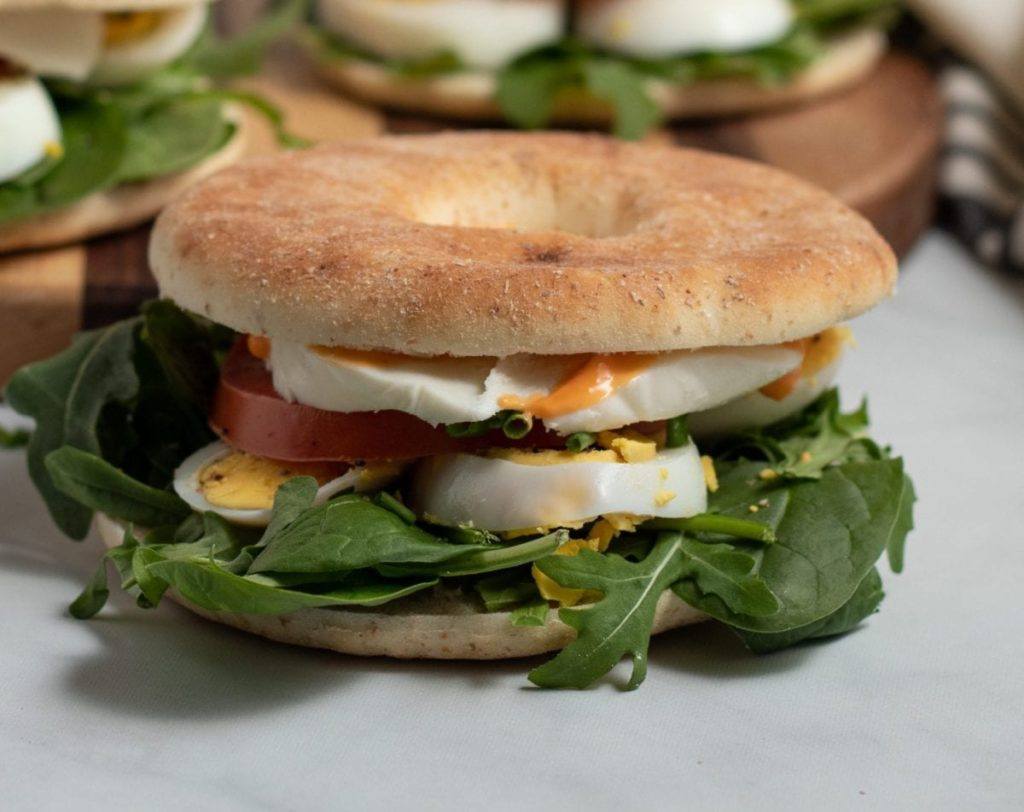 Do you ever wake up hungry? Don't have time to cook something healthily and all you want is a McDonalds breakfast sandwich? I used to have this feeling all the time…then I started making my own breakfast sandwiches. Like this mozzarella egg breakfast sandwich. It is the perfect breakfast meal prep. And if you are counting macros there are so many ways that you can make adjustments to this recipe to fit your macro goals. So add this breakfast sandwich to your meal plan this week and satisfy those early morning craving!
Mozzarella Egg Breakfast Sandwich
Ingredients
6

Large Whole Eggs

175

g

Fresh Mozzarella

sliced, (

1

, 3 inch ball of mozzarella)

165

g

Tomato

sliced, (

1

large tomato)

80

g

Baby Spinach and Arugula Mix

(

2

handfuls)

6

Bagel Thins

½

tsp

Black Pepper

¼

tsp

Salt

1

tbsp

Sriracha Mayo
Instructions
Bring a medium sauce pot with 6 cups of water to bowl. Once the water is boiling, gently add the eggs to the water. Cooking the eggs at a boil for 12 minutes.

Once the eggs are done remove them from the boiling water and place in an ice bath to stop the cooking process and allow them to cool.

While the eggs are cooking slice your tomato and mozarella into 6 slices, 1 per sandwich. Then begin your assembly of the breakfast sandwich.

The layers of the sandwich are important to prevent the bagel from becoming soggy. Start with the bottom of the bagel, then layer your spinach.

Once the eggs are cooled crack each egg and then slice the egg into 4 even slices. Arrage 1 egg per bagel, place the egg ontop of the spinach.

Then layer one slice of tomato on top of the egg. Season the tomato with salt and pepper.

Now add one slice of mozzarella ontop of the tomato, drizzle a little sriracha mayo over top of the mozzarella. Then finish the sandwich by topping with the top half of the bagel.

If eating now you will want to toast the bagel sandwich in a toaster oven for 3-4 minutes to get the bagel nice and crispy, and melt the mozzarella cheese. Otherwise wrap each sandwhich with parchment paper and place in the fridge until it is time to eat.
Macro Nutrition
Nutrition Facts
Mozzarella Egg Breakfast Sandwich
Amount Per Serving
Calories 276
Calories from Fat 116
% Daily Value*
Fat 12.9g20%
Cholesterol 22.1mg7%
Sodium 502.8mg22%
Potassium 164.6mg5%
Carbohydrates 27.9g9%
Protein 15.8g32%
Vitamin A 37.7IU1%
Vitamin C 8.5mg10%
Calcium 28.5mg3%
Iron 11.5mg64%
* Percent Daily Values are based on a 2000 calorie diet.
QUESTION:
Are you trying to get better at meal planning?
Do you find your self eating the same recipes every few weeks?
Are you having trouble finding recipes for meal prep?
Or are you counting macros?
If you are bored of eating the same recipes every week and answered yes to any of these question, then you are going to want to check out my notes below. Tips on how you can incorporate these mozzarella egg breakfast sandwich into your meal plan and meal prep. If you are counting macros I also provide tips on how you can make adjustments to this recipe to fit your macro goals.
NOTES FOR MEAL PLANNING:
Meal planning doesn't have to be hard or take a lot of time. In fact, meal planning can be fun when you are provided with easy new recipes each week. Meal Planning can also help save money, prevent food waste, and save you time.
The best things about this recipe is in just a few minutes you can have a warm delicious breakfast to go!
NOTES FOR MEAL PREP:
This is a wonderful recipe for meal prepping. You can store the individual servings in the fridge for 5 – 7 days. Wrap each individual sandwich in parchment paper to store in the fridge. Then when its time to eat, unwrap the sandwich and pop it in a toaster oven for 3 – 4 minutes! The cheese will melt and become gooey and the bagel with get nice a crisp.
Many breakfast sandwiches are great frozen, this one however is not that great. The tomato doest not defrost well, the spinach wilts, and the cheese does something I can't really explain. If you are looking for a good freezer friendly breakfast sandwich check out my recommendation at the bottom of this page.
NOTES FOR COUNTING MACROS:
The majority of the protein in this recipe comes for the eggs and the mozzarella. However, both of these ingredients contain about 50% protein and 50% fat, leaving them hard to adjust without also adjusting the other macro.
If you are looking to increase the protein and reduce the fat you could easily do this by using only the egg white and not use the egg yolk.
Every 1 large egg white contains 4 grams of protein and less than 1 gram of fat.
The Egg yolk contains 2 grams of protein and 4 grams of fat.
Therefore, if you wanted to increase the protein and reduce the fat I would recommend increasing the amount of eggs used and removing the egg yolk all together.
If you used 2 egg whites per sandwich and zero egg yolk and changed nothing else about the recipe your macros would be: 17.8P/27.9C/10.9F
The carbohydrate in this recipe comes from the bagel thins. However, you can choose to use another type of bagel, english muffin, bread, or how about a croissant. Feel free to use your imagination. Shoot, go protein style…get rid of the bread altogether and wrap the entire thing in a lettuce leaf!
The fats in this recipe comes for the eggs and the cheese. Both of which also contain a decent amount of protein. Therefore, making adjustments to either will also adjust your protein.
For every 30 grams of cheese there is 5.3 grams of fat and 5.3 grams of protein.
For every egg there is 5 grams of fat and 6 grams of protein.
There are two ways to decrease the fat in this recipe:
The first would be to use egg whites instead of the entire egg. This will decrease the fat by 4 grams per egg used.
Or you could use a low fat or non fat cheese.
If you are looking to increase the fat in this recipe the best way would be to increase the cheese…I mean who doesn't love more cheese.
When adjusting macros to these mozzarella egg breakfast sandwiches, you will want to keep in mind the number of servings you are making.