Steak and Watermelon Salad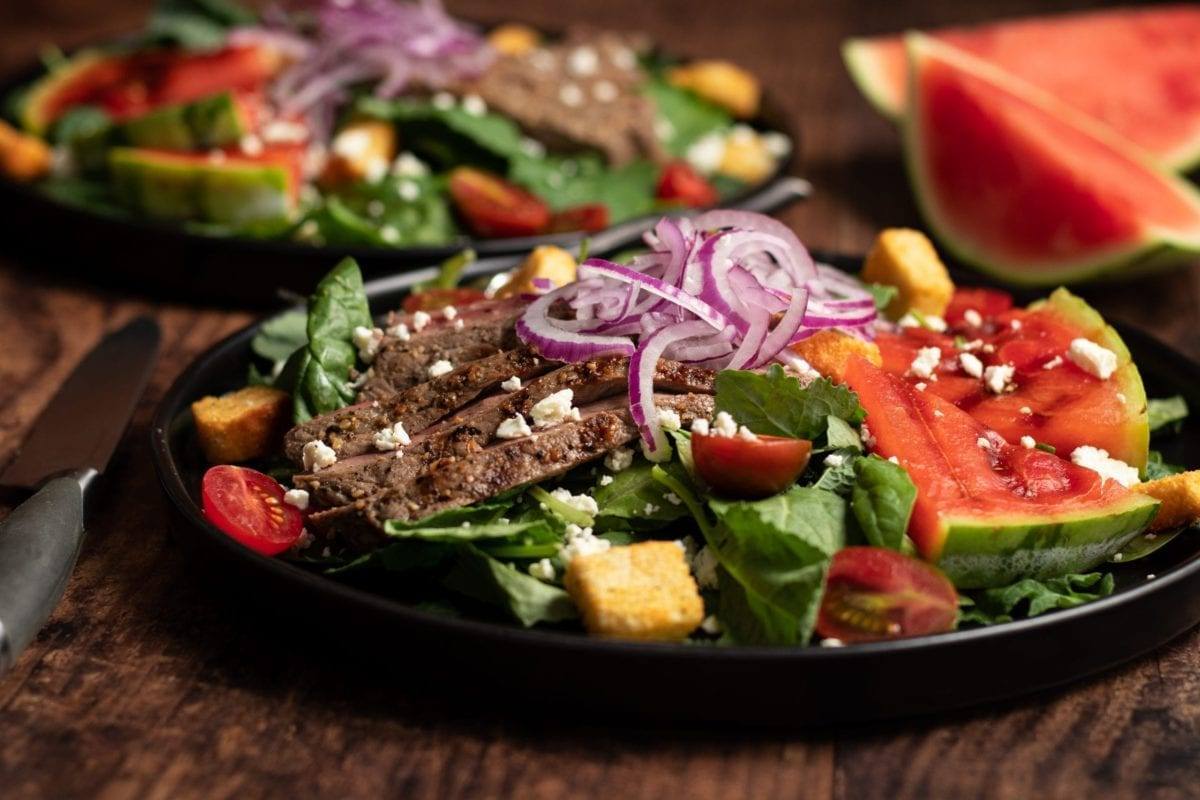 Servings: 2 steak and watermelon salads
Ingredients:
12 oz Angus Top Sirloin Steak
1 tbsp Extra Virgin Olive Oil
200 g Watermelon, cut into thin slices (about 1/4 of small watermelon)
2.5 oz Baby Arugula (about 2 cups)
25 g Shallots, diced (1 medium shallot)
35 g Feta Cheese, crumbled (about 2 tbsp)
25 g Cherry Tomatoes (about 4 tomatoes)
1/2 Cup Croutons
1 tbsp Greek Yogurt Dressing
1 tbsp Weber Grind Chicago Steak Seasoning
Directions on how to make this steak and watermelon salad:
Bring steak to room temperature by allowing it to sit on the counter for about 15 minutes.
While waiting for steak to reach room temp, prep all the ingredients: slicing watermelon, washing arugula, and dicing shallots.
Season steak generously on both sides, with steak seasoning.
If there is fat around the sides of the steak, score the fat with a knife every inch. This will prevent the steak sides from rolling up while cooking.
Bring a large grill pan to medium/high heat and drizzle olive oil over hot pan.
Place the steak in the pan, allow to cook untouched for about 5 minutes. You will start to see the color change going up the sides of the steak. Once you see the color change about half way up the side, flip the steak. Cook for the same amount of time on the other side. The first side should have really nice grill marks.
Keeping an eye on the steak and watching the color change is key. Once you see that the side of the steak has changed color, form both top and bottom, the steak should be done to about a medium rare. Of course I always recommend checking meat with a thermometer, if you are unsure. Timing also depends on thickness of steak, 5 minutes per side is for a 3/4 inch think steak.
Remove steak from heat and wrap in tin foil for 10 minutes. This allows the steak to rest, and juices to saturate the meat.
While the steak is resting sear the watermelon slices in the same grill pan the steak was cooked in, at medium high heat for about 2 minutes on each side, just enough to get some light grill marks.
Remove the steak form the tin foil and slice thinly. Arrange the steak on the plate, next to the watermelon on top of the arugula.
Top with tomatoes, croutons, shallots, and feta cheese.
Then drizzle the dressing over greens.
Steak and Watermelon Salad Kcals: 551g / 44.9g P / 21.1g C / 36.6g F
If you love salads you are going to love my:
MEAL PREPPING AND LOOKING FOR THE RIGHT CONTAINERS
I personally prefer glass containers over plastic for several reasons:
Glass containers don't scratch, meaning you can eat your prepped meals right out of your containers and not worry about those extra dishes. Did you know that once a plastic container is scratched you should toss it out? The scratch in a plastic container can hold germs and bacteria.
Glass is free from chemicals. Sure, you can buy BPA free plastic containers but who knows what else makes up plastic. It's better to just go with glass and not have to worry about contaminating your food with the plastic containers.
They are microwave, dishwasher, oven, fridge, and freezer safe. Again making life just that much easier: fewer dishes when re-heating, you can cook the initial prep right in the glass container…all of which makes clean up a breeze.
Food re-heats more evenly in a glass container.
With glass, food stays fresher longer. Strange tastes and smalls aren't absorbed into your food, the way they can from plastic containers.
Additionally, Glass containers last longer. So while they might cost a little more up front, you will save money in the long run over having to replace plastic.
HERE ARE JUST A FEW OF MY FAVORITES: