Mushroom and Cherry Pepper Steak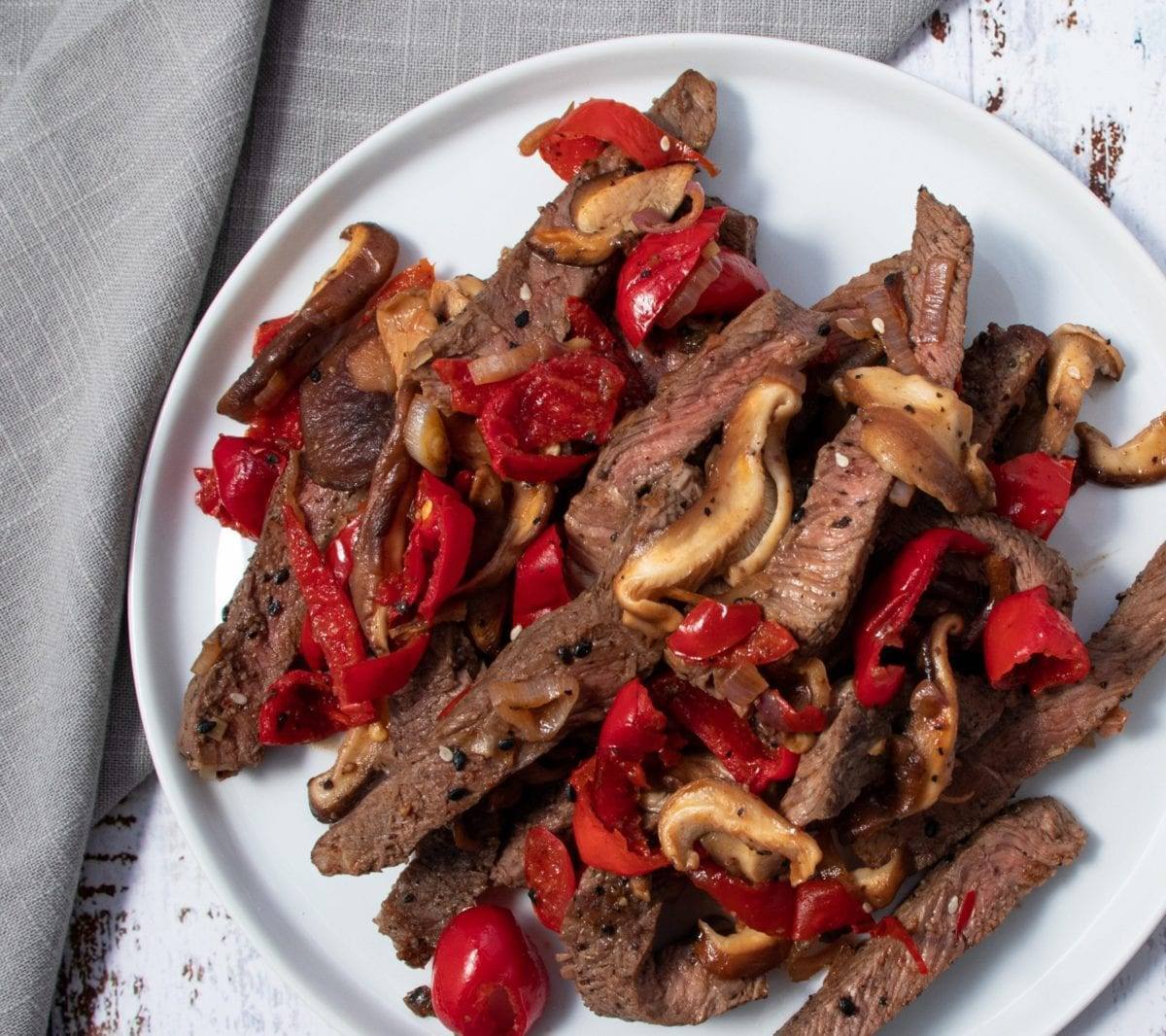 There is no better combination than Mushrooms and Cherry Peppers with Steak! This protein packed recipe will fill you up, leave you excited to eat it again, and happy to hit your protein macro for the day!
Mushroom & Cherry Pepper Streak
Instructions
Heat a large saute pan to medium high heat.

While the pan is warming up, season the steak with black pepper, salt, and garlic powder.

Add the oil to the hot pan, then immediately add the steak to the oil. Allow the steak to cook for 3 minutes, then flip and cook for an additional 3 minutes on the other side. This should give both sides a nice seared look. And at this point the steak should be medium rare, based on a 1/4" thick fillet. If your steak is thicker you may need to cook longer, or cover it with a lid to heat the steak through. (If meal prepping be sure not to over cook the steak, becuase you will want to reheat it later before eating. Reheating will continue the cooking process.)

After the steak is cooked, remove it from the pan, and set aside for 10 minutes to rest.

While the steak is resting, work on the other ingredietns. In the same pan, adjust the heat to medium. Add the sliced mushrooms, chopped peppers, and diced shallots to the pan in the remaining steak and oil juices. Cook the veggies for 5-7 minutes until they have softened, tossing often to prevent burning.

After the mushrooms and peppers have softened, add the oyster sauce and sesame seeds, then stir everyting together to combine.

Slice the steak into strips or bite sized pieces and add them to the mushrooms and peppers. Turn the heat off and toss everything together.

Serve and enjoy! Or portion out for meal prep!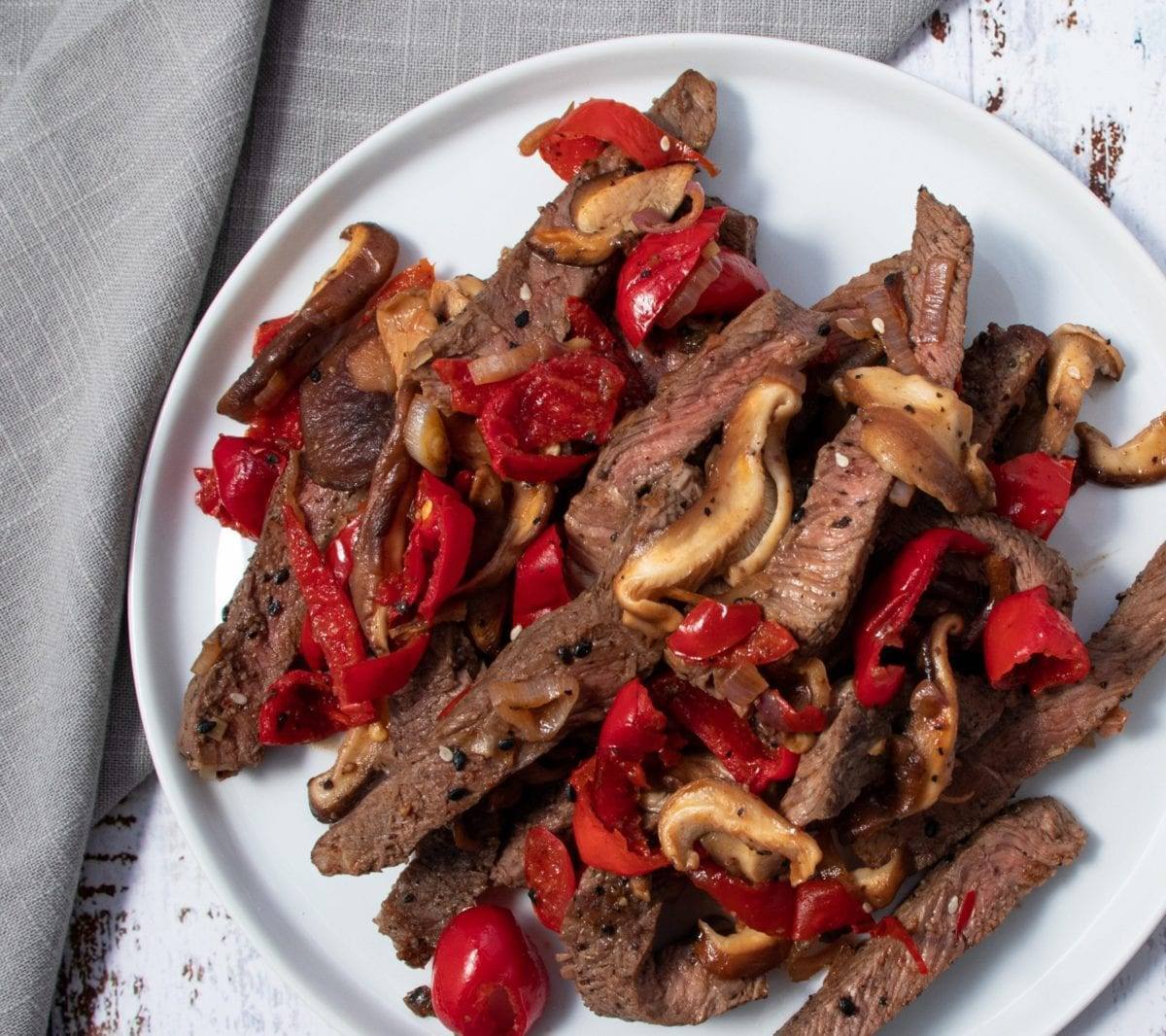 Macro Nutrition
Nutrition Facts
Mushroom & Cherry Pepper Streak
Amount Per Serving
Calories 316
Calories from Fat 87
% Daily Value*
Fat 9.7g15%
Cholesterol 96mg32%
Sodium 791.4mg34%
Potassium 232.5mg7%
Carbohydrates 18.6g6%
Protein 36.7g73%
Vitamin A 0.2IU0%
Vitamin C 61.9mg75%
Calcium 1.5mg0%
Iron 27mg150%
* Percent Daily Values are based on a 2000 calorie diet.
Are you meal prepping? Do you count your macros or calories? Check out my notes below on how you can incorporate this mushroom with cherry pepper steak into your meal prep. Also how you can easily adjust protein, carbs, and fats to meet your macro requirements.
NOTES FOR MEAL PREP:
This mushroom with cherry pepper steak is a wonderful recipe for meal prepping. You can store each serving in the fridge for up to 7 days and eat it as it fits your meal plan. When reheating, be sure not to over heat or your steak will become chewy. I suggest re-heating for only 30-45 seconds.
NOTES FOR COUNTING MACROS:
You can easily adjust the protein macro by adjusting the amount of steak used. For every 1 ounce of steak you can increase or decrease your protein intake by 5.2 grams. This does vary based on the cut of steak. You can find steak with as little as 3 grams of protein per ounce, and 10 grams of protein per ounce. For this recipe I like a thiner cut of steak, a chuck steak or flank steak, both have almost identical macros.
This mushroom with cherry steak recipe does not have a lot of carbs. Although you can increase the carbs by increasing the amount of peppers. You could double the amount of peppers to this recipe and it would be amazing. Doubling the amount of peppers would increase the carbs by 49.3 grams, or about 10 grams per serving, if portioning out the recipe into 5 servings. But be careful of the spice level, not all cherry hot peppers are created equal!
The fat in this recipe is very well balanced with the amount of protein and carbs. I would not recommend making adjustments to the recipe. But if you would like to increase the fat you could do so in two ways:
Increasing the amount of oil you cook the steak in, or adding a little oil while cooking the mushrooms and peppers. For every tablespoon of oil you increase the fats by: 14 grams.
Change the type of steak that you use in this recipe. The chuck tender or flank steak I recommend using only has 1-2 grams of fat per ounce. But you can find steaks that have as much as 6 grams of fat per ounce. Therefor you can choose to keep the fat content low by following this recipe or you can choose to increase the fat as much as you like.
When making adjustments to the macros you will want to keep in mind the number of servings you are making.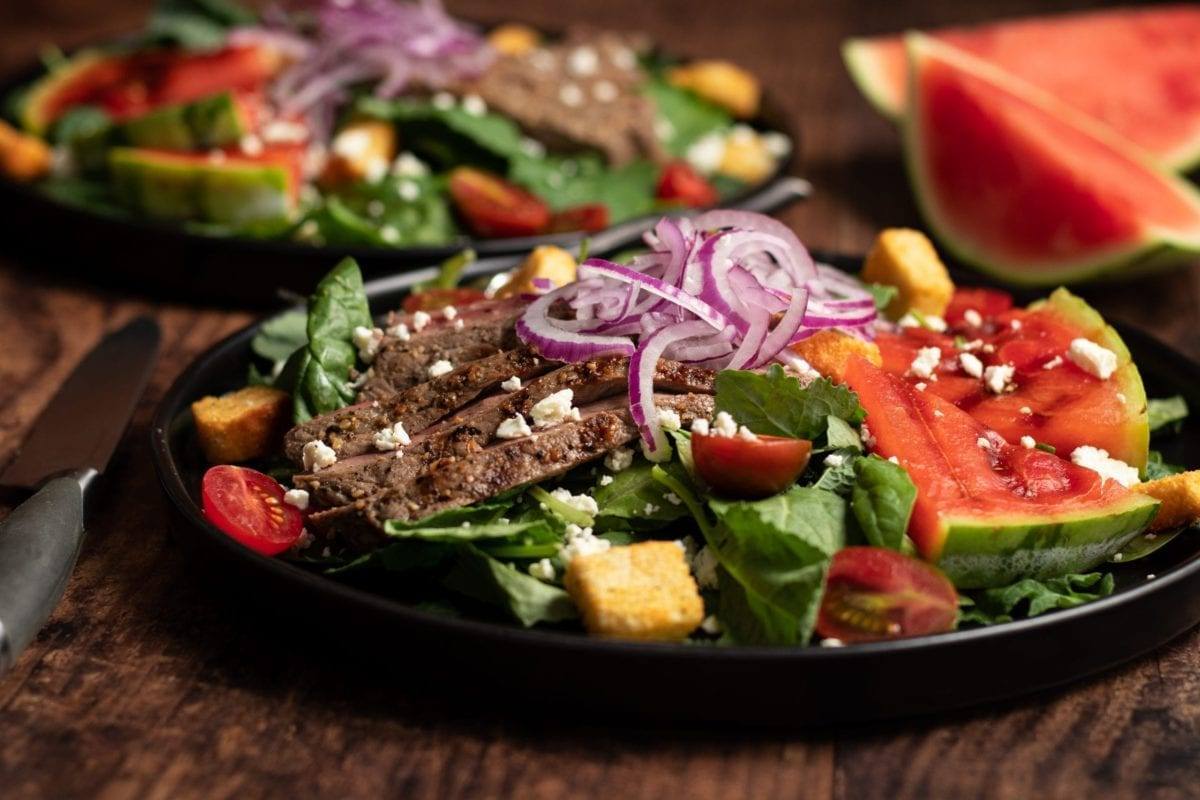 If you love this steak recipe and are looking to try another one, check out my: