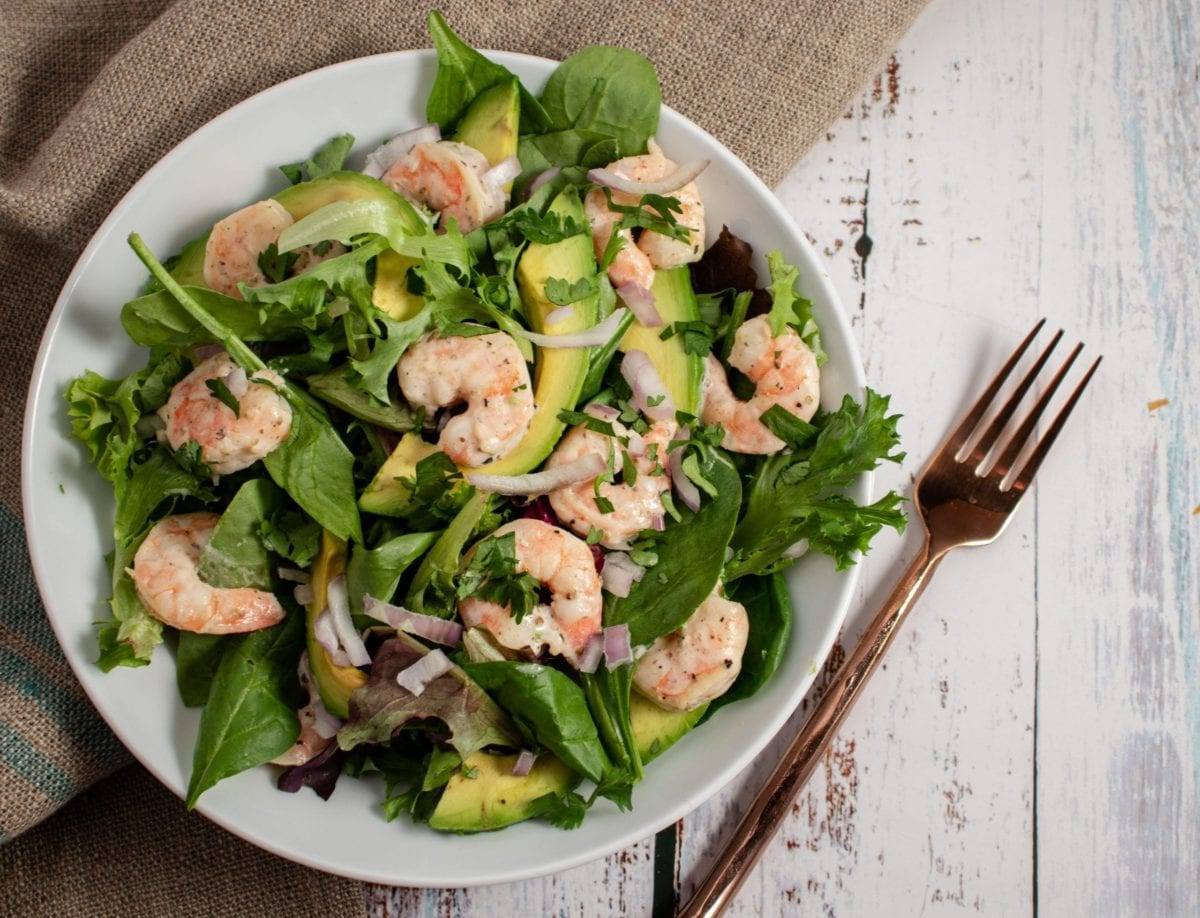 Shrimp and Avocado Salad. A great salad for partial meal prepping, easy to adjust protein, carbs, and fats to meet your macro requirements.
Shrimp and Avocado Salad
Shrimp and Avocado make amazing companions, bring them together for this tasty salad and you can't go wrong.
7 oz Shrimp (peeled and deveined (about [adjustable]12[/adjustable] shrimp))
1 Lime (juiced)
½ tsp Black Pepper
¼ tsp Garlic Powder
50 g Mixed Greens ((2-3 handfuls, per serving))
1 tbsp Greek Yogurt Dressing
35 g Avocado (sliced ([adjustable]¼[/adjustable] of a medium avocado))
15 g Shallot (diced, ([adjustable]½[/adjustable] a small shallot))
1 tbsp Cilantro (chopped )
In a medium bowl combine shrimp, juice from one lime, black pepper, and garlic powder. Stir everything together until the shrimp are evenly coated in lime juice and seasoning.

Heat a large saute pan to medium heat, once the pan is hot add the shrimp and lime juice to the pan. Arrange the shrimp into one even layer in the pan. Allow the shrimp to cook untouched for 3-4 minutes. Then flip the shrimp and cook on the other side for another 3-4 minutes. The shrimp is fully cooked when it is a light pink color and no longer translucent.

While the shrimp is cooking dress your salad greens. I like to mix the greens in the dressing before adding other ingredients. To do this place you greens into a large bowl, add the dressing. Using tongs toss your greens with the dressing until the dressing is evenly distributed. Then transfer you greens to the serving bowl. By dressing your greens before topping with other ingredients you will use less dressing and each bite with have the same amount of dressing.

Top your greens with your diced shallot, sliced avocado, chopped cilantro, and shrimp once they have finished cooking.
Are you meal prepping? Do you count your macros or calories? Check out my notes below on how you can incorporate this Shrimp and Avocado Salad into your meal prep. As well as how you can adjust protein, carbs, and fats to meet your macro requirements.
Notes for Meal Prep:
I consider all leafy salads partial meal prep dishes. As a result you can prep and cook all of your ingredients, but you will want to keep any moist items separate from your dry items. This will keep all ingredients fresh longer. Then right before eating your salad you can mix everything together.
For this Shrimp and Avocado Salad Specifically:
You will either want to keep the avocado uncut until right before you eat it, or toss it with a little lime juice to prevent the avocado from turning brown. Tossing in lime juice will allow the avocado to last most of the day before starting to turn brown. By doing this you can quickly cut your avocado on your way out the door, squeeze a little lime juice over top, and then put it with your other moist ingredients: shrimp and dressing.
Notes for Counting Macros:
You can easily adjust the protein macro by adjusting the portion of shrimp used. For every 1 ounce of shrimp you can increase or decrease your protein intake by 6 grams.
There is not many carbs to this shrimp and avocado salad. In order to do so you will need to add additional ingredients that are not already listed above. Adding a grain like quinoa, farro, or rice you can increase the carbs by 15-30 grams for as little as 1/4 cup cooked grains. Of these three grains I really like the rice option for this recipe.
Avocado is the quickest way of increasing the healthy fats in this dish. For every 35 grams of avocado you increase the fats by 5 grams. Depending on the size of avocado, 35 grams is about 1/4 of an avocado. You can also increase the fats by increasing the amount of dressing, for every tablespoon of dressing you increase the fats by 3.5 grams.
When making adjustments to the macros you will want to keep in mind the number of servings you are making.
If you love avocado in your salads you should check out my: