Raspberry Chia Seed Pudding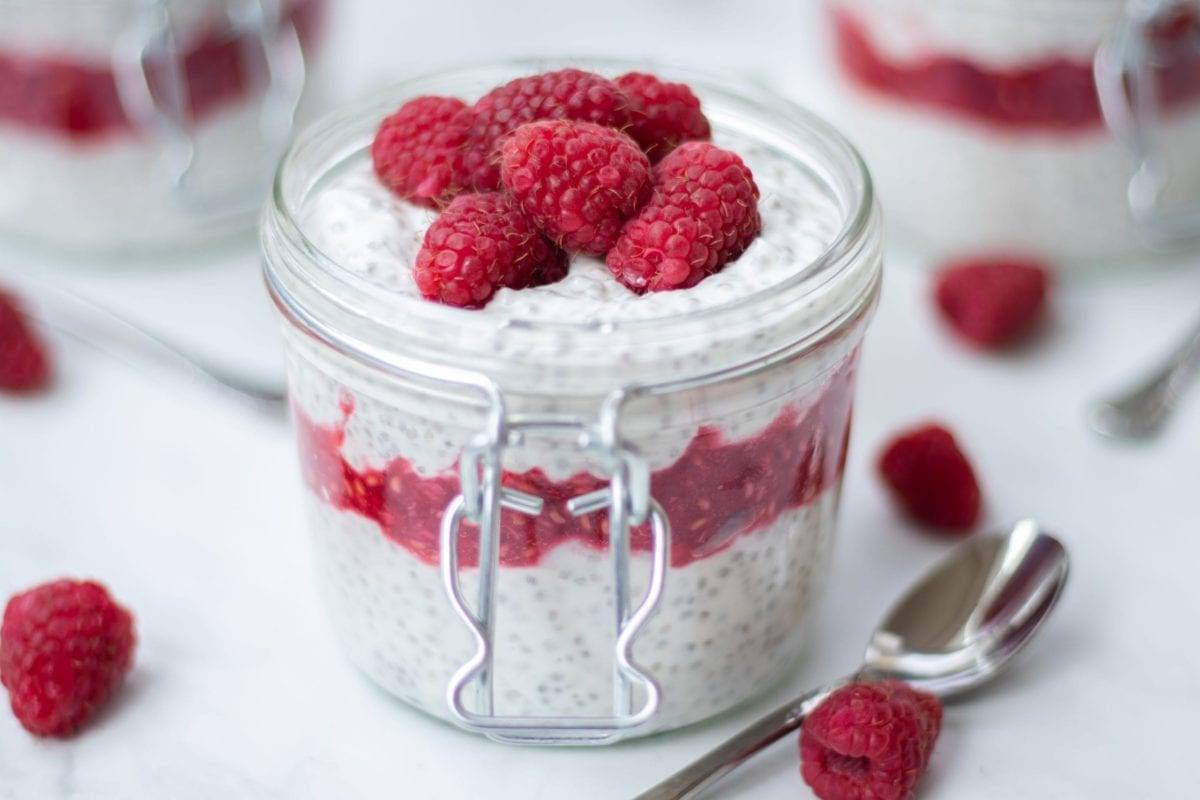 Does Pudding remind you of that unhealthy snack you used to eat as a child? Well let me introduce you to the new and improved healthy pudding snack: Raspberry Chia Seed Pudding. Loaded with protein, healthy carbs, and nutritious fats. A fantastic recipe for meal prep!
Chia Seed Raspberry Pudding
Instructions
This recipe calls for sprouted Chia Seeds. To do this you will need to let the seeds sit your wet ingredients overnight, or at least 3 hours, in the fridge.

Sprouting your chia seeds: Combine chia seeds, milk, yogurt, syrup, and vanilla in a large bowl. Stir everything until well incorporated. Then cover the bowl with plastic wrap and place in the fridge for three hours, or over night.

In a small bowl smash 170 g raspberries using a fork.

After your chia seeds have rested in the fridge and fully expanded, divide your chia seed pudding into your 16 oz containers with lids. Start by filling each half way full.

Then divide your smashed raspberries into each container. Then add the remaining chia seed pudding into each container ontop of the smashed raspberries.

Top each serving with 5 raspberries and enjoy. Or, place the lid on your containers and store in the fridge for up to 4 days.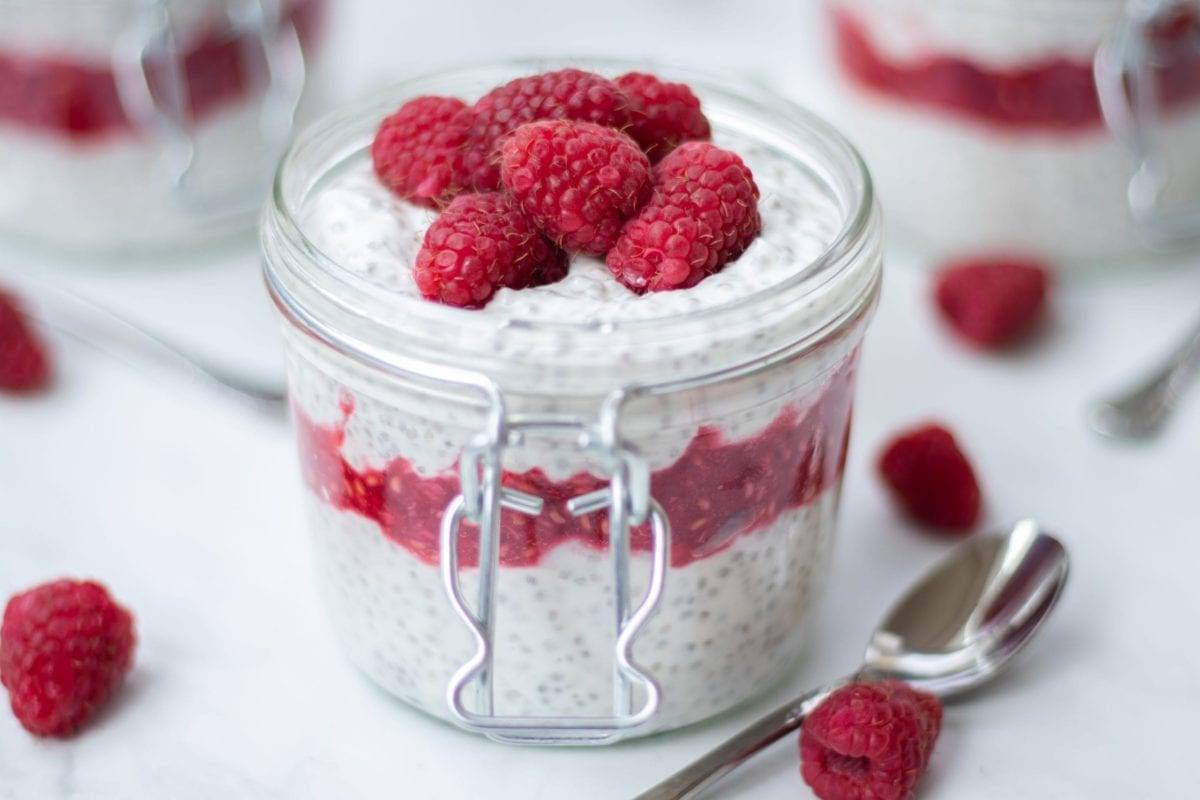 Macro Nutrition
Nutrition Facts
Chia Seed Raspberry Pudding
Amount Per Serving
Calories 351
Calories from Fat 122
% Daily Value*
Fat 13.5g21%
Cholesterol 13.3mg4%
Sodium 193.4mg8%
Potassium 210.4mg6%
Carbohydrates 28.8g10%
Protein 31.3g63%
Vitamin A 5IU0%
Vitamin C 35.1mg43%
Calcium 74.1mg7%
Iron 16.1mg89%
* Percent Daily Values are based on a 2000 calorie diet.
Are you meal prepping? Do you count your macros or calories? Check out my notes below on how you can incorporate this Raspberry Chia Seed Pudding into your meal prep. Also easily adjust protein, carbs, and fats to meet your macro requirements.
NOTES FOR MEAL PREP:
This is a wonderful recipe for meal prepping. You can store the individual servings in the fridge for 3-5 days. The Raspberries onto will let you know once they have gone bad.
For this meal prep you can make this recipe following my directions which will allow you to have a beautiful line of raspberries thru the middle of your pudding. Or for time saving and fewer steps, you can sprout your seeds directly in your serving containers. The only real difference is your smashed raspberries will be at the bottom of your pudding, instead of in the middle.
To do this:
First you will want to smash your raspberries and separate them into the bottom of your serving containers.
Then in a large bowl stir together all of the wet ingredients.
Top your smashed raspberries with those wet ingredients.
Then add a few whole raspberries on top.
Finish by covering with a lid and placing them in the fridge for a minimum of 3 hours before enjoying!
NOTES FOR COUNTING MACROS:
The majority of the protein in this recipe comes from the yogurt, which makes for an extremely easy ingredient to adjust.
With every 1 ounce of yogurt you can increase the protein by 3 grams. This Raspberry Chia Seed Pudding allows you to increase the amount of yogurt by 2 ounces per serving, without changing the texture or flavor too much.
The main carbohydrates in this recipe are the chia seeds and the raspberries.
Every tablespoon of chia seeds contains 4 grams of carbs. You can increase or decrease the amount of chia seeds by 1 tablespoon, without changing the texture or flavor too much. It is important to know that in changing the amount of chia seeds you will not only be increasing or decreasing the amount of carbs. But also the amount of fat by the same number. Each tablespoon of chia seeds contains 4 grams of fat.
For every 50 grams of raspberries you can increase of decrease the carbs by 6 grams. While making a change to the raspberries is the easiest why to adjust the carbs, this will have a larger impact on the flavor of this recipe. Too few raspberries will make this less of a raspberry chia seed pudding and more of a plan seed pudding. On the other hand, too many raspberries can put this pudding more on the sweet side. However both are still delicious.
The fats in this recipe come from the chia seeds and the yogurt.
You can increase the fats by choosing another yogurt, one that is not fat free.
2% fat greek yogurt has 2 grams of fat per every 4 ounces.
5% fat greek yogurt has 5 grams of fat per every 4 ounces.
This allows you to replace the non-fat greek yogurt with as little or as much fat as you want.
In addition, as stated above, you can also increase or decrease the fats by changing the amount of chia seeds used. For every tablespoon of chia seeds there is 4 grams of fat.
When making adjustments to the macros you will want to keep in mind the number of servings you are making.