Greek Eggs in a Mason Jar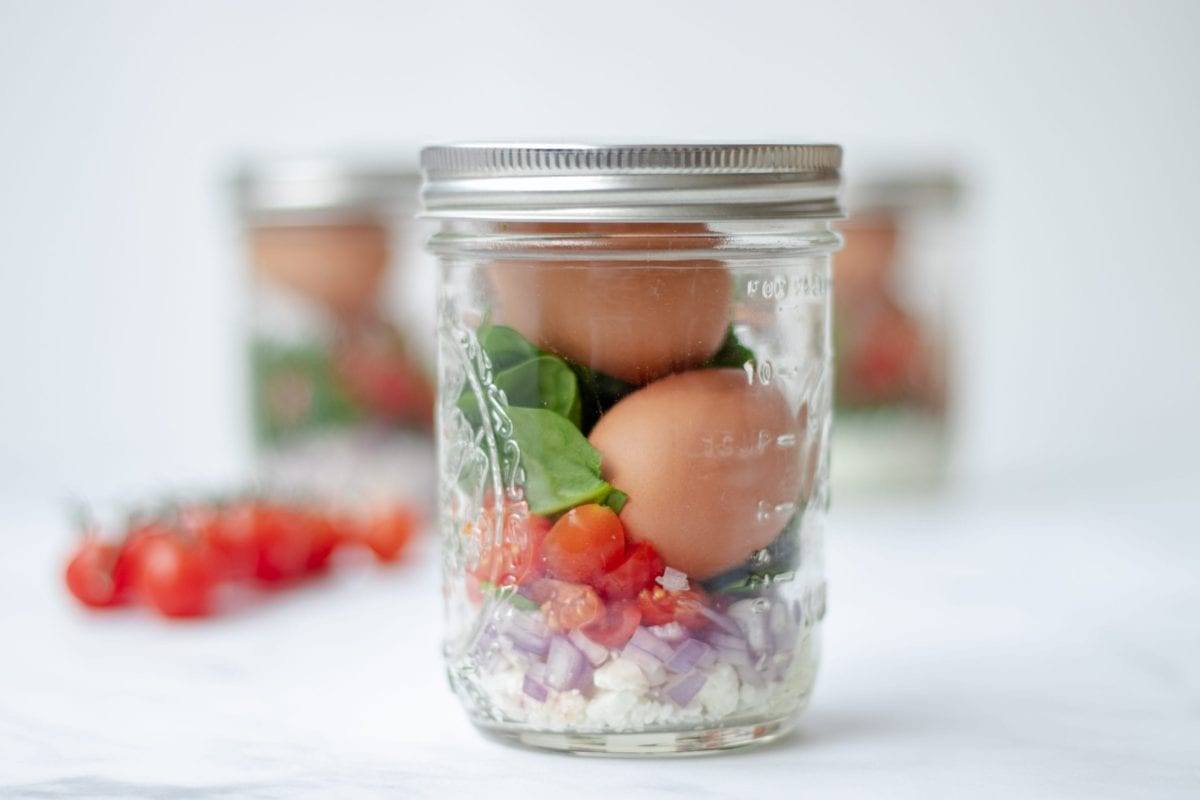 Who doesn't love anything in a mason jar? Like these Greek Eggs in a Mason Jar…my take on a greek omelet to go. The best part is you can meal prep these jars, heat them in 2 – 3 minutes and have a warm breakfast on the go! These little jars make counting macros or calories a breeze.
Greek Eggs in a Mason Jar
Ingredients
100

g

Fat Free Feta

crumbles (about

1

cup)

80

g

Red Onion

diced (about

¾

cup)

65

g

Baby Spinach

chopped (about

2

cups)

75

g

Cherry Tomatoes

chopped (about

¾

cup)

1

tsp

Black Pepper

4

dash

Salt

1 dash per jar

1

tsp

Red Pepper Flake

8

Large Whole Eggs

2 per Jar
Instructions
Start by prepping all of the ingredients: dicing and chopping the veggies.

Spray each of your glass jars with non stick cooking spray.

Then seperate the veggies evenly into each mason jar. Layering, tomatoes, then the feta, the the onions, the the spinach. Wet ingredients on the bottom, dryer ingredients on top.

Season with the black pepper, salt, and red pepper flake.

Then place 2 whole eggs, with their shell in the jar and store in the frige for up to 1 week depending on the ingredients you choose.

When it is time to eat, simply crack the eggs into the jar. Scramble the ingredietns together then microwave for 1 minute. Remove the jar from the microwave and stir again. Place back in the microwave and cook for another minute. They are done when all of the eggs are the same even color of yellow. No darker, wet eggs in the middle.

If you are not eating on the run, you could add these ingredients to a frying pan, crack the eggs and scrample everything together that way.
Macro Nutrition
Nutrition Facts
Greek Eggs in a Mason Jar
Amount Per Serving
Calories 192
Calories from Fat 87
% Daily Value*
Fat 9.7g15%
Cholesterol 376.4mg125%
Sodium 540.8mg24%
Potassium 261.1mg7%
Carbohydrates 5.3g2%
Protein 19.8g40%
Vitamin A 186.6IU4%
Vitamin C 11.5mg14%
Calcium 75.4mg8%
Iron 5.6mg31%
* Percent Daily Values are based on a 2000 calorie diet.
Have you seen those just crack an egg containers in our grocery store?
Have you ever tried making your own? First of all, making your own will allow you to control the ingredients, ensuring quality, and best of all allow you to tweak the ingredients to meet your macro or calorie goals.
Furthermore, these are some of the easiest breakfast recipes I have every made. You can mix and match any of your favorite ingredients from omelets, scrambles, and egg casseroles. Give my greek eggs in a mason jar recipe a try. From there let your imagination be your guide.
Are you meal prepping? Do you count your macros or calories?
Check out my notes below on how you can incorporate these greek eggs in a mason jar into your meal prep to fit your macro goals.
NOTES FOR MEAL PREP:
This is a wonderful recipe for meal prepping.
You can store each serving in the fridge for up to 1 week and eat it as it fits your meal plan.
When it's time to eat, simple crack the eggs into the jar, give everything a stir to combine and scramble the eggs. Then microwave for 1 minutes. Stir everything one more time then microwave for another minute.
You will know when they are done when the eggs are fluffy, an even color of yellow, and there is not longer a darker wet line in the middle.
NOTES FOR COUNTING MACROS:
Typically I give tips on how you can adjust my recipes to meet your macro requirements. However, with these jars I am going to let you use your imagination. Therefor below I have listed some ingredients you can use to adjust each of the three main macros:
Choose to only crack the egg white into the jar. By only using the egg white you will increase the protein but also create more room in the jar. This will allow you to increase to 3-4 egg whites.
Use only 1 egg and a smaller jar. This allows you to use smaller jars, and decrease the amount of protein.
Add some chicken or turkey sausage, to increase the protein.
Cheese, everyone loves cheese.
Increase the amount of veggies. The more veggies the higher the carb macro.
Have a side of bread or toast, because who doesn't love toast with breakfast.
Crack an additional egg yolk. Egg yolk provides additional healthy fats.
Add a high fat cheese
Or my favorite…avocado
Above all, I hope that the above gives you inspiration on creating your own eggs in a mason jar!
When making adjustments to the macros in this greek eggs in a mason jar recipe you will want to keep in mind the number of servings you are making.