Easy, Healthy Weeknight Dinner Recipes
Are you trying to plan dinner and find yourself going back to the same handful of recipes you always make?
Are you looking for new exciting meals to add a little variety to your life? Then you are going to want to check out these Healthy Weeknight Dinner Recipes!
However, each of these meals is great for lunch or dinner…so, get excited to try something new!
Not in the mode to cook every night? Check out my healthy dinner Meal Prep or maybe you want to try' Freezer Meals!
Whether you're looking for a lighter meal, or something more filling you are going to find the perfect healthy weeknight dinner recipe here!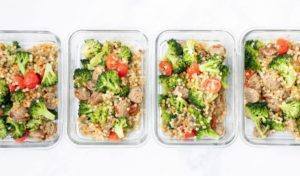 A Delicious Meal Prep-able Recipe: Broccoli Sausage Couscous If you have made one pot meals…
Read More
© 2020 A Dash of Macros, LLC | ADASHOFMACROS.COM | MEMBERS.ADASHOFMACROS.COM
All rights reserved. The material on this site may not be cached, distributed, transmitted, reproduced, or otherwise used, except with prior permission of A Dash of Macros