Chicken with Green Beans and Blistered Tomatoes
Are you looking for a simple and tasty meal that you can feed your entire family, guests or use as a meal prep recipe. Well you have found it right here: This chicken with green beans and blistered tomatoes recipe not only looks delicious but is a great for meal prepping, and tastes wonderful reheated.
chicken w/Green Beans & Blistered Tomatoes
Instructions
Heat a large saute pan to medium heat. While waiting for the pan to heat up season the chicken with pepper and garlic powder. Once the pan is hot, add the extra virgin olive oil to the pan.

Place the chicken immediately in the pan, leave it there for 2 minutes, then flip to the other side and cook for an additional 2 minutes.

Both sides should start to become golden brown, but the center will still look uncooked…if not golden, give each side another minute…your pan wasn't hot enough. Turn the heat to low and cover the chicken with a lid. Let it cook for about' 

8

' minutes, then flip and cover again for another' 

8

minutes.

After' 

8

' minutes on each side covered, the chicken should be done. But this does depend on the size of the chicken breast…these times are based on' 

8

' oz breasts. It is always best to check the internal temperature of chicken before serving. Typically 1 minute per oz per side while covered works to cook perfectly.

Once the chicken is done, remove from the pan but leave the juices bin the pan. We are going to use the same pan for the remaining ingredients. Set the cooked chicken breast to the side for a few moments while you work on the remaining ingredients.

With the same pan, heat set to medium, add green beans to the juices. Then season with black pepper, and garlic salt. Toss the green beans with the seasoning. Cook for 5 – 7 minutes, tossing every 2 minutes. The liquid will be soaked up by the green beans.

While the green beans are cooking add the tomatoes to the pan. Place them around the edges of the pan so they are not disturbed by the green beans. Leave the tomatoes there to cook for 5 – 7 minutes. They will begin to get soft and start to blister. Do not stir them.

After 5 – 7 minutes the green beans will be done, remove them from the pan and place on your serving plate. Then add your chicken, and arrange the blistered tomatoes on top.

Or, potion out to serve as meal prep for the week!
Macro Nutrition
Nutrition Facts
chicken w/Green Beans & Blistered Tomatoes
Amount Per Serving
Calories 334
Calories from Fat 53
% Daily Value*
Fat 5.9g9%
Cholesterol 131.5mg44%
Sodium 189.3mg8%
Potassium 963.7mg28%
Carbohydrates 11.8g4%
Protein 72.9g146%
Vitamin A 17.1IU0%
Vitamin C 47mg57%
Calcium 4.4mg0%
Iron 13.9mg77%
* Percent Daily Values are based on a 2000 calorie diet.
Are you meal prepping? Do you count your macros or calories? Check out my notes below on how you can incorporate this chicken with green beans and blistered tomatoes recipe into your meal prep. Also how you can easily adjust protein, carbs, and fats to meet your macro requirements.
NOTES FOR MEAL PREP:
This chicken with green beans and blistered tomatoes is a wonderful recipe for meal prepping. You can store each serving in the fridge for up to 5 days and eat it as it fits your meal plan. When reheating, the tomatoes add a little extra juiciness to the dish as they pop/wilt. Be sure to cover the dish when reheating or you might have a little tomatoes juice splatter in your microwave!
NOTES FOR COUNTING MACROS:
You can easily adjust the protein macro by adjusting the amount of chicken breast used. For every 1 ounce of chicken you can increase or decrease your protein intake by 8.8 grams.
This chicken with green beans and blistered tomatoes does not have a lot of carbs. To increase the carbs you will want to increase the amount of green beans. But keep in mind, green beans do not have a ton of carbs to begin with. You could easily double the amount of green beans to this recipe, but that would only increase the carbs by 6 grams per serving.
If you would like to add an ingredient to this recipe that will allow you to have a major impact to the carb macro. I highly recommend adding boiled fingerling potatoes. For every 1 ounce of potato you will increase the carbs by 5.6 grams.
There is not a lot of fat in this recipe. You can increase the fat in this recipe by increasing the amount of oil you cook the chicken in. Doubling the oil will increase the fat by 3.5 grams per serving.
You could also choose to add a little more oil when you begin to cook the green beans. For every tablespoon of oil, you increase the fat by 3.5 grams per serving.
Or you could adjust the fat levels by switching from chicken breast to chicken thighs. For example, every 1 ounce of chicken thighs increases your fat macro by 1 gram. But it is important to keep in mind, by switching to this different cut of chicken you will also be decreasing your protein. For every 1 ounce of chicken thigh vs chicken breast your protein will decrease by 1.8 grams.
Tip:
If you do choose to make the change from breast to thigh, you will cook the chicken thighs following the same chicken breast directions.
When making adjustments to the macros you will want to keep in mind the number of servings you are making.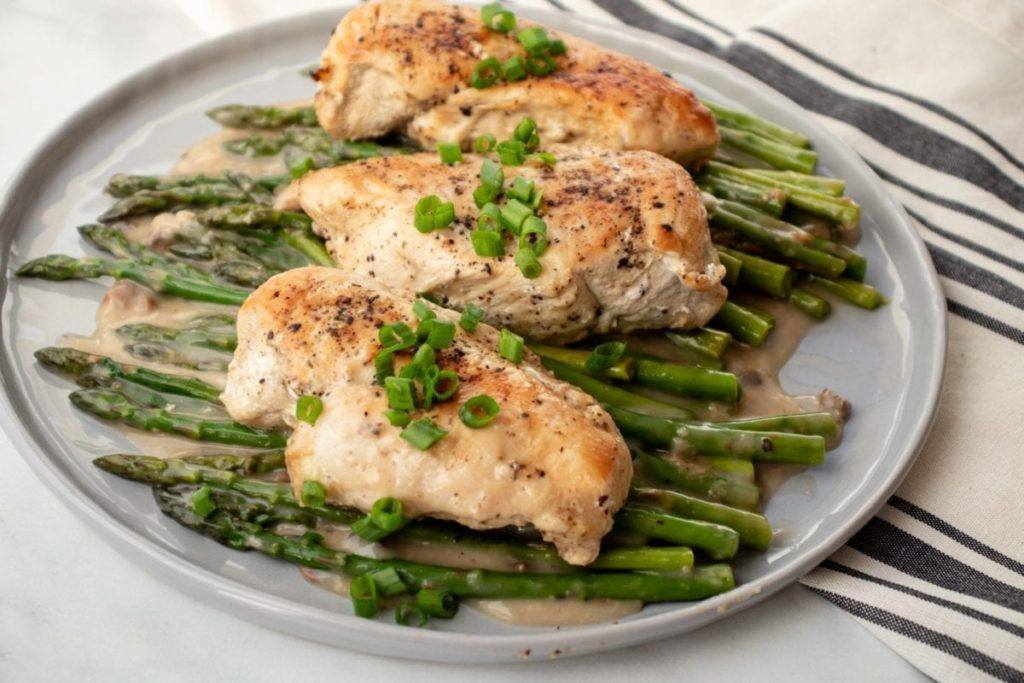 Looking for another delicious protein packed chicken recipe?Check out my: