Chicken Sausage Pasta Salad
This chicken sausage pasta salad can be eaten warm or cold, so no matter what you will be able to enjoy a delicious lunch! A great dish for meal prepping. Easily adjust protein, carbs, and fats to meet your macro requirements.
Chicken Sausage Pasta Salad
Instructions
In a medium sauce pot bring 4 cups of water to a boil. Once the water is boiling add the pasta and a dash of salt to the water. Allow the pasta to cook for 8 minutes.

While the pasta is cooking, heat a large pan with lid to medium heat. Then add half of the oil to the hot pan. Immediately add the chopped onions, sliced peppers, and sliced sausage to the pan with the oil.

Cook the peppers, onions, and sausage for 5 minutes. Just enough to take some of the crunch out of the veggies, but not soft. Stir frequently to prevent burning.

After 5 minutes of cooking the sausage, peppers, and onions the pasta should be done. Strain the pasta and add the pasta to the pan. Toss the pasta with the veggies and sausage.

Season everything with the pepper, garlic powder, and red pepper flake. Drizzle the remaining oil on top and toss everything together once more. Cover with the lid and cook for an additional 2 minutes.

After 2 minutes, remove the lid, toss everything one last time and serve. Or portion out for this weeks meals.
Macro Nutrition
Nutrition Facts
Chicken Sausage Pasta Salad
Amount Per Serving
Calories 257
Calories from Fat 61
% Daily Value*
Fat 6.8g10%
Cholesterol 30mg10%
Sodium 419.7mg18%
Potassium 141.7mg4%
Carbohydrates 31.6g11%
Protein 20.1g40%
Vitamin A 58.2IU1%
Vitamin C 77.2mg94%
Calcium 13.2mg1%
Iron 16.3mg91%
* Percent Daily Values are based on a 2000 calorie diet.
Are you meal prepping? Do you count your macros or calories? Check out my notes below on how you can incorporate this chicken sausage pasta salad into your meal prep. Also how you can easily adjust protein, carbs, and fats to meet your macro requirements.
Notes for Meal Prep:
This is a wonderful recipe for meal prepping. You can store each serving in the fridge for up to 1 week and eat it as it fits your meal plan. This recipe is not very freezer friendly, the red lentil pasta does not like to be frozen and then thawed out.
If you do choose to re-heat this chicken sausage pasta salad, microwaving for 45 seconds – 1 minutes will warm everything up nicely.
Notes for Counting Macros:
You can easily adjust the protein macro by adjusting the amount of chicken sausage used. For every sausage link you can increase or decrease your protein intake by 12 grams.
The carbohydrate can also be adjusted based on the type of pasta you choose to use. The pasta that I am using in this recipe is a red lentil pasta which tends to be a little lower in carbs. For example this red lentil pasta has 32 grams per 2 oz serving, where regular pasta has 42 grams per 2 oz serving.
There is not a lot of fat in this recipe so I would not recommend decreasing the fat or you will be left with dry pasta. You could increase the fats in this recipe based on the type of chicken sausage you choose to use. For instance, the Natures Promise Cajun Style Chicken Sausage I am using only has 2.5 grams of fat per sausage link. While others have as many as 12 grams per link.
When making adjustments to the macros you will want to keep in mind the number of servings you are making.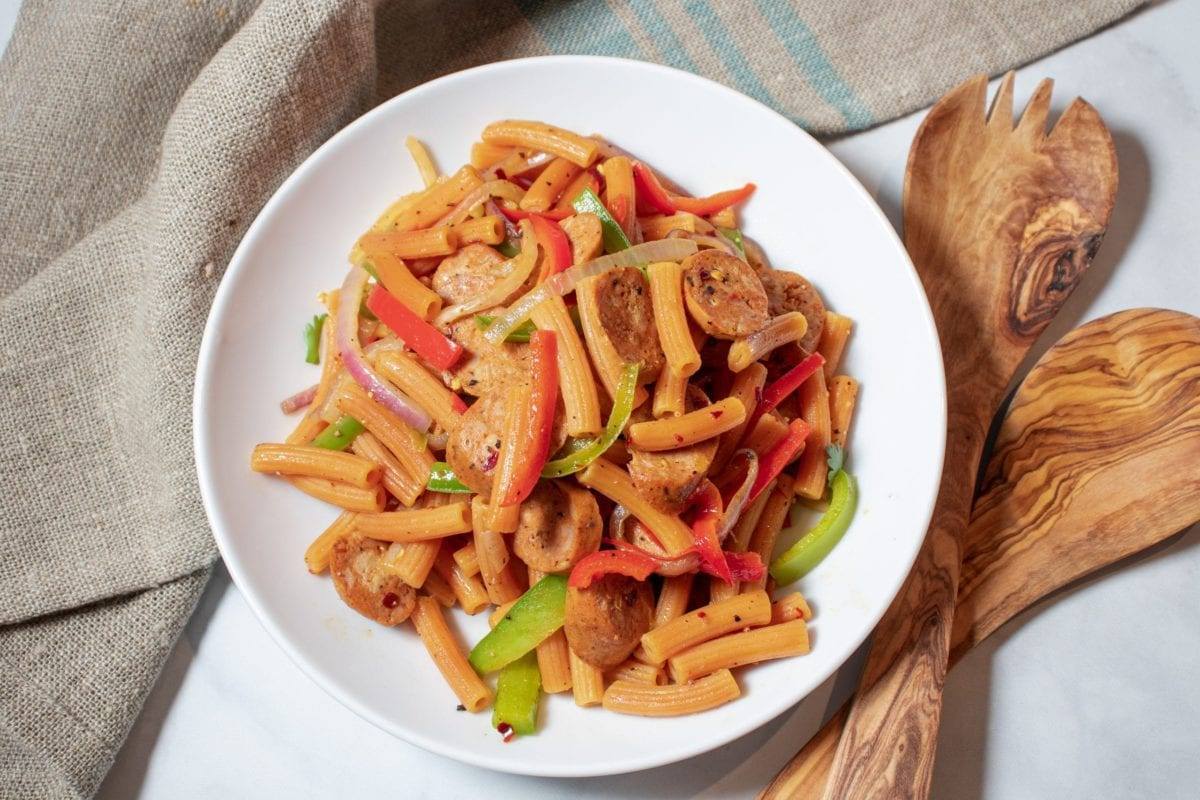 Would you like to try another pasta salad that is jut as tasty warm as it is cold? Check out my:
Would you like to learn more about counting macros? Click here
Do you need new meal prep containers? Check out a few of my favorites:
---