Cajun Sausage One Pot Meal
Aren't one pot meals the best? They make for the easiest clean up, the recipes tend to be super simple, and in most cases they are great for reheating. Like this Cajun Sausage One Pot Meal, perfect for meal planning and meal prep. But even better, if you are counting macros, this recipe is super easy to adjust to fit your macro goals!
Cajun Sausage One Pot Meal
Instructions
Heat a large, deep saute pan, with a lid to medium heat.

Once the pan is hot add the: oil, diced peppers and onions to the pan. Cook the onions and peppers down for about 3-5 minutes, until they begin to soften.

Once the peppers and onions begin to get soft add the diced garlic and sliced chicken sausage to the pan. Continue to cook for another 3 minutes. Stirring often to prevent burning.

Now turn the heat up to high, add the water, and rice to the pan. Bring the water to a boil. Once boiling, turn the heat down to meadium low, add the black beans, and stir everything together. Then cover with a lid, cook for 12-15 minutes. Removing the lid to sitr every 2-3 minutes. Cook until all the liquid has been absorbed by the rice and the rice is tender.

Garnish with a few slices of jalapeno and cilantro. Serve and enjoy. Or portion out into your meal prep containers.
Macro Nutrition
Nutrition Facts
Cajun Sausage One Pot Meal
Amount Per Serving
Calories 345
Calories from Fat 56
% Daily Value*
Fat 6.2g10%
Cholesterol 50mg17%
Sodium 959.6mg42%
Potassium 492.4mg14%
Carbohydrates 47.9g16%
Protein 23.5g47%
Vitamin A 85.7IU2%
Vitamin C 64.1mg78%
Calcium 146.5mg15%
Iron 15.7mg87%
* Percent Daily Values are based on a 2000 calorie diet.
Question:
Are you trying to get better at meal planning?
Do you find your self eating the same recipes every few weeks?
Are you having trouble finding recipes for meal prep?
Or are you counting macros?
If you are bored of eating the same recipes every week and answered yes to any of these question, then you are going to want to check out my notes below. Tips on how you can incorporate this cajun sausage one pot meal into your meal plan and meal prep. If you are counting macros I have also included notes on how you can easily adjust the protein, carbs, and fats to meet your macro requirements.
NOTES FOR MEAL PLANNING:
Meal planning doesn't have to be hard or take a lot of time. In fact, meal planning can be fun when you are provided with easy new recipes each week. Meal Planning can also help save money, prevent food waste, and save you time.
The best things about this one pot meal is, it's easy to clean up, simple to make, tastes phenomenal reheated, and can be adjusted to fit just about any macro goals.
NOTES FOR MEAL PREP:
This cajun sausage one pot meal is a wonderful recipe for meal prepping.
You can store each serving in the fridge for up to 1 week.
Or you can store this recipe in the freezer for up to 3 months.
When its time to reheat:
If stored in the fridge: heat in the microwave for 60 – 90 seconds. Stirring halfway thru.
If stored in the freezer: heat in the microwave for 4 minutes. Stirring halfway thru.
Or pull from the freezer to defrost over night: heat in the microwave for 60 – 90 seconds. Also stirring halfway thru.
NOTES FOR COUNTING MACROS:
The main source of protein in this recipe is the chicken sausage, making this recipe super easy to increase or decrease the amount of protein per serving.
For every chicken sausage link there is 12 grams of protein.
However, the rice and the black beans also contain a decent amount of protein per serving as well. But because these two ingredients have a much higher percentage of carbs I would not recommend making changes to those ingredients to adjust the protein. I would save that for the carbs.
The main source of carbohydrate in this one pot meal is the beans and the rice. Now it is important to keep in mind that when making adjustments to these ingredients you will also be adjusting the protein.
For every 1/4 cup (45g) of beans you increase or decrease the carbs by 11.5 grams, but this will also adjust your protein by: 3.5 grams.
For every 1/3 cup (50g) of rice you can increase of decrease the carbs by 33 grams, but this will also adjust the protein by: 8 grams.
Either ingredient is very east to adjust. Although, if making adjustments to the rice you will want to also adjust the amount of water. For every 1/3 cup rice you will want to adjust the water by 1/4 cup of water. Meaning, if you add rice you'll add water, if you remove rice you'll use less water.
The fat in this recipe comes mainly from the oil that the veggies are cooked in. Which is actually very little for this recipe.
I typically like to keep my recipes low in fat, this allows you to enjoy other higher in fat snacks such as: nuts, avocados, olives, chocolate, or whatever your heart desired.
However, if you are looking to increase the fat in this recipe I would refer you to old faithful….avocado. This would be a great addition to this recipe.
For example: For every 15 grams (about 1/8 avocado) you increase the fats by 4 grams.
Tip to help avocado from turning brown for meal prep:
You can pre-cut your avocado: Toss your avocado chunks with a little lime juice, then portion into zip lock bags. Suck all the air out of the zip lock bag and store in the fridge. Typically my pre-cut avocados will last 2-3 days before starting to brown if I sucked all the air out.
When making adjustments to the macros in this cajun sausage one pot meal, you will want to keep in mind the number of servings you are making.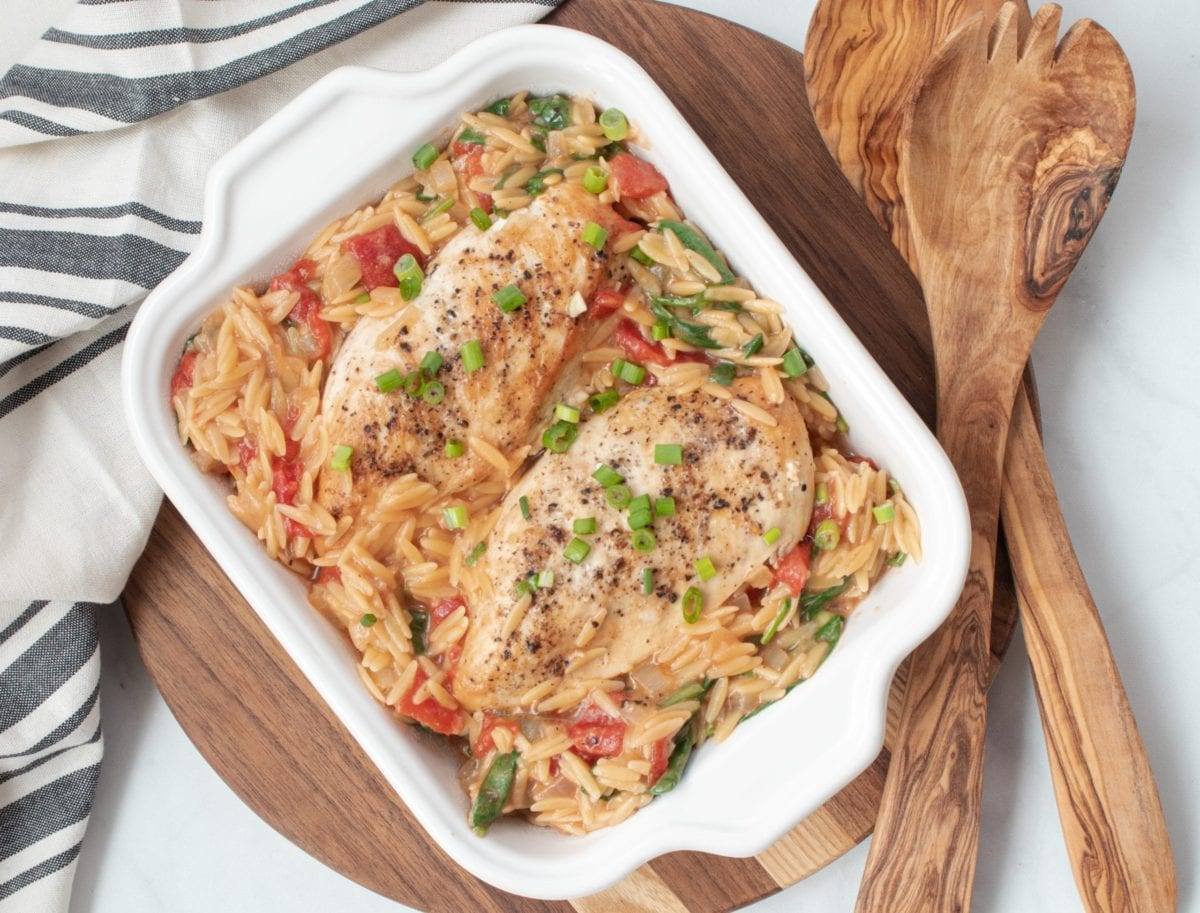 Do you love one pot meals? If so you should check out my: