Banana Blueberry Lemon Bread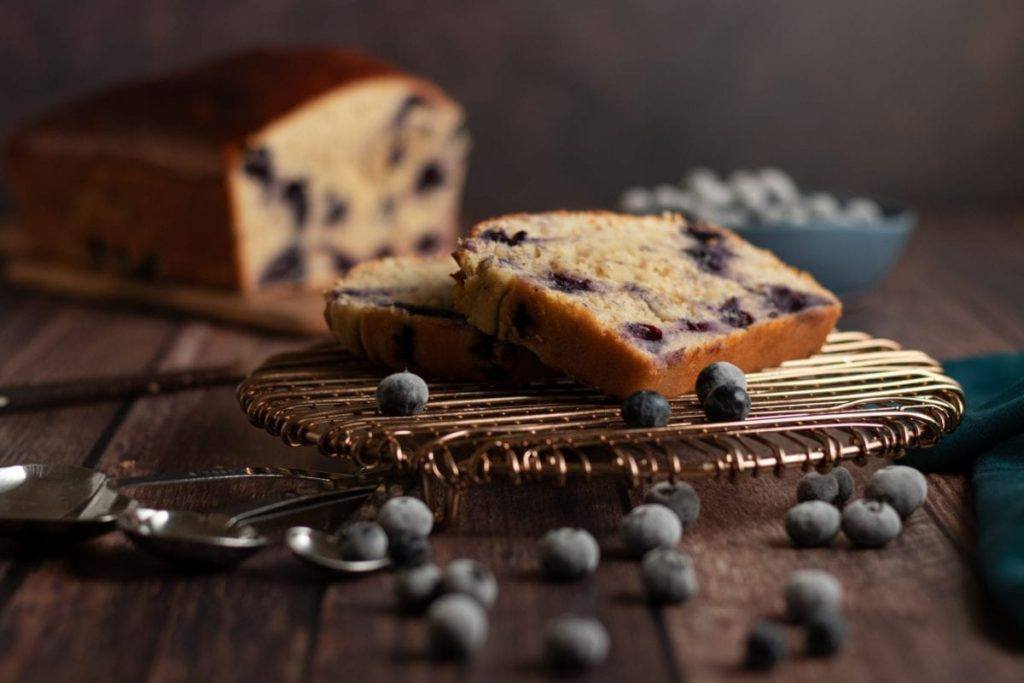 Because who doesn't love bread! And hey, I packed a little extra protein in this recipe. I hope you give my banana blueberry lemon bread a try. This was my first attempt at making any kind of bread and I have to say it…turned out perfect. Even better, I was surprised how easy it was. I am definitely adding more bread into my meal plans and meal prep, I hope you do to!
Banana Blueberry Lemon Bread
The bread that you will crave long after its gone!
330 g Banana ((about [adjustable]3[/adjustable] banana's))
2 tbsp Vegetable Oil
¾ cup 2% Milk
1 tsp Pure Vanilla Extract
1 Large Whole Eggs
â…" cup Sugar
¼ cup Sugar Free Syrup
1 Lemon (juiced)
2¼ cup All Purpose Flour
½ cup Unflavored Protein Powder (optional)
1 tbsp Baking Powder
¼ tsp Salt
185 g Blueberries ((about [adjustable]1[/adjustable] half pint/ cup))
Pre-heat oven to 350'°. Prep a 8×5" inch loaf pan by greasing it with a little butter and coating it with a thin layer of flour.

Rinse blueberries and sprinkle them with a little flour. This will help the blueberries from sinking to the bottom.

In a medium bowl smash the bananas with a fork. Then add oil, milk, vanilla, egg, sugar, syrup, and lemon juice to the bowl. Whisk together until everything is well combined.

In another large bowl combine the flour, protein powder, baking powder, and salt. Once mixed together add the wet ingredients to the dry ingredients, and stir together using a spatula.

Once the wet and dry ingredients are well combined add the blueberries to the mix. Gently stir in the blueberries until they are evenly distributed into the batter.

Pour the batter into the prepared baking loaf pan. Bake for 1 hour at 350'°, until the top has risen, and a toothpick can be inserted and come out clean. If the top of your loaf begins to brown too quickly you can cover the loaf with tin foil to slow down the browning process to prevent burning.

Remove the loaf from the pan and let it cool before slicing.
QUESTION:
Are you trying to get better at meal planning?
Sick of eating the same boring recipes all the time?
If you are bored of eating the same recipes every week and answered yes to these questions, then you are going to want to check out my notes below. Tips on how you can incorporate this banana blueberry lemon bread into your meal plan and meal prep.
NOTES FOR MEAL PLANNING:
Meal planning doesn't have to be hard or take a lot of time. In fact, meal planning can be fun when you are provided with easy new recipes each week. Meal Planning can also help save money, prevent food waste, and save you time.
If you love bread and you love blueberries you are going to love this easy banana blueberry lemon bread!
NOTES FOR MEAL PREP:
Once you have made this bread, you will want to store the loaf or each slice wrapped in air tight plastic:
At room temperature for up to 3-4 days
In the fridge for up to 7-10 days.
Or in the freezer for up to 3 months.
If freezing, simply remove from the freezer the night before and it will be defrosted by morning. Or pop a slice into the microwave for 30-60 seconds to defrost.
I love to microwave or toast a slice of this bread before eating it. This gets the bread warm again, loosens it up from being the fridge or freezer, and get those blueberries gooey again!
NOTES FOR COUNTING MACROS:
Typically I give tips on how you can adjust my recipes to meet your macro requirements. However, when it comes to baking that can be a little more difficult. Additionally, the adjustments that could be made, do not effect the protein, carb, and fat macros enough to make a real impact. My recommendation would be to enjoy this recipe as is.
However, you could make adjustments to:
The type of fruit used: raspberries, strawberries, blackberries…anything your heart desires.
The kind of protein powder can also be adjusted. You can choose to use any of your favorite powder or choose to use none at all.
I hope that you decide to add this easy banana blueberry lemon bread into your meal plan and meal prep this week!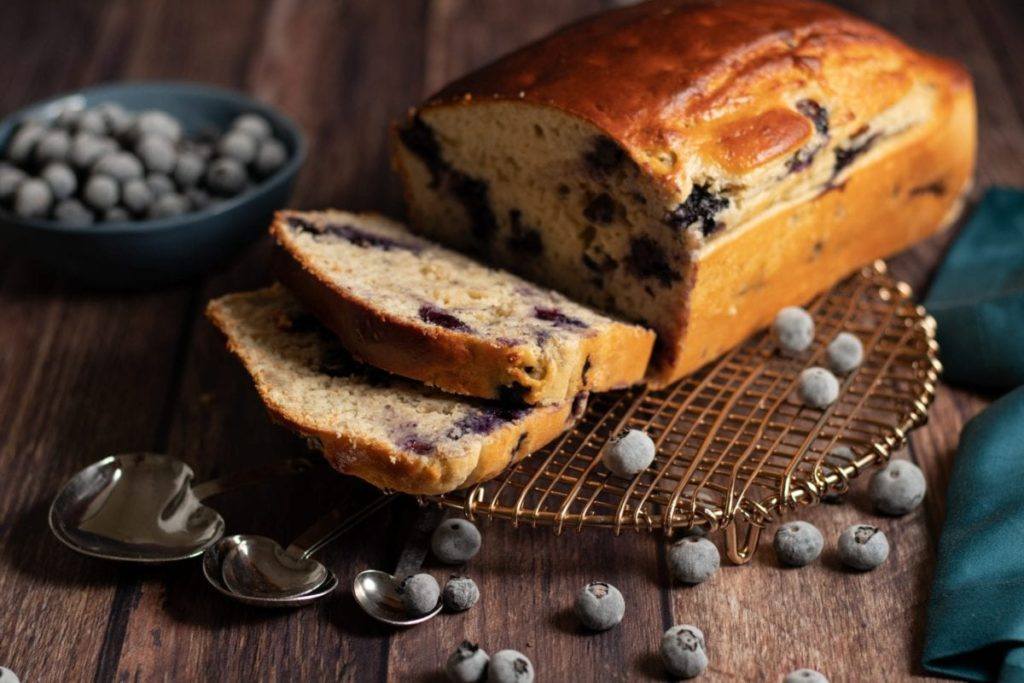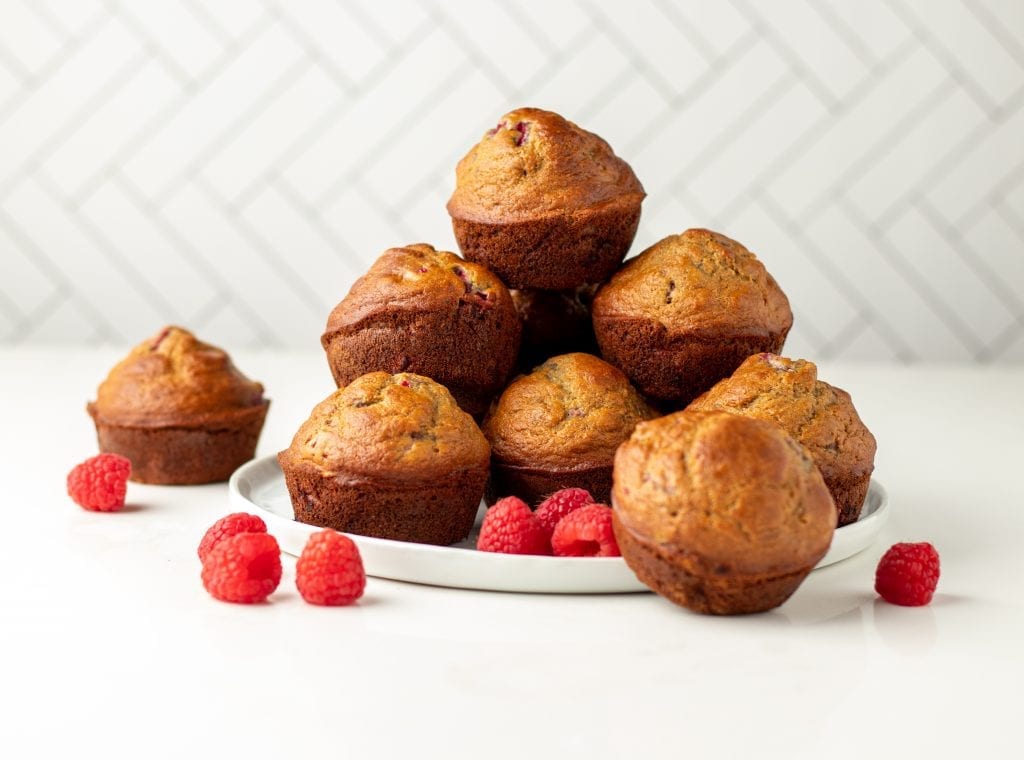 Looking for new meal prep containers?
Here are a few of my favorites: