Roasted Red Pepper Breakfast Casserole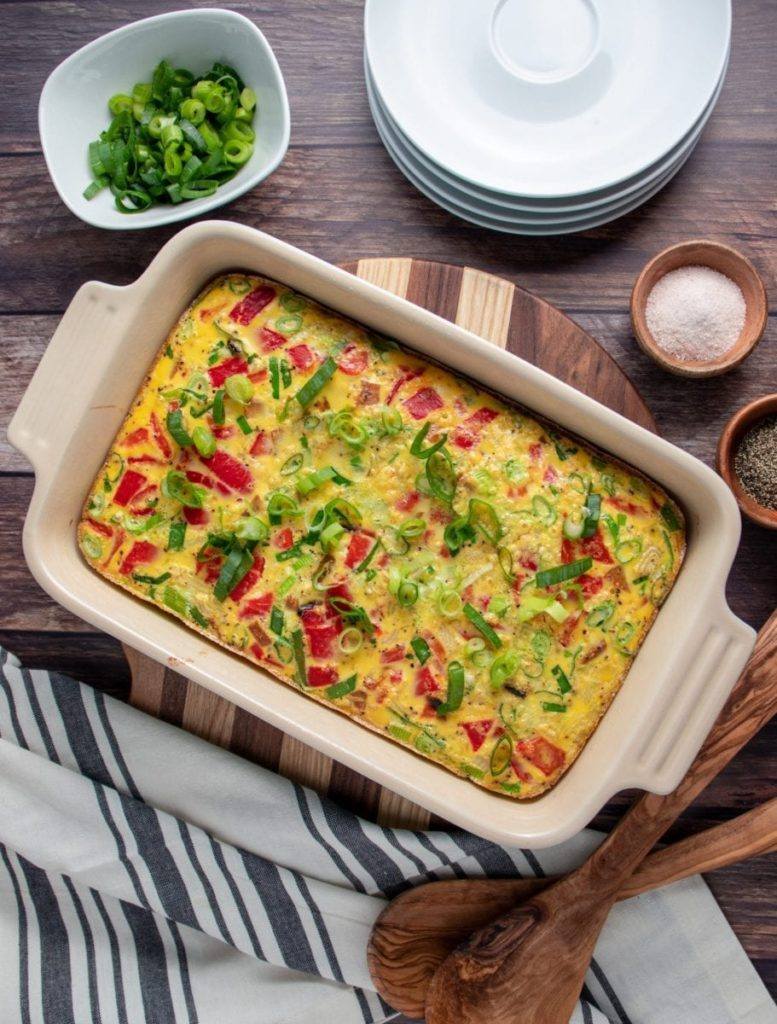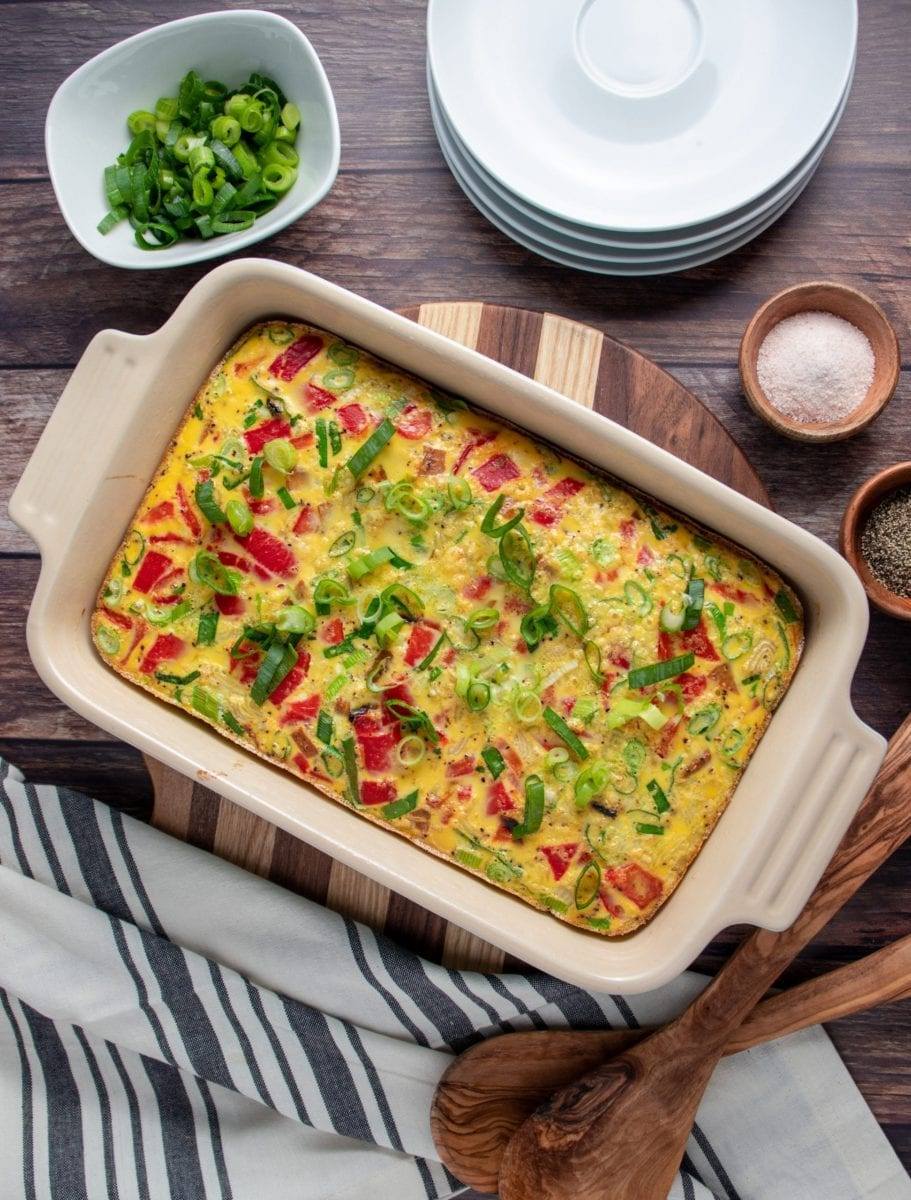 Breakfast casseroles are the easiest breakfast. They are quick to make, they don't make a big mess, and you can get really creative with your ingredients. I love adding a breakfast casserole to my meal plan every few weeks because they make a great meal prep breakfast. I am bad about eating breakfast all week long if I don't already have one prepared. This roasted red pepper breakfast casserole is also really easy to make changes to for those of you counting macros…check out my notes below the recipe for more info.
Roasted Red Pepper Casserole
The roasted red pepper in this casserole really adds a little something special, you are going to love this recipe!
225 g Red Bell Pepper (([adjustable]1[/adjustable] large pepper))
½ tsp Extra Virgin Olive Oil
2 Spicy Chicken Sausage Links (pre-cooked, diced)
8 oz Liquid Egg Whites
4 Large Whole Eggs
¼ tsp Salt
¼ tsp Black Pepper
¼ tsp Garlic Powder
40 g Shallot (diced)
40 g Scallions (diced)
Pre-heat oven to 350'°. Line a baking sheet with tin foil and spray with non stick spray, and prep a 6×9" inch baking/casserole dish with non stick spray.

While the over is heating core the red pepper and cut in half. Place the pepper on the foiled baking sheet and drizzle with a tiny bit of oil. Once the oven is hot place the pepper in the oven and cook for 10-15 minutes at 350'°, until the pepper begins to darken and blister. Once the pepper is done, remove it from the oven, and allow to cool enough to handel. Then peel the skin from the red pepper and slice the pepper.

While the pepper is cooking combine the diced chicken sausage, salt, pepper, garlic, shallots, and ¾ of the scallions in to a bowl and toss together.

In another bowl combine the egg white liquid and large eggs, whisk together for 1 minute to fully incorporate the two ingredients, but also to add a little air into the eggs.

Once the red pepper has been cooked, peeled, and sliced, add it to the sausage mixture, and toss together. Then spread the sauance mixture evenly into the bottom of prepped casserole dish.

Then pour the egg mixture over top of the sausage mixture. Bake the casserole for 25-30 minutes at 350'°. Cook until the casserole has fluffed up and the top starts to turn golden brown.

Sprinkle the remaining sliced scallions on top, slice and enjoy, or portion out for meal prep.
QUESTION:
Are you trying to get better at meal planning?
Do you find yourself eating the same recipes every few weeks?
Are you having trouble finding recipes for meal prep?
Or are you counting macros?
If you are bored of eating the same recipes every week and answered yes to any of these question, then you are going to want to check out my notes below. Tips on how you can incorporate this roasted red pepper breakfast casserole into your meal plan and meal prep. If you are counting macros I have also included notes on how you can easily adjust the protein, carbs, and fats to meet your macro requirements.
NOTES FOR MEAL PLANNING:
Meal planning doesn't have to be hard or take a lot of time. In fact, meal planning can be fun when you are provided with easy new recipes each week. Meal planning can also help save money, prevent food waste, and save you time.
The best things about this recipe is how easy it is to make, how well it reheats, and it is freezer friendly!
NOTES FOR MEAL PREP:
When meal prepping recipes it is important to think about the best way to store your finished meals:
Fridge Storage:
You can store each serving in the fridge for up to 1 week and eat it as it fits your meal plan.
Tips for Re-heating after being in the fridge:
Pop them in the microwave for 60-90 seconds to warm them up.
Freezer Storage:
There are two ways that you can choose to freeze this casserole:
Freeze as individual portions, one serving per each freezer safe zip lock bag. Be sure to remove all of the air from the bag. Storing individullly allows you to reheat as many servings as you wish.
However, you can also store the entire casserole, to do this I would recommend lining the baking dish with tin foil and spraying the tin foil with non stick spray, before adding any ingredients to the baking dish. Allow a little overhang of the tin foil so you can pull the casserole out of the dish once cooled. Then wrap the entire casserole with tin foil. This will allow you to use your casserole dish and not have to wait until you eat this frozen casserole.
When frozen this casserole will keep for 3-6 months. Be sure to write the name of the recipe and the date on the outside tin oil or ziplock bag so you don't forget the delicious recipe you have on hand!
It is important to allow the casserole to cool competly before placing in the freezer, the warmth could cause freezer burn.
Tips for Re-heating after being frozen:
If frozen as individual servings, you can go straight from the freezer to the microwave, cook them for 2 minutes.
Or pull the number of servings you are looking to eat the night before and store in the fridge to defrost overnight, then microwave for 30-45 seconds.
If frozen as an entire casserole, I recommend pulling from the freezer the night before to allow the casserole to defrost. Then re-heat in the oven at 350 degrees for about 10 minutes. Enough to warm the casserole thru.
NOTES FOR COUNTING MACROS:
There is a decent amount of protein in this recipe but if you would like to increase of decrease the protein the easiest way is to adjust the amount of egg whites used.
Every 2 ounce (1/4 cup) liquid egg white contains 20 grams of protein.
For this recipe you can add up to an addiitional 8 oz liquid egg whites, but you may need to use a slightly larger casserole dish. 8 oz of egg whites would increase the protein in this recipe by an additional 80 grams/13.3 grams per serving. This will also make this a much fluffier recipe, similar to a quiche.
However you can also reduce the protein by removing up to 4 oz of liquid egg whites. Reducing the protein by 40 grams/6.66grams This will make the recipe a little more dense, but still delicious.
This dish only has 4.5 grams of carbs. Which makes this a very low carb recipe. In fact there is little to no way of increasing the carbs in this recipe without adding a new ingredient. While typically I like to give tips on how you can adjust all three major macro groups, for this recipe I say: Enjoy the low carbs, fewer carbs allows you to enjoy more carbs in other meals throughout your day.
This is a great recipe for anyone looking to lose a few pounds.
I prefer my breakfast to be low in fat and high in protein, it provides a little extra boost to get the day started. That being said, this recipe only has 4.5 grams of fat per serving, with the majority of the fat coming from the whole eggs. Each whole egg containing 4.8 grams of fat.
You can easily increase the fat by using 12 whole eggs instead of 4 whole eggs and 8 oz liquid egg whites. This will increase the fat by 38.4 or 6.4 grams per serving. This really won't change the recipe texture or flavor much.
You could also increase the fat by using a slightly higher fat content sausage link, like a pork or beef sausage or just a different brand of chicken sausage.
When making adjustments to the macros in this roasted red pepper breakfast casserole you will want to keep in mind the number of servings you are making.