Meal Prepping and Counting Macros
Meal prepping and/or counting macros does not need to be difficult. I remember when I first starting years ago, I thought to myself, there is so much to understand? How am I going to be able to stick to this? This seems like a lot of extra work. However, I took a step back and looked at everything that meal prepping, meal planning, and macro counting had to offer.
The first thing that came to mind was that this was not a diet. This was not me cutting out the foods I love, this was not some crash diet. This was going to be a life style change for me. To help me eat the amount of food my body needs no matter what my goals are. To be able to tweak the amount and type of food that I enjoy, while meeting whatever my current health, fitness, and weight goals are.
Although, this is something that a lot of people get wrong about counting macros. It is not a diet, it is not eliminating the foods that you love, it is not about eating bland food, it is not about depriving yourself and feeling hungry all the time. It is about providing your body with the proper nourishment it needs. Yes if you are looking to loose weight you are not going to be able to eat an entire sleeve of Oreos…but that isn't healthy for anyone even if your not trying to loose weight.
Meal prepping and counting macros go hand in hand.
The macros approach to nutrition is a more in depth way to measure your food intake, to support your health goals. Meal prepping makes counting macros easy, it is a way for you to plan your meals ahead of time to ensure that each day you meet your macro goals.
Who is Macro Counting for:
Counting macros is not just for body builders and fitness models, but can be a great tool for anyone truly trying to improve their overall health. Whether your goal is to:
Lose body fat
Gain lean muscle
Maintain your weight
Understand how your body responds to different foods
Improve your overall heath
Whether you have counted macros before or are a total newbie you will find that meal prepping is a fundamental part of macro counting. It can be very hard to hit your specific macro goals without proper planning. Counting macros on the fly as you eat will leave you missing one macro while going over in others.
Here at A Dash of Macros I provide weekly recipes that include all of the macro nutrition to each recipe. Even better, I include tips for altering each recipe to meet your specific macro goals. So say goodbye to eating the same 5-10 recipes over and over again to hit your macro goal. Allow me to share with you the hundreds of recipes I have tweaked over the years of counting macros and meal prepping. Inspire you to get excited about your meal prep each week. Or at least provide you with a few new recipes for your arsenal.
Marco Counting:
I am not going to get into the nitty gritty of counting macros in this post but what I will provide is some basic fundamental information to help you better understand counting macros. How to tweak them to fit your health goals. Additionally, I will provide you with a link to someone who can get into the nitty gritty of macro counting with you, someone to coach you thru macro counting, making adjustments to fit your specific goals, and to even create an individual macro plan for you.
The Basic Information you need to Know:
The first thing that you need to know…What is a macro? A macro is the break down of the calories in your food. Calories are made up of Protein, Carbohydrates, and Fats, these are your macros. So to count macros you are actually counting the protein, carbs, and fats in your food and not actually counting the calories. This is a more in depth way of tracking what is actually going into you body.
Protein: Every 1 gram of protein equals: 4 calories
Carbohydrate: Every 1 gram of carbs equals: 4 calories
Fat: Every 1 gram of fat equals: 9 calories
Using this information you can tweak your macros to fit whatever your health goals are.
For Example:
Are you trying to lose weight? You are going to want to focus on eating more protein and fewer carbs and fat.
Maybe you're trying to build more muscle. You will want to eat more protein and carbs, but fewer fats.
The glorious maintenance phase, where you are happy and just want to live a healthy life. You will eat a more balanced meal plan with more carbs and about the same amount of protein and fats.
Now of course this does vary based on each persons individual body type and that is where I would recommend, the first time you are counting macros to work with a nutritionist. A nutritionist will hold your hand for the first few months to help you get the hang of it. A professional will know exactly what macro to tweak ever so slightly to help you hit your goal. With the guidance of a nutritionist, together you will create your macro/calorie target: based on your activity level, your goals, and your body type.
Below is a diagram I created to give a basic outline for each of these three goals.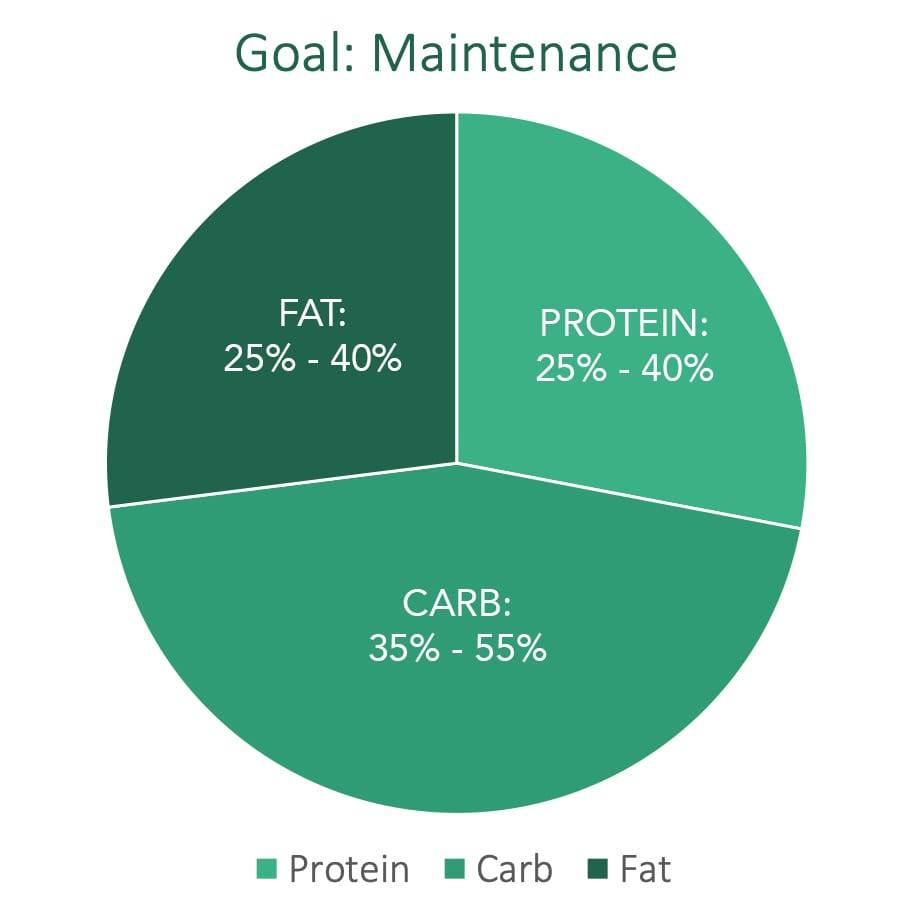 Example of how this works based on a daily caloric intake of 2000 Calories:
Goal of Weight Loss:
Protein: 215 grams
Carbs: 150 grams
Fat: 60 grams
Goal of Muscle Gain:
Protein: 175 grams
Carbs: 225 grams
Fat: 45 grams
Goal of Maintenance:
Protein: 160 grams
Carbs: 195 grams
Fat: 65 grams
The above are general goals based on 2000 calorie, a 2000 calorie diet is not right for everyone. For people with sedentary jobs they might need few calories. For someone with an active job or someone who works out more, they might need a lot more calories. Again this is where it is great to work with a nutritionist, at least for a few months. They will be able to help you calculate your starting point, and then help you make tweaks as you get closer to your goal, as your life changes, as your activity levels changes, or as they see how your body is reacting to specific foods and the goals that have been set.
How do you actually count macros?
Counting macros has become very easy with a number of different free apps. My favorite being 1st Phorms My Transpormation App. My Transphormation allows you to scan in the bar code on the back of your food, or manually look individual ingredients up within their app. My Transphormation has millions of ingredients tracked within their app, as well as thousands of different restaurant items in their database, making eating out easier when you're counting macros. My Transphormation basic version is FREE! The basic version is really all you need.
Combining Macro Counting with Meal Prep and Meal Planning:
Once you have a set a benchmark for your health and understand your macros goals, this is where meal prep and meal planning comes into play. Without a plan you'll find it hard to hit each of your targeted macros.
How do I plan?
Every week I sit down with a calendar and look at each meal and snack I need to plan for. First writing in any breakfast, lunches, and dinners, with family, friends, or work meetings, knowing that those meals will be a little out of my hands. Then I think about what my macro goals are: more protein, carbs, or fats and what foods sound interesting to me.
Although, this is where the slightly harder part comes into play: Creating the recipes…I start thinking about the different types of meals I need to plan for, I go to Pinterest, Instagram, and Google looking for inspiration. And then I get to work coming up with exciting new recipes. I create a shopping list of all the ingredients that I will need to create my new recipes. In addition, while I am creating these recipes, I try to plan for as little food waste as possible. Taking into accounting the portions that I will be making and thinking about which recipes might have similar ingredients.
However, this is where my site: A Dash of Macros, can come in extremely helpful. I have already created hundreds of recipes, most of which are macro friendly. Meaning, easy to adjust to fit your individual macro goals. You don't need to shift thru multiple websites, trying to find recipes that can be easily adjusted. You don't have wonder if the recipe will be good for meal prepping, reheating and still tasting delicious.
How a Dash of Macros Can Make Meal Planning Easy:
All of my recipes have been tested by me to ensure they are delicious.
I provide notes for each recipe on how you can adjust the recipes to meet your macro goals.
If you are meal prepping, there are also notes on the best way to store and reheat each recipe to ensure they will taste just as delicious as when they were first cooked.
Each recipe allows you to print a shopping list to make getting all the ingredients you need easy.
Best of all, when you are counting macros you will never get tired of eating the same handful of recipes over and over again, because I come up with new and exciting recipes each week. All tested and approve by me!
All you have to do is think about what meals you want to plan for and select the recipes from A Dash of Macros to fill in your plan.
Here are a few of my favorite meal prep, macro friendly recipes.
In conclusion, I hope you allow A Dash of Macros to help you enjoy food, meet your macro goals, and never get board eating the same handful of recipes week in and week out. Nothing makes me happier than people trying my food, and using my recipes to meet their health goals.
Looking for a nutritionist, someone to help you on your macro counting journey?
Looking for a nutritionist, someone to help you on your macro counting journey?
Kylie is a certified nutritionist and a functional diagnostic nutrition practitioner. As a practitioner, she has access to functional testing. Based on results, she recommends lifestyle changes and supplementation.

Kylie works with an active population looking to change their body composition while feeling their best in and out of the gym.

She believes in a very holistic approach, knowing that nutrition/macros is one piece of the puzzle. Each individual's needs are unique, so each client's plan is created just for them.

Want to learn more? Sign up for a free 30 min consultation by clicking HERE.
Are you interested in meal prepping, but don't know where to get started? Click out my page below, it is dedicated to teaching you the basics of meal prep, and how to get started.