Ginger Beans and Chicken Stir Fry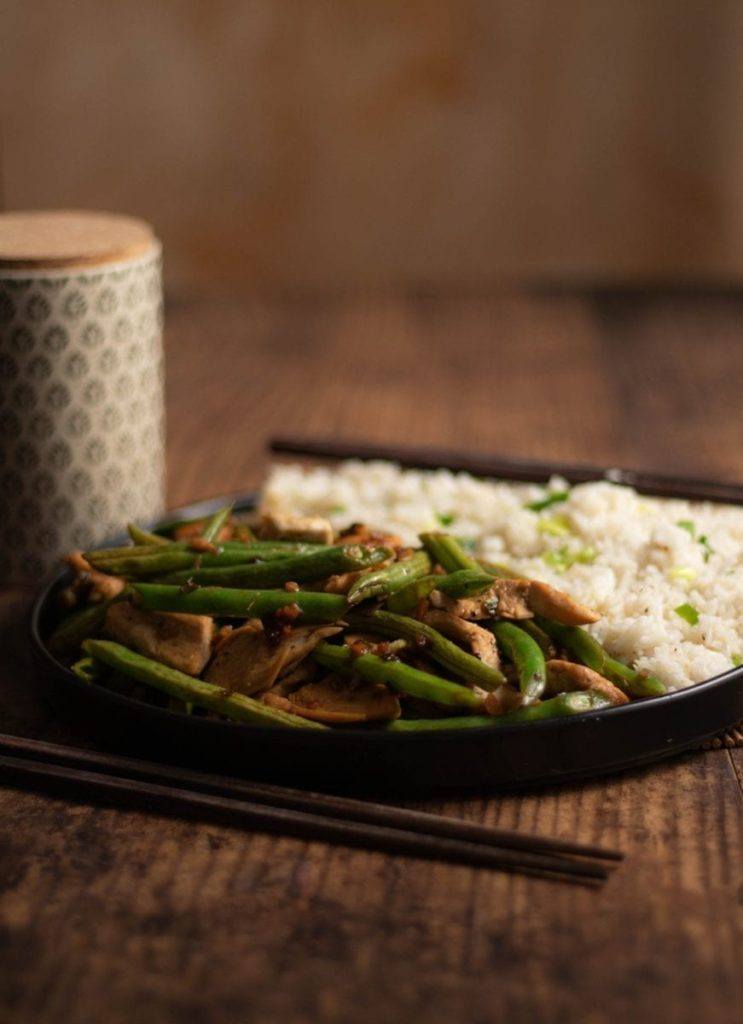 Stir frys are a lot like one pot meals, they are easy to clean up but pack a major flavor punch! Try this ginger beans and chicken stir fry, it is loaded with flavor, only takes 30 minutes to cook, and 5 minutes to clean up! Add this recipe to your meal plan this week! And check out my notes below the recipe on how you can incorporate this dish into your meal prep. Are you counting macros or calories? I also include notes on how to adjust this recipe to fit your individual goals.
Ginger Beans and Chicken
Stir fry recipes one of the easiest
½ cup Brown Jasmine Rice
1 tsp Extra Virgin Olive Oil
140 g Fresh Green Beans ( trimmed and halved cross-ways(about [adjustable]2[/adjustable] cups))
1 tbsp Fresh Ginger (thinly sliced )
20 g Scallions (sliced, (about [adjustable]3[/adjustable] stalks))
2 cloves Fresh Garlic (diced)
2 tsp Extra Virgin Olive Oil
19 oz Boneless, Skinless, Chicken Breast (sliced thin (about [adjustable]3[/adjustable] medium breasts))
2 tbsp Soy Sauce, Lite
2 tbsp Distilled White Wine Vinegar
1 tsp White Sesame Seed
In a small sauce pot, bring 1 cup water to boil. Once boiling add the brown rice to the pot. Turn the heat to low and cover with a lid. Cook for 20 minutes.

After 20 minutes remove the rice for the heat, leave covered for 10 minutes.

While the rice is cooking, with 5 minutes left on low, begin cooking the other ingredients.

Heat a large saute pan over medium heat, add 1 tsp extra virgin olive oil and toss in green beans, garlic, ginger, scallions, and 1 tbsp soy sauce. Cook for 4-5 minutes, stirring consistently.

Remove green bean mixture from pan and add 1 tsp extra virgin olive oil, to begin cooking the chicken. Arrange the chicken in the pan to cover the entire bottom of the pan, leave chicken untouched for 3-4 minutes to get one side golden brown.

Then stir chicken and cook for another 2-3 minutes. Once chicken is almost fully cooked add the bean mixture back into the pan with remaining soy sauce, vinegar, and olive oil.

Toss together, cooking for another 2 minutes until the chicken is fully cooked.

Once the brown rice has sat covered for 10 minutes the liquid should be fully absorbed. Fluff the rice with a fork and serve.

Serve the chicken and green beans with your brown rice. Sprinkle with white sesame seed.
QUESTION:
Are you trying to get better at meal planning?
Do you find your self eating the same recipes every few weeks?
Are you having trouble finding recipes for meal prep?
Or are you counting macros?
If you are bored of eating the same recipes every week and answered yes to any of these question, then you are going to want to check out my notes below. Tips on how you can incorporate this ginger beans and chicken stir fry into your meal plan and meal prep. If you are counting macros I have also included notes on how you can easily adjust the protein, carbs, and fats to meet your macro requirements.
NOTES FOR MEAL PLANNING:
Meal planning doesn't have to be hard or take a lot of time. In fact, meal planning can be fun when you are provided with new easy recipes each week. Meal Planning can also help save money, prevent food waste, and save you time.
The best things about this ginger beans and chicken stir fry is, it is easy to clean up, simple to make, tastes fantastic reheated, and can be adjusted to fit just about any macro goals.
NOTES FOR COUNTING MACROS:
The majority of the protein in this recipe comes from the chicken. You can easily adjust the amount of chicken without changing the flavor of this recipe too much.
For every 1 ounce of chicken you can increase or decrease the protein macro by 8.8 grams.
So go ahead, add as much or as little protein as you would like to this recipe.
Rice is the main source of carbohydrate in this ginger beans and chicken stir fry. Adjusting the amount of rice either increases or decreases the amount of carbs.
For every 1/4 cup (45g) of dry brown jasmine rice you increase or decrease the carbs by 34 grams.
This recipe is extremely low in fat. Each week I like to include one low fat recipe to accommodate those looking to cut weight.
However, if you are looking to increase the fat, this recipe allows you to add fat into your diet in other ways.
Enjoying nuts as a snack during the day.
Adding a fatty ingredient to this recipe…I always love adding avocado to just about anything.
Or just simply enjoying avocado as a snack
This recipe would also be delicious with an egg on top.
Incorporate additional fat however you see fit, use your imagination!
When making adjustments to the macros in this ginger beans and chicken stir fry, you will want to keep in mind the number of servings you are making.
I don't know about you, but I can't get enough asian inspired dishes, and if you love chicken and rice you are going to want to check out my: