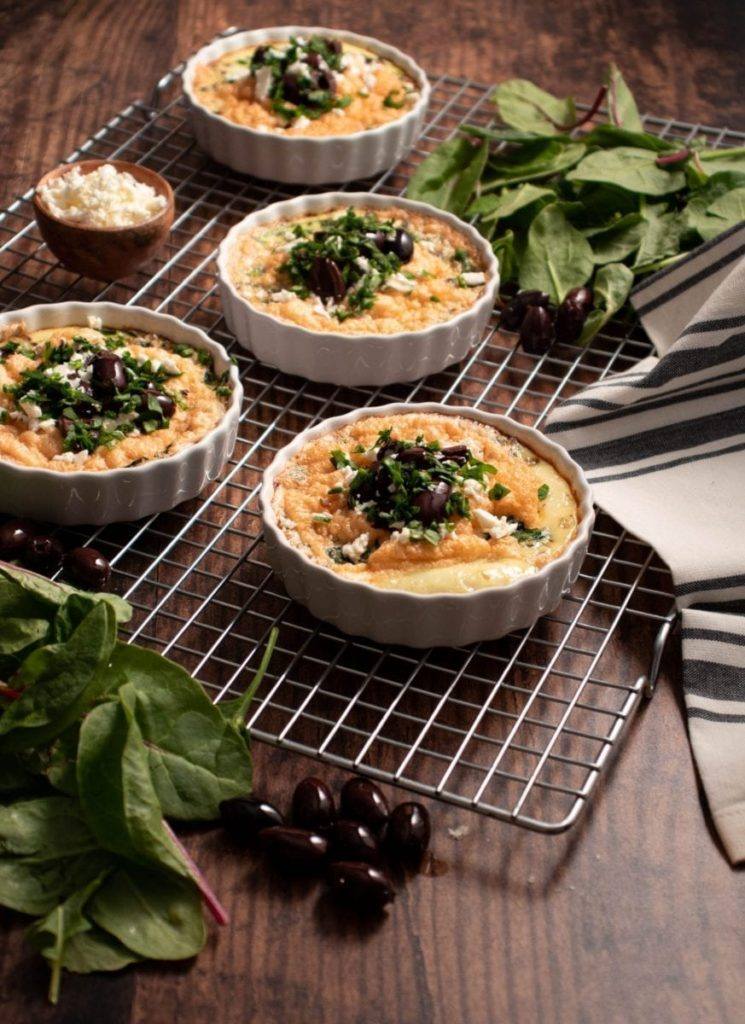 Servings: 4
Ingredients:
1.5 Cups Liquid Egg Whites
50 g Shallots, diced (one medium shallot)
75 g Mushrooms, diced (about 8 mushrooms)
25 g Spinach, torn (1/2 cup)
1 tsp Extra Virgin Olive Oil
14 g Feta Chunks (about 1/4 cup)
12 Pitted Calamata Olives, chopped
Directions:
Preheat oven to 350 degrees.
Heat a medium saute pan to medium heat, once hot add olive oil to the pan.
Then add diced shallots to the pan, cook stirring for about 2 minutes.
Add Mushrooms to the pan and cook down for another 2-3 minutes.
While the mushrooms and shallots are cooking, pour egg whites into a large bowl and whisk for about 1 minutes. This will add air into the egg whites and help to create a nice fluffy frittata.
Add the torn spinach to the pan and allow to wilt for about 2 minutes.
Lightly grease 4 mini tart pans with cooking spray. If you do not have mini dishes you can cook this dish in a larger version using a 9×9 inch casserole pan.
Remove the shallot, mushrooms, and spinach mixture from the heat and spread evenly around the bottom of each mini tart dish. Then pour egg mixture over top.
Place the mini tart dishes onto a baking sheet for easier maneuverability. Then transfer the entire pan to the oven.
Cook mini frittatas for 30 minutes in the over at 350 degrees. If using a larger 9×9 dish cook for 35-40 minutes.
Once the top of the frittata has risen and has started turning golden brown remove from the over and top with crumbled feta cheese and chopped calamata olives.
Kcals 110g / 11.7g P / 3.8g C / 4.1g F