Cranberry Oatmeal Breakfast Cookies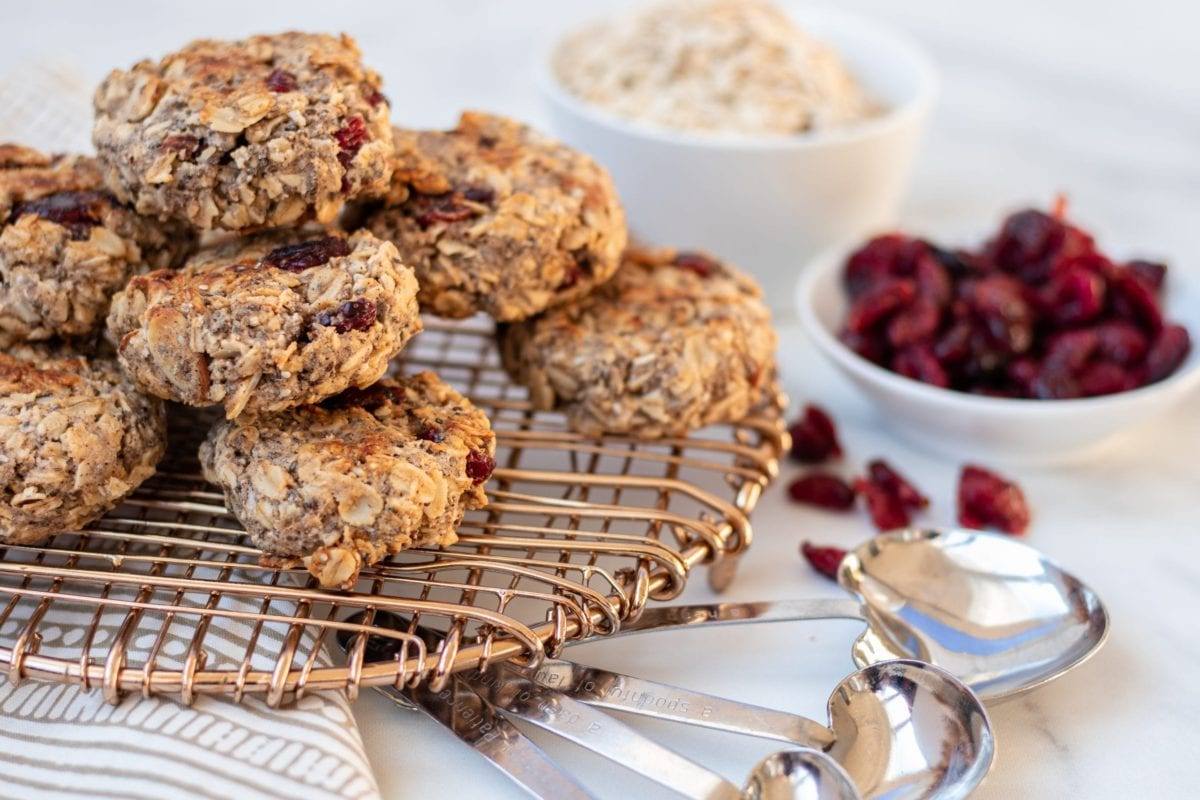 Have you every had a breakfast cookie? They are just like a cookie, except they are not as sweet, and are typically packed with more nutritional values. I would love for you to include these cranberry oatmeal breakfast cookies into your meal plan this week. Include them as part of your meal prep or save them to enjoy over the weekend!
Cranberry Oatmeal Breakfast Cookies
If you have never had a breakfast cookie your going to want to try these!
100 g Rolled Oats ((about [adjustable]1[/adjustable] cup))
40 g Chia Seeds ((about [adjustable]¼[/adjustable] cup))
6 g Baking Powder ((about [adjustable]1[/adjustable] tsp))
1 pinch Salt
1 tsp Ground Cinnamon
25 g Shaved Almonds ((about [adjustable]¼[/adjustable] cup))
35 g Kodiak Power Cakes Pancake Mix ((about [adjustable]¼[/adjustable] cup))
45 g Dried Cranberries ((about [adjustable]¼[/adjustable] cup))
1 tbsp Honey
3 tbsp Coconut Oil
4 oz Non-Fat Greek Yogurt ((about [adjustable]½[/adjustable] cup))
Pre-heat oven to 350'° and line a baking sheet with parchment paper

While the oven is heating combine the dry ingredients: oats, chia seeds, baking powder, salt, cinnamon, almonds, kodiak powder, and dried cranberries in a large bowl. Mix everything together until well combine.

Next add the wet ingredients: add the honey and coconut oil to the dry ingredients, mix until the honey and oil are evenly distributed.

Using a spoon, scoop out enough mix to create a 1 inch balls. Roll lightly into a ball using your hands. Do this creating 10, 1 inch balls or until the bater is gone.

Place the balls onto the parchment paper, smashing them down a little bit. Place each ball about ½" apart.

Bake at 350'° for 20 minutes. These breakfast cookies do not spread out the way typical cookies do. The cookies will be done when the bottoms are golden brown and the tops begin to turn light brown.

Serve or store in an air tight container at room temprature
Question:
Are you trying to get better at meal planning?
Sick of eating the same boring recipes all the time?
If you are bored of eating the same recipes every week and answered yes to any of these question, then you are going to want to check out my notes below. Tips on how you can incorporate these cranberry oatmeal breakfast cookies into your meal plan and meal prep.
NOTES FOR MEAL PLANNING:
Meal planning doesn't have to be hard or take a lot of time. In fact, meal planning can be fun when you are provided with easy new recipes each week. Meal Planning can also help save money, prevent food waste, and save you time.
If you love cookies, you are going to love these breakfast cookies!
NOTES FOR MEAL PREP:
Once you have made these cranberry oatmeal breakfast cookies, you will want to store them in an air tight container at room temperature. These cookies will keep for up to two weeks.
I do not recommend freezing these cookies, the will dry out a little too much.
NOTES FOR COUNTING MACROS:
Typically I give tips on how you can adjust my recipes to meet your macro requirements. However, when it comes to baking that can be a little more difficult. Additionally, the adjustments that could be made, do not effect the protein, carb, and fat macros enough to make a real impact. My recommendation would be to enjoy this recipe as is.
However, you could make adjustments to:
The type of yogurt used: Non-fat greek is not required. You can use any kind of yogurt in this recipe.
The kind of dried fruit can also be adjusted. You can choose to use any of your favorite dried fruit.
I hope that you choose to add these cranberry oatmeal breakfast cookies into your meal plan and meal prep this week!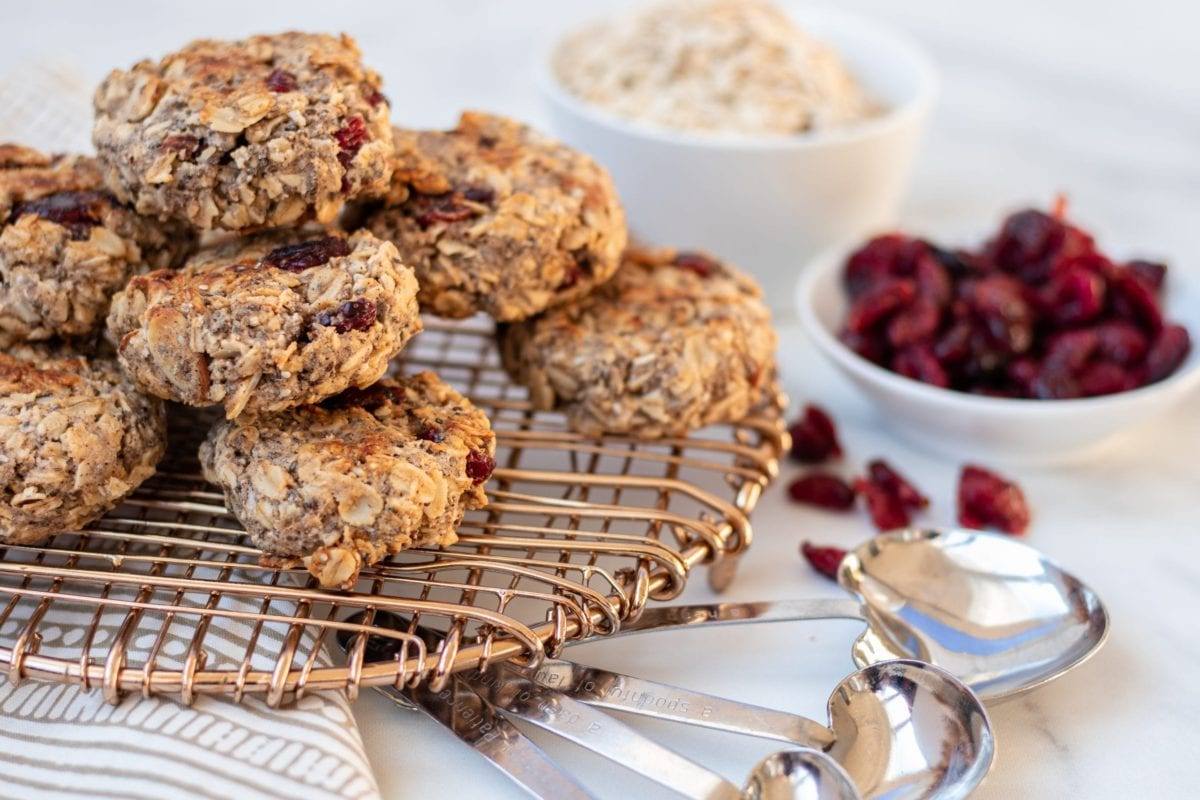 If you are looking for another easy breakfast option:
MEAL PREPPING AND LOOKING FOR THE RIGHT CONTAINERS
I personally prefer glass containers over plastic for several reasons:
Glass containers don't scratch, meaning you can eat your prepped meals right out of your containers and not worry about those extra dishes. Did you know that once a plastic container is scratched you should toss it out? The scratch in a plastic container can hold germs and bacteria.
Glass is free from chemicals. Sure, you can buy BPA free plastic containers but who knows what else makes up plastic. It's better to just go with glass and not have to worry about contaminating your food with the plastic containers.
They are microwave, dishwasher, oven, fridge, and freezer safe. Again making life just that much easier: fewer dishes when re-heating, you can cook the initial prep right in the glass container…all of which makes clean up a breeze.
Food re-heats more evenly in a glass container.
With glass, food stays fresher longer. Strange tastes and smalls aren't absorbed into your food, the way they can from plastic containers.
Additionally, Glass containers last longer. So while they might cost a little more up front, you will save money in the long run over having to replace plastic.
HERE ARE JUST A FEW OF MY FAVORITES: