Cheesesteak Pepper Skillet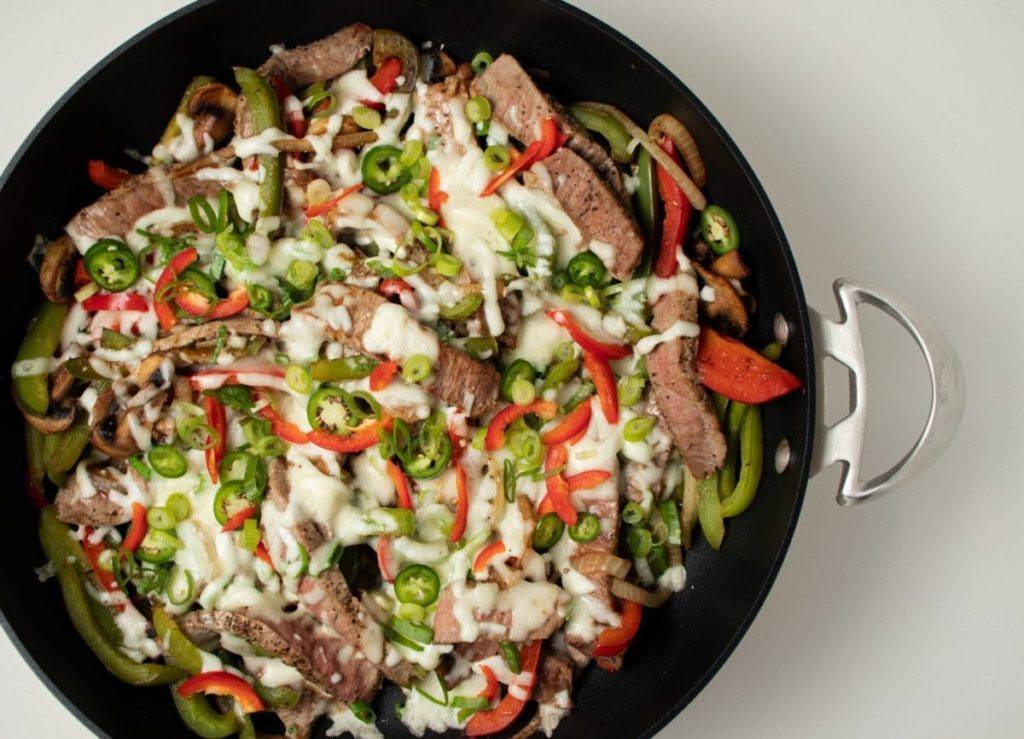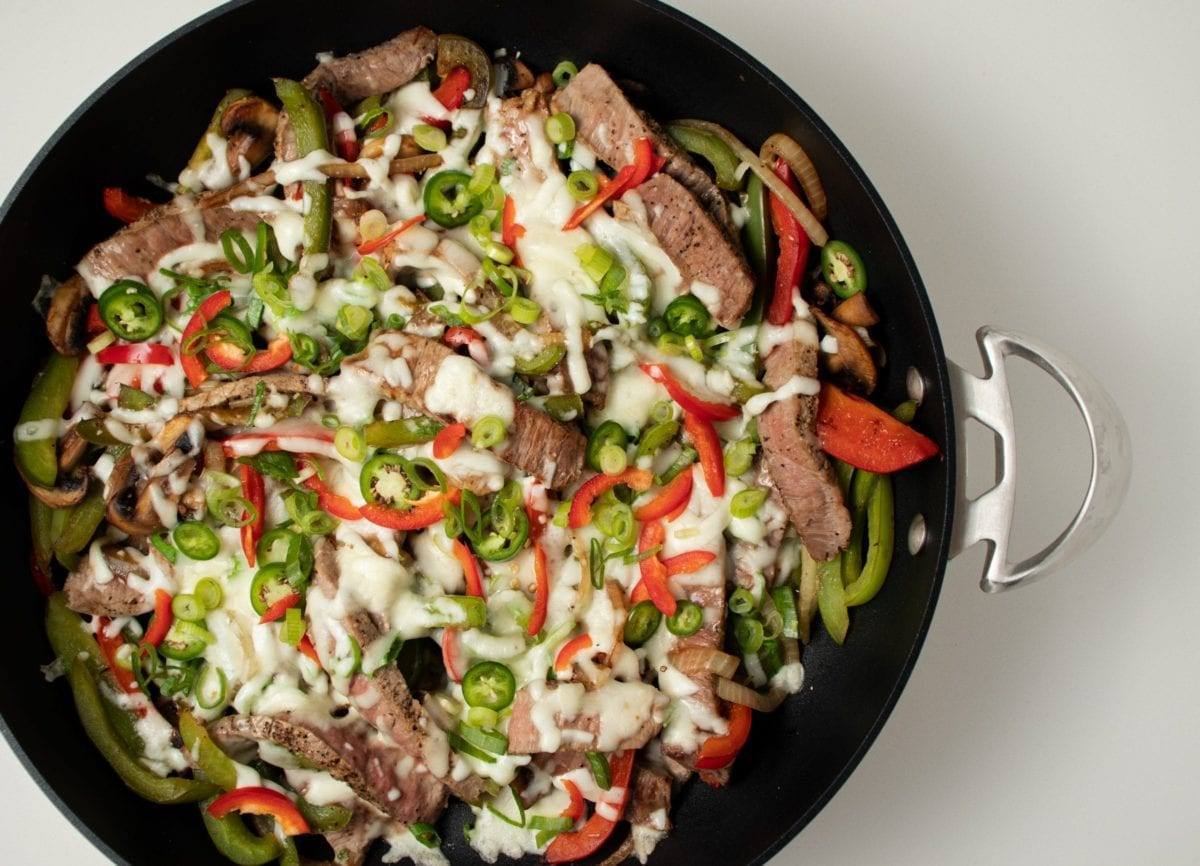 Low carb this and low carb that…well how about a low carb Philly Cheesesteak? This cheesesteak pepper skillet is mouth watering and won't leave you craving the bun! Add this recipe to your meal plan and start your week off on the right foot with this easy meal prep or dinner recipe!
Pepper Cheesesteak Skillet
Ingredients
18

oz

Beef, Eye of Round Steak

½

tsp

Salt

1

tsp

Black Pepper

½

tsp

Garlic Powder

½

tbsp

Extra Virgin Olive Oil

175

g

Mushrooms

chopped, (about

2

cups)

100

g

Red Bell Pepper

sliced, (about

½

pepper)

280

g

Green Bell Pepper

sliced, (about

2

peppers)

150

g

Yellow Onion

sliced, (about

½

onion)

15

g

Serrano Pepper

sliced, (about

1

pepper)

30

g

Cherry Hot Pepper

sliced, (about

2

peppers)

40

g

Scallions

sliced, (about

2

stalks)

150

g

Mozzarella Cheese

freshly shredding (about

1½

cups)
Instructions
Heat a large (oven safe) sauté pan to medium high heat.

While the pan is heating season your steaks with the salt, pepper, and garlic powder. Once the pan is hot drizzle the oil into the pan, then immediately add the steak to the pan.

Allow the steak to cook for 3-4 minutes on that first side, then flip and allow to cook for an additional 3 minutes on the other side. Once the steak has cooked for 6-8 minutes, remove the steak from the pan and wrap in tin foil to rest while you work on the other ingredients.

Using the same pan, turn the heat down to medium and add your chopped mushrooms to the pan. Cook the mushrooms for 3 minutes stirring every minute.

Once the mushrooms begin to turn a golden brown color, add the sliced bell peppers and yellow onion to the pan. Toss the mushrooms, pepeprs and onions together and cook for 5 minutes, just enough to soften up the peppers and onions.

While the veggies are cooking, unwrap the steak. (The steak should look about medium rare.) Cut the steak into thin strips, then add the steak into the pan with all of the veggies. Give everything a quick toss.

Then sprinkle the fresh mozzarella cheese over top and move the pan to the oven. Turn the oven to broil and cook your dish for 3-5 minutes, enough to melt the cheese.

Remove from the over and garnish with your sliced serrano peppers, scallions, and cherry hot peppers. (I like to leave these ingredents raw for a little extra crunch)

Serve, or portion out into your meal prep containers.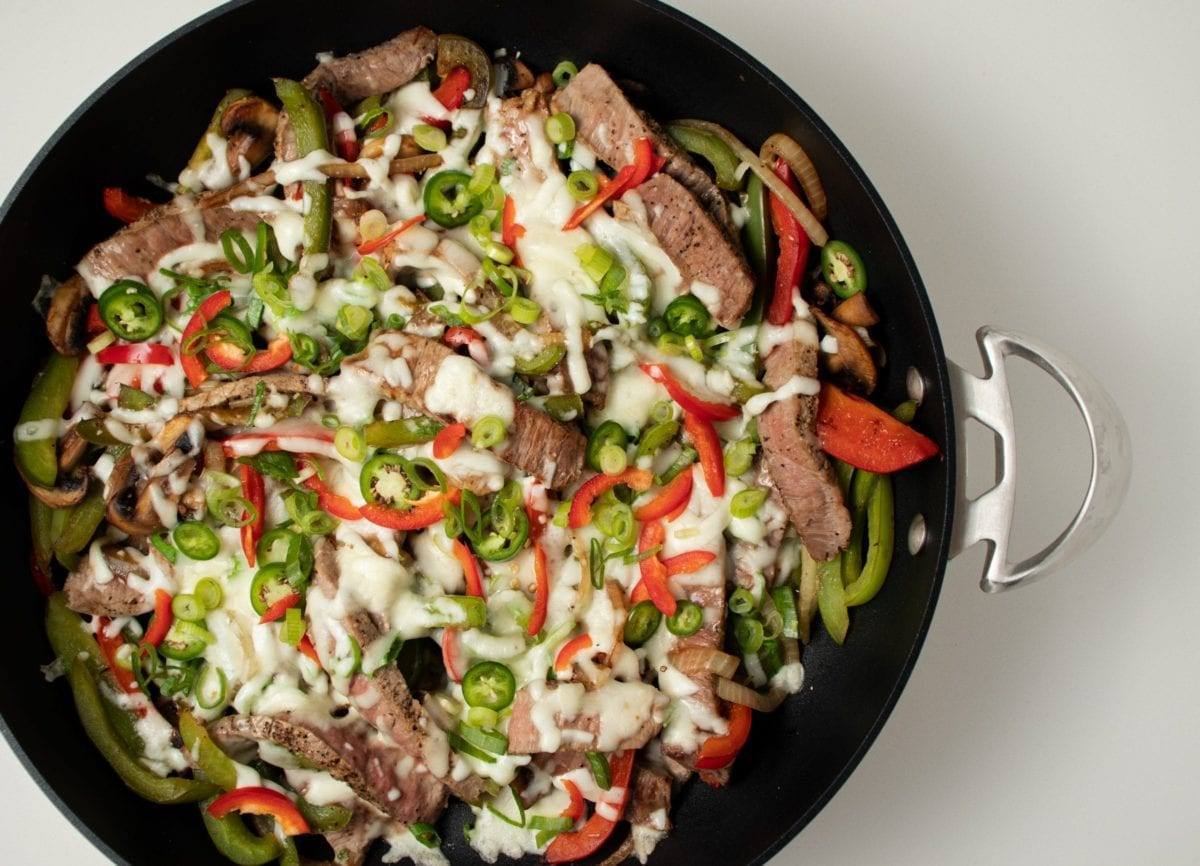 Macro Nutrition
Nutrition Facts
Pepper Cheesesteak Skillet
Amount Per Serving
Calories 414
Calories from Fat 134
% Daily Value*
Fat 14.9g23%
Cholesterol 92.3mg31%
Sodium 631mg27%
Potassium 702.6mg20%
Carbohydrates 13.5g5%
Protein 50.6g101%
Vitamin A 203.2IU4%
Vitamin C 832.8mg1009%
Calcium 46.4mg5%
Iron 7.2mg40%
* Percent Daily Values are based on a 2000 calorie diet.
QUESTION:
Are you trying to get better at meal planning?
Sick of eating the same boring recipes all the time?
Are you having trouble finding recipes for meal prep?
Or are you counting macros or calories?
If you are bored of eating the same recipes every week and answered yes to any of these question, then you are going to want to check out my notes below. Tips on how you can incorporate this cheesesteak pepper skillet into your meal plan and meal prep. If you are counting macros, I have also included notes on how you can easily adjust the protein, carbs, and fats to meet your macro requirements.
NOTES FOR MEAL PLANNING:
Meal planning doesn't have to be hard or take a lot of time. In fact, meal planning can be fun when you are provided with easy new recipes each week. Meal Planning can also help save money, prevent food waste, and save you time.
If you love Philly cheesesteaks but looking for something a little healthier, you are going to love including this low carb recipe into your meal plan.
NOTES FOR MEAL PREP:
This cheesesteak pepper skillet is a wonderful recipe for meal prepping. You can store each serving in the fridge for up to 5 days.
When its time to reheat:
Heat by wrapping the dish in a paper towel to hold the moisture in. Microwave for 45 – 90 seconds. Stirring halfway thru and checking to not over cook the steak.
It is important not to over cook the steak initially or you will end up with rubbery steak when it is time to reheat.
NOTES FOR COUNTING MACROS:
This is a protein packed recipe, with few carbs, and a well balanced amount of fat compared to the protein level.
The majority of the protein in this recipe comes from the steak. You can easily adjust the amount of steak without changing the flavor of this recipe.
For every 1 ounce of steak you can increase or decrease the protein macro by 8.3 grams.
So go ahead, add as much or as little protein as you would like to this recipe.
This recipe is based on the beef cut, eye of round. It is important to remember that when choosing a cut of meat, each will have different macro nutrient levels. So if counting macros you will want to pick the cut that fits your goals.
This dish only has 13.5 grams of carbs. While you could increase the amount of peppers and mushroom used in the recipe, you would need to add A LOT to make an impact on the amount of carbs.
However, this recipe would go really well with bread…just like any cheesesteak!
You could go with a triditional sub roll
Or maybe you want to add carbs but not too many. Choose to eat this skillet recipe with a smaller dinner roll on the side.
How about thin sandwich bread?
When choosing to add bread to this recipe you can really add as much as your heart desires and your macro goals allow for!
The fat in this recipe comes from the steak, the oil, and the cheese.
If you would like to increase the fat you could do so in two ways:
Increasing the amount of oil you cook the steak in, or adding a little oil while cooking the mushrooms and peppers. For every 1/2 tablespoon of oil you increase the fats by: 7 grams.
Change the type of steak that you use in this recipe. The eye of round I recommend using only has 1.1 grams of fat per ounce. But you can find steaks that have as much as 6 grams of fat per ounce. Therefor you can choose to keep the fat content low by following this recipe or you can choose to increase the fat as much as you like.
If you are trying to decrease the fat, the easiest way would be to choose a low or not fat cheese.
The mozzarella I used in this recipe was a full fat cheese, with 5 grams of fat per every 1/4 cup (25 grams). But there are cheeses out there with little to no fat.
When making adjustments to the macros with this cheesesteak pepper skillet, you will want to keep in mind the number of servings you are making.