Cauliflower Egg Salad. A great dish for a picnic, for lunch, as a topping to a salad, as wrap or sandwich. But did you ever think about cauliflower egg salad as a meal prep dish?
Cauliflower Egg Salad
Instructions
Fill a large pot with enough water to completely cover the cauliflower florets, but don't add the cauliflower yet. Place the pot on the stove over high heat and bring the water to a boil. Once boiling add the cauliflower to the pot, cook for 12 minutes over high heat.

While the cauliflower is cooking boil your eggs. Fill a medium pot with enough water to completely cover all

8

eggs, but don't add your eggs just yet. Place this pot on the stove over high heat and bring this water to a boil as well. Once boiling add the eggs to the pot, cover with a lid and turn the heat down to low. Cook 10 minutes, for a hard boiled egg.

While waiting for the cauliflower and eggs to cook. Dice your celery and red onion and place in a large bowl.

Add the spicy mustard, yogurt, black pepper, and paprika to the bowl with the onions and celery.

In a separate large bowl add ice and water to prepare and ice bath to place the eggs.

After 10 minutes remove the eggs from the pot of water and place in your ice bath to stop the cooking process.

After 12 minutes strain the cauliflower and rinse with cold water to stop the cooking process and chill the cauliflower.

Once the eggs have cooled, peel all of the eggs, remove and discard the yolk from

4

of the eggs. Then chop the eggs and remaining yolk into bite sized pieces.

Add the chopped eggs to your bowl with the onions, celery, yogurt, and mustard. Stir until well combined.

Serve as a side salad, or use as the filling to a wrap or sandwich.
Macro Nutrition
Nutrition Facts
Cauliflower Egg Salad
Amount Per Serving
Calories 141
Calories from Fat 41
% Daily Value*
Fat 4.6g7%
Cholesterol 171.6mg57%
Sodium 372.7mg16%
Potassium 660.2mg19%
Carbohydrates 11.1g4%
Protein 15.8g32%
Vitamin A 11.7IU0%
Vitamin C 79.5mg96%
Calcium 49.5mg5%
Iron 7.4mg41%
* Percent Daily Values are based on a 2000 calorie diet.
Are you meal prepping? Do you count your macros or calories? Check out my notes below on how you can incorporate this Cauliflower Egg Salad recipe into your meal prep as well as how you can adjust protein, carbs, and fats to meet your macro requirements.
Notes for Meal Prep:
This is a wonderful recipe for meal prepping. You can store each serving of Cauliflower Egg Salad in the fridge for up to 5 days and eat it as it fits your meal plan.
One thing to know, as this the cauliflower egg salad sits the yogurt does want to separate, so you will start to see a little access liquid on days 2-5. All you have to do is stir your ingredients, so the liquid can be reincorporated back in. Or you can easily drain the access liquid out of your dish. But please note the liquid is not a sign of the recipe going bad…that is just what yogurt does.
Notes for Counting Macros:
This dish is a little harder than others to adjust all of the macros nutrients as it will change the texture and the ratios too much. The one macro that can be easily adjusted is the fat.
Fat: If you are looking to increase your fat intake with this cauliflower egg salad, you can add a little mayo to replace some of the yogurt. For every tbsp of mayo you will increase the fat macro nutrient by 10.3 grams. For every tablespoon yogurt you replace you will be reducing the protein macro nutrient by only .5 grams. Replacing a little of the yogurt with mayo will also make the cauliflower egg salad a little creamier.
When making adjustments to the macros you will want to keep in mind the number of servings you are making.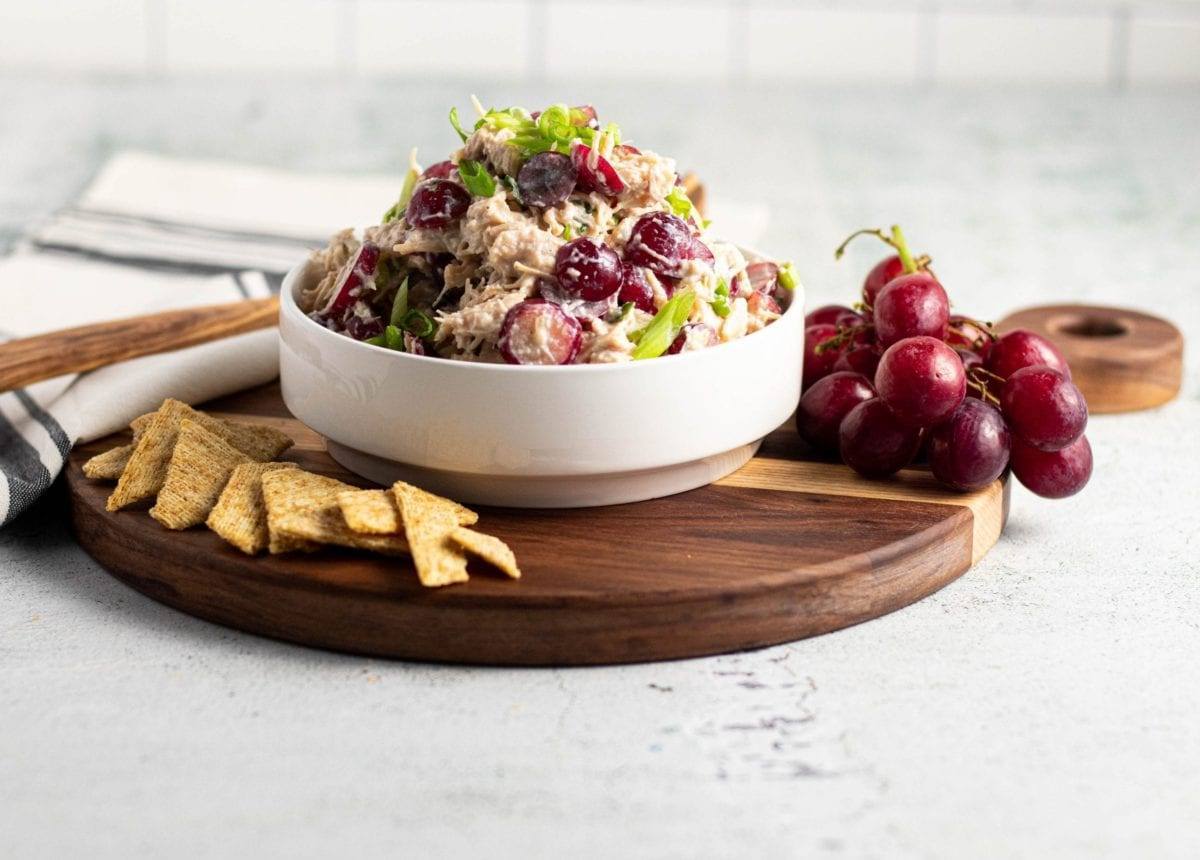 Looking for another meal prep picnic salad idea? Check out my chicken and grape salad: