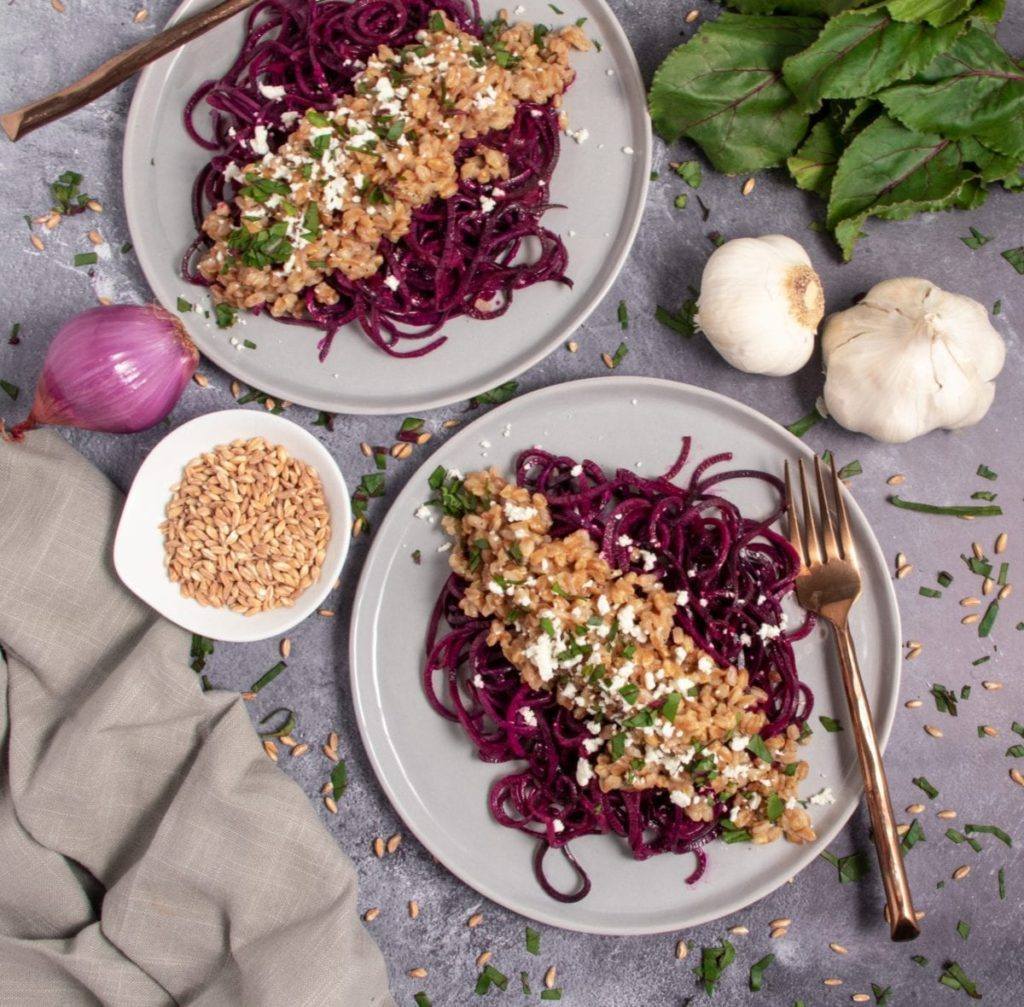 Servings: 2
Ingredients:
240 g Red Raw Beets, spiraled (2-3 beets)
1/2 cup Farro
1 tbsp Avocado Oil, half for the farro half for the beets
1 cup Low Sodium Chicken Stock
30 g Shallot, diced (1 large shallot)
2 Cloves Garlic
1/4 cup Water
1/4 Non-Fat Greek Yogurt
1/4 cup Beet Greens, diced
10 g Goat Cheese (about 1 tbsp)
Directions:
Heat a small sauce pan to medium heat, once the pan is hot add the 1/2 tbsp avocado oil and farrow.
Cook the farrow in the oil for 3 minutes, stirring every 30 seconds or so to prevent burning. We are trying to lightly toast the farro.
After cooking the farro in the oil add 1 cup chicken stock, and cook the farro on medium-low heat for 20 minutes, stirring ever 2 minutes, until all of the liquid has been absorbed in the farro.
While the farro is cooking prep your other ingredients: Peel your beets with a vegetable peeler, then with a spiral slicer, spiral each of your beets. Dice your shallots and garlic, and rinse your beet greens then dice.
Heat a large saute pan with a lid, to medium heat and add 1/2 tbsp avocado oil. Then add your shallots and garlic, cook down for about 3 minutes until your shallots start to become soft, stirring often to prevent burning.
After 3 minutes add the beet spirals to your saute pan with the shallot and garlic, toss and cook for another 2 minutes. Then add the water to the saute pan and cover with a lid and cook for 5 minutes. This will cook the beets just enough to soften their texture.
After 5 minutes, remove the lid and add the greek yogurt to the pan. Gently toss the beets into the greek yogurt until well incorporated.
By now your farro should have absorbed all of the liquid and be ready for plating. Plate by first placing your beet noodles on your plats, then top with your farro.
Garnish with a sprinkle of goat cheese and diced beet greens. To sprinkle the goat cheese, hold the goat cheese over top of the dish and scrap with a fork, as you scrap with a fork the goat cheese will begin to crumble.
Kcals: 312 / 12.6g P / 49.1g C / 9.2g F